Japan's airports have a problem with bags and they're blaming Chinese
Japan airports are struggling to keep up with the number of suitcases discarded by travellers. An estimated 15.5 million foreign travellers transited through Narita International Airport, east of Tokyo, last year, with authorities collecting 250 suitcases. Osaka's Kansai International Airport officials found 258 abandoned suitcases while another 287 were left at Chubu Airport and 100 were dumped at Shin-Chitose Airport. A spokeswoman for Tokyo's Haneda International Airport said: "From the labels or what is in the bags, it seems that most of the suitcases are being abandoned by Chinese passengers". "And we are a little worried because the Olympics are only two years away."
What next: By law, the suitcases – many of them empty – must be treated as lost property and stored at the airport for a week before being handed to police. Chubu Airport is paying passengers 1,080 yen (US$10) to hand over an unwanted suitcase though few have taken advantage of the scheme so far. Other airports are warning of punishable offences under the Waste Management Law.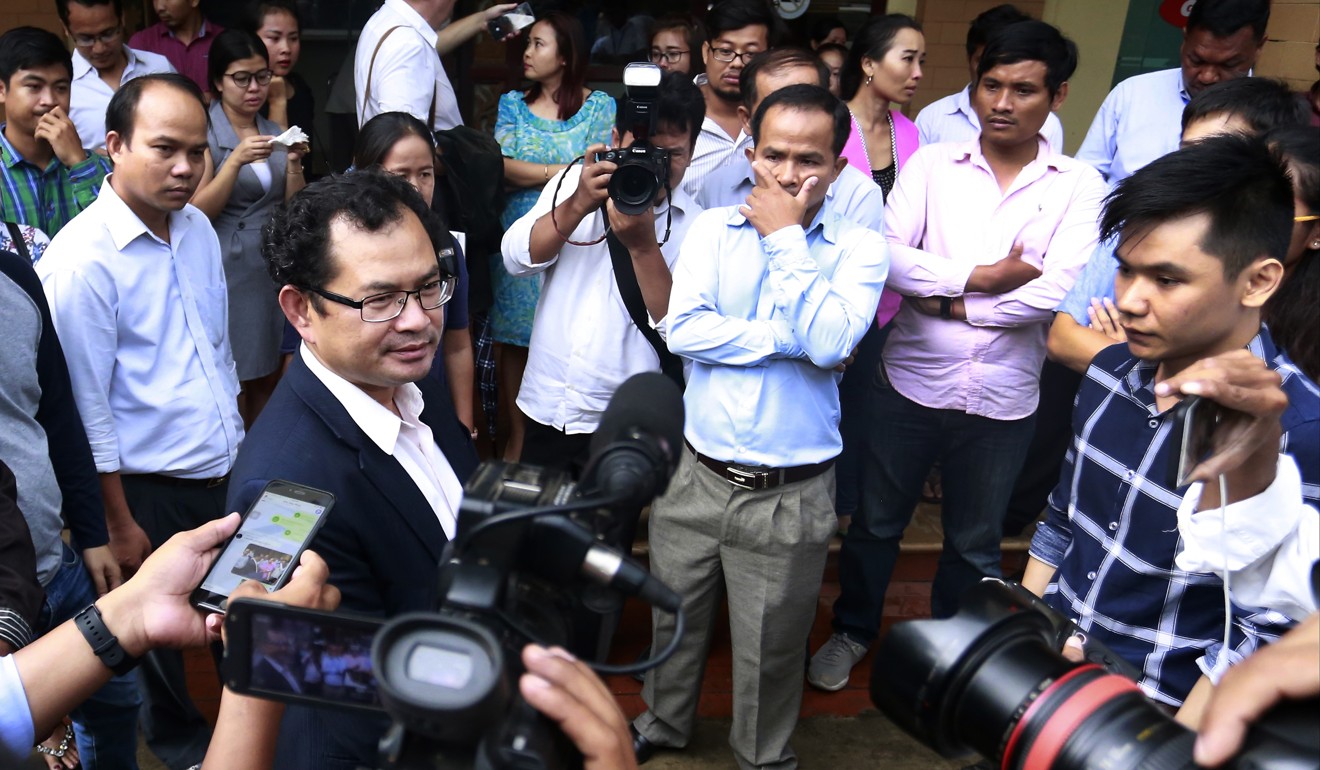 Staff walkout at Phnom Penh Post over new owner's censorship
As many as 13 foreign journalists quit Cambodia's Phnom Penh Post newspaper this week in protest at what they called editorial interference following its sale to a Malaysian businessman. The resignations on Monday and Tuesday followed the announcement of the sale of the paper by Australian mining magnate Bill Clough to Malaysian investor Sivakumar Ganapathy, whose public relations firm lists Prime Minister Hun Sen as a client. The resignations leave no foreign journalists at the paper. Representatives of Ganapathy ordered the removal of an article critical of the sale, several reporters said, leading to the firing of the editor-in-chief.
What next: The Post's sale came amid increasing concern about a crackdown by long-serving Hun Sen against his critics ahead of a general election set for July 29. Another English-language paper, The Cambodia Daily, shut down last year after the government gave it a month to settle a $6.3 million tax bill. International rights groups and journalism bodies have said they fear the sale signals the end of independent media in Cambodia.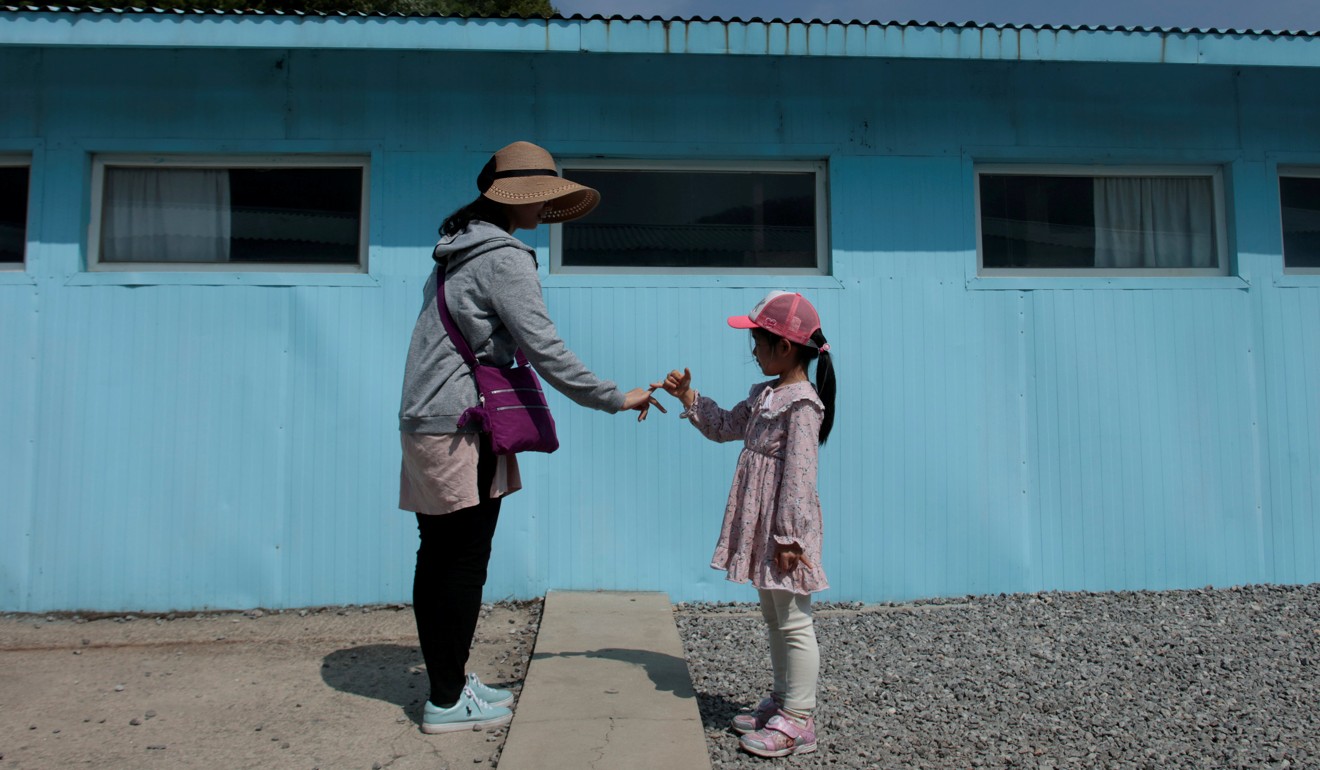 South Koreans rush to recreate Kim and Moon's peace handshake
South Koreans have hurried to an old film set outside Seoul to recreate the iconic image of smiling North Korean leader Kim Jong-un shaking hands with South Korean President Moon Jae-in at last month's summit. Since the April 27 encounter, families, couples and even pet dogs have lined up to mimic the photo at the KOFIC Namyangju Studio about an hour's drive from the real truce village of Panmunjom, where the leaders met. For many visitors, including older ones who lived through the war, the summit raised hopes for peace on the divided peninsula.
What next: The set was built for the South Korean murder mystery film Joint Security Area, named for the United Nations-administered area along the border between the two countries. On Thursday, US President Donald Trump announced that his highly anticipated meeting with North Korean leader Kim would take place in Singapore on June 12.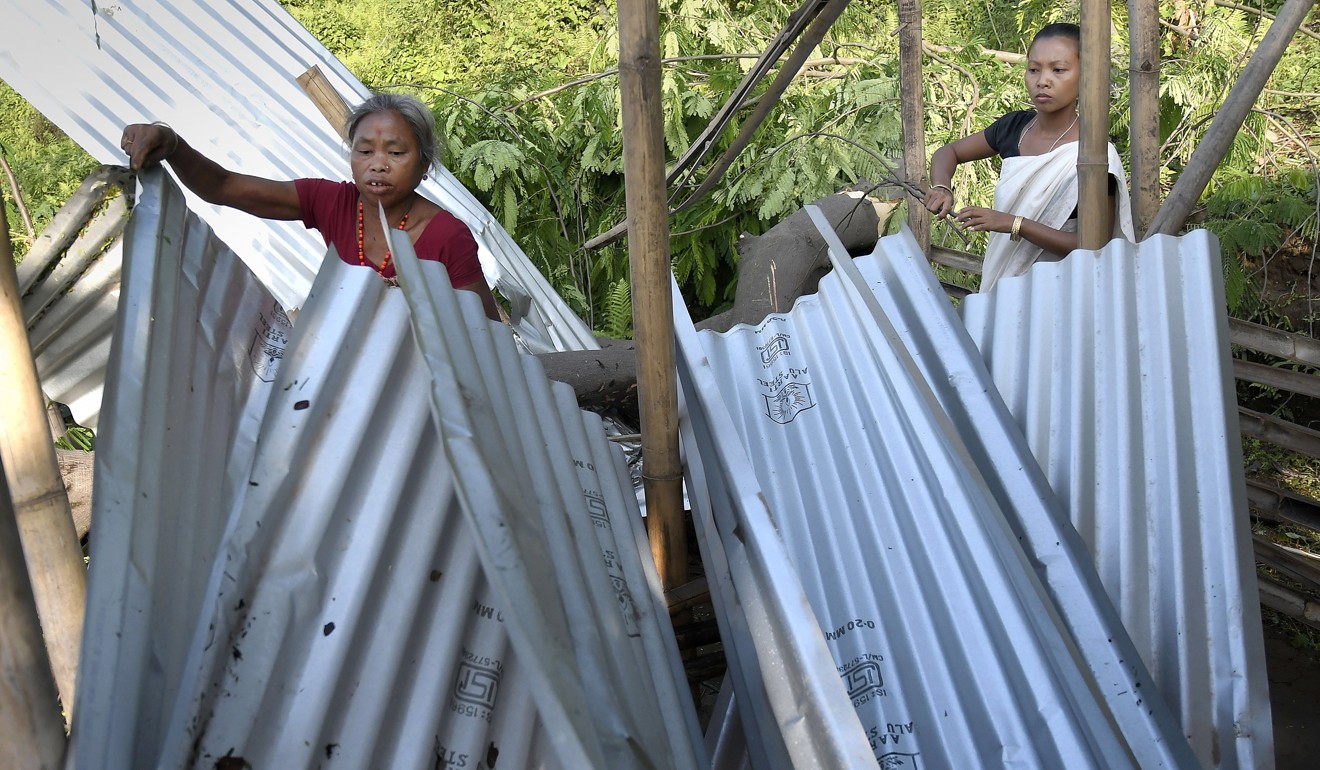 Lightning kills dozens of farmers in Bangladesh
Dozens of Bangladeshis, mainly farmers harvesting rice, were killed by lightning as pre-monsoon thunderstorms wreaked havoc across the South Asian country. "In the last 24 hours, 29 people have died from lightning in 12 districts. Almost all of them are farmers," a disaster management department spokesman said. Scores of people die every year after being struck by lightning during Bangladesh's wet season from April to October. The spokesman said more than 112 people had been killed in strikes in the first 10 days of May. Authorities declared lightning a natural disaster after 82 people were killed in a single day in May 2016.
What next: Experts say deaths are rising as Bangladesh witnesses the increased deforestation of rural areas. Farmers are known to chop down trees to free up space to grow more rice. Disaster management officials are trying to reduce the high death toll by planting five million palm trees to provide better shelter.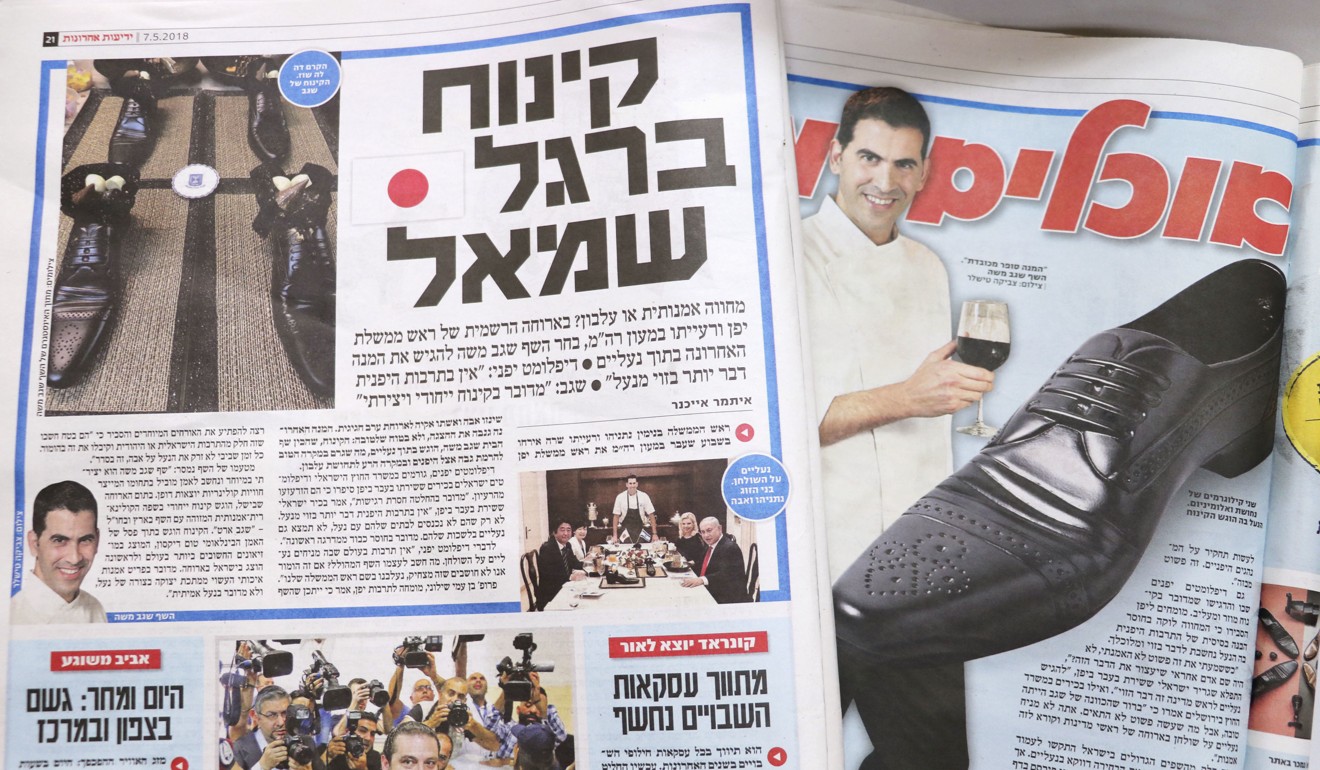 Netanyahu served Abe dessert in a shoe and it's caused a stir
Dessert was served in what appeared to be a lace-up leather shoe at a dinner hosted by Israeli Prime Minister Benjamin Netanyahu for Japanese counterpart Shinzo Abe last week. After a day of high-level meetings on May 2, the Japanese leader was treated to the meal by celebrity Israeli chef Segev Moshe. Then came dessert: a selection of delectable chocolate pralines – artistically arranged inside a shiny leather shoe. Israeli media wrote that "Japanese diplomats, Israeli Foreign Ministry officials and high-ranking Israeli diplomats who previously served in Japan were shocked by the idea". "This was an insensitive decision," the article quoted one unidentified senior Israeli official as saying. "There is nothing lowlier than a shoe in Japanese culture.
What next: A Japanese embassy official said Abe and his wife "enjoyed the dinner". Segev posted a photo of the shoe-filled dessert on Instagram, writing: "Chocolate selection from the world by #SegevArt – a metal shoe by @tomdixonstudio." "The dessert was served inside a sculpture by international artist Tom Dixon, whose works are displayed in major museums around the
world and for the first time was displayed in Israel at a meal."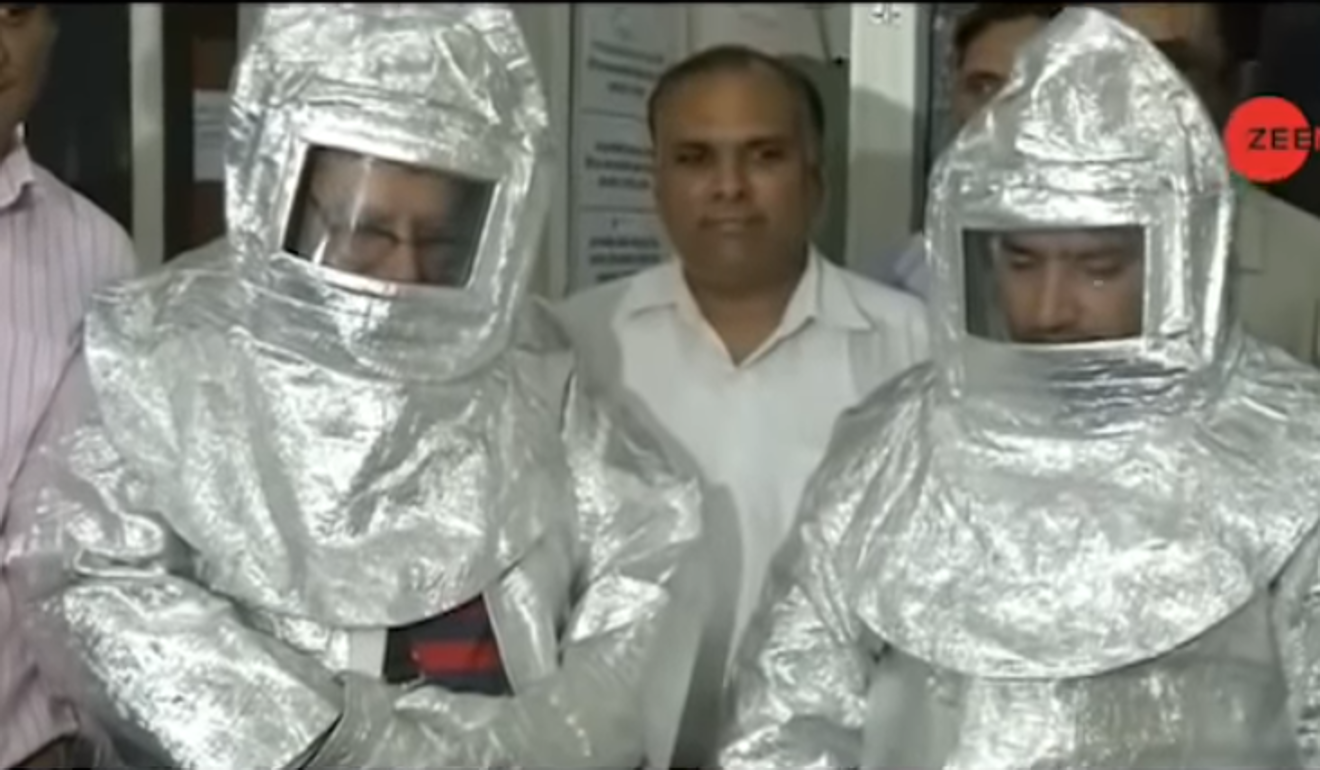 Spacesuit-wearing duo paraded by Indian police after 'magical' con
Indian police brought a father and son duo down to Earth this week when they paraded them in the fake spacesuits they allegedly used to convince a businessman to hand over more than US$200,000. New Delhi police released pictures and video of the two accused wearing the silvery suits, after they were arrested over claims they were developing "magical" copper plates for a device that could generate "electricity from thunderbolts". They promised the technology would be sold to Nasa and India's space agency for millions of dollars, police said. The pair were already on bail accused of selling snakes with "medicinal qualities" for more than US$25,000 each.
What next: Police say in addition to the businessman, the duo may have got money out of up to 30 people across northern India, but it is not known how much. The New Delhi businessmen became suspicious when promised experiments were repeatedly called off, mainly because of bad weather. The police images were widely shared on social media, where comments compared the duo's antics to "a low budget C-grade Bollywood movie".