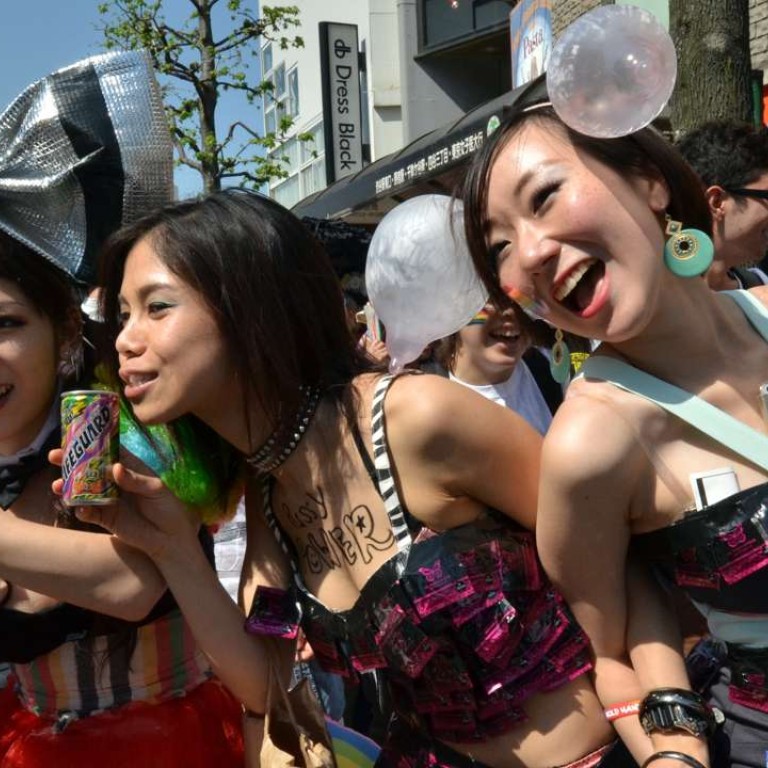 Why Japanese businesses are embracing the LGBT community
In faraway Toronto, an art exhibition titled "The Third Gender – beautiful Youths in Japan" is an eloquent statement on Japan's attitude towards gender. Long before the term LGBT came into vogue, Japan went its own way regarding gender definitions, as the exhibition shows. It harkens back to a more relaxed era, depicted in art as the "Floating World", before the Meiji restoration in the 19th Century opened Japan to Western ideas and concepts, including a more Victorian attitude towards sex roles. That is changing rapidly in Japan, led by big business seeking to tap into the underappreciated market for lesbians, gays and transgender people estimated at US$50 billion.
The online shopping mall operator Rakutan earlier this month announced that it would recognise same-sex relationships for spousal benefits. Under the new rule, employee couples of the same sex can receive the same benefits and treatment as married couples, including condolence leave and condolence payments.
"We are very proud to support and provide an inclusive work place with services and benefits that recognise same-sex partners," said Akio Sugihara, managing executive.
Rakuten is known as a trend-setter in Japanese business circles. It made news earlier when it announced that it was demanding that all 13,000 employees learn to speak English for the company to work better in a global setting. But other more venerable Japan Inc. companies are following suit.
The massive electronics emporium Panasonic announced it too would recognise employees in same-sex relationships by conferring on them paid leave and other benefits. One motivation is the 2020 Olympic Games to be held in Tokyo. It has a rule prohibiting discrimination on the basis of sexual orientation. Panasonic aspires to be a prime sponsor.
Japan Airlines and its affiliate Trans Ocean Air Company together sponsor the Pink Dot festival on Okinawa, becoming the first Japanese airlines to sponsor a private LGBT event. Beginning this year, JAL will also allow officially certified same-sex couples to share their frequent flier miles as family members. Both JAL and Trans Ocean, based in Naha, rely heavily on tourism.
"We can see the ripple effect among numerous additional Japanese companies", says Ayumu Yasutomi, a professor of social ecology at Tokyo University's Institute for Advanced Studies in Asia.
Like its counterpart in the United States, Tokyo Disneyland sponsors an LGBT Pride event. This includes a popular marriage hall, which performs a kind of symbolic marriage ceremony for same-sex couples. Nomura Securities, was one of the first major LGBT-friendly companies in Japan when in 2008 it bought the US investment bank Lehman Brothers and adopted its marriage equality policies.
Hakuhodo DY Holdings, a major Japanese advertising firm, this spring established a think tank, the LGBT Research Institute, to cater to Japanese firms that feel they need to learn more about sexual minorities and their buying habits. "The LGBT market is still largely uncharted territory," declared institute chief Takahito Morinaga. His research shows that LGBT people tend to spend more on travel, art and pet goods, he says. "I believe there are tremendous big business opportunities," he said.
Change is coming, albeit more slowly, in the public sector. The self-governing Shibuya district of Tokyo created quite a stir when in February 2015, it declared that it would begin issuing "Proof of Partnership" documents, providing same-sex couples with rights traditionally reserved for married couples, stopping just short of fully–fledged same-sex marriage certificates.
The Setagaya district quickly followed suit, but since that initial outburst, no other Tokyo district has done so, although the small city of Iga in Mie prefecture became the first government entity outside of Tokyo to issue Proof of Partnership documents for same-sex couples.
One might reasonably question that if these districts are issuing documents for same-sex couples that are practically marriage certificates, why not take the next logical step and fully legalise same-sex marriages. The answer has less to do with views on homosexuality, which are fairly relaxed in Japan, as it does to more practical concerns such as inheritance and the definition of the family under law.
In Japan, couples can go through any "marriage ceremony" they wish, from the most traditional Shinto wedding ceremony to marriage halls in Disneyland and Hawaii (combining the wedding with the honeymoon). But no one is actually and legally married until they go to the city hall and enter their names in the family register or koseki. For married couples only one family name must appear.
The koseki system performs by itself the roles taken on in other countries through several documents, including birth certificates, death certificates and of course marriage or adoption. So many conservatives are loath to tinker with it.
As a rule, then, Japanese don't have much cultural hostility to LGBT people. Homosexuality has been legal in Japan since 1880. Neither of the two main religions, imported Buddhism and the native Shinto, has any position on sexuality. (The tiny Christian minority does not much exert influence.)
A law passed in 2002 allows transgender people to change their legal gender after obtaining sex re-assignment surgery. There are no laws governing which bathrooms to use. Indeed, there are occasional signs in front of public toilets saying this stall is gender free.
The current exhibition of Japanese wood-block prints running in Toronto is itself a fair indication of Japanese attitudes towards gender. In the kabuki theatre men play women's roles, while in the Takarazuka review women play the men's roles.
Japan's politicians have been slow to react to LGBT issues. In the recent upper house election in July, the ruling Liberal Democratic Party's manifesto contained some vague language of support for LGBT issues but was placed towards the end of the document.
"The Liberal Democratic Party of Prime Minister Shinzo Abe would probably try to get by without dealing with LGBT issues. Without outside pressure [the Olympics] things might not have gotten this far," says Akiko Shimizu, associate professor of gender and sexual studies at Tokyo University. "But doing nothing looks bad."
Japan's constitution, written by occupying Americans in 1947, goes farther than even the US constitution in guaranteeing women's rights and specifically places women on an equal plane with men in terms of consent and inheritance, but does not mention partners of the same sex.
For the first time since the war, the ruling LDP has enough votes in both houses of parliament to call a national referendum on amending the constitution, which has never been changed since it was first promulgated.
However, the LDP's proposed amendments, which it published in 2012, contain no references to same-sex marriage, and indeed, proposes strengthening definitions of family. These proposed amendments can be changed, of course, but it doesn't seem likely that the conservatives who now dominate the government will be willing to go down that road.
Todd Crowell has been a journalist in Asia for 30 years, in Hong Kong, Thailand and Japan