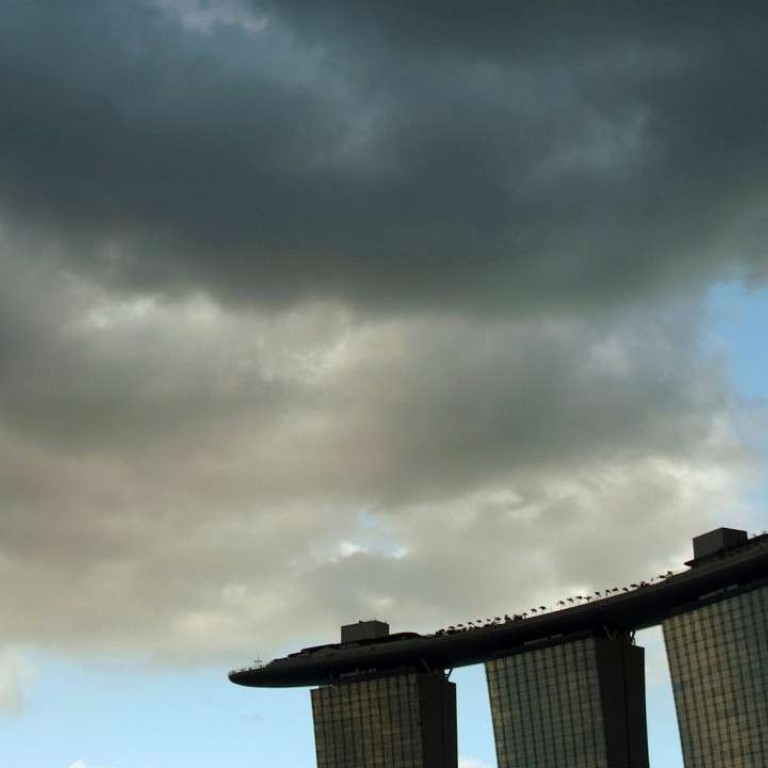 No recession yet, but here's why Singapore faces bigger worries ahead
Latest data shows economy is heading for its poorest showing in four years
After 16 years of running a small machine parts business, Singaporean businessman Leong Chan Wee finally decided to close shop earlier this year.
Business has been bad for two years, with sales trickling to a standstill but Leong held on because he didn't know what else to do.
"We bought parts from China and sold them to precision engineering companies in the region. It was good in the late 1990s but these days it is very hard to survive," said the 61-year-old.
"Luckily my kids have grown up, or else I wouldn't know how to cope."
Signs of a weak economy have been present in Singapore for some time, from near empty malls during the weekdays to restaurants shuttering up and workers finding it hard to get their jobs of choice.
Data released by the government on Friday showed the extent of the slowdown – Singapore's economy is heading for its poorest showing in four years.
Singapore's Trade and Industry Ministry said on Friday the economy grew by just 0.6 per cent in the three months to September, compared with the same period last year.
But when compared to the previous quarter, the economy actually slipped 4.1 per cent, the sharpest fall since the third quarter of 2012.
Much of this bad news had already been forecast. Singapore's Deputy Prime Minister Tharman Shanmugaratnam had earlier warned that economic growth was likely to hit the lower end of the 1 per cent and 2 per cent range.
Trade and Industry Minister Lim Hng Kiang also said in parliament on Monday that Singapore was unlikely to fall into an "outright recession, but we cannot rule out the possibility that the economy will experience some quarters of negative growth on a quarter-on-quarter basis".
The latest data bears this out. Manufacturing dipped 1.1 per cent on a year-on-year basis, unsurprising given the weak global demand for products such as oil and electronics, key exports for Singapore.
The services sector, which forms more than two-thirds of the economy, contracted by 0.1 per cent, probably held up by domestic consumption and decent income growth.
And if things should slip further, there is the budget, due early next year. The Singapore government has made it plainly clear that it has both the resources and the will to step in to prevent a sharp recession.
If anything, lifting property-cooling measures or a cut in foreign worker levies, which have been rising over the past few years, will be enough to stave off the recession.
But the worry among economists is not a sharp downturn but a protracted grind to stagnation.
In the medium term, Singapore is facing weak global demand. Brexit fears are starting to bubble up again, uncertainty hangs over the US presidential elections and while China has stabilised, there is still no sign of a strong growth engine anywhere.
The central bank's concern with growth prospects was also clear in its sombre outlook.
"However, there is a continuing shift in the composition of demand towards less import-intensive consumption spending, and as a consequence, global trade in 2016 and 2017 is projected to grow more slowly than previously expected," said the Monetary Authority of Singapore.
"Against this external backdrop, Singapore's trade-related sectors will continue to pose a drag on GDP growth in the quarters ahead."
OCBC economist Selena Ling agreed, saying that global trade and GDP growth appeared muted.
"I'm looking more for a stabilisation rather than a turnaround story," she said.
The short and medium-term worries come as Singapore grapples with how to transform its economy amidst a wave of disruption.
Its biggest companies are in the old economy, in such sectors as telecommunications, oil-rigs and banking – industries prone to disruption by new innovations.
"Globalisation and disruption are pressuring Singapore's old economy industries, making them increasingly disintermediated," said CLSA in a report on the future of Singapore's economy.
"Many blue chips have been left flat-footed as disruption threatens their existence. Increasing connectivity and rapid technological development is changing the playing field and investors must be aware of the disruptive threats to listed companies."
Some of the bigger companies are moving to adapt. SingTel for instance has been on a buying spree, acquiring a host of new media companies to prepare for the future.
But others such as the rig-builders like SembCorp Marine are still struggling to rebuild their business in the current oil slump.
These issues will come into focus when a government-appointed panel looking at the future of Singapore's economy releases its findings early next year.
The committee will discuss strategies to pivot Singapore's companies into new growth areas, including how to arm Singaporean workers with the tools needed to survive in the digital economy.
This is not the first time the country has gone into soul-searching mode. When the island republic faced its first major recession in 1985, the government appointed an economic committee to look at how to restructure the economy.
The committee proposed slashing wages, cutting the savings rate, supporting property development while pushing ahead to build new local companies. The hard measures worked and Singapore went on to enjoy another decade of solid growth before the Asian financial crisis struck in 1997.
Will the current committee provide such clear guidance ahead? Singaporeans will be desperately hoping it can.
Aaron is a Singapore-based journalist and a former deputy business editor at the Straits Times