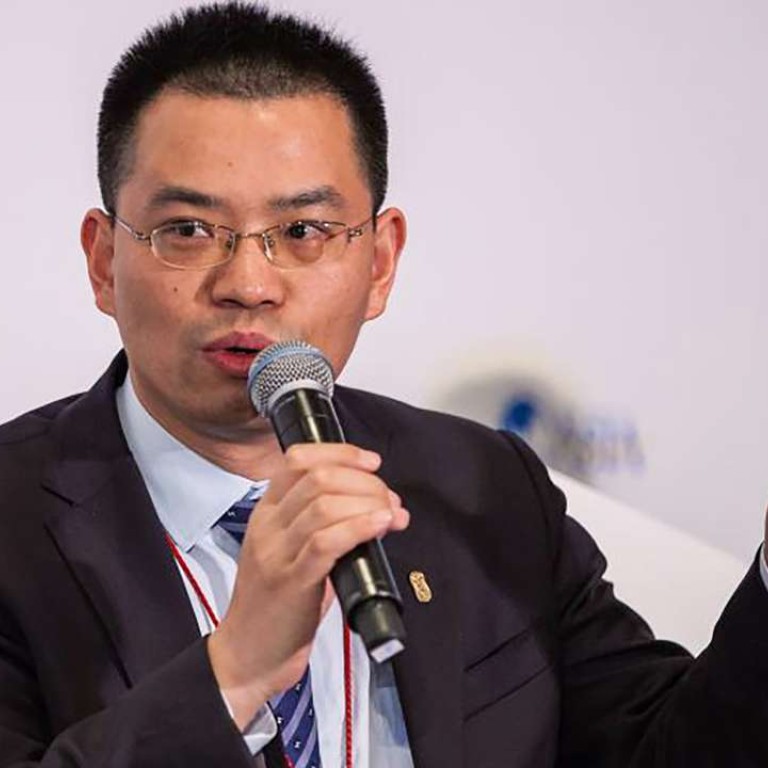 Meet the Chinese investor who says female bosses are bad for business
'It's not prejudice,' says venture capitalist Luo Mingxiong, but 'what else do women do better than men except giving birth'
After days in the spotlight for saying female CEOs are bad for business, Luo Mingxiong, a Chinese investor in Beijing, does not regret what he said.
"If I could have had a chance to say it again, I would still list this as my investment principle," said Luo. He was referring to his statement at a public presentation in Beijing this month that "we usually don't invest in female chief executive officers".
Luo, the founder of Beijing venture capital firm Jingbei Investment, sparked a public outcry in China as he listed female CEOs in his 10 no-investment principles, suggesting that in the corporate world, they are as negative an attribute as dishonesty or an inability to learn.
"It's not because of any kind of prejudice," Luo told his audience. "But just think about it carefully. What else did women do better than men except giving birth?"
And it is not just female CEOs he considers undesirable; Luo also said companies filled with female board members are another red flag. "If the company CEO is a man, but a lot of the chairmen are women, we typically won't invest in [them] either," he said. "Why? Because it shows that the entrepreneur can't recruit equally excellent and ambitious male executives."
Luo's words went viral online. "Is this something a decent man would say?" went one reply. "We don't want your money," is another.
But some Chinese agree with Luo. "I don't think what he said is a problem," wrote someone with the username "Xingqingfu Hualaishi" on Sina Weibo. "As an investor, he has his vision and preference. He is free to do business with anyone he wants."
In an interview with This Week in Asia on Thursday, Luo went further.
"Being an entrepreneur isn't fair for women," Luo said. "We, as male entrepreneurs, basically don't have to spend time taking care of family and children, but which female entrepreneurs could do that?
"Meanwhile, women are different from men in terms of their strategy, vision and mentality ... Relatively speaking, it's not easy to be a female CEO and that's why we usually don't invest in them," Luo said.
He added: "As far as I know, most investment firms in China hold a similar view".
Among all the Chinese CEOs hired in 2015, only 3.7 per cent were women, according to a report by the global consulting firm Strategy&. However, that is the second-highest percentage in the world, behind only the United States and Canada's 4 per cent.
Despite their relatively low numbers in the marketplace, some of China's female CEOs have achieved great success. Zhou Qunfei, nicknamed the "touchscreen queen", has a net worth of US$5.9 billion, and her glass-making company employs more than 60,000 people. Liu Nan, a housewife-turned-entrepreneur, established an online baby goods emporium which has attracted US$230 million from investors including the Chinese search titan Baidu.
But despite Mao Zedong's (毛澤東) famous quote that women "hold up half the sky", industry players say the culture makes it hard for businesswomen to rise to the top.
For one, Chinese women face social pressures to get married early – women who wait past the age of 30 are often judged to have waited too long. Some presume young female CEOs are "unfocused", unable to be 100 per cent dedicated to their jobs, said Brock Silvers, managing director at Kaiyuan Capital, a private equity investment firm in Shanghai.
And while motherhood remains a pillar of China's traditional culture, Silvers said it is often considered a hindrance in the business world. Also, guanxi (connections) "is absolutely more crucial to present-day business culture in China than it is in the West", and "women may be seen as potentially less effective at networking", he said. "It's just hard to socialise with bureaucrats if you are a woman, and the local guys will be automatically aware of this difficulty."
Zhou Yingqi, a 25-year-old Chinese entrepreneur in Shenzhen, has experienced it all during her journey to launch 8PMoon, an online platform where customers can pay a small fee to get their problems heard.
Her targeted customers are young Chinese women who are active on the internet yet reluctant to open themselves up to people they know in the real world. She already tested the business idea through an online store she opened in 2013 on Taobao, a popular Chinese e-commerce site. Her products ranged from 30-minute chats for 68 yuan (HK$77) to "virtual boyfriend" rentals for 200 yuan a day.
At its peak, Zhou hired more than 200 part-time employees and netted about 500,000 yuan a month. But when Alibaba Group Holdings, the owner of Taobao, shut down virtual services on its e-commerce website in 2014, Zhou had no choice but to find a new platform for her business. Alibaba is the owner of the South China Morning Post.
To raise funds for developing a mobile app last year, Zhou and her co-founder, another Chinese woman in her 20s, did what other entrepreneurs in Shenzhen usually do. They invited investors for dinner, went to bars together and even considered learning how to play cards, a popular activity among investors in the city, she said.
"We had to develop good relations with associates from investment firms," Zhou said. "We were afraid that if we didn't have a good relationship with them, they wouldn't submit our business plan to their supervisors. That meant we would lose opportunities to raise funds."
So the pair drank with investors at bars – sometimes as late as 3am. "I didn't feel comfortable doing that at all. It made me feel like I wasn't an entrepreneur," she said.
It's hard to assess how many Chinese female CEOs have had experiences that made them feel similarly compromised. Jennifer Xu, the founder and CEO of Greenapple Health, a Shanghai-based start-up that helps patients book doctors via a mobile app, said she had never needed to go to bars or do things against her will in order to raise funds. Her company received more than US$10 million in investment last year.
However, "China does have a reputation of heavy drinking among business people", said Pocket Sun, the founder of SoGal Ventures, a venture capital firm investing in technology start-ups in the US and Asia.
But if distinct barriers still exist in China for female CEOs, Sun says opportunities abound for investors with the vision to look past them.
"When I heard of Luo's comment, I actually laughed," she said. "I was thinking to myself, 'he's missing out. We will invest in female CEOs and make returns from them. He clearly doesn't see where the future of economy is going'."