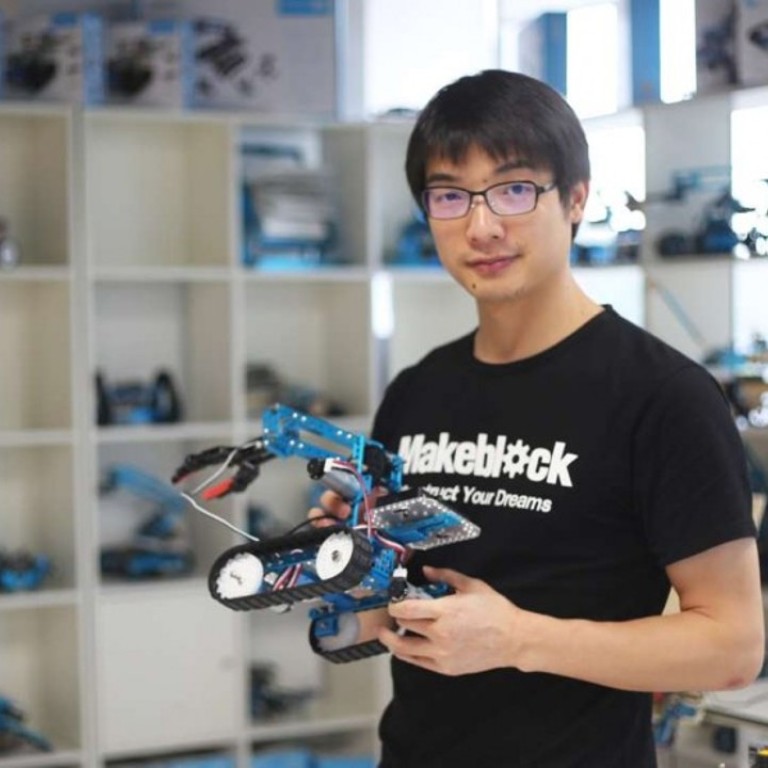 How DIY became a driving force of China's robot revolution
Makeblock's do-it-yourself kits have made it a major player in the world of robotics – and are helping China reposition itself as a global powerhouse for the industry
Growing up in a farming village in central China, Jasen Wang's childhood was far removed from the worlds of Lego, RoboSapiens and other toys designed to introduce young minds to the world of robotics. It was not until the age of 20 that Wang first put his hands on a robot, as part of a college competition.
"I was amazed by how smart a machine could be," he recalled.
That epiphany sparked an obsession with robotics that put Wang on the road to creating Makeblock, a five-year-old start up near Hong Kong that now sells millions of dollars worth of do-it-yourself robotics kits and related products.
"I always want to make the process of creation easier, so people can turn their ideas into reality without much hassle," Wang said. "We are now on the way to realising that goal."
Inside a brand new office tower on the outskirts of Shenzhen, Makeblock's 1,000-sq-metre R&D centre might be considered a fantasyland for geeks.
Young men and women fix their eyes on computer screens filled with code. Engineers, sitting on the floor and facing the wall, are surrounded by hundreds of mechanical pieces. No one looks up; they are busy putting together robots.
Last year, three new products were born here, including Makeblock's Airblock, a DIY drone which raised nearly US$900,000 in a Kickstarter crowd-funding campaign in November and earned an internationally recognised Red Dot Design Award.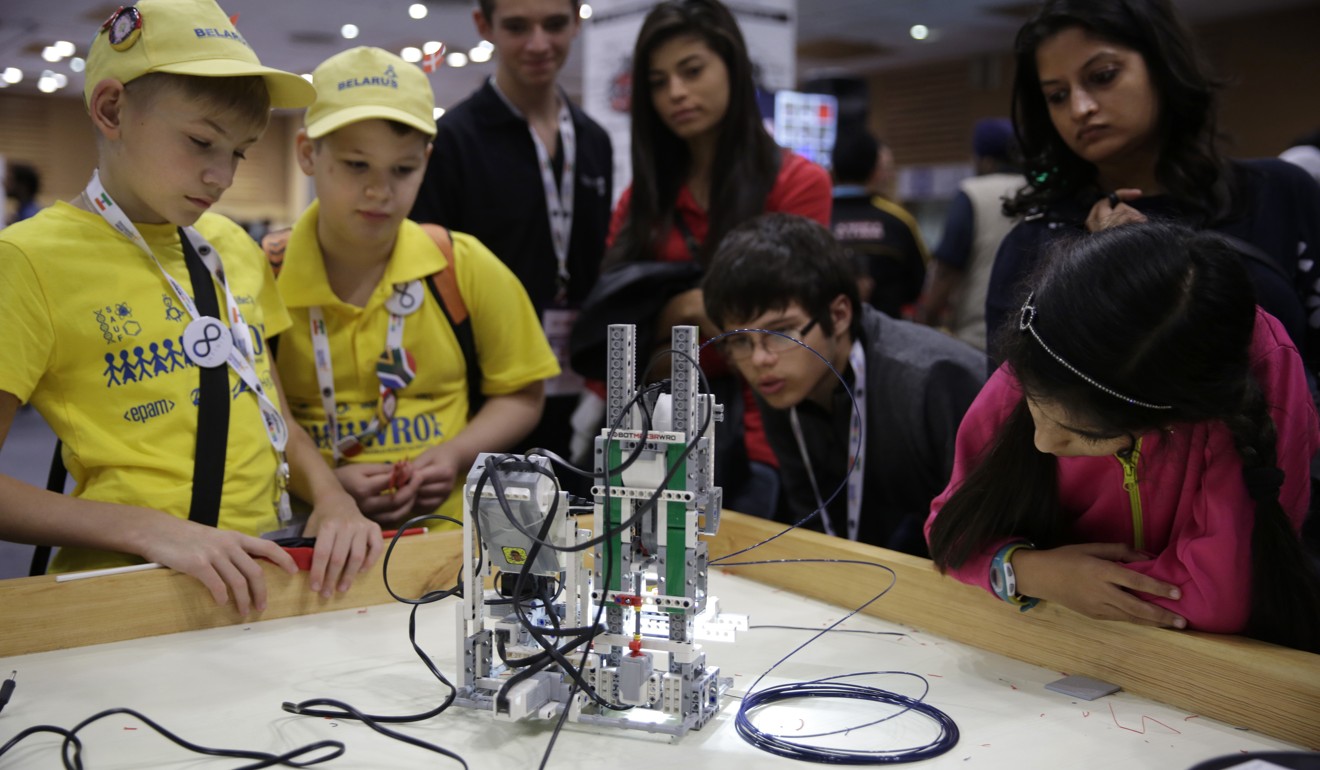 Wang's business started as a way for hobbyists to find parts, but has become a construction platform that offers more than 500 pieces, compatible software and building kits.
His company claims to have more than 1 million users worldwide and last year its revenue increased to US$17.5 million – up from US$435,000 in 2013, when Makeblock began production.
Once a one-man company, it now employs some 400 people, with engineers from the Massachusetts Institute of Technology and other top universities.
But Wang's success goes beyond the company itself – it has also brought his motherland closer to a bigger goal: once the world's factory floor for low-end products, China is now repositioning itself as a global powerhouse for robotics.
In 2013, China surpassed Japan to become the world's top market for industrial robots, according to the International Federation of Robotics, an industry group based in Germany.
Will China also become a global leader in robotic innovation and production? "Yes, it is working towards that direction," said Jan Zhang, an analyst at global market research firm IHS Markit.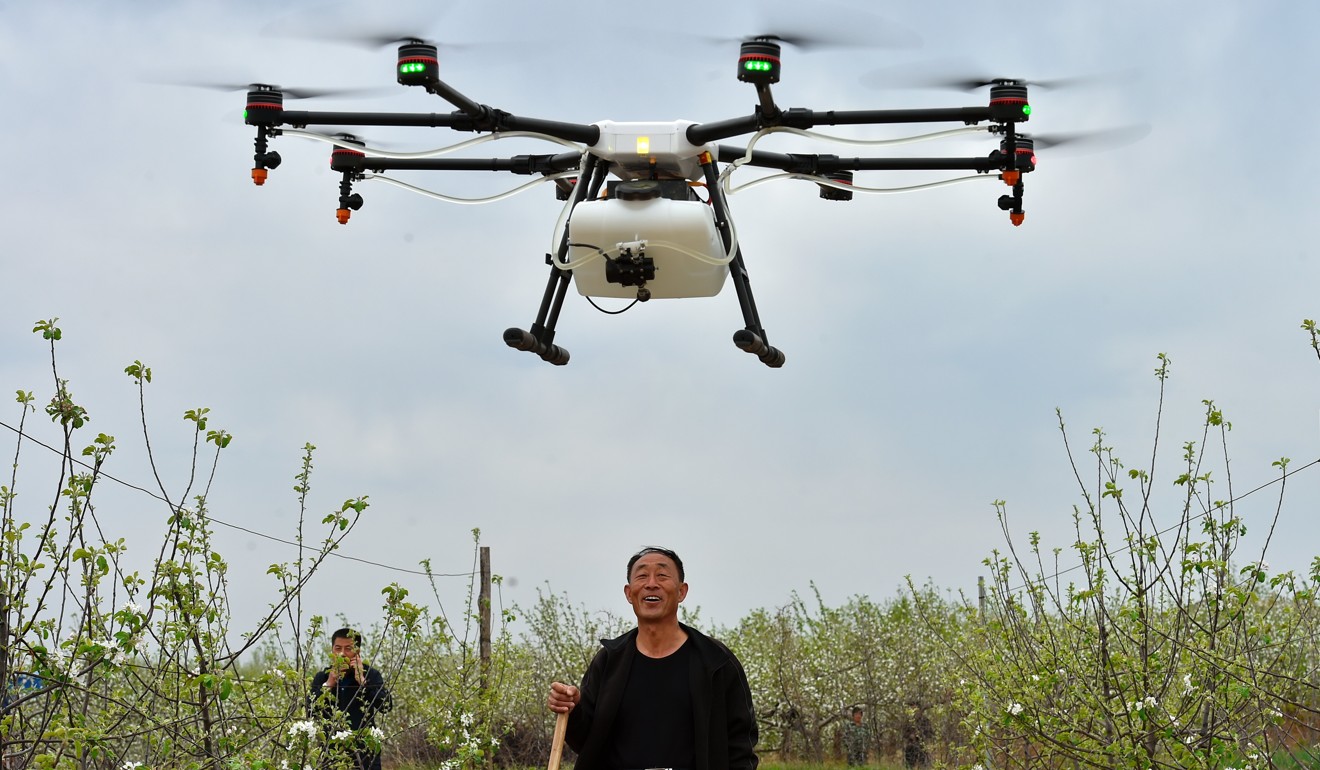 After calls by Chinese President
Xi Jinping
(
習近 平
) for "a robot revolution", more than 1,000 robotics firms have mushroomed across the nation, according to a 2016 report by the Ministry of Industry and Information Technology. By contrast, analysts say, the sector was virtually non-existent in China a decade ago.
The Chinese robotics industry has grown larger and more savvy. When Boston-based Robotics Business Review magazine recently ranked the top 50 most influential robotics makers in the world, they selected two mainland Chinese companies – DJI and Siasun – alongside Google and ABB.
DJI is a drone maker in Shenzhen, and Shenyang-based Siasun produces a wide range of robots, from powerful arms used to build cars to an elegant machine guide that can assist shoppers.
"I think robotics is a sector in which China is going to quickly become a global leader," said Benjamin Joffe, a partner at the Shenzhen office of HAX, a start-up accelerator that specialises in hardware businesses and has invested in several Chinese robotics companies.
Joffe said Chinese personal transporter brands such as Ninebot and Inmotion were already industry leaders. While Chinese industrial-robot makers still lagged their Western peers, they were "growing fast", he said.
Such acceleration is a boost for China's goal to stay competitive in global manufacturing. The nation has long taken advantage of its cheap labour to compete with Western factories, but is losing its advantage as wages increase.
Under pressure from a rapidly ageing population and a shrinking pool of workers, countries worldwide are turning to robots for help. Zion Market Research estimates that the global service robot market will be worth US$24 billion by 2022. The goal for Chinese companies, President Xi said in 2014, was to grab a slice of this multibillion-dollar market.
Other nations are keen to see such benefits, too. Japan, which has employed hundreds of thousands of robot workers in factories – it even sent a robot to space – has called the industry a key component of its future economic growth. For its part, the European Commission has launched a public-private partnership to pump more than US$3 billion into innovation in civilian robotics. Although US President
Donald Trump
has yet to unveil how he will "make America great again" with the help of robotics, industry leaders and government advisers have urged him to do so.
But few nations seem ready to match China's commitments. As part of a push to transform its manufacturing sector, Beijing has armed its robotics industry with money and incentives: one programme lured back Chinese engineers working overseas; billions of dollars were poured into
technology
parks dedicated to robotics production and related businesses; and despite its ongoing crackdown on capital outflows, green lights have been given to Chinese companies acquiring Western robotics technologies.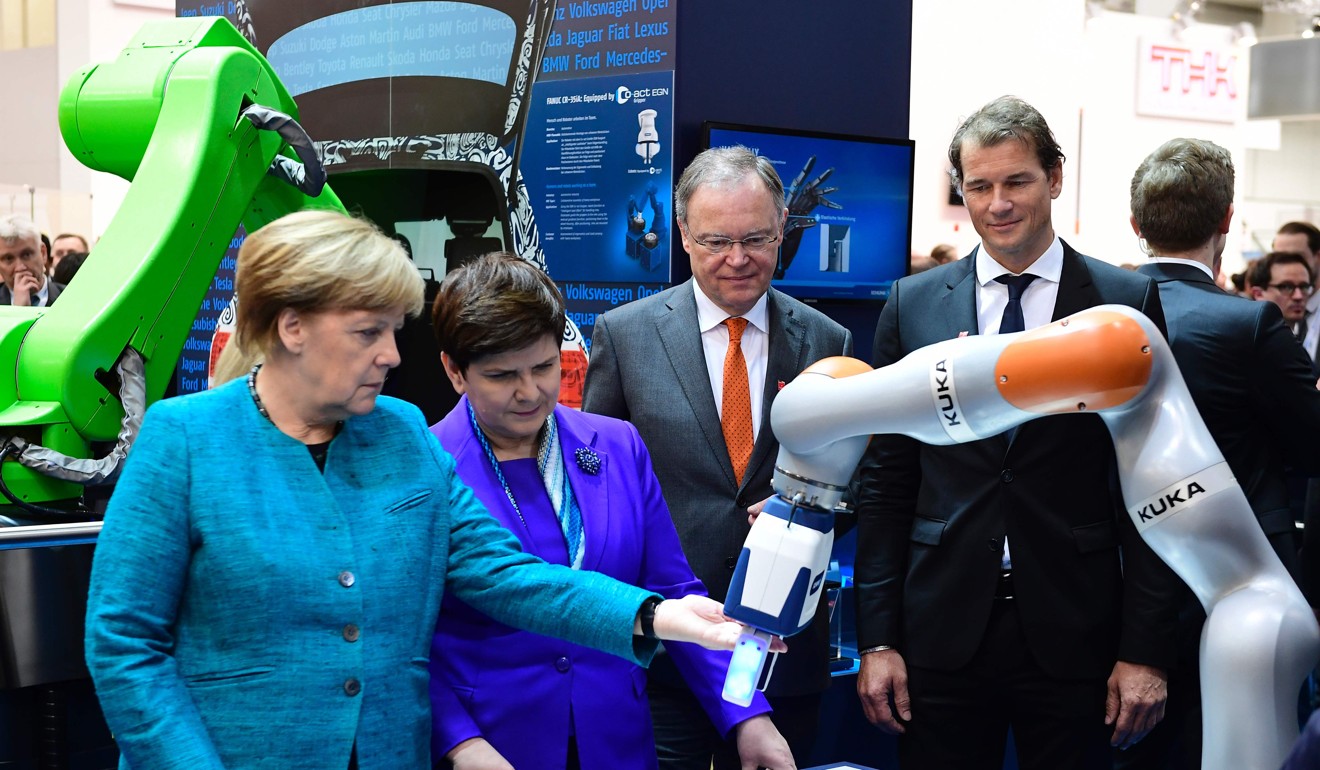 One case in point is Chinese appliance manufacturer Midea's acquisition of robot maker Kuka last year. Shortly after German Chancellor Angela Merkel visited Kuka's booth at a trade fair – asking, somewhat curiously whether its robots could squeeze lemons – its ownership changed hands. Midea, best known for producing washing machines and air conditioners, bought Kuka for nearly US$5 billion, making it the largest-ever Chinese takeover of a German company.
"With Kuka as the platform, we will work on industrial robots, commercial robots, service robots and artificial intelligence [AI]," Midea said on its website.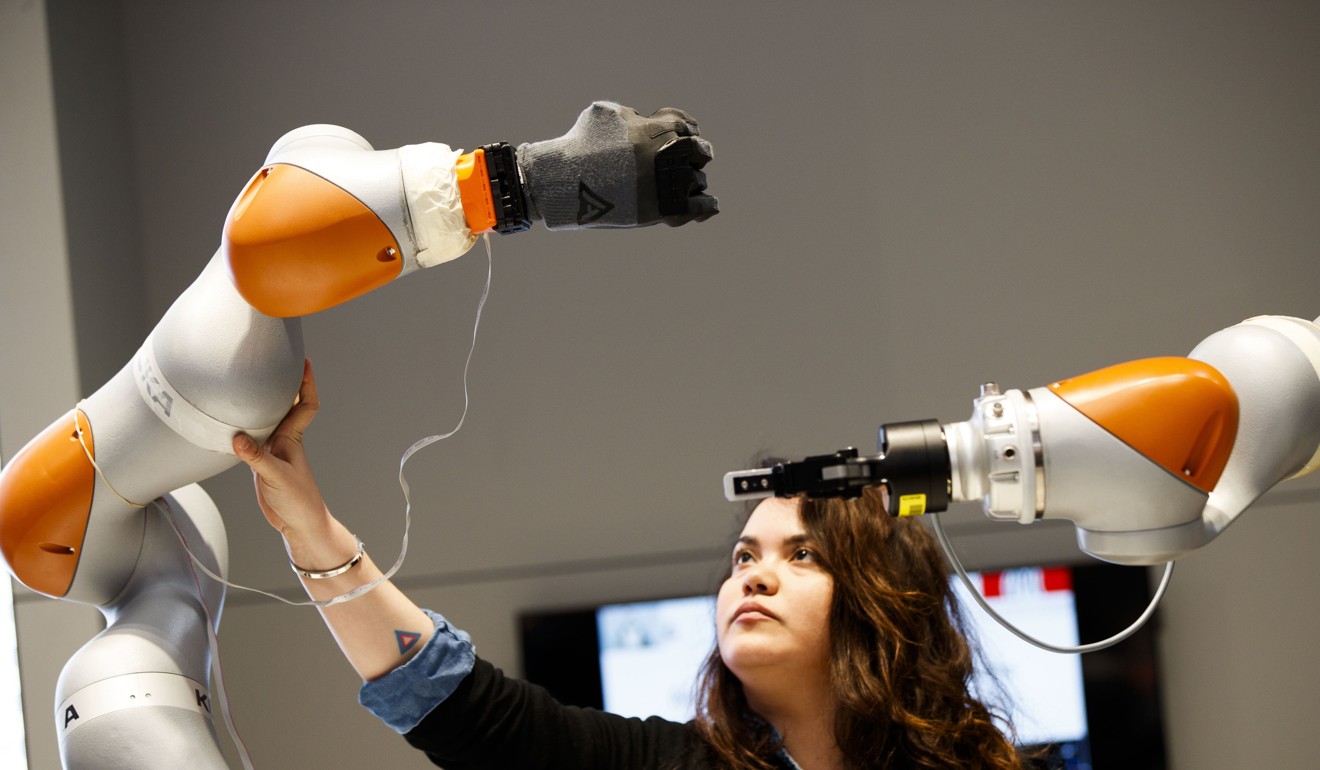 While Western firms such as Lego began producing robot-building kits for children as early as the 1990s, industry players say Chinese brands such as Wang's Makeblock are catching up.
"One innovation Makeblock has made is to bring robotics into classrooms," said Zoe He, a business development manager at Microsoft in Shenzhen. "Their products have become a showcase of how to modernise traditional education."
For instance, teachers who struggle to teach pupils engineering and computing can now make their courses easier to understand with the help of Makeblock's products. Their user-friendly designs let even beginners assemble robots. Students can then operate what they build via a mobile app, or add a new function using a drag-and-drop programming interface which allows them to learn the fundamentals of coding while playing.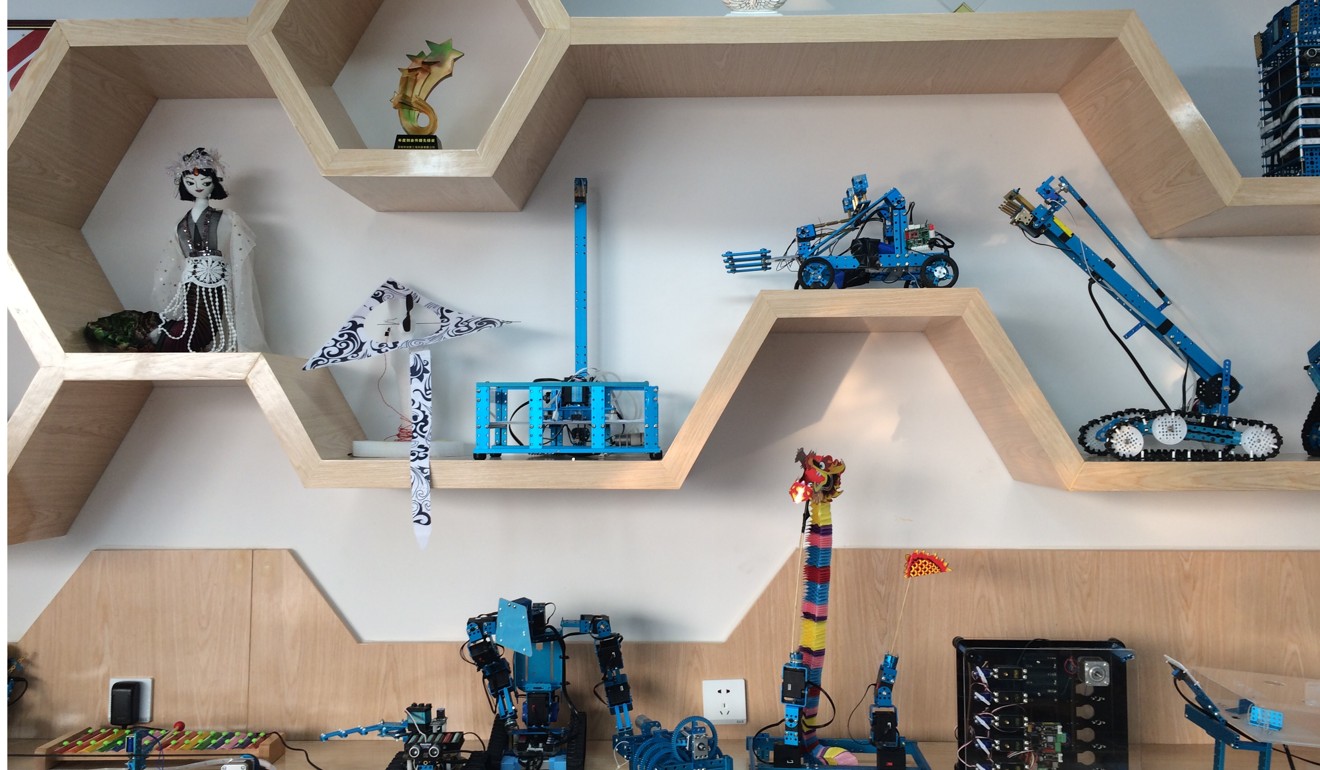 Impressed by the company's popularity among children, Microsoft partnered with Makeblock to make educational robots in 2015, said He.
Still, Wang remains unsatisfied. Orders from abroad accounted for 70 per cent of the company's revenue last year, but he plans to attract more by opening the company's first sales office in the US and Europe this year, following a recent expansion to Japan. Within three years, said the 31-year-old, "we want to become the biggest educational robotics maker in the world ". ■