The note on the tech company's front door was quite clear: "Use your staff card, please. Don't knock. It is not nice to disturb others' work."
But on this particular day, the normally staid and hushed workspace was roaring with music and exclamations loud enough to make windows shake.
"Nice shot!" one shouted. "Back! Back! Oh, no!" another screamed.
In this case, the kind of noise usually reserved for a soccer match between Liverpool and Manchester United was triggered by competing robots.
These machines, made of plastic, metal and tubes, moved gracefully in a play yard the size of two office tables, grabbing balls on the ground and throwing them to hit bowling pins defended by their mechanical rivals.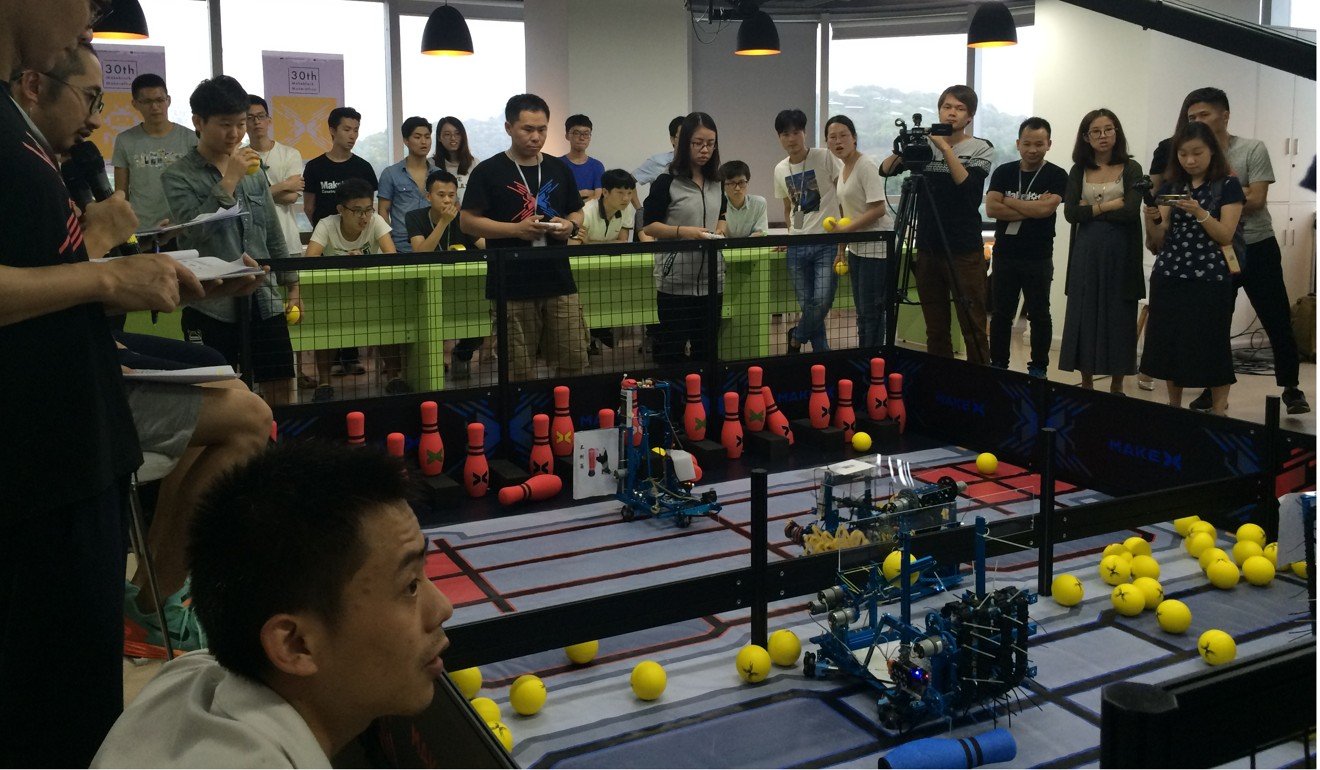 Welcome to Makeblock's makeathon, a 24-hour design competition for programmers, engineers and others who are encouraged to drop their daily routines to create something they are passionate about – in the realm of robotics. After they present their creations, they then take questions and advice.
The Shenzhen-based robot maker has been holding such competitions roughly once a month since 2014. And it is hardly alone. Tech companies across China are increasingly endorsing such events – usually called hackathons – to cultivate loyalty and boost innovation in a way that many of the country's brightest minds view as "fun". Chinese search engine giant Baidu, for example, launched its first hackathon in 2012. So did Tencent, the country's social media heavyweight. Beijing-based internet start-up Zhihu, which is often known as China's Quora, quickly followed suit, kicking off an annual 48-hour hackathon three years ago.
Silicon Valley tech giants such as Facebook and Google started similar events in the early 2000s. But in China, where command-and-control management styles have dominated the workplace for decades, these new, freestyle creative events represent a significant cultural shift in the tech industry.
CULTURE SHIFT
"There is a people management revolution happening in the tech industry of China right now," said Elliott Zaagman, a corporate culture specialist at Goldenspan Consulting in Beijing. Zaagman said that traditionally, innovation at Chinese tech companies came from the top-down, with employees generally following orders.
But now, Chinese tech workers were being encouraged to express their own ideas, and sometimes even challenge their bosses to advance their concepts.
Such a cultural shift can't guarantee innovation. "But it creates the environment that will create innovation," Zaagman said.
At Makeblock's 100-sq-metre company canteen, temporarily turned into a competition centre, innovation is under way – and it comes from a somewhat unexpected source.
When Cai Jian, a designer in his 30s, steps on stage, the audience – mostly colleagues at the robot company – greets him with laughs. Even the moderator can't help but tease him: "Are you sure you are in the right place? This is a hard-core technology contest, and you guys are from the departments of design and marketing."
But Cai and his team quickly win them over with a mobile app designed to help builders sort out all the various mechanical parts that can pile up while making a robot. While some judges question the limits of the app, several technicians jump in to offer solutions on the spot. The presentation quickly turns into a discussion of how to advance the idea, and the company says it will add the app to its to-do list.
Some of Makeblock's best-selling products, including a robot painting assistant for schoolchildren, were born at their competitions.
LET'S PARTY
Other Chinese tech companies have benefited from such competitions as well. Zhihu discovered a way to cash in on Q&A services after an idea emerged in its hackathon last year. Around the globe, several major tech companies, including GroupMe – a mobile group messaging app later bought by Microsoft – started as ideas at hackathons. Even Twitter's origin can be traced back to a daylong brainstorming session.
But the events aren't just for innovation. "We also view it as a great opportunity for team building," said Jasen Wang, the founder of Makeblock.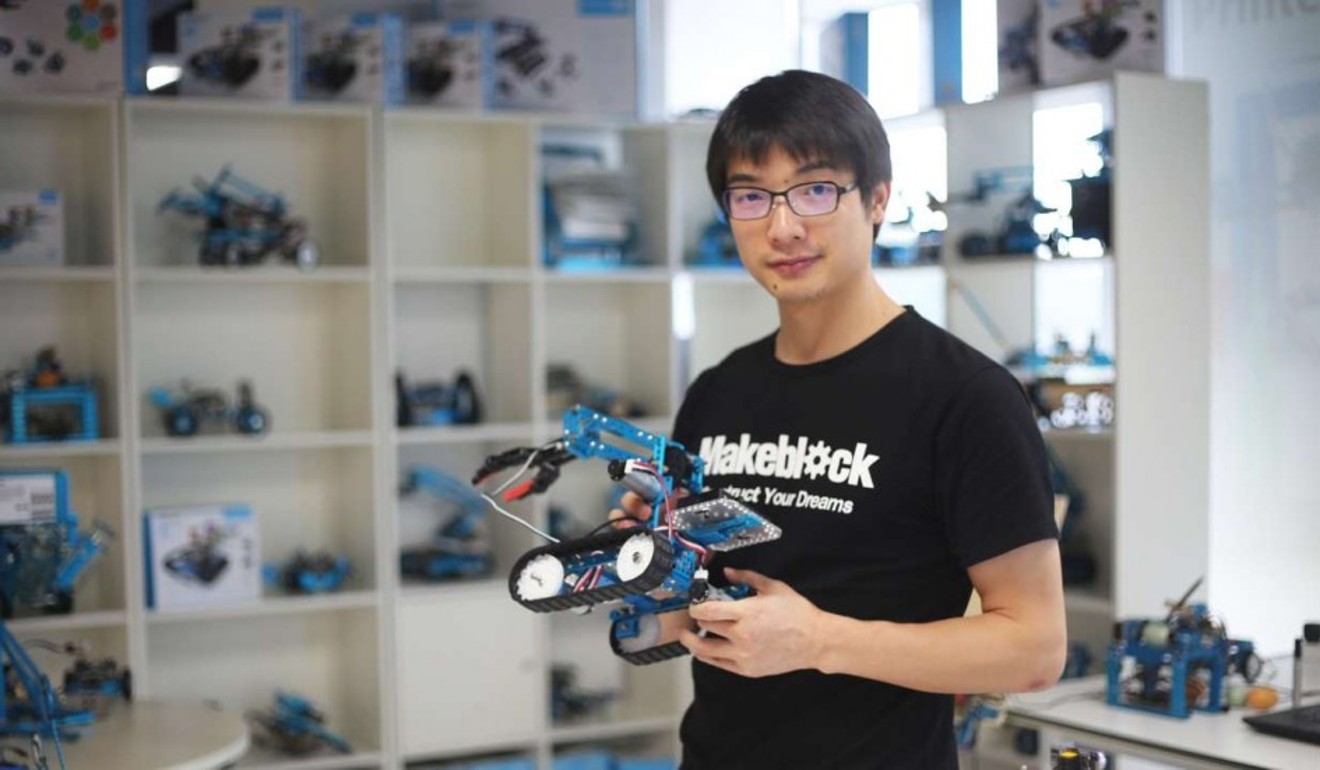 Each team is a mix of employees from different departments. They chat over durian cakes and mango mousse during tea breaks. Some even bring the whole family, with young children running around the office. The events serve to create a more relaxed atmosphere that can help improve employee retention.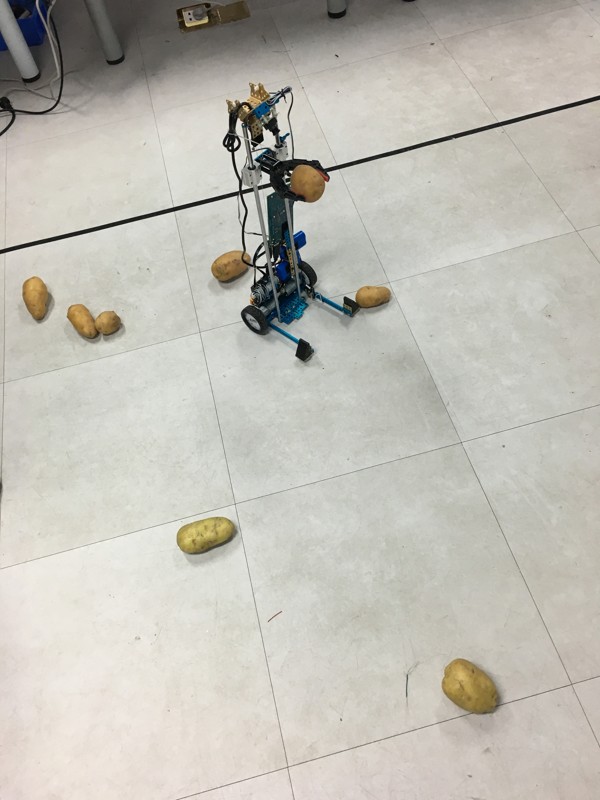 According to a 2014 survey by LinkedIn, the employment-oriented social networking platform, Chinese professionals change jobs every 34 months on average, nearly twice as frequently as their American peers. The survey found that a lack of personal development, boring work and an unattractive office atmosphere were among the top reasons employees quit a company.
Makeblock wants its events to counter these trends. "Everyone gets a chance to try something that they wouldn't do in their day work, and that's why we love it so much," said one participant.
In fact, such competitions attract new employees. Breloom Wan, 28, decided to quit his teaching job at a private education centre to work for the start-up after watching Makeblock's makeathon on social media. "Their recruitment slogan 'play is part of our work' lured me in," Wan recalled.
CATCHING ON
The recent competition attracted visitors from Microsoft and an executive of Shenzhen Venture Capital, a Chinese investment fund worth nearly US$31 billion. "The makeathon has become a brand of our company," said Wang. "Investors and clients view it as a proof of our creativity." He added that some business partners were also sending employees to participate.
Qiu Haoxin, a programmer at Kingdee, a Chinese software developer, was recently invited to experience his first Makeblock makeathon. His task? Find ways to integrate face-recognition technology into a robot within 24 hours and then present the work to the audience.
To make that happen, Qiu and his teammates – including a human resources specialist and a marketing professional – worked until midnight on Friday.
Their efforts paid off. Audiences were eager to try their robot, which could be controlled by facial expressions. Smiling made the vehicle move forward as it traversed a maze, an angry face would make it turn left, and so on.
"It was exhausting," Qiu said of the competition. "But it was also exciting. I shared my experience with friends and colleagues, and they responded: 'Wow. We'd like to try that, too'," Qiu said, adding that he had asked his company to launch its own makeathon.
Until then, Qiu and his colleagues know where they can go. "As long as Makeblock welcomes us, we will definitely come back again," the programmer said. ■