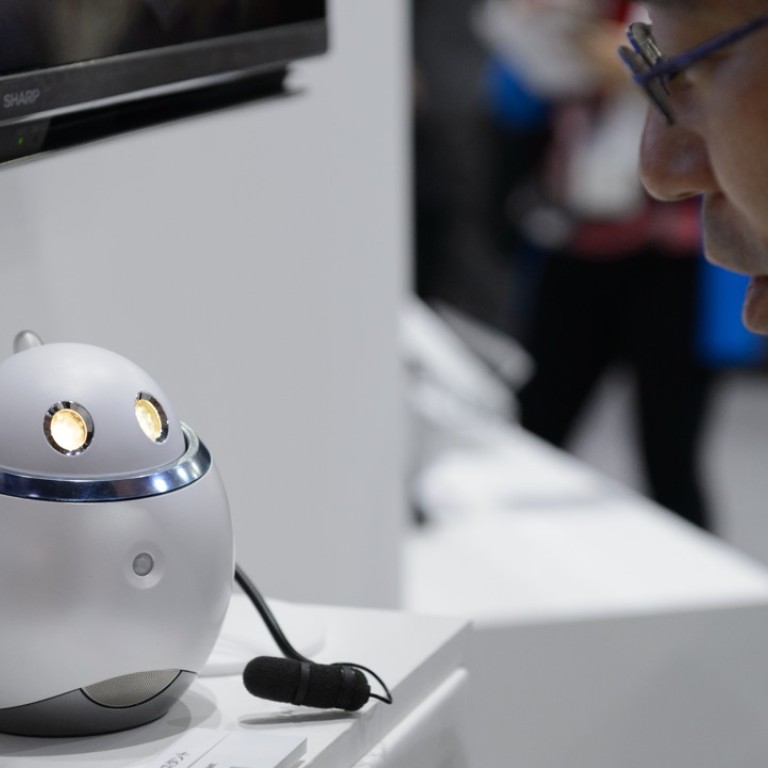 An employee demonstrates Sharp's Home Assistant smart robot prototype at the company's booth at the CEATEC Japan 2017 exhibition in Chiba, Japan. CEATEC is an information technology and electronics trade show. Photo: Bloomberg
Counter intelligence: Japan brings out the bazooka in AI war with China
Billions of yen in public investment could help firms innovate, but analysts say the nation may never catch up with China and the US, global tech leaders that show no signs of slowing down
Topic |  
Artificial intelligence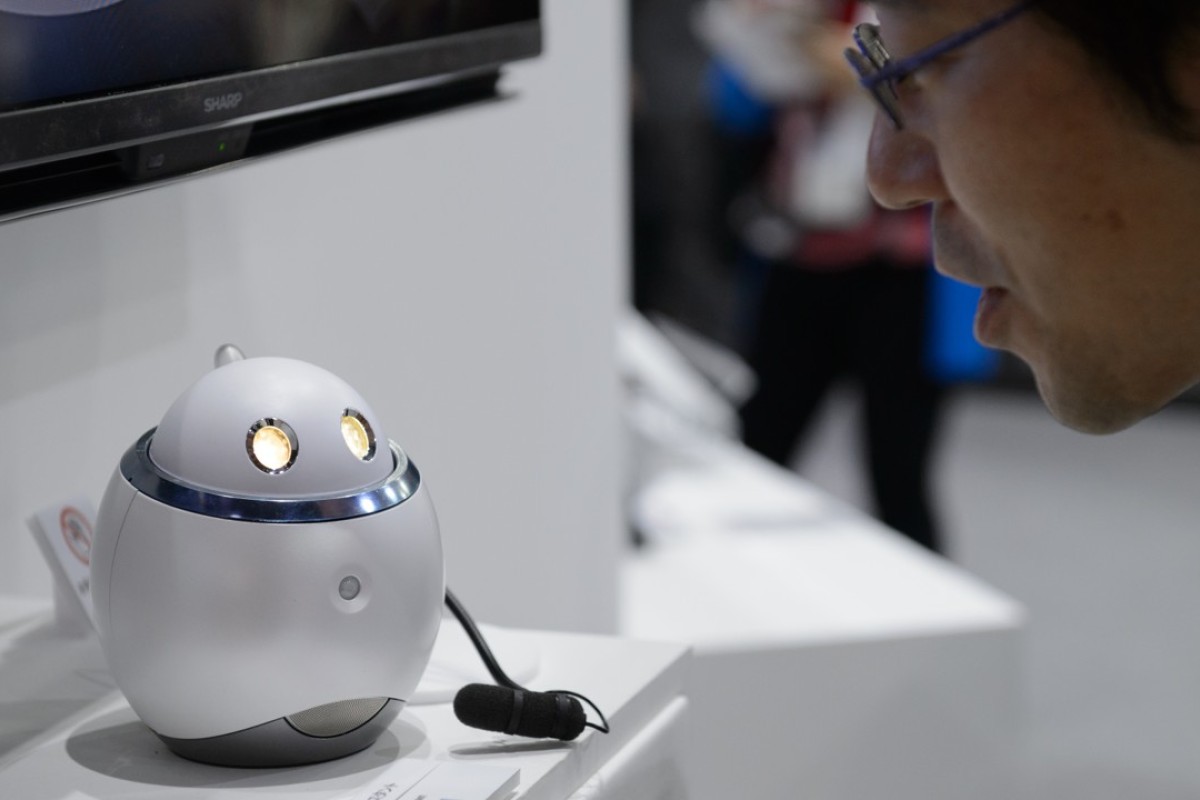 An employee demonstrates Sharp's Home Assistant smart robot prototype at the company's booth at the CEATEC Japan 2017 exhibition in Chiba, Japan. CEATEC is an information technology and electronics trade show. Photo: Bloomberg
C
hina may have
the clear lead in the development of
Japan announced in late August that it is planning to invest billions of yen to fund next-generation semiconductors and other technologies critical to AI development.
Unfortunately, analysts believe, parts of Japan's AI sector are far behind China, and there is little that can be done that will enable Japan to regain its predominance.
The cost of developing new chips has become cost-prohibitive for many Japanese firms, one of the root causes of Japan's lacklustre performance. To address this, the Ministry of Economy, Trade and Industry (Meti) said it will fund start-up companies and researchers, enabling them to devise new technologies and simultaneously develop world-class AI experts. It plans to request up to 10 billion yen (HK$690 billion) from the government's fiscal year 2018 budget for its initiative.
Mitsuru Ishizuka, a professor emeritus at the University of Tokyo who specialises in AI, confesses: "Frankly speaking, the situation in Japan at the moment is very hard and we are slipping behind the research in this area that is being done in China.
"The government has set up two AI research centres, one under the Ministry of Education and one under Meti, and there are many industries and companies that are interested in AI, but there are a lot of obstacles," Ishizuka told This Week in Asia.
"For one thing, there aren't so many AI researchers in Japan, certainly not in comparison with those in this sector in China, which obviously has a far larger population and a government that is investing very heavily in the sector," he added.
"In fact, I was at an international AI conference in August and there were more papers from Chinese researchers than from Japan or even from the US," he said. "The US is still the world leader in this area at the moment, but it is not a certainty that it will remain that way in the future – even in the relatively near future."
Still, companies in the nation that created Pepper – the humanoid android developed by telecommunications firm
Kirin Breweries, for example, is employing AI to take over the duties of human brewers to shorten the development of new products and speed up training. The company has developed a programme that uses more than 20 years of test data to determine optimum brewing formulas and to create drinks with the perfect aroma, colour, alcohol content and flavour.
The brewer also intends to use AI to determine consumers' preferred combinations and then create new drinks to meet that demand.
AI is being put to use at the Bank of Tokyo-Mitsubishi UFJ to monitor and analyse the activities of staff at a call centre that promotes asset management products. AI determined ways to increase employee efficiency by as much as 5 per cent per year.
Even the real estate sector is embracing AI, using advanced software to crunch statistics and estimate the current and future values of second-hand homes.
One company is so certain that this technology is the answer to its problem that it laid off 34 employees earlier this year and replaced them with an AI system. Fukuoka Mutual Life Insurance introduced AI to calculate payouts to policyholders on the grounds that it would increase productivity by 30 per cent. It estimates that the investment will pay for itself within two years. The company spent 200 million yen (HK$14.19 million) on installing the technology and estimated that it would save around 140 million yen (HK$9.93 million) a year.
Some analysts say Japan has strengths in some sub-sectors of AI, but the nation as a whole lacks the big names associated with the industry, such as Amazon, Google or South China Morning Post.
"When you look at AI in the automobile industry, robotics or the medical sector here in Japan, then I would say that Japan is really quite advanced and competitive globally, but there are no outstanding companies in the areas of e-commerce or finance," said Morinosuke Kawaguchi, an independent strategist and consultant on technology and innovation. "When you compare Japan's AI names, it is clear that we lag behind Yahoo, Facebook and so many others," he said.
Japan has traditionally been strong in hardware and this remains a positive sector, although it remains relatively weak in software development, Kawaguchi said. But there are reasons to be optimistic about supercomputing technologies – particularly in the area of "green supercomputing", in which achievements are measured by the number of computations per unit of power. In the "Green 500" ranking of such devices, Japan occupies the top five places, he added.
Japan also remains the world leader at quantum computing, which uses the power of atoms to process data instead of transistors, which are used in binary digital computers.
"The government's efforts to promote research and development in the AI space are a good step, but we are still behind the US and China seems to always be climbing higher," Kawaguchi added. "Japan needs to do everything in its power to catch up." ■