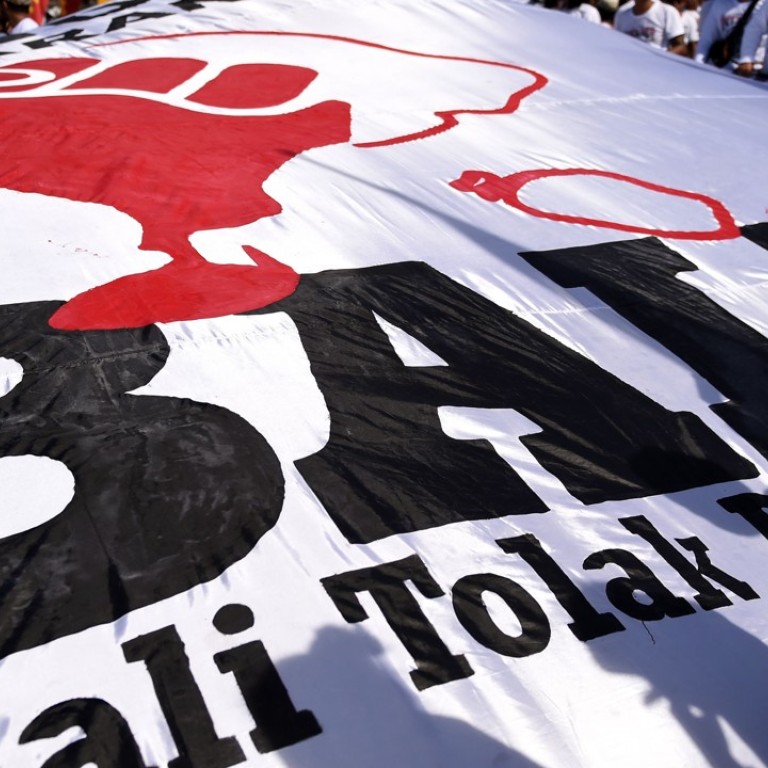 Tourism officials agree Bali is in urgent need of better tourism management and infrastructure to support the country's ambitious tourism targets. Photo: AFP
Are Chinese tourists to blame for Bali's increasing water, waste and traffic problems?
Soaring visitor numbers have had many negative effects but Indonesian island hopes to attract 10 million tourists from China by 2019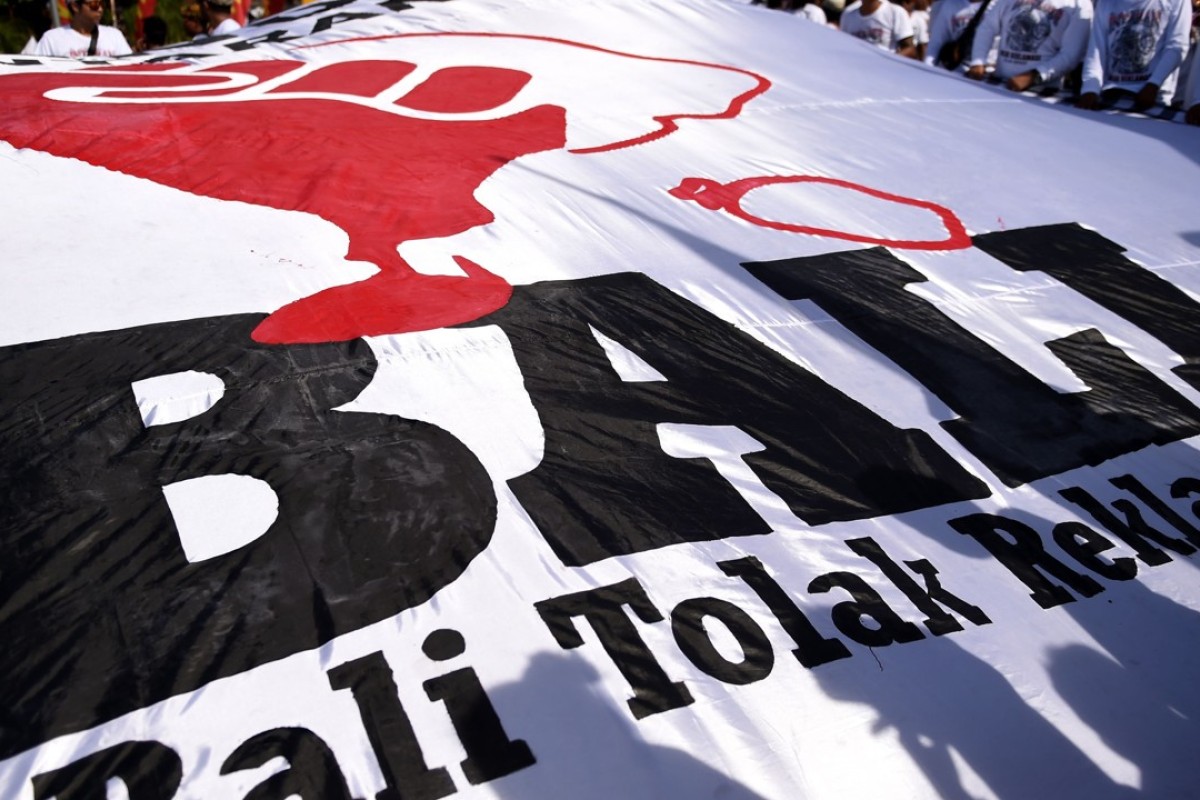 Tourism officials agree Bali is in urgent need of better tourism management and infrastructure to support the country's ambitious tourism targets. Photo: AFP
Every year, millions of tourists flock to Bali to soak up the replenishing natural charms which have made the Indonesian idyll a top global holiday destination.
In terms of name recognition, few places come close to the resort island which hit holidaymaking pay dirt decades ago with its rare blend of rustic tranquillity and home comforts. The determination to keep the tourists coming shows no signs of diminishing as the country aims to attract 10 million tourists from China by 2019.
But concerns are mounting that unless something is done to reverse worrying levels of environmental degradation, Bali is in danger of eroding the very foundation on which its tourism success was built.
This year, 2 million Chinese people will holiday in Bali, making up a significant and growing section of the expected 15 million total visitors.
Their numbers outstripped Australian visitors for the first time this year and, according to the Indonesian tourism ministry, on average they spent US$1,018 per visit. This is a lower average spend than Australians and Europeans but it exceeds that of Singaporeans and Malaysians: US$680 and US$663 respectively.
"Bali has a complete tourism infrastructure and its image is highly ranked among the world's travellers," said I Gde Pitana, the deputy minister for international marketing at the country's tourism ministry.
"Bali sits right at the front of the mind of all tourists, be they Asian, American or European," he added, saying nearly 5 million of 11.52 million total tourists to Indonesia last year visited Bali.
The influx has prompted a backlash from Bali locals and activists who claim it contributes to a water and waste crisis, as well as an intensifying traffic problem which threatens the tourist experience. Some believe the island needs to adopt a different strategy beyond seeking to continually increase the number of visitors.
At a recent literary festival on the island, Viebeke Lengkong, a local activist and founder of the Bali Angel philanthropic community, said: "Do we want more tourists? Maybe no. It is a question of what kind of services we can actually provide for millions of tourists. Bali is in the middle of a water crisis. Bali is drying up. Our reservoirs are only 30 per cent full."
According to a recent report by the Bali Water Protection Programme, the island's water table has dropped more than 50 metres in some areas in less than 10 years. Many wells are running dry or have become tainted, particularly in the busy south of the island.
Lake Buyan, Bali's second-largest natural reserve of fresh water, dropped by five metres in 2012; and fresh water supplies are increasingly tainted by salt water. Critics claim poor tourism management has deepened the crisis.
Official data reveals a single tourist uses 1,785 litres of water per day compared to the 14 used by a local Balinese. Consumption skyrockets to 4,000 litres a day for hotels.
"Balinese culture is agrarian-based, which means that we need water to farm," said Ketut Yuliarsa, a prominent Bali poet.
"But there's no longer water to be had. We don't know where the water is gone, you can see that a lot of preserved rice fields in Ubud rarely have water. Our culture has been denied."
Tourism officials insisted tourists use less water than locals on the island.
"On average, a tourist only stays in Bali for eight days, a Balinese lives there 365 days, so water consumption rate is the same," Pitana said.
Island activists are waging an ongoing battle against a US$3 billion reclamation project to create artificial islands in Benoa Bay to house a development which includes luxury hotels, a shopping arcade and a theme park. Opponents of the project claim any reclamation of the bay would damage the marine ecosystem and the surrounding residential areas.
In 2013, environmental group Conservation International (CI) tried to save the bay with a proposal to convert it into a water conservation site.
According to research by CI Indonesia, the Benoa Bay development would cause excessive flooding in low-lying areas and impact Ngurah Rai International Airport and the Dewa Ruci underpass. The developer, Tirta Wahana Bali International, has rejected the concerns.
Lengkong, the local activist, said: "The reclamation is an environmental disaster born of capitalism. I can guarantee that if they go ahead with the project our airport will be two metres deep under water."
Waste is another mounting problem for Bali. In the south of the island alone – where the famous Kuta Beach is located – solid waste exceeds 240 tonnes every day.
During rainy season, rubbish from the streams and rivers washes up on the shore, bringing with it major health and environmental risks, as well as a deterrent for future tourist arrivals.
A 2015 study by researchers from the University of Georgia ranked Indonesia as the world's second-worst marine polluter behind China, with 3.2 million tonnes of plastic waste found in Indonesian waters.
"There are so many problems that are exacerbated by tourism – garbage is one of them," said Jan Mantjika, author of Bali 1964 to 2009: the Shadows that Dance In and Out of My Memory.
"When you entered a market in Bali in 1964, you could see that the garbage was wrapped in banana leaves. People then threw banana leaves into the baskets … it was biodegradable. Everything can be composted."
Corruption is also an issue, with many businesses paying to pass environmental impact assessments.
"To a degree, tourism has been beneficial to many Balinese: it brings employment, better health service and people can send their children to school," Mantjika said.
"But there are other areas in Bali that are still suffering with poverty. As a tourist coming here you may not see some of the areas that are impoverished, like in east Bali, where a lot of people are born with many varieties of disabilities and sacks of rice are used as pillows."
Tourism officials agree Bali is in urgent need of better tourism management and infrastructure to support the country's ambitious tourism targets.
"We can achieve this without decreasing the number of tourist arrivals but by building the proper tourism infrastructure," Pitana said.
Activists, however, remain sceptical that changes are coming, suggesting local policymakers favour big business over Balinese cries for help. ■