WHEN Cathay Pacific celebrated its 60th anniversary in 2006, the number of mainland Chinese taking airline flights – domestically or internationally – each year stood at 158 million. By last year, that figure had multiplied by a factor of more than three to 488 million, in other words, just shy of half a billion.
Perched on the very edge of this phenomenal market and with a business model significantly reliant on long-haul connections to a world plagued by historic levels of political and economic uncertainty, it is hardly surprising that Hong Kong's flagship airline has been having a turbulent time of it lately.
If the captain of flight Cathay Pacific was speaking to his passengers right now, he would definitely be telling them to keep their seat belts fastened.
A measure of the business headwinds Cathay is flying through is illustrated by the recent job cuts and the fact that management is in talks with pilots to cut pay, pensions and housing benefits after announcing the worst half-year loss in two decades earlier this year.
Underway is one of the biggest corporate revamps in the company's history as it seeks to reverse an earnings slump brought about by a combination of fierce competition from Middle Eastern carriers at the premium end of the market, and low-cost and mainland Chinese rivals at the other, plus the negative impact of its fuel-hedging positions.
Ironically, a significant portion of that competition now sits in Cathay's own backyard, in the shape of 30 per cent shareholder, Beijing-based Air China and most recently, Qatar Airways, which last week paid Hong Kong-based Kingboard Chemical Holdings HK$5.16 billion for its 9.6 per cent stake in the company.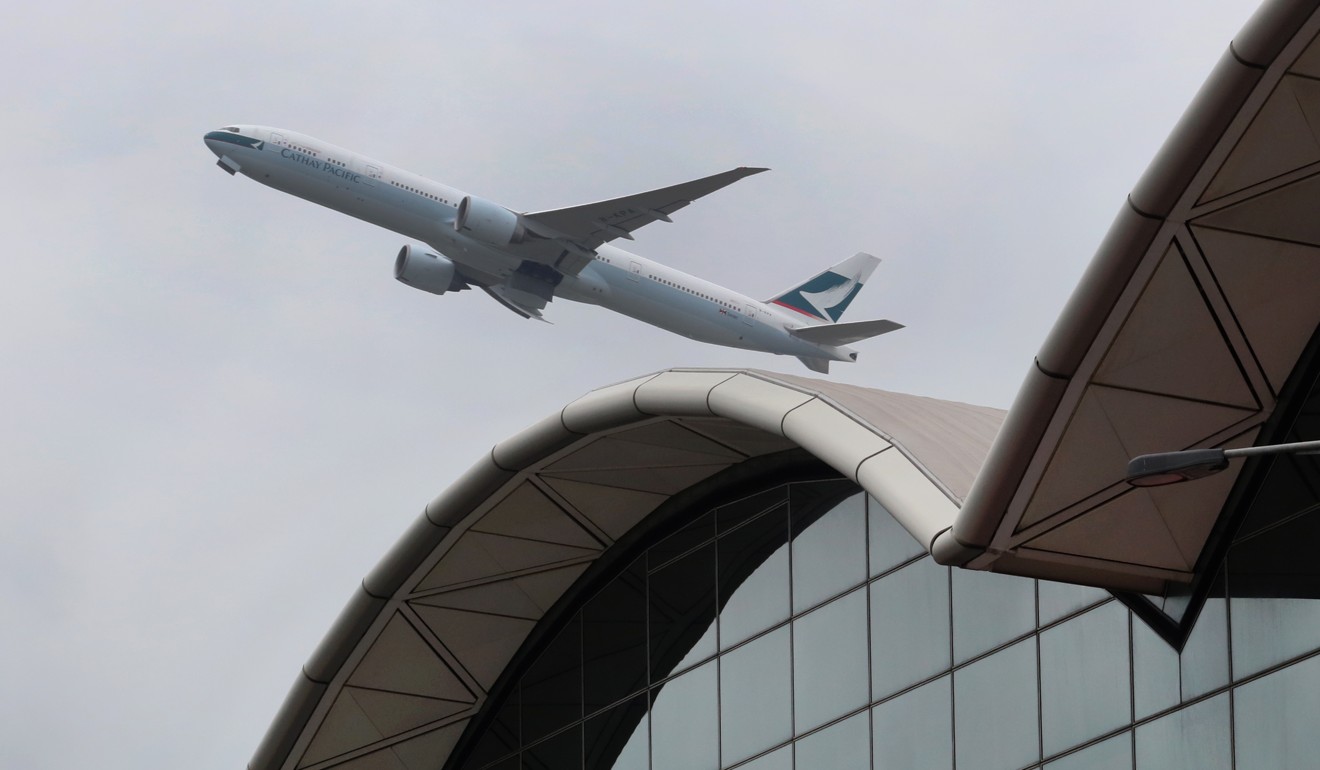 Hong Kong conglomerate Swire Pacific remains the largest shareholder with a 45 per cent stake.
Air China – in which, to complicate things further, Cathay owns a reciprocal 18.3 per cent share – is undercutting Cathay fares on flights via Beijing and is adding long-haul flights from Shenzhen, the latest being direct flights to Los Angeles starting next month.
A Cathay flight to Los Angeles is 65 per cent more expensive than Air China, which is offering economy tickets on the new Shenzhen-Los Angeles route for as little as HK$4,350 ahead of the Christmas holidays.
Air China's aggressive pricing and its push into long-haul while being a fellow shareholder in the Hong Kong flagship airline raises the question: are they a foe or is this the beginning of a relationship which could lead to an aviation marriage of convenience?
Air China offered too-good-not-to-consider cut-price deals to the United States in the summer, dangling a big carrot to Hongkongers to travel with them instead.
A review of the more recent prices on sale in January from Hong Kong shows Cathay Pacific is being undercut on routes like New York and London with a stopover in Beijing by as much as 45 per cent to New York and London.
The Doha-based airline's vision to make Cathay Pacific more valuable and bring it into a group of global airlines to better compete on the world stage begs questions about what more Air China can bring to the table.
Cathay's second largest shareholder is solely focused on making profits and edging out its domestic competition, Corrine Png, CEO of independent transport analyst firm, Crucial Perspective, said. China is on course to be the largest air travel market in the world by 2022, overtaking the United States, and Chinese airlines look to be on top.
"Air China's decisions and strategy will be skewed towards serving the interests of China and boosting its own core airline profitability, regardless of its external interests," Png said.
"Yes, it hurts Cathay Pacific," Png added, but Cathay realised this years ago and bought a 10 per cent stake in Air China in 2004.
"Thanks to its investment in Air China, although Cathay loses traffic to Air China as the latter launches more direct flights to long-haul destinations, Cathay benefits indirectly via increased profit contribution from Air China," Png said.
Air China is able to launch flights from Guangzhou and Shenzhen airports, unlike Hong Kong carriers because it is not treated as an equivalent Chinese airline, and can help defend its interest in Cathay Pacific, industry consultancy firm CAPA Centre for Aviation argued.
As for Shenzhen, from a Cathay view it is better to have Air China create competition rather than cede it to China Southern Airlines, the nation's largest by passengers, or Hainan Airlines, part of the powerful mainland conglomerate, said CAPA's Hong Kong-based analyst Will Horton.
"Even when considering Air China and Cathay's overlap and unrealised opportunities, they would aim to be stronger together," Horton said.
Dr Law Cheung-kwok, an aviation policy expert at the Chinese University of Hong Kong, said: "The cross-ownership would imply a successful integration of two prominent airlines under one country, two systems [the model under which China governs Hong Kong].
"Ultimately, Cathay would be a more profitable airline and Air China benefits from its stake in one of Hong Kong's core industries. It is politically important in both style and substance."
"If you take a look at what happened between China's Cosco Shipping and Hong Kong's Orient Overseas International, some people have that parallel thinking [with Air China buying Cathay Pacific outright]," Bank of Communication's deputy head of research Geoffrey Cheng said, adding the airlines were "pretty happy with their relationship" and no change to the status quo was being planned any time soon.
Crucial Perspective's Png was one of the few aviation analysts willing to publicly state that Cathay would be sold to its Beijing cousin sooner rather than later.
"Their cooperation has reached a plateau in recent years. With new shareholder Qatar Airways coming into the picture and enthusiastic about working more closely with Cathay Pacific, it is likely to drive Air China to do the same and potentially do more, i.e. consider merging with Cathay Pacific." ■