Bitcoin
Get more with myNEWS
A personalised news feed of stories that matter to you
Learn more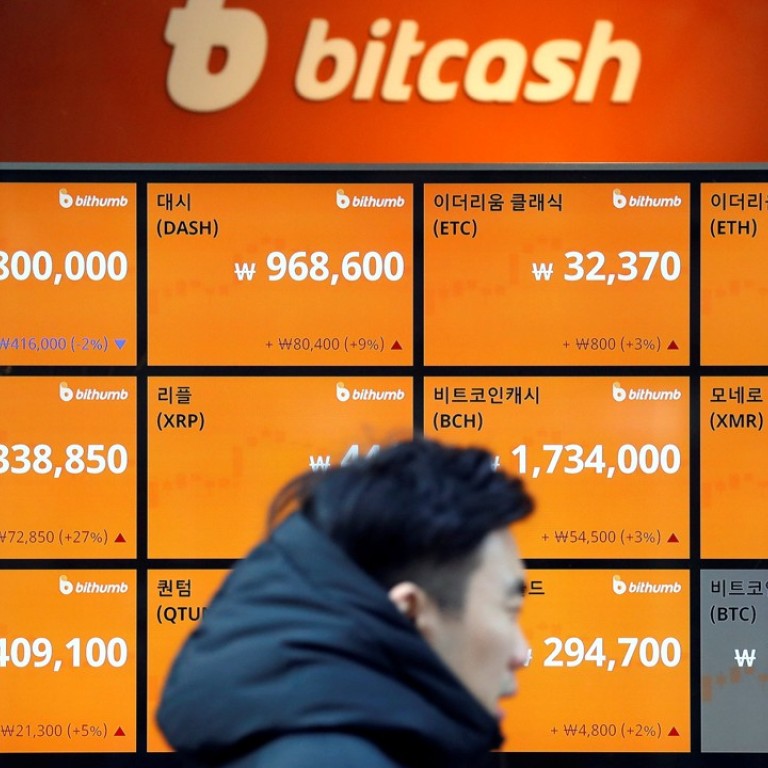 Why is South Korea suddenly terrified of bitcoin?
Usually on the cutting edge of technology, the country unleashes a swift crackdown on cryptocurrencies that threatens to trigger a domino effect in Asia
B
itcoin has been
hailed as the greatest technological innovation of our time, yet it seems
South Korea
, one of the most technologically innovative societies, is now not only giving up its role as a leader in the field but aggressively fighting the trend.
Some observers suggest the government has many reasons to be afraid of
bitcoin
, not the least of which is the cryptocurrency's potential to be used by
Kim Jong-un
's
North Korea as a covert economic weapon. But leaders point to other concerns as well.
South Korea's Ministry of Justice said on Thursday the country is considering shutting down all local cryptocurrency exchanges, an announcement that sent shockwaves through the industry worldwide. Earlier this week, stock in the internet service provider Pareteum more than doubled after it said it would provide blockchain support services, Bloomberg reported, but fell 25 per cent after Seoul's comments.
Hong Nam-ki, the minister for government policy coordination, called Korea's interest in cryptocurrencies "abnormal", echoing the disdain of Prime Minister Lee Nak-yeon, who last month warned that cryptocurrencies could corrupt Korean youth and lead to "social pathological phenomena".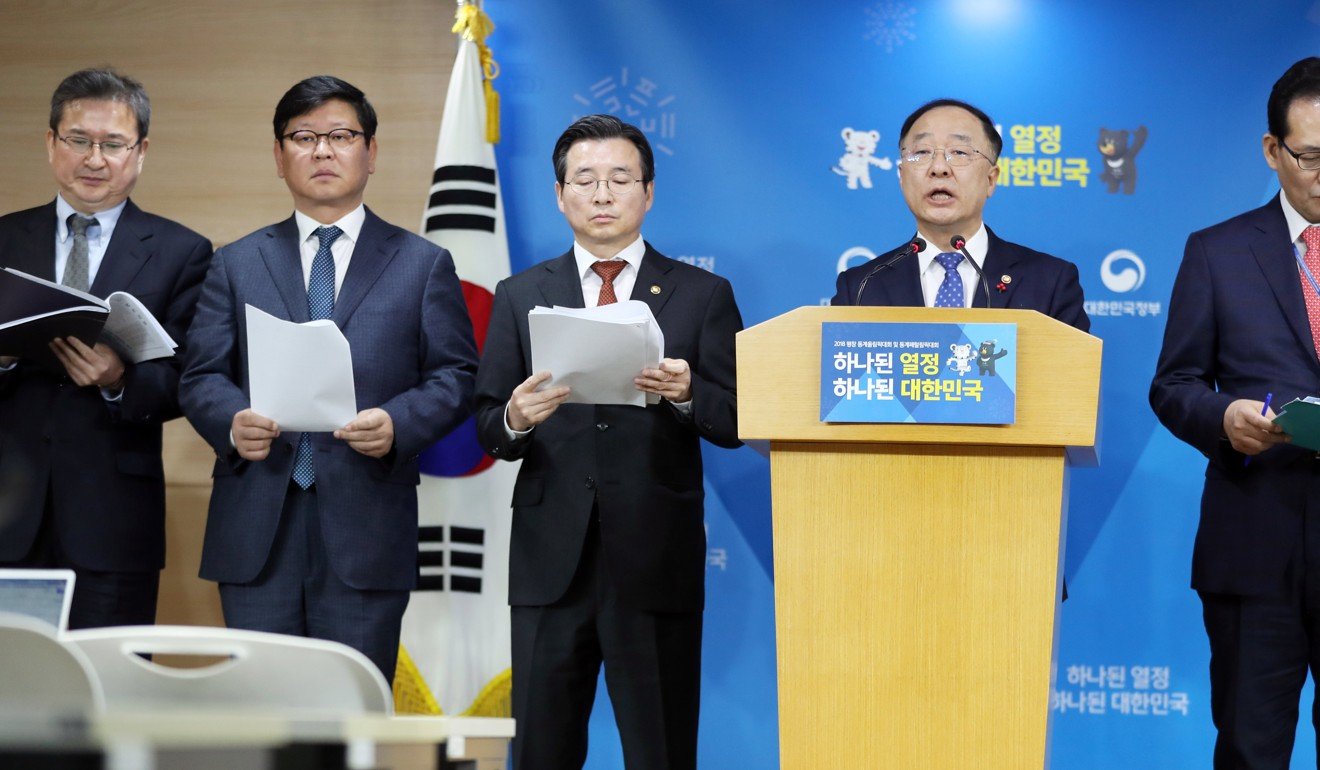 After Hong's announcement, bitcoin prices at the Korean cryptocurrency exchange Bithub fell 13.8 per cent from US$20,181 to US$17,400.
Others are also pulling back. Two of Korea's largest banks, Shinhan and KB Kookmin, announced this week that in mid-January they will no longer redeem credit card points for bitcoin, according to a report by Korea Biz Wire. This comes after South Korean officials reportedly banned the trade of bitcoin futures in December and drafted emergency measures prohibiting minors, foreigners and banks from bitcoin trading.
One cause for concern is that bitcoin has grown in value more than 12 times since January and remains prone to extreme volatility. In early December, it almost doubled in value from US$10,240 to an all-time high of almost US$20,000, before falling 30 per cent to below US$11,000 then rallying to almost US$16,000.
Despite the fluctuations, retail investors and several major Korean companies are getting in on the action. Samsung announced in May a project using blockchain – the platform for all cryptocurrencies – to track shipping orders in real time. Kakao, maker of the country's leading messaging app, acquired the fintech start-up Dunamu to launch its own cryptocurrency exchange in October, named Upbit. And video game giant Nexon is now the biggest shareholder in Korbit, Korea's third-largest cryptocurrency exchange.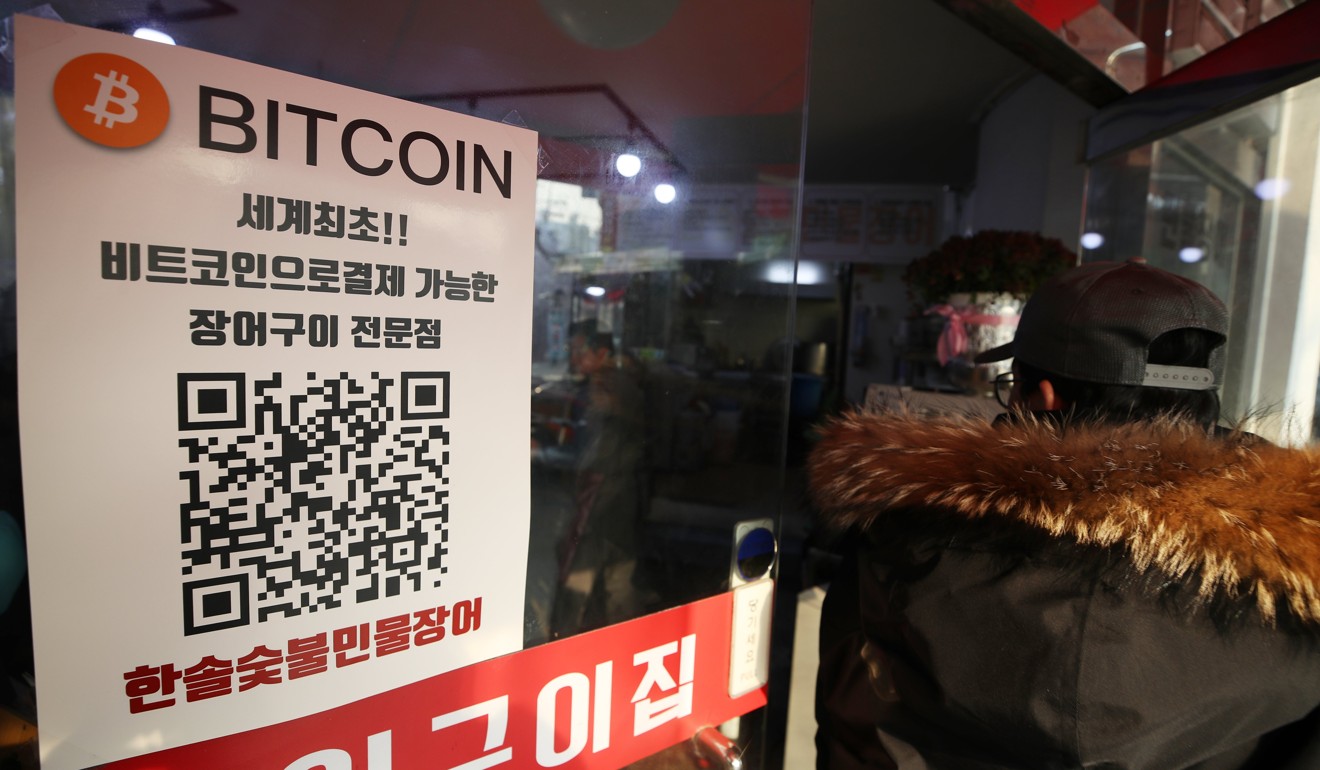 But if Korea moves ahead with a full shut down, it would not only end these projects but also make bitcoin less attractive in neighbouring Asian nations, possibly triggering a domino effect.
Bitcoin, the world's largest cryptocurrency, has an underlying technology that makes it an unhackable commodity that doesn't need a central bank or a government to guarantee its value. This allows users to make transactions without an intermediary, saving time and money, potentially upending the costly financial services and exchange markets as we know it.
Korea is the third-largest market for bitcoin trading after Japan and the United States, making up roughly 20 per cent of all bitcoin trading, and the country's recent change of heart comes amid other nations also placing restrictions on the cryptocurrency.
On December 25, the Israeli Securities Agency announced companies will no longer be able to trade in bitcoin on the Tel Aviv stock exchange, and in Morocco, Bolivia and Ecuador, bitcoin is completely illegal.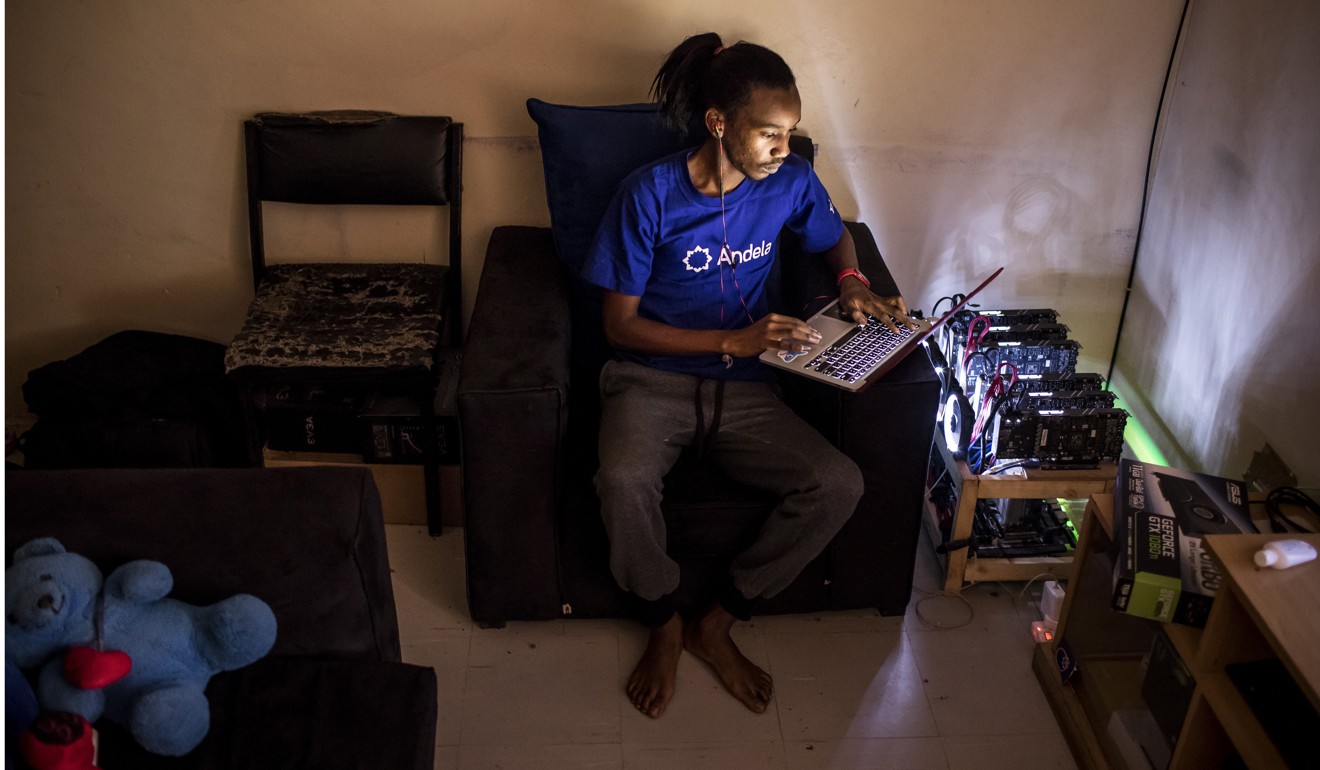 Concerns seem most profound across Asia, however, where bitcoin is also illegal in Kyrgyzstan, Bangladesh and Nepal. China, which once constituted 90 per cent of all bitcoin trading, banned initial coin offerings (ICOs) in September and began to crack down on exchanges.
In addition, Bank of Japan Governor Haruhiko Kuroda called the surge in bitcoin prices "abnormal" last week, CNBC reported, specifically citing the dangers of speculative investing; the Reserve Bank of India has expressed concern about tax evasion and other misuses; Indonesia seems poised to ban cryptocurrency transactions next year; Vietnam may ban cryptocurrency payments; Singapore warned speculative investors last week about the risk of losing "all their capital". These cracks in confidence will only widen if South Korea moves against bitcoin.
There are, of course, legitimate concerns about fraud. In December, police busted a US$200 million cryptocurrency Ponzi scheme named MiningMax and the bitcoin exchange BitKRX, which claimed to be a legitimate venture created by the Korea Exchange but was revealed to be fraudulent. The incident gave authorities a reason for more regulations, but some worry they would really be a form of protectionism.
In a November 2016 Korean Law Blog post, Sean Hayes wrote: "Korea has struggled with the acceptance of new technologies that infringe on some of the major vested interests and we suspect that bitcoin will be no different."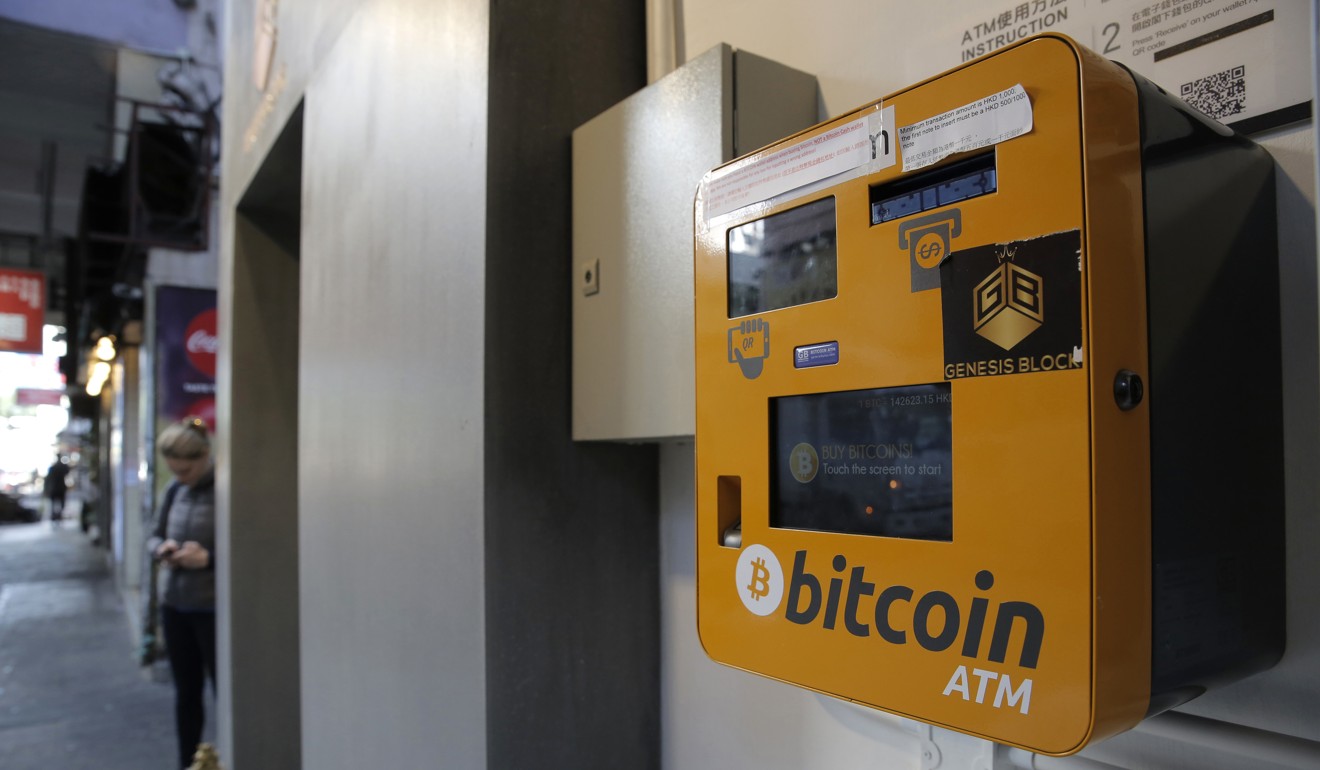 What makes South Korea's situation different, however, is the existential threat posed by North Korea. Youbit went out of business in December after being hacked, losing one-fifth of its clients' holdings. It was also attacked in April, when it lost US$35 million. The company did not say how much was taken, or how it happened, but Pyongyang is a leading suspect. North Korean hackers are also believed to be behind the attacks on four South Korean bitcoin exchanges this past summer. The regime also began mining bitcoin in mid-May, and can use what it mines or steals to circumvent sanctions.
Nevertheless, bitcoin enthusiasts feel these challenges can be surmounted with the right combination of regulation and support. "There's a delicate balance involved," said Yoo Byung-joon, business administration professor at Seoul National University and co-author of the 2015 research paper "Is Bitcoin a Viable E-Business?: Empirical Analysis of the Digital Currency's Speculative Nature".
"But a lot of governments are looking at this very carefully," he said. "Some are even considering putting their currencies on the blockchain system. The biggest challenge facing bitcoin now is the potential for misuse, but that's true of any new technology."
Regarding the government's announcement that it may shut down bitcoin exchanges, Yoo said: "I think the decision seems too quick. We don't need to do that, but they worry about fraud or such. But there's no guarantee that this shutdown will pass Congress, so we have time. Governments, you know, are risk-averse. But economically, I think it's not a good decision. There's no need to hurry." ■