After a visit to Singapore, Tran Vi Thoai never returns to Vietnam empty-handed. In fact, the 34-year-old lawyer makes sure he goes back to his family armed specifically with salted-egg fish skins – several packets of them.
"There was one time I left these snacks on the table [at home], and went away for just 10 minutes. But when I came back, there was nothing left. My mother and sister ate everything," Tran recalls, with a laugh. "I haven't found anything quite like it in Vietnam so far. It's delicious and addictive."
These fried fish-skin crisps, each coated with a rich layer of salted-egg yolk, are among the latest wave of artisanal snacks to have taken Singapore's food scene by storm. And they are winning big among tourists.
While Singapore has marketed itself as a food paradise, and is home to some of Asia's best restaurants, it is also exporting its food culture – local, hand-crafted bites in particular – one snack at a time.
The potential of the food-souvenir market is huge. Globally, it is projected to grow in value from US$54.4 billion in 2015 to US$70 billion by 2020, according to a Frost & Sullivan report published last year.
Confectionery and food items are popular among tourists visiting Singapore, accounting for about 11 per cent of their total shopping expenditure of S$6.17 billion (US$4.47 billion) in 2017, according to figures from the Singapore Tourism Board. Against this backdrop – as well as that of Asia's burgeoning locavore movement, which sees consumers making an effort to eat food grown or farmed locally or regionally – a group of independent entrepreneurs have been putting the limelight on foods with local provenance over the last five years or so.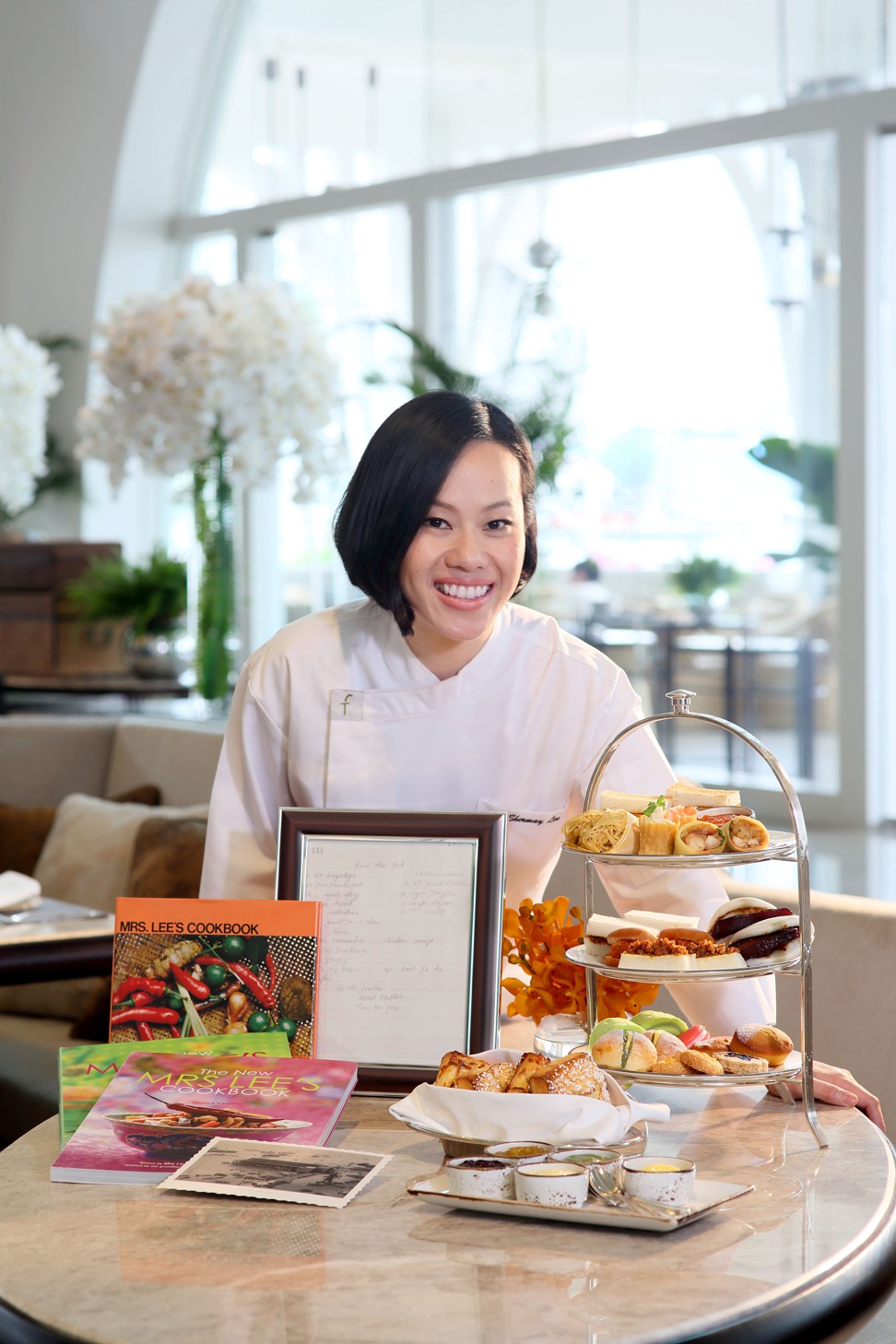 RISE OF CRAFT FOOD
At local brand Irvin's Salted Egg, which focuses solely on salted-egg fish skins and chips, the queues are often long and snaking – not unlike those at Hong Kong's Jenny Bakery, famous for its buttery, melt-in-your-mouth biscuits.
Founder Irvin Gunawan believes the salted-egg fish skins are a hit among tourists because they represent Singapore cuisine – in particular hearty, traditional local fare from zi char (meaning "cook and fry" in Hokkien) eateries.
Set up in 2014, Irvin's Salted Egg originated from Irvin's Seafood, a zi char restaurant specialising in salted-egg crabs and other salted-egg dishes.
"Singapore restaurants have always served salted-egg crabs from the old times, along with chilli and black-pepper crabs," Gunawan says. "By using natural ingredients to cook [the fish skins], we've managed to preserve that great restaurant-quality taste."
Industry players say foods steeped in local flavours and origins sell well because they pack a small bite of Singapore's food culture, as residents and tourists alike continue to seek out authentic culinary experiences.
Home-grown design retailer Naiise, which also sells locally made food gifts, has seen demand for "differentiated souvenirs that reflect the unique culture, heritage, quirks and even language – Singlish! – in Singapore" explode in recent years, according to chief marketing and buying officer Amanda Eng.
And as founder and chief executive Shermay Lee of Shermay's Singapore Fine Food, known for its range of local condiments, puts it: "There is strong interest to taste traditional, authentic and family heirloom recipes."
The brand's bestseller is the Cilicuka Original, a bottled chilli sauce based on a half-century-old recipe belonging to Lee's late grandmother – cookbook author Lee Chin Koon, the mother of Singapore's founding prime minister Lee Kuan Yew.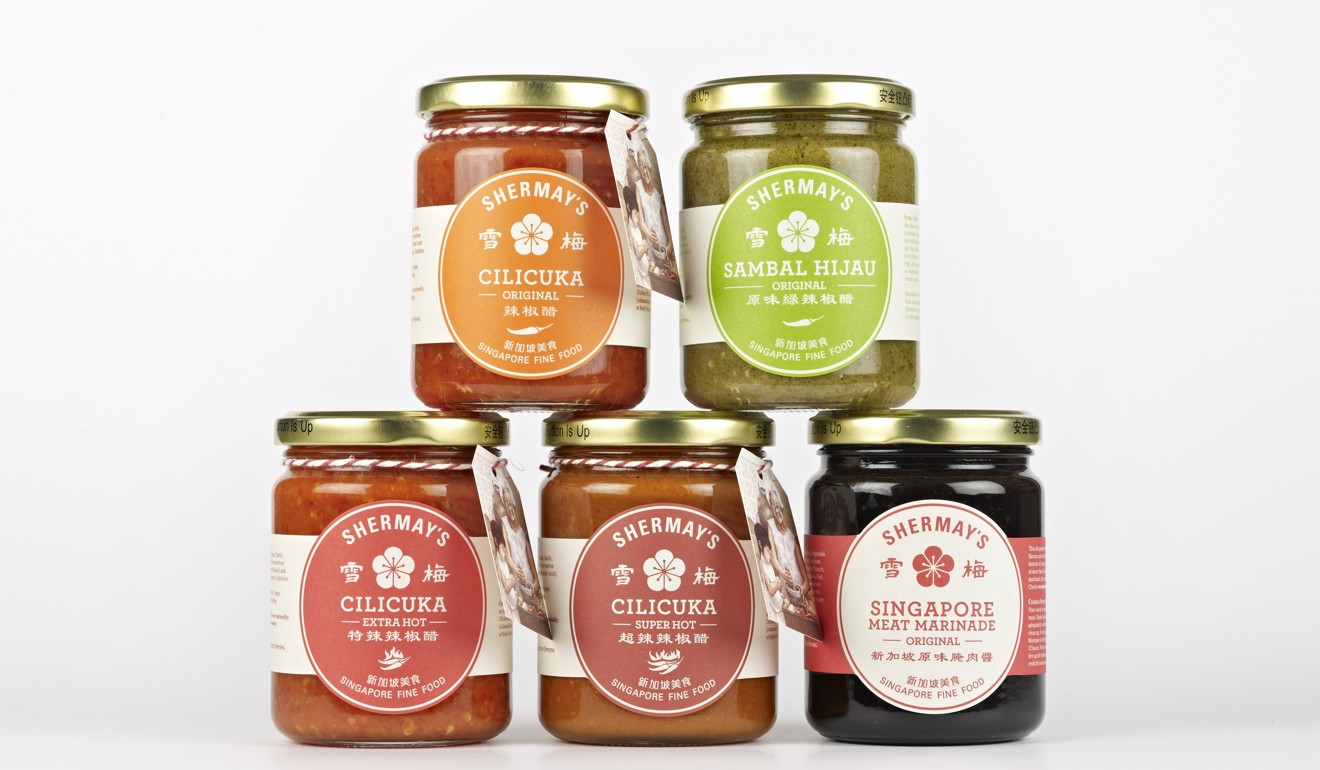 Singaporeans like to use the flavourful, tangy chilli sauce as a dipping sauce for steamboat or prawn crackers, she says. Besides locals, most of her clientele hails from China, Japan, Indonesia, and the West.
"All my products are proudly and lovingly made in Singapore. It costs more to do it here, but I like that I can personally oversee quality," Lee says. "It is the embodiment of Singaporean culture."
Another home-grown label, Straits Preserves, sells artisanal marmalade made with local tropical ingredients. Tourists are huge fans of the Singapore Sling flavour, a rendition of the iconic cocktail, says founder Sharon Lee.
She notes that they usually purchase two to four jars to bring home as gifts, and sometimes as many as 12. "From the beginning, we'd hoped that Straits Preserves would become a representation of Singapore food. Most people are familiar with marmalades, but we present ours in unique local flavours so visitors feel they are truly able to bring home a taste of Singapore that can be easily enjoyed by everyone."
[My products are] the embodiment of Singaporean culture
The numbers back up the appetite. Tea company Ette Tea has seen business double year on year over the last three years, according to founder Victor Koh. The firm's hand-blended teas include creations inspired by local fare, such as pandan chiffon and even savoury flavours such as nasi lemak and chicken rice.
"When we started the business, we wanted to create unique Southeast Asian blends that are delightful and delicious," Koh says, noting that Ette Tea sells 500 to 1,000 items a month, from tea sachets to tea caddies and even gift sets. "Unlike traditional black or green teas, our tea blends represent the diverse ethnicity and colourful heritage that is the foundation of our society, and the amazing food culture that comes from it."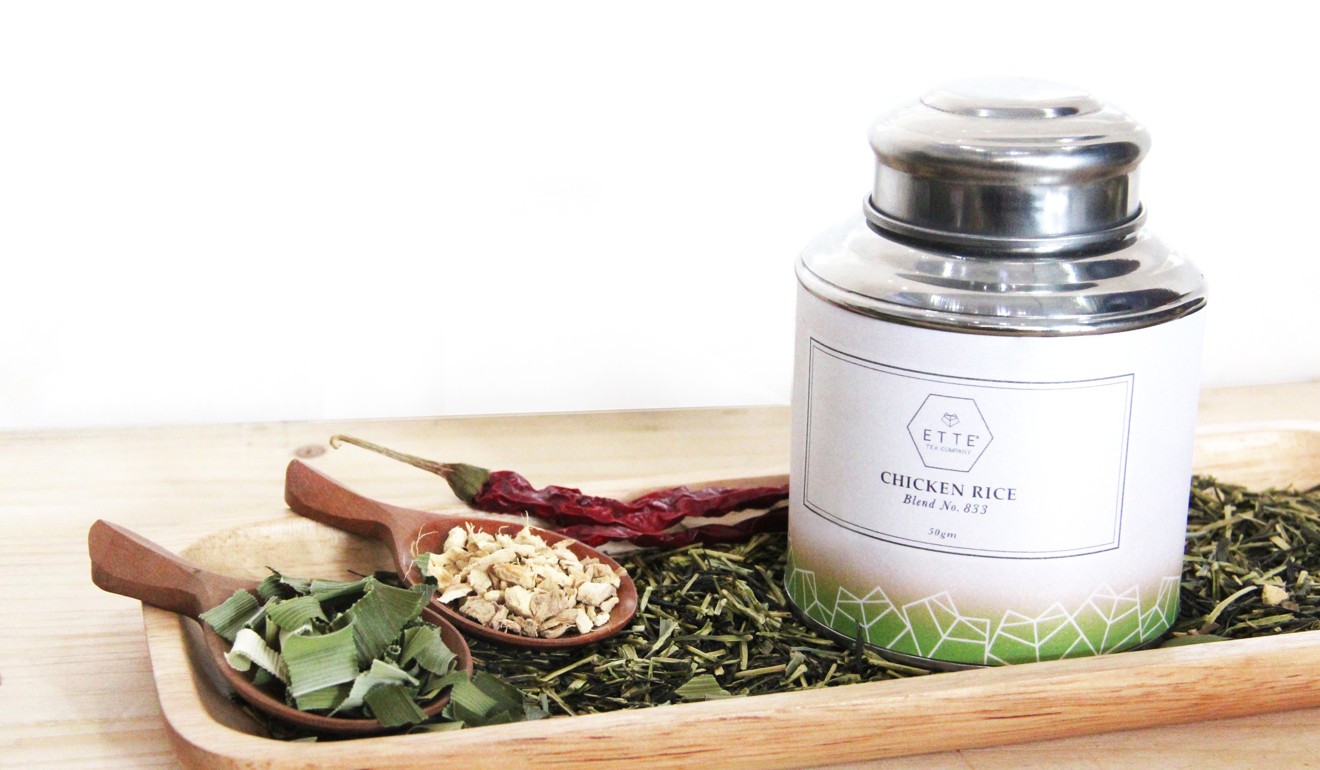 CATCHING THE HALAL CROWD
More small-scale food entrepreneurs are also turning their attention to a market worth a whopping US$220 billion – the Muslim travel market.
In the Mastercard-CrescentRating Global Muslim Travel Index published earlier this year, Singapore retained its position as the top non-Organisation of Islamic Cooperation halal-friendly destination.
A spokesman from the Majlis Ugama Islam Singapore (Muis), or the Islamic Religious Council of Singapore, notes that the number of applications for halal certification has risen by about 10 per cent each year over the last five years.
In 2017, Muis certified close to 5,000 premises and 55,000 types of products made in Singapore as halal. These halal-certified products range from ready-to-eat meals to sauces, and are accepted for export by markets worldwide, including Brunei, Indonesia, Malaysia, Australia, Europe, South Africa and the United States.
For three-year-old Batu Lesung Spice Company, which sells Southeast Asian spice mixes and sambal (a spicy chilli paste) made in Singapore, being halal certified was a key consideration right from the start.
"Customers see it as part of our commitment to maintaining a high manufacturing quality," says chef Jeremy Nguee, one of the firm's co-founders.
Family matriarchs have been Batu Lesung's biggest supporters, buying their spices in large quantities for parties and to give away as gifts to friends overseas.
"Batu Lesung pastes are a convenient substitute when they are busy or cannot find the right ingredients overseas, because they taste home-made and authentic," Nguee says. "If you have friends who used to live or work in the region, the spice pastes are a reminder of the wonderful flavours of Singapore."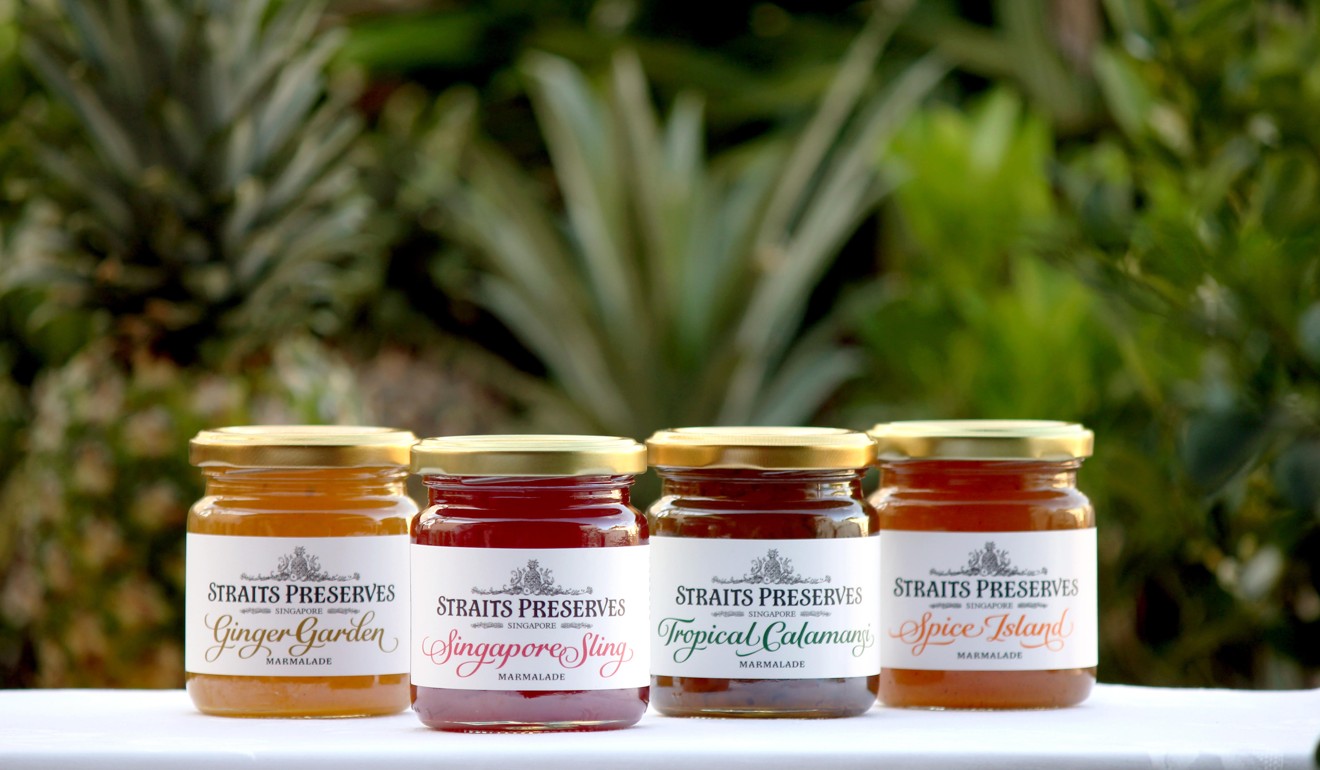 GOOD OL' CLASSICS
That said, salted-egg fish skins, tropical-fruit-flavoured jams and home-made chilli are not the only food travellers are bringing home from Singapore.
Classic favourites include kaya (a jam made from coconut milk, eggs and sugar) and pandan chiffon cake, which is commonly associated with local bakery Bengawan Solo, which is now a household name.
When Singaporean Chua Shi Xian, 26, visited a friend in China last year, she made sure to bring along some pineapple tarts and a box of pandan cake.
"Pandan cake is actually quite popular in China," she says, noting that the Chinese have even coined their own name for the cake – lu dan gao, which literally translates to "green cake". Even celebrities such as Andy Lau and Jolin Tsai have been spotted buying boxes of the fluffy and moist chiffon cake.
Supermarkets and restaurants also sell ready-to-cook pastes or mixes allowing travellers to recreate hawker dishes at home, anything from chicken rice to laksa (spicy noodle soup) and bak kut teh (pork ribs soup).
At Michelin Bib Gourmand award-winning restaurant chain Song Fa Bak Kut Teh, many customers walk away with not just a full stomach but also a box or two of its pre-mixed bak kut teh spices.
A company spokeswoman declined to reveal sales numbers for its pre-mixes, but says that its biggest customers come from Asia: "Bak kut teh as a dish has made it to the list of 'must-try' foods in Singapore, together with others such as chilli crab and Hainanese chicken rice."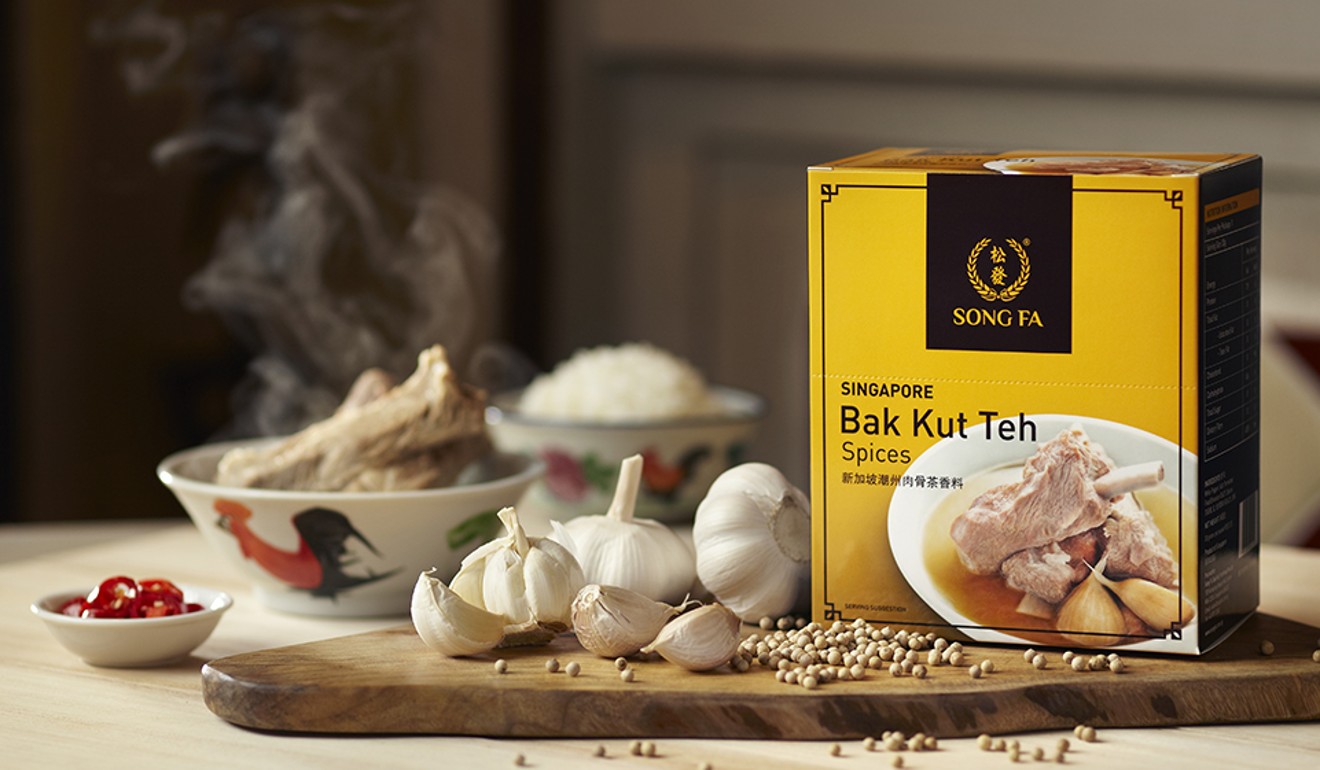 Another "must-try" snack that tourists often pick up is barbecued pork, or bak kwa as it is known in Singapore.
"Even though traditional bak kwa originates from southern China, Bee Cheng Hiang's [recipe] remains unique to Singapore. If you've tried the bak kwa from China, it tastes different from ours," says a spokeswoman, who adds that despite the chain's more than 200 outlets across China, many Chinese visitors still flock to Singapore's Bee Cheng Hiang stores when they visit the country.
Local companies are also getting a boost from official efforts to better tap the global market.
Under the Singapore Food Gifts initiative that was launched in November last year, dedicated food-gift aisles have been introduced at Terminals 1 and 4 of Changi Airport, allowing food manufacturers to proudly showcase their "Made in Singapore" products.
Local delicacies such as laksa-flavoured biscuits and Singapore Sling-flavoured rock-sugar sticks are among the more than 30 food products from 13 local food companies that had been featured as of the end of April.
In 2015, the Singapore Tourism Board launched a fund to support businesses in creating "well-packaged, quality souvenirs" that serve as travel keepsakes or gifts, including those related to food, says the board's director of retail and dining Ranita Sundra. Some 14 companies have tapped the fund to develop unique local souvenirs so far. In a country where eating is such a big part of the national identity, it seems locals and tourists prefer to experience Singapore through its food – and there are plenty of "takeaway" options for them to sate that appetite, even when they are miles away. ■