Australia's Prime Minister Scott Morrison on Saturday said the door remained wide open for countries to join a landmark Asia-Pacific trade pact to come into effect at year-end, as he made an impassioned case against rising protectionism.
In a curtain raiser speech ahead of addresses by the leaders of the US and China, both embroiled in a bitter trade war, Morrison told a high-powered business forum on the sidelines of the Asia-Pacific Economic Cooperation (Apec) summit that "tit-for-tat protectionism and threats of trade wars are in no one's interest".
With 11 of Apec's 21 economies already signed up to the Comprehensive and Progressive Agreement for Trans-Pacific Partnership (CPTPP) pact, the Australian leader said others should join to benefit from its 21st century rules of trade.
"More can join and we welcome and look forward to those opportunities in the future. It sets the standard for what an agreement should look like in the future by being modern … the TPP 11 shows that Australia as a nation is committed to economic integration," Morrison said.
Vietnam this week became the seventh of the 11 countries to ratify the CPTPP through its national legislature. Others that will move forward with implementing the pact starting from December 31 include Singapore, Australia, Canada, Japan, Mexico and New Zealand.
A brainchild of former US president Barack Obama, the CPTPP was thrown into disarray after US President Donald Trump pulled his country out of the pact last year, soon after his 2016 election.
The protectionist president said the pact was a prime example of a trade deal that would cause the world's biggest economy to lose jobs to emerging economies.
But the pact's remaining 11 nations forged ahead with the deal, citing the huge benefits of creating a free-trade zone among their economies. Together they make up some 13 per cent of the global economy. With the US, it would have represented 40 per cent.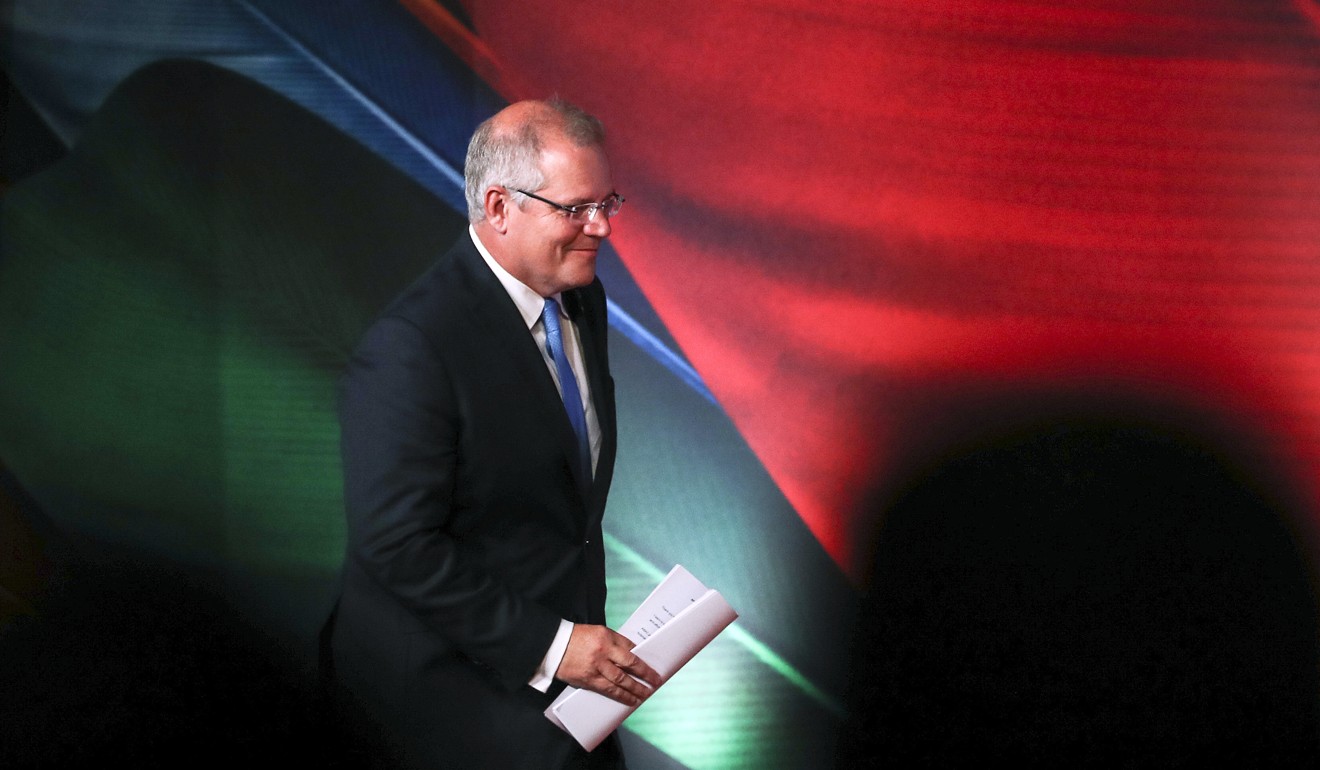 In a subtle jab at Trump, Morrison told the forum the solution to genuine concerns about trade was not tariffs.
"The solution to perceived unfair trade practices is more likely to be found around the negotiating table than it is in rebuilding a tariff wall," Morrison said.
The Australian leader meanwhile also touted the Regional Comprehensive Economic Partnership (RCEP), a separate trade deal being negotiated between a bloc of 10 Southeast Asian countries and six dialogue partners.
Also being negotiated by Australia is Pacer Plus, or the Pacific Agreement on Closer Economic Relations Plus, featuring Canberra, New Zealand and tiny Pacific economies.
Morrison meanwhile offered a preview of US-Vice President Mike Pence's speech, which is expected to flesh out a trilateral effort involving Washington, Australia and Japan to help finance infrastructure building in the Asia-Pacific.
The three countries signed a memorandum of understanding on the initiative – viewed as a rival to China's Belt and Road Initiative – earlier this week.
The trilateral effort comes amid rising concerns that China is pursuing a "debt trap diplomacy" policy with its trillion dollar overseas infrastructure spending spree – crippling poor countries with unsustainable debt so they become pliant.
China vehemently rejects this accusation.
"We are open to working with all partners in the region," Morrison said. "We want to see infrastructure investment, though, that is transparent, that is non-discriminatory, that is open, that upholds robust standards [for] long term benefits, that meets genuine needs, and avoids unsustainable debt burdens."
"It must be in the interest of the country in which you are seeking to invest to ensure that we can deliver those projects."
China's President Xi Jinping is expected to speak at the forum later on Saturday.