When Chinese carmaker Zhejiang Geely stepped in to rescue Proton, the Malaysian national carmaker, some people saw the move as a blow to the country's pride and sovereignty.
But yesterday's launch of the first car under the new partnership – the X70 sports utility vehicle – has some sceptics rethinking their doubts, asking whether it could help bilateral relations shift up a gear.
Even at the time of the deal last year, few had doubted that Geely's purchase of a 49.9 per cent stake in the struggling company was anything less than a lifeline. After all, Proton had been losing millions of ringgit a year, it had developed a reputation for poor quality and design, and plans for partnerships with Volkswagen and General Motors had fallen through.
And yet, the mood in Malaysia was not one of celebration. "The deed is done. Proton can no longer be national. No national car now. We Malaysians are glad to be rid of this pesky car," wrote Mahathir Mohamad, who conceived of Proton in the 1980s during his first stint as prime minister, in a May 2017 blog post. "I am sure Proton will do well. It will be a commercial success … But I cannot be proud of its success. I cannot be proud of the success of something that does not belong to me or my country."
But the X70 seems to have prompted a mellowing in Mahathir, who finds himself once again in power after a shock election win in May.
At the car's launch at the Kuala Lumpur Convention Centre on Wednesday, Mahathir gave off an air of grudging respect, saying that while the car "was not designed and built by Proton entirely … to be fast on the road you may need to cut corners".
He said that Proton Holdings had been making fast progress since its partnership with Geely, and he hoped its recovery would be bolstered by the X70, a premium SUV fitted with Geely's 1.5l turbocharged engine and priced between 99,800 ringgit (US$23,800) and 123,800 ringgit (US$29,540). The early signs are encouraging, with 10,000 people pre-booking purchases.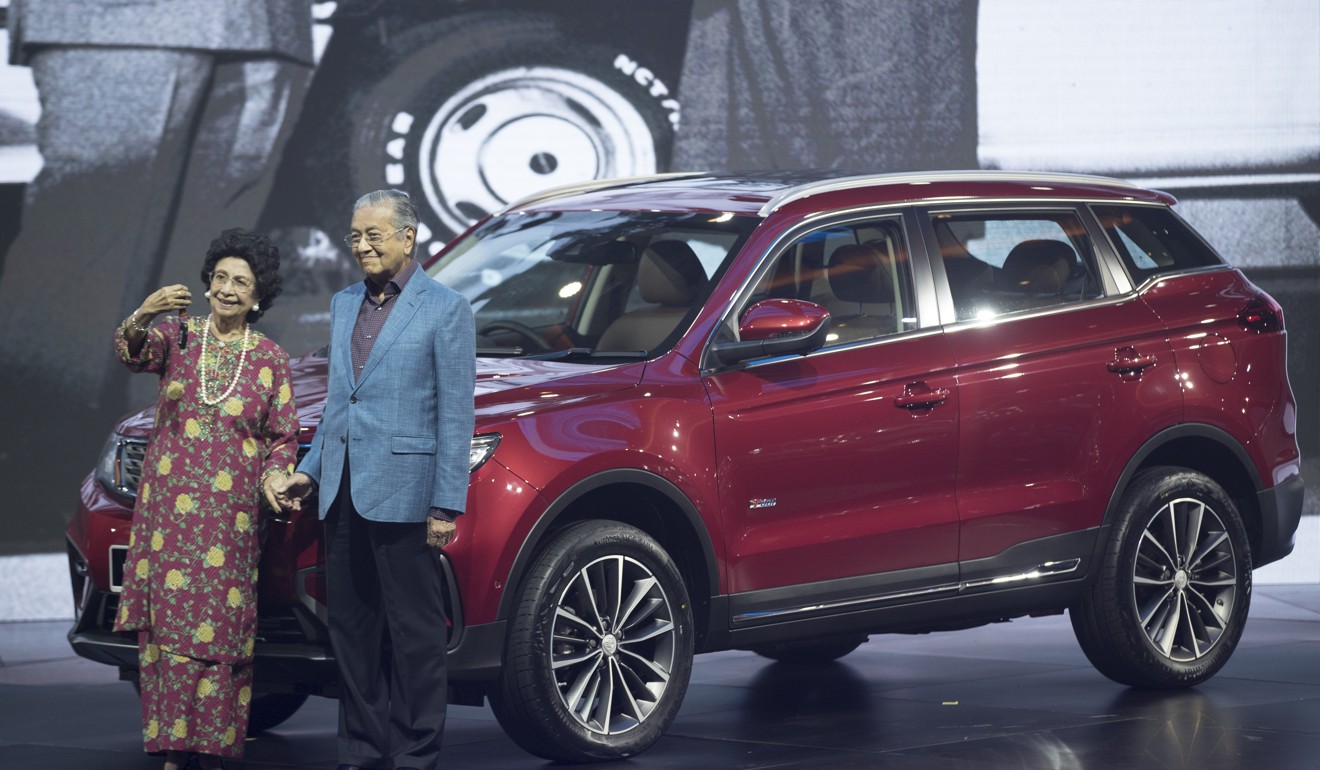 Observers have been quick to read diplomatic significance into Mahathir's comments.
Since coming to power, Mahathir has been openly wary of projects using Chinese funding, amid criticisms they are a form of debt trap diplomacy. He has suspended some US$22 billion of Chinese-backed infrastructure projects endorsed by his predecessor, citing fiscal reasons. And while his diplomatic relationship with China has been largely amiable, he has also objected to Chinese money being used to build cities in foreign nations – a reference to the vast US$100 billion Forest City development being built in Malaysia.
Yet now, as his "brainchild" profits from a partnership with a Chinese corporation, he is expressing pride – even if he qualifies it with a wish for a "truly Malaysian" vehicle.
"I am extremely proud seeing how Proton has grown so much over the past 35 years. I am sure that it will come up with many more new models which will make the country proud. Maybe after this, future cars will be designed and modelled in Malaysia. Then we can have a 100 per cent Malaysian-made car in the future, with Geely's support," said Mahathir, who has in recent months floated the idea of launching a new national car company.
Miao Zhang, of Xiamen University's School of Southeast Asian Studies, said Mahathir's change of attitude underlined his "flexible and pragmatic" political approach.
"After the general elections, [Mahathir's] priority has apparently shifted to domestic economic development. Therefore, Chinese investment in general and Geely in particular now means the capital and technology that can create local jobs and help Malaysia's technological advancement and industrial upgrading.
"Chinese investment is no more described as a foreign force stripping away Proton along with national pride, it is now depicted as a technology provider that can help Proton's rejuvenation as national car."
She said the X70 was an example of how China-Malaysia cooperation was now about high-value-added manufacturing, and not only about large infrastructure projects.
"The old cooperation pattern under [Malaysia's previous government] – mostly featuring mega-sized infrastructure – has been transformed … This signals a new direction for future Malaysia-China economic relations."