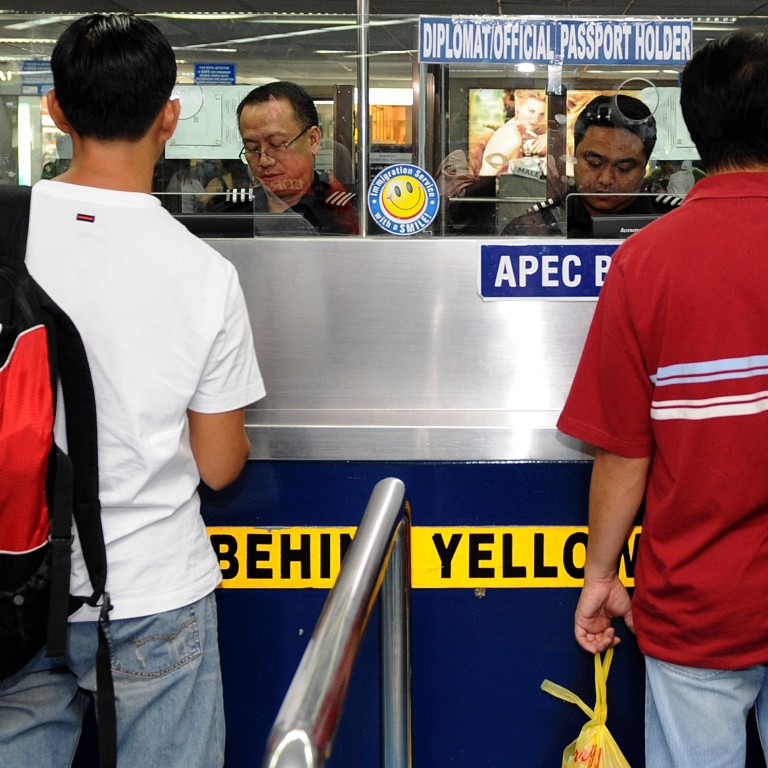 Exclusive

|
Chinese workers 'flood' the Philippines, yet Duterte's officials 'don't know' how many there are
Senate probe revealed how little Manila knows about the number of Chinese nationals in the country, but records show official figure is well below estimates
How many Chinese nationals are working in
the Philippines
legally or illegally?
President Rodrigo Duterte
's officials don't know or won't tell, according to a recent senate hearing on the issue – while government records obtained by
This Week In Asia
show official figures are well below observers' estimates.
Frustration crept into Senator Joel Villanueva's voice as he scolded Bureau of Immigration and Department of Labour and Employment (DOLE) officials during last month's session, which was conducted by the committee on labour, employment and human resources development that he chairs.
"It's glaring," he told them. "Your records show you are issuing few alien employment permits [AEPs] but there's a flood [of Chinese workers] and from their numbers, it's clear there are illegal workers."
Villanueva wanted to know if Chinese nationals were taking away jobs from Filipinos, some 3.8 million of whom were unemployed as of July 2018, according to estimates from the state economic planning agency. Philippine law allows foreigners to work in jobs that Filipinos are not qualified to do.
The two-hour senate hearing failed to uncover just how many Chinese workers had come to the country to live and work since Duterte took office in 2016.
Still, according to data obtained by This Week in Asia, Chinese nationals are working legally in online gambling as well as in sectors where Filipinos are qualified – such as manufacturing and construction. The constitution enjoins the state "to promote the preferential use of Filipino labour".
The 53,311 AEPs issued by DOLE from 2016 to May 2018 include 18,557 permits given to Chinese nationals in "administrative and supports service activities"; 10,560 in "arts, entertainment and recreation", which includes gambling, online and offline; 7,754 in "information and communication"; 4,716 in manufacturing; and 2,884 in construction.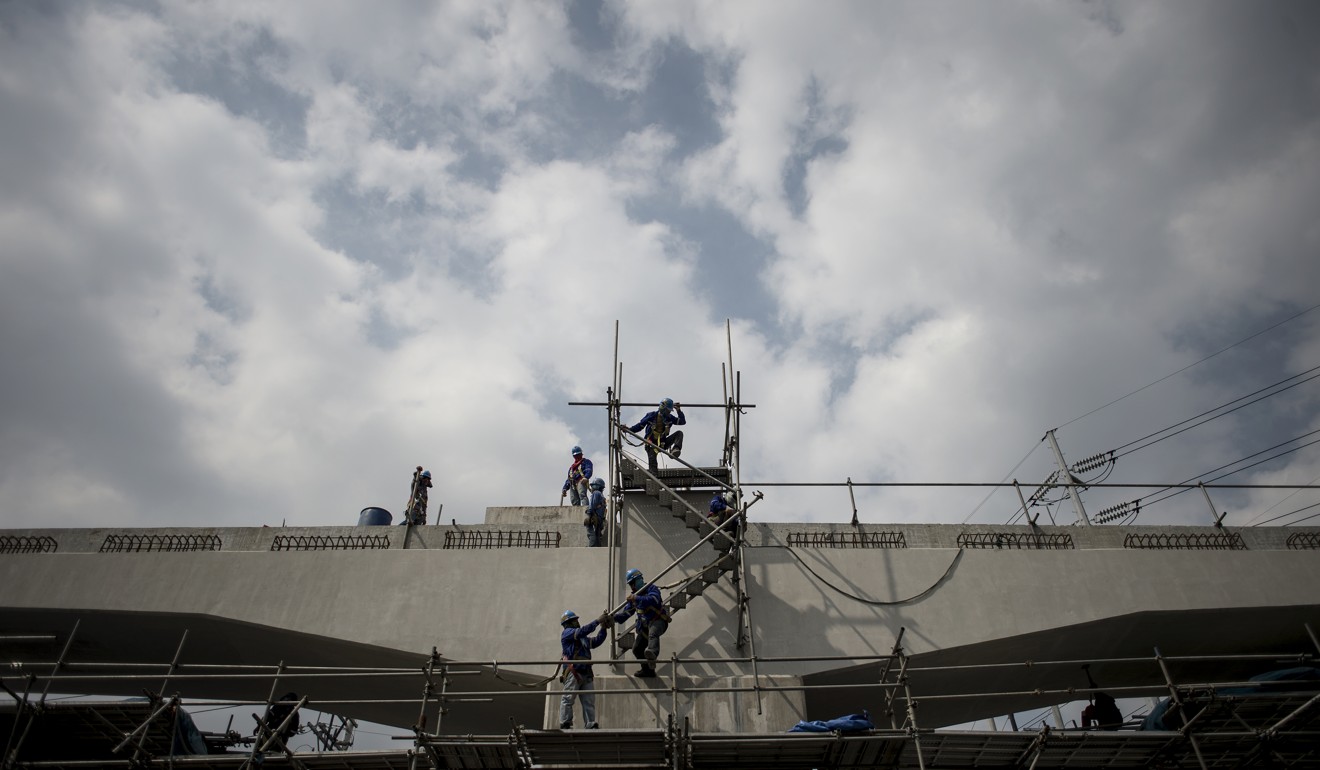 Most of these Chinese nationals with AEPs are concentrated in Metro Manila (32,032 people), while others are in areas hosting online gaming operations. These include Region 3, where the Clark and Subic free port zones are located (9,112 AEPs); Region 2, where the Cagayan Economic Zone Authority also issues online gaming licences (7,962 AEPs); and Region 10, where some casinos operate in Cagayan de Oro City.
From rigorous questioning, the senators learned that four state entities were separately issuing different types of visas. The Department of Foreign Affairs or DFA issues tourist visas and pre-employment visas; the Bureau of Immigration issues immigrant, non-immigrant, special immigrant, special non-immigrant visas, visas upon arrival (VUA), and special work permits (SWPs); the Department of Justice issues a special non-immigrant and investor residents' visa called 47a2; and the Cagayan Export Zone Authority issues CEZA working visas, investor's resident visas and dependent visas.
No one could say how many visas had been issued all in all. But all four entities initially said that before they could issue a visa, all foreigners first had to obtain an AEP, which can only come from the Department of Labour.
'I THOUGHT I WAS IN CHINA'
Chinese immigration is a sensitive topic among Filipinos, many of whom resent extra competition for jobs and property, and China's military build-up in the South China Sea.
"They are everywhere!" said one resident in upscale Salcedo Village, located just outside Makati City. "[In] Salcedo Village walking around at all hours of day and night! Yes, dami [many], as in hundreds. Groups of three guys. Lolos [granddads] and lolas [grandmas] pushing baby prams. Families. Groups of young girls. Couples. Dami!"
In Muntinlupa, a city in Metro Manila, a resident named Remy likened the influx to an invasion: "The Chinese have invaded our islands in the West Philippine Sea and now they're in my condo [building]. It's a home invasion."
At last month's inquiry, Senator Villanueva kicked off proceedings by saying he recently "thought I was in China" because of the number of Chinese he observed in the sprawling Mall of Asia beside Manila Bay.
The senator also expressed concern that the influx could cause an increase in home prices and rents. He rattled off the names of high-rise residential towers around Manila and its suburbs that are now crammed with newly arrived Chinese workers, and added that an offer to lease 400 condo units to house 3,000 Chinese workers in Muntinlupa City had recently gone viral on Facebook.
On close questioning during the senate inquiry, labour undersecretary Ciriaco A. Lagunzad III disclosed how the system breaks down and allows the proliferation of illegals. He told senators that first, "a lot of [Chinese nationals] come in as tourists and later on convert their visas for work".
Second, he said, from 2015 to 2017 the Bureau of Immigration issued 119,814 SWPs – a special type of tourist visa – mostly to workers in online gambling. He said, "these are issued without the benefit of an AEP because the nature of their engagement is temporary, covering three or six months … During the course of the SWP's validity, the status of the [foreign] national remains as tourist".
Just how many of these were issued by the Duterte administration? This Week in Asia obtained a breakdown from DOLE which showed that of the 119,814 SWPs issued from 2015 to 2017, the bulk (or 102,174 SWPs) were handed out in 2016 (27,136 SWPs) and 2017 (75,038 SWPs).
When lawyer Jessa Fernandez of the Philippine Amusement and Gaming Corporation, the gambling regulator, was asked during the senate probe how many online gaming workers had SWPs, she replied: "We do not have the exact number."
Department of Tourism figures show 675,663 Chinese nationals entered the Philippines in 2016, while another 968,447 came last year. DFA undersecretary Sarah Arriola told senators the department issued 1,656,630 tourist visas and 18 pre-employment visas to Chinese nationals from January to November 26, 2018. This means at least 3.3 million Chinese nationals entered the country as tourists from 2016 to 2018.
Immigration did not say how many of these tourists had SWPs. A senior government official told This Week in Asia in a separate interview that SWPs and VUAs issued by the Bureau of Immigration between 2016 and 2017 did not pass through the DFA system for vetting. Neither did these go through the labour department, Lagunzad confirmed, because both visas are classified as tourist visas.
Under DOLE's present system, any of these 3.3 million Chinese "tourists" can convert their tourist visas into working visas as long as they obtain an AEP. While waiting for their AEP, Lagunzad said they are issued a "provisional work permit" by DOLE, but he added that "ultimately, this should be replaced by AEPs".
DOLE's AEP records showed that the number of visas jumped from 8,672 in 2015 to 19,294 in 2016, when Duterte assumed office midyear and downplayed an arbitral ruling on the
South China Sea
favouring the Philippines to pursue friendly engagement with China.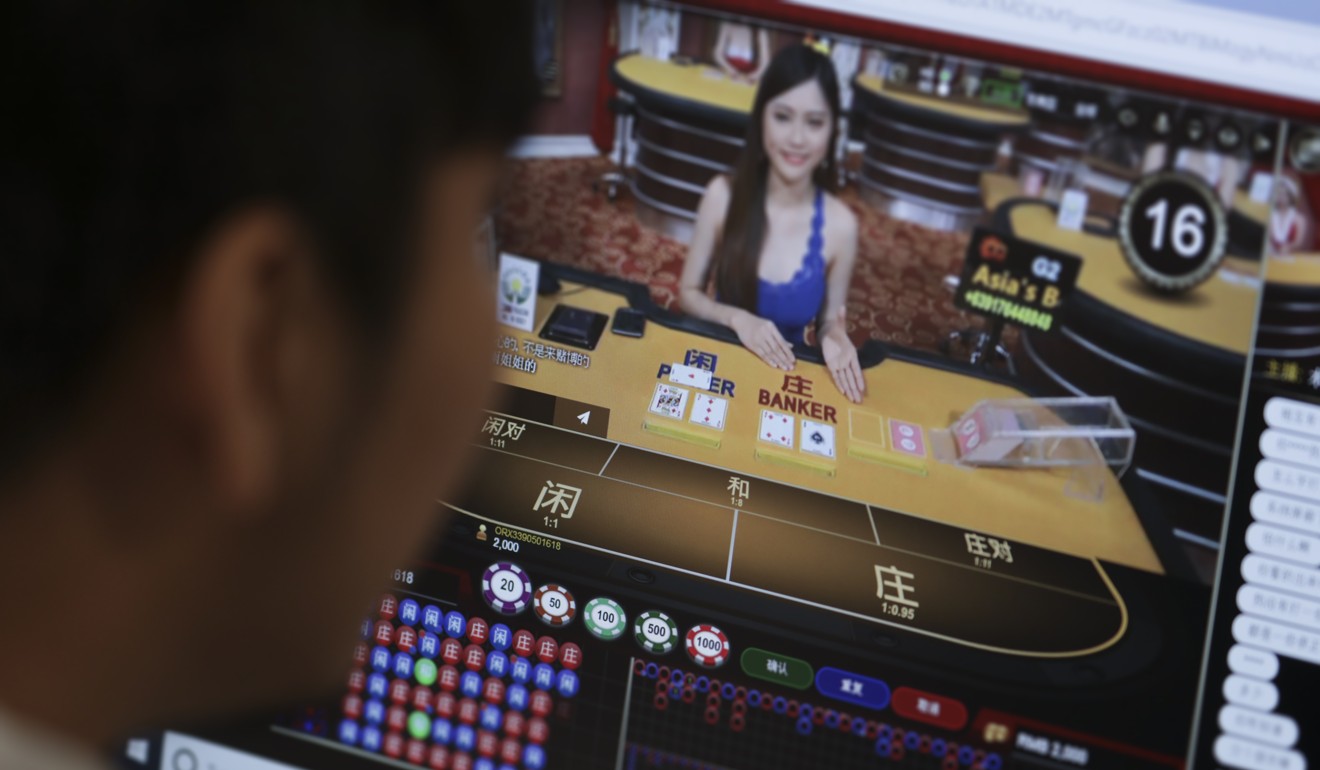 'BE CAREFUL'
Wilson Lee Flores, a property agent and columnist with The Philippine Star, doubts such figures, saying the number was "exaggerated" and in reality "not so many". "Why would someone come here to become a construction worker when in Guangdong, the minimum wage is double ours?" he said. "Whoever said it has no common sense."
Still, DOLE records obtained by This Week in Asia show that 2,884 Chinese nationals are working in construction with valid AEPs.
This relatively low number means the presence of Chinese immigrant workers may not be an election issue in the Philippines' midterm elections next year. Ramon Casiple, executive director of the Institute of Political and Electoral Reforms, says construction is one of the industries over which there would an uproar should Chinese nationals be employed in large numbers, as Filipinos can work in the sector.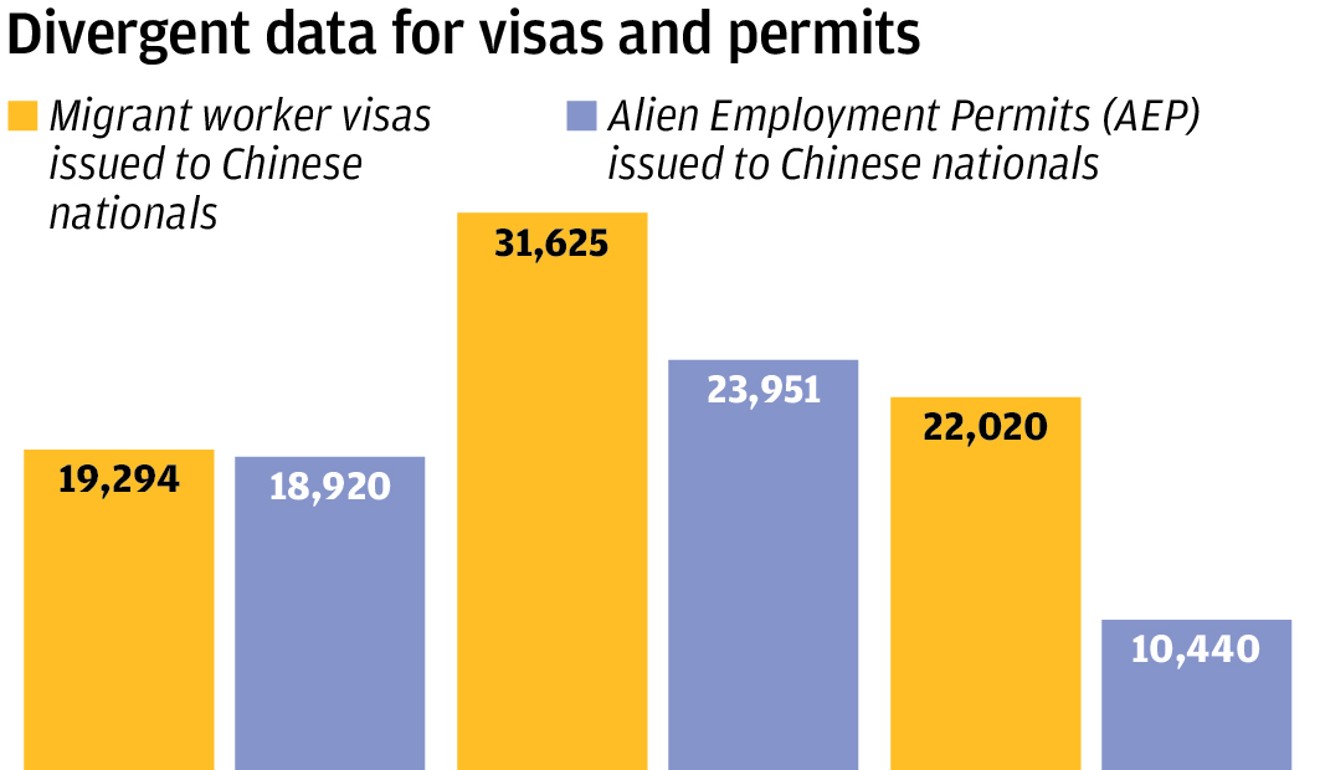 "It has to be proven that they are taking away jobs from Filipinos," he said.
Last September, the Bureau of Immigration arrested 34 Chinese nationals working illegally in Manila, "taking away jobs from Filipinos", according to spokeswoman Dana Sandoval.
Senator Grace Poe, who is currently topping election surveys for next year's midterm polls, has pointed out that President Rodrigo Duterte's build, build, build [programme] is intended to give Filipinos, "not foreigners", jobs.
Unofficial estimates reported by Bloomberg put the number of Chinese nationals working in the Philippines at 100,000, or around twice the number of AEPs issued by DOLE between 2016 and 2018.
A comparison between DOLE's AEP issuances and data obtained from the Bureau of Immigration through a separate Freedom of Information request reveals a discrepancy. While DOLE issued 53,311 AEPs from 2016 to 2018, the immigration bureau said it issued 72,939 temporary or permanent work visas to Chinese nationals for that period. This means 19,628 Chinese nationals were given work visas without having to obtain AEPs.
Teresita Ang-See, co-founder of the Chinese-focused NGO Kaisa, estimates that there are a much higher number of Chinese nationals working legally and illegally in the Philippines: "The more acceptable estimate of their number is a maximum of 200,000, extrapolated from immigration figures and from enrolment in Chinese-language schools." This was on top of the 1.2 million ethnic Chinese with Filipino citizenship, she said.
Despite the numbers being mentioned, Duterte has cautioned immigration agents to "be careful" when arresting illegal immigrants. "If you think that you are at a loss, you are at a disadvantage because there are so many Chinese nationals working here, remember we have the same equal amount of people, of Filipinos who are there working in China," he said.
Gulf News has quoted DOLE Secretary Silvestre Bello as saying that 12,254 Filipinos are officially working in mainland China, but there were an estimated 200,000 Filipinos working there illegally as of 2016.
Manila is poised to sign with Beijing a government-to-goverment agreement to deploy 10,000 more Filipinos to the Chinese mainland, Budget Secretary Benjamin Diokno said last month. "China is willing to hire our overseas Filipino workers," he said, dismissing concerns about Chinese migrants taking local jobs.