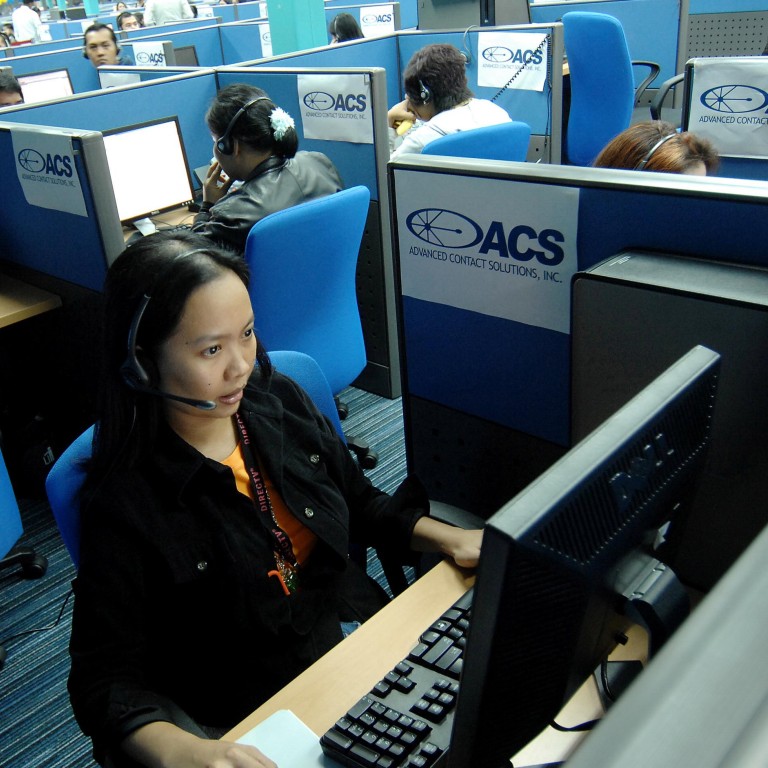 Artificial intelligence: friend or foe to Philippine call centre workers?
Half of the 1.3 million workers in the Philippines' business process outsourcing industry have low-skill jobs that technology could replace
But some believe advances in machine learning are an opportunity to upskill, rather than lay off, staff
A
decade after becoming
the world's call-centre capital, with the most agents employed,
the Philippines
may risk losing this title if it does not adapt to the rise of
artificial intelligence
(AI) technologies fast.
This is the reality the local business process outsourcing (BPO) industry is coming to terms with, as its two-decade growth is threatened by the emergence of AI systems in companies everywhere.
AI, in this case, is largely identified with its machine learning capability, the technology that can process massive amounts of data in short periods of time.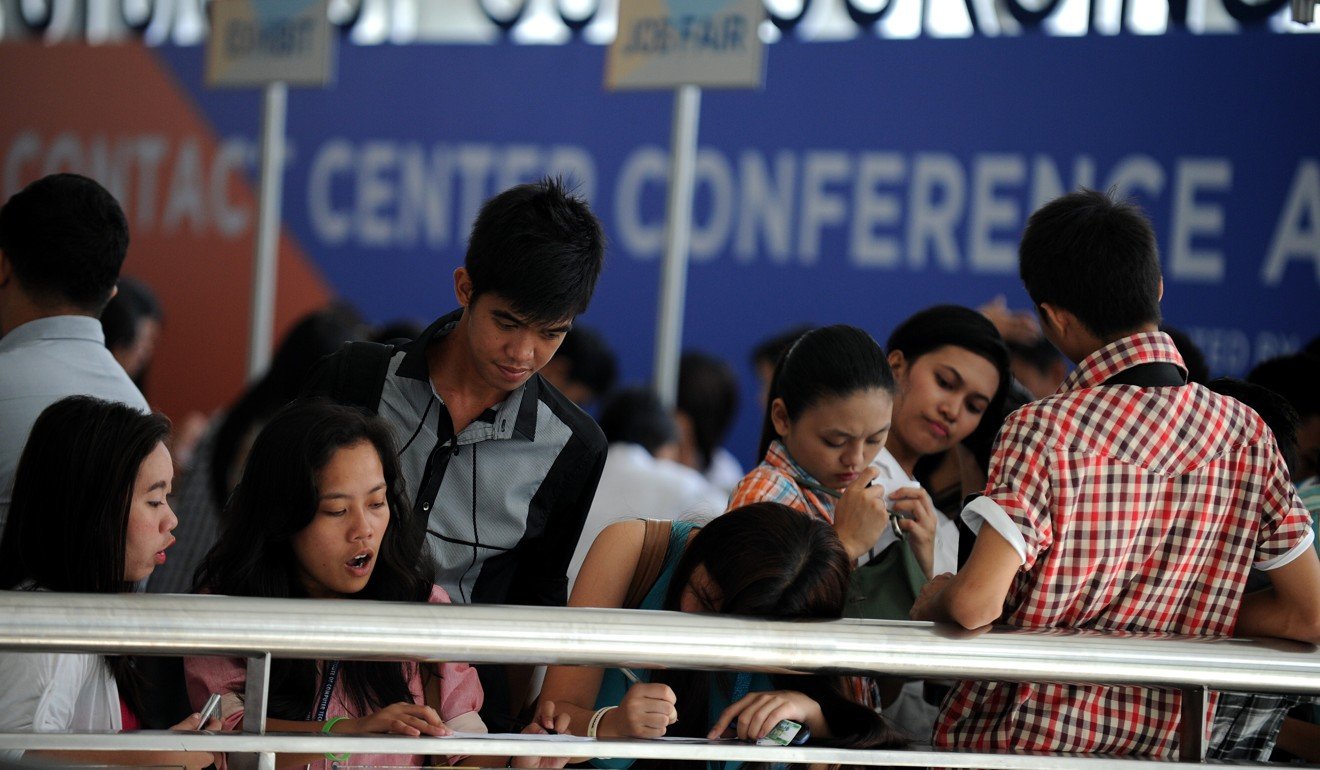 Half of the 1.3 million people employed in the Philippines' US$25 billion BPO industry have "low-skill-level" jobs, according to the latest data shared by Information Technology and Business Process Association of the Philippines (IBPAP). These are usually customer service agents that do back-end support for multinational firms, mostly answering calls and processing inquiries. Already, there are programs powered by machine learning that accomplish these tasks in a matter of minutes.
Coupled withincreasingly volatile global trade conditions, the Philippines' BPO industry has a lot to think about to maintain its pace of growth.
"Industries have now pivoted in a way [that] hiring [for BPOs] has become more complicated as they look for more complex skills," IBPAP president Rey Untal said at an industry event early last month. "Now is the time for the industry, academia and government to work together to find a solution."
For the IBPAP, the country's biggest private association of BPO companies, this means revamping the way staff are trained – something that is easier said than done.
As early as 2018, the organisation floated the idea of launching a Philippine Talent Upskilling Programme, which would retrain employees of the IT industry in the skills of the future, such as data analytics and 3D animation.
The framework of the proposed programme is still in the works. Nicki Agcaoili, another IBPAP executive, likened it to Singapore's SkillsFuture initiative which was launched in 2015. This provides everyone from students to established professionals with financial credit and other aid to strengthen their skills, either through short courses or further studies.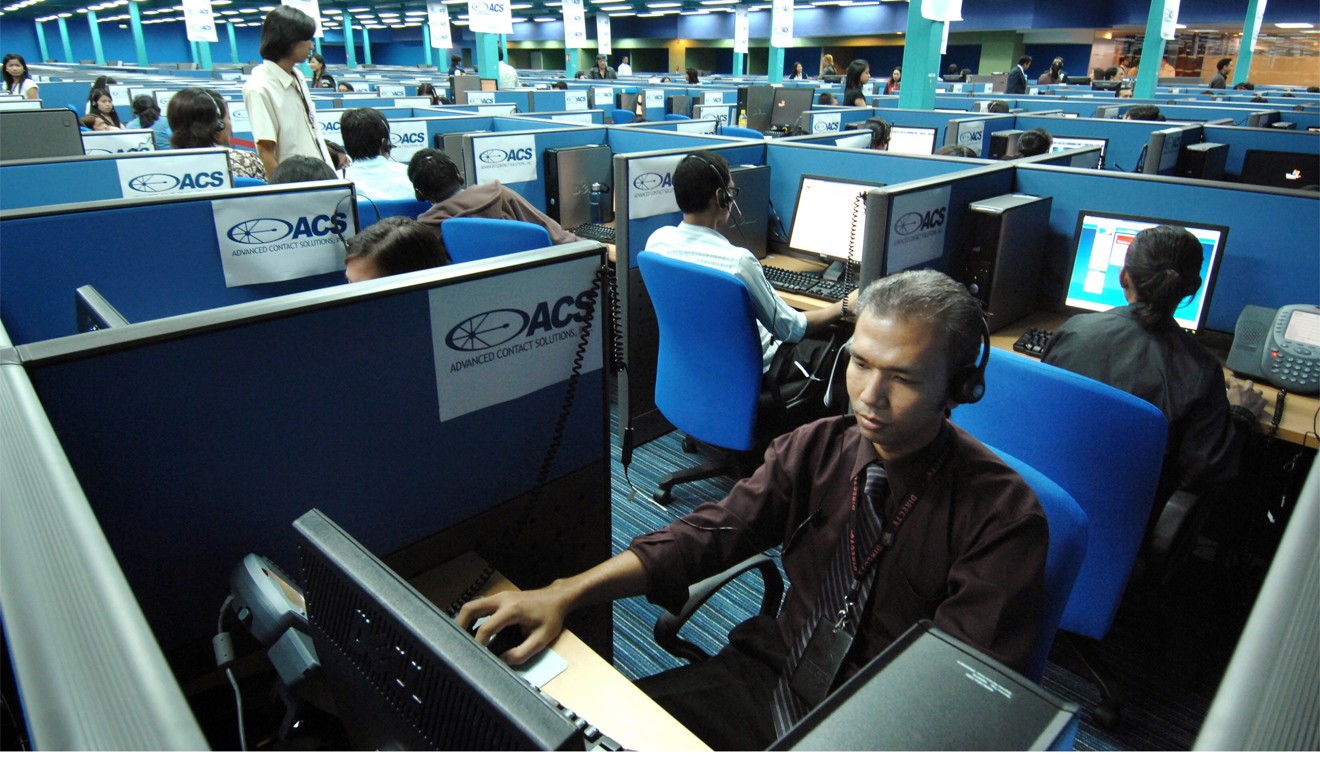 "Being good English speakers just won't cut it any more," Agcaoili said. "We need to have analytical and critical thinking skills training programmes because that's what's demanded of us now with the [tech] improvements happening."
While he did not share budget and timeline specifics, Agcaoili said IBPAP hoped to start training at least 5,000 workers under the programme by the end of the year, and as many as a million by 2022 – a definite moon shot of a goal.
"We know it's not going to happen overnight," he said. "But we know the goal is realistic."
For some of the long-established BPO employers in the country, the preparation for the rise of AI started as early as five years ago, even before industry leaders started sounding the alarm.
Global professional services firm Genpact, which has around 6,500 employees in the Philippines, started a workforce upskilling programme through something familiar to them: mobile game apps.
"Think of the platform as an Expedia of courses. The app gives you access to courses on other platforms, which you complete, and have a simple test at the end … It's gamified in a way that you can track your progress versus your colleagues' and even your team manager's," said Genpact Philippines COO Arnab Kumar Ray.
Employees can finish the courses at their own pace. However, those that show exemplary performance in the courses get a bigger credit in terms of promotion opportunities. The programme has already allowed some employees to move up from low-level work like processing simple transactions to mid-level responsibilities such as market servicing.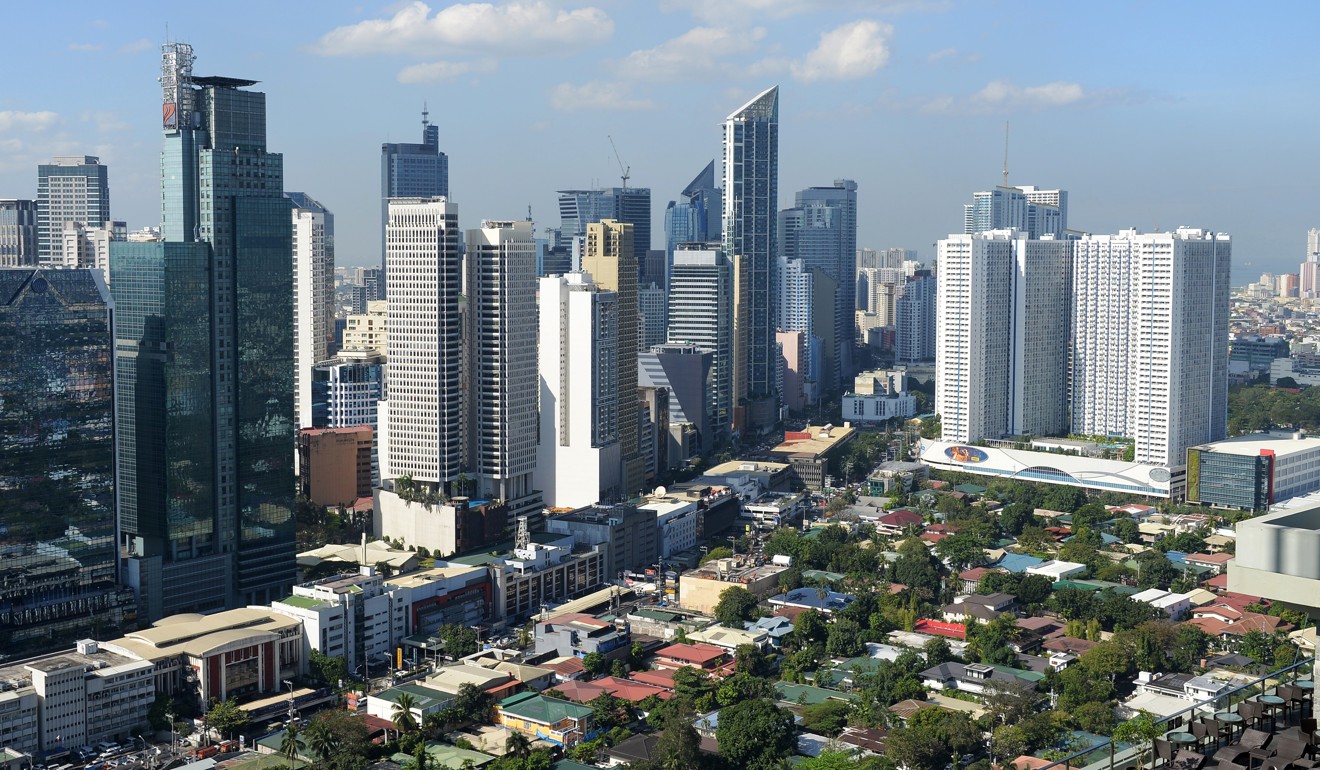 Genpact has also started to embrace machine-learning programs as a means to augment the productivity of its workforce, freeing up more of their time for higher-level work. For example, simple customer service inquiries are now answered by bots, but more complicated questions are still handled by human agents. "I'm positive that in the near future, we can turn our employees into mid-level workers. In our case, since we mostly cater to financial institutions, it means they can handle wealth management and even underwriting tasks," Ray said.
For others, the effort is more comprehensive and extensive in scale. Home-grown BPO TaskUs, which largely does customer service support for US-based start-ups, has recently started an upskilling programme for its team leaders across its nine offices in the Philippines which would allow them to become data analysts in two months.
The effort comes at a time when requests from its existing and prospective clients to develop "AI-focused" campaigns across different communication channels – from voice to email – have doubled, a manifestation of the clamour for heightened efficiency in delivering services.
Despite the varied and distributed efforts from different parts of the industry in the face of the emergence of AI, the general consensus remains optimistic – that it is not out to take jobs from humans.
"Machine learning [programs] will always need some human interventions," said Dan Nacarato, TaskUs' senior vice-president for Southeast Asia. "There will always be humans who will feed the data to machines and clean up the data when needed."
Ray of Genpact echoes the sentiment. "This is just AI challenging us to have a higher level of work," he said.
But on the office floor, BPO agents of different generations have varied sentiments.
Christelle de Guzman, 24, an app-development analyst for Accenture for the last three years, said she was not at all concerned about AI. In fact, she is more than hopeful about its impact on the quality of work. "If AI is used properly, it can make our work more efficient. Both the company and employees will benefit if most of the processes are automated," she said. "I believe it's impossible that computers alone would take over the BPO industry."
But Jep Macaraeg, a 30-something father of one who has been with two BPOs for almost a decade, said he was not resting easy just yet. "I'm not worried about it for now," the data analyst for Accenture said. "But in case an abrupt change happens, I have a Plan B ready." ■