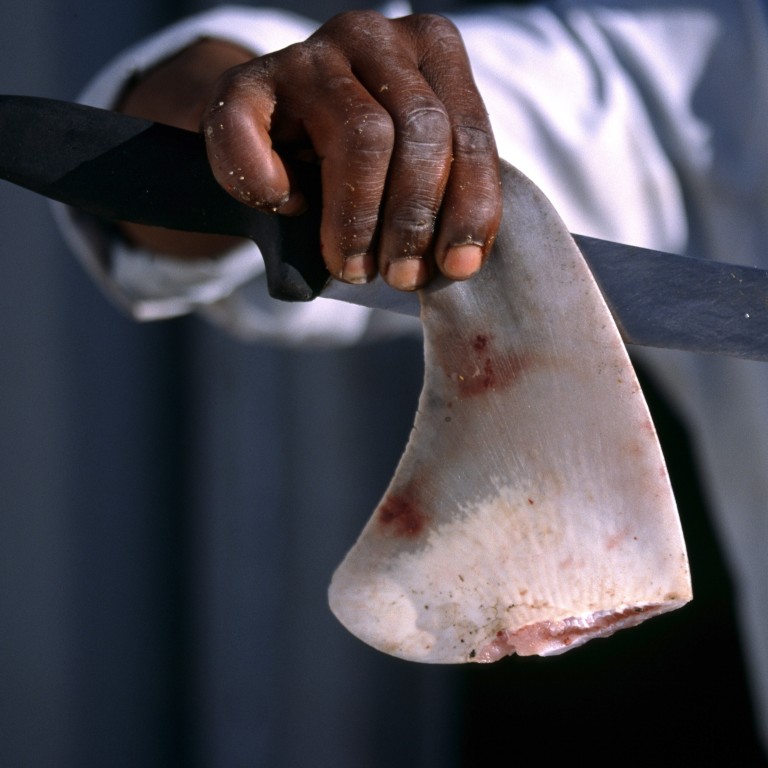 Why is the shark-fin trade buoyant while Covid-19 sinks the global economy?
Record-breaking seizures of smuggled fins show that a growing appetite from Asia is taking a toll on underwater ecosystems and fishing communities
In Indonesia, the world's largest producer of shark products, many who have lost work amid the pandemic have been forced back into the industry
W
ith economic activity
around the world taking a hammering from
Covid-19
, conservationists had hoped for a respite in the global shark-fishing industry. But a spate of record-breaking confiscations and expanding markets in Asia show there is still an appetite for shark fins – one that is
taking a toll on underwater ecosystems
and fishing communities in the region.
In April, the Hong Kong authorities seized 13 tonnes ofsmuggled shark fins, mostly from endangered species.
A few days later, they discovered another 13 tonnes
– more than doubling the 12 tonnes seized in all of last year, and baffling government officials and activists who expected border closures to make the trade less feasible.
Shark fins are mostly used for shark's fin soup, a dish that symbolises wealth and status in Chinese culture. Demand for the dish has soared in recent decades with the rise of China's newly affluent middle class, and while a conservation effort on the mainland has seen consumption drop by 80 per cent since 2011, this has been offset by expanding and emerging markets in Hong Kong, Macau, Taiwan and Thailand.
Consumption in the Southeast Asian kingdom is widespread, and it has the potential to become a major market: a 2017 survey found that 57 per cent of urban Thais had already consumed shark fin, while 61 per cent planned to consume it in the future.
Studies by environmental organisation WildAid suggest that 73 million sharks are finned each year, but other estimates put the number closer to 100 million – a sign of global demand being catered to by countries such as
Indonesia
, where shark fishing is legal.
The archipelagic nation was the world's largest producer of shark products between 2007 and 2017, with a mean annual catch of 110,737 tonnes, according to data from Traffic, an NGO that monitors the wildlife trade.
"For a long time, I wasn't worried because the shark-fishing trade had come to a little bit of a stop, but it seems to be kicking off again now," said Madison Stewart, founder of Project Hiu, an Indonesia-based NGO that aims to provide alternative income to local fishermen to help them get out of the shark trade. Stewart was in a position to put money aside to keep her employees afloat during the pandemic and the subsequent loss of tourism, but she said there were many others in coastal communities that had lost work and had been forced back into the industry.
"There probably isn't a species more damaging for us to be targeting than sharks. They are slow growing, they have very few young and they're not supposed to be fished in the way that we fish them," she said, adding that killing sharks impacts oceanic ecosystems as other species would thrive in the absence of the top predator.
"When you take out sharks you affect every fishery and every species underneath it, and you potentially set up an ecosystem to collapse."
Only whale sharks are fully protected in Indonesia, with some endangered species now being found at export markets after a ban on shipping them outside the country expired in 2018. The country's annual shark-fin exports came to US$14 million in 2011, the last year such data was collected, according to the country's food and agriculture agency.
WHERE THE PROFIT LIES
Luke Warwick, director of the Sharks and Rays programme at the Wildlife Conservation Society in New York, said shark populations probably benefited from a slowdown in fishing activity at the height of the Covid-19 pandemic, but it was very possible shark catches would increase again in the future.
"Sharks are a key part of coastal fisheries throughout South and Southeast Asia, but as financial instability grows it is more than possible that pressure builds still further to retain all bycaught sharks, even those that are protected, or to expand the capacity of existing fleets to catch more fish and make more money," he said.
"This confirms the need for management, but in a manner that works for the people relying on sharks for food security or fisheries income … Real attention is needed on establishing ways to reduce fishing pressure on these vulnerable predators, but in a way that doesn't simply force people relying on them into continuing to catch and trade illegally, as they are left without any income, or any choice."
The Indonesian archipelago, which is made up of more than 13,000 islands, has an exclusive economic zone of more than six million square kilometres – making fishing a pillar of the country's economy, with a contribution of more than US$26.9 billion (or around 2.6 per cent) to its gross domestic product (GDP) last year.
Indonesia's GDP growth in the first quarter of this year eased to 2.97 per cent, the lowest level since 2001, but the fishing industry grew through that same period by 3.52 per cent. Maritime affairs and fisheries minister Edhy Prabowo said the fishing industry would play a crucial role in reviving the country's economy.
But within fishing communities, this high production does not translate into prosperity. A 2013 report published in scientific journal Applied Mechanics and Materials found the average monthly wage of a fisher in Indonesia was around US$40, substantially lower than the national average at the time of US$171. Shark fishers, however, could make up to US$150 on a two-week trip if they get a good catch – usually considered to be around 50 to 75 sharks.
"As is typical in many countries throughout South and Southeast Asia, shark meat is consumed locally and fins are exported to trade hubs such as Hong Kong for sale in the large shark-fin markets there, before onwards trade to countries like Vietnam or Thailand for processing," said Warwick from the Wildlife Conservation Society. "That end of the trade is where the real profit lies, not with the local fishermen."
'ACCIDENTS HAPPEN'
Stewart of Project Hiu was at one point able to employ up to 30 former shark fishers as tour guides. The former fishers told her they could probably make more in their previous job, but it had become too dangerous and the disparity between what they earned and what the products sold for in markets abroad had grown too large.
In Indonesia, shark fins typically sell for around US$150 per kilogram, while the same amount goes for around US$1,100 in Hong Kong.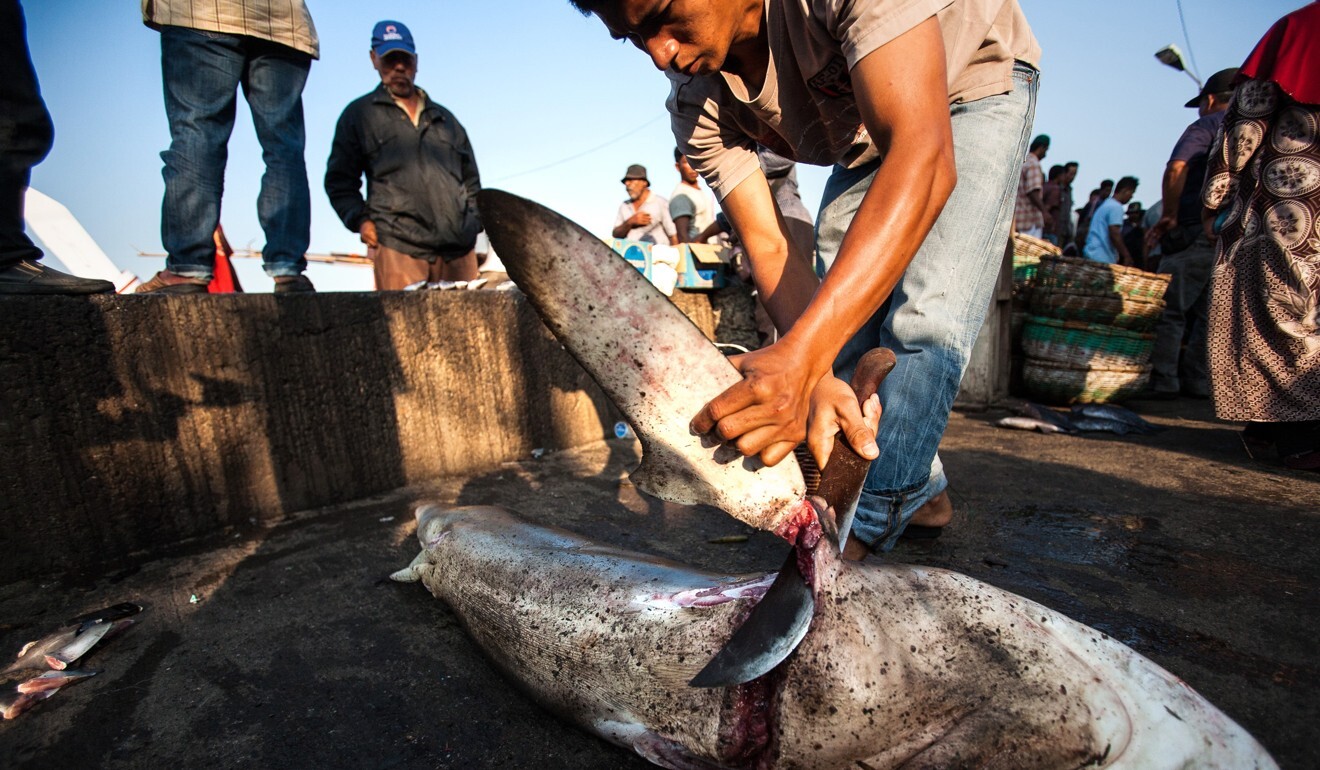 "The only answer I got from them was 'accidents happen'," said Stewart, after asking why the fishers working with her had decided to stop fishing.
"I've heard of plenty of cases where fishermen were fired upon from helicopters because they're going into protected waters, or of men falling overboard and being lost at sea, and of people getting injured. There are all kinds of risks associated with taking very small, very basic boats to sea in rough weather.
"I went on a two-week trip with some fishermen and they had a pretty good catch but made only US$650, split among the five crew.
"This is becoming more and more common because they're having to travel further to find sharks [due to overfishing] and so they spend more on fuel.
"So, unfortunately, they don't make a whole lot of money in the end and yet shark fins sell for so much in Hong Kong and other places."
With the promise of better pay, Indonesian fishers often work aboard foreign vessels, but reports have emerged of wage theft, physical and sexual abuse and slave labour.
According to Global Fishing Watch, an organisation that tracks the fishing industry globally, seven Indonesian men have died while three others have gone missing since last November while working aboard Chinese vessels alone.
The Indonesian Labour Union said 338 Indonesian fishermen had filed complaints against foreign vessel owners in the past five years.
Stewart, who is currently in Australia, said she hoped she could get back to Indonesia as soon as possible to continue running tours and prevent shark fishing.
"The most boats I've had employed at one point were six out of a fleet of 42, which is about 30 fishermen. It's hard to get numbers on it but when we looked at it, we prevented approximately 30 [shark-fishing] trips from occurring in 2019 alone."
Warwick from the Wildlife Conservation Society said that while Indonesia accounted for around 10 per cent of shark catches worldwide, it was well placed to lead the way in shark conservation, given the productivity of the nation's waters, as pointed out in a recent global study published in Nature known as "FinPrint".
"Governments around the world need to prioritise properly managing their sharks, and alternatives to wide-scale consumption of sharks are needed both at the local level where they are caught, and at the high-end restaurant level where shark's fin soup is still consumed," he said. "Both will require very different approaches but are essential to safeguard these species' future." ■