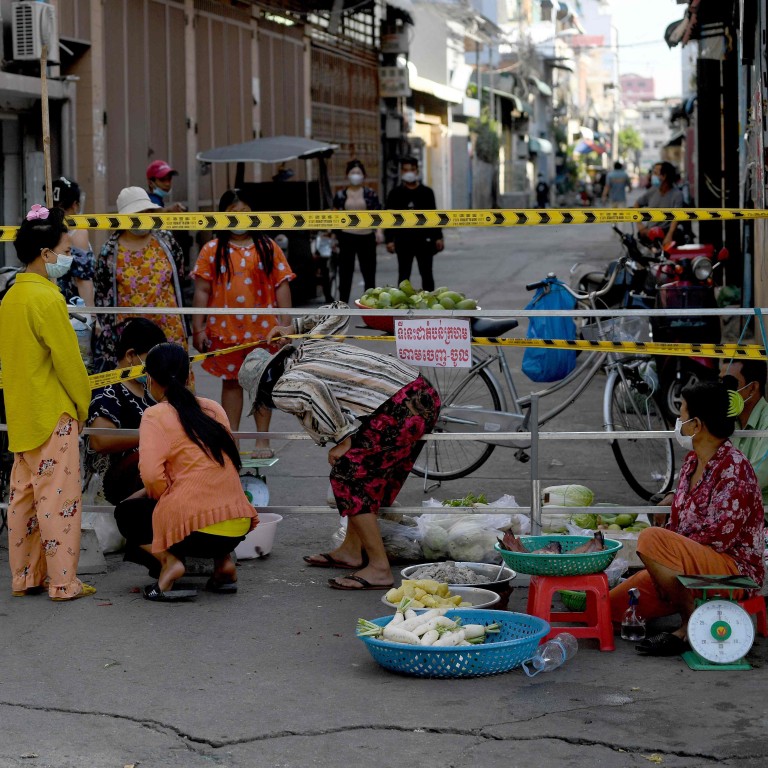 In Cambodia, extended Phnom Penh coronavirus lockdown leaves garment workers, market vendors hungry
Cambodia has closed markets in its capital and extended a two-week lockdown, designating some areas red zones and prohibiting people from going out
This has created a food emergency for many textile and other workers, with a labour analyst calling the government's response 'out of control'
The
Cambodian
government's two-week lockdown to contain a surge of Covid-19 cases in the capital, Phnom Penh, has cut off food supplies for thousands of garment workers, market vendors and others who survive on a day-to-day income.
Prime Minister Hun Sen announced the restrictions on April 14, which allowed only people in essential jobs such as delivery, restaurants and food and medical supply factories to work, with families permitted to visit markets three times a week. Days later, the government declared four communes and three villages "red zones", banning residents from leaving their homes except for medical reasons.
On Saturday, Phnom Penh City ordered all public markets closed for two weeks, further straining residents' access to food.
Garment worker Un Sopheap, 35, has been in quarantine since April 9, after neighbours in her block of small rental rooms tested positive for Covid-19. She said she received part of her salary and a small stipend – about US$135 – while quarantining but now cannot go out to buy fresh food after the block was designated a red zone.
This meant she went four days in a row eating only rice with soy sauce, sometimes with egg.
"When I only eat that type of food …. I don't have enough energy and I can't leave my room to get fresh air from outside, plus it's a very small room," she told This Week in Asia. "It makes me frustrated."
Police officers armed with firearms and wooden batons constantly patrol the block, Sopheap said, adding: "We're scared of them."
Some officers have been caught confiscating vegetables from vendors who set up ad hoc markets in red zones, while farmers living outside the city complain their produce is rotting as vendors are unable to sell it.
The government initially handed out rice, instant noodles, canned fish and sauces but quickly changed to selling the products after the premier claimed the government would "face difficulty" to respond to all families' needs, notably including a bottled water brand owned by the Prime Minister Hun Sen's daughter.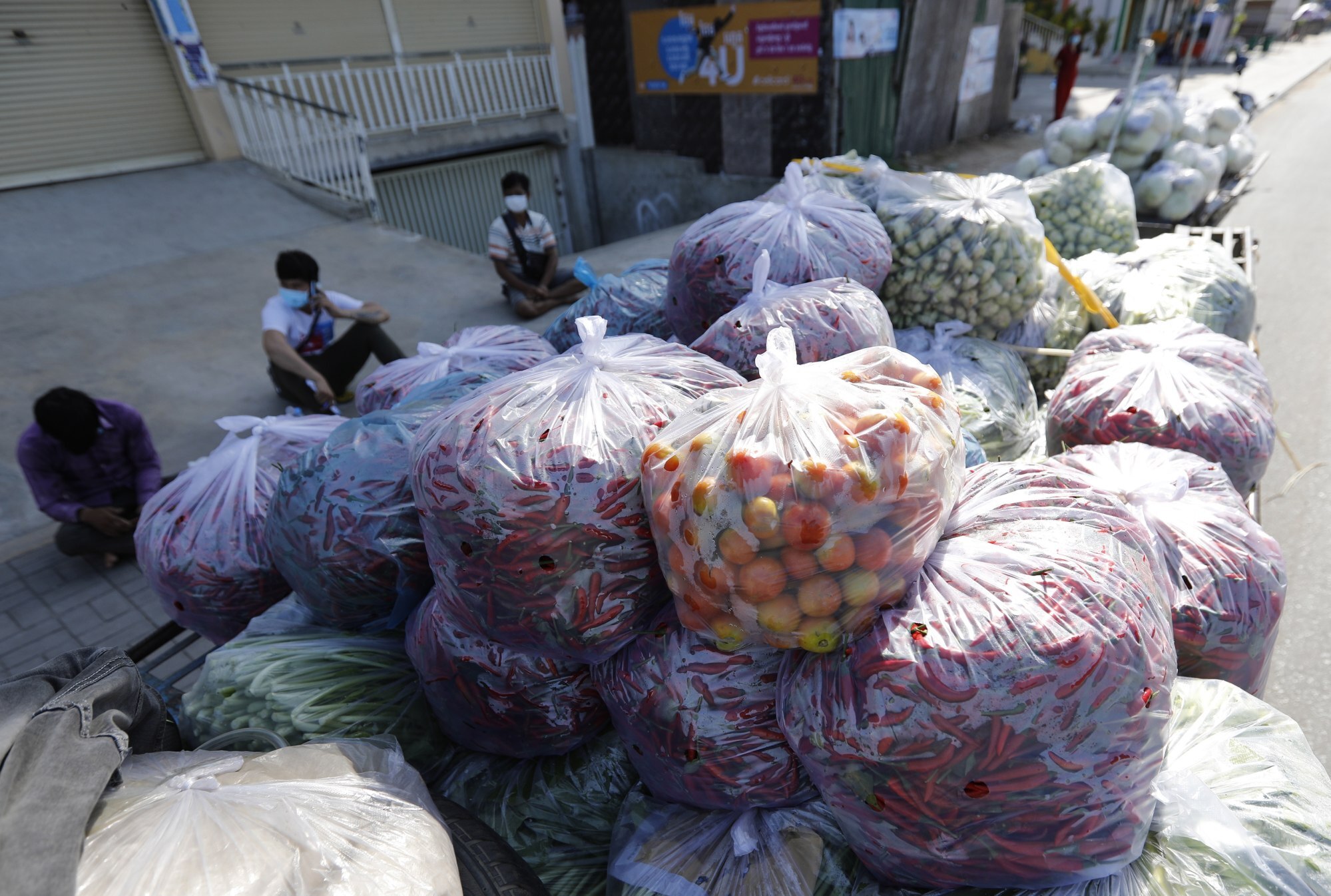 Meanwhile, the number of people begging for food is rising: more than 48,000 people joined a Telegram chat set up by the city to apply for emergency food aid. One user wrote on Friday evening: "I requested five days ago and I haven't got [anything]."
Kong Savorng, chief of the Choam Chao I commune in one of the red zones, did not answer telephone questions put to him but could be heard telling another person that they had run out of canned fish, soy sauce and fish sauce to distribute to residents, leaving only donated rice and bottled water.
World Food Programme Cambodia director Claire Conan said their understanding of the full extent of hunger in the red zones "remains limited" because of their lack of access and fast-changing government policies. She said the agency had been monitoring how Covid-19 disrupted supply chains and caused more to go hungry before the lockdown, noting that special dietary needs for the elderly, pregnant women and new mothers "will need to be addressed should the measures extend in time".
The government on Saturday ordered tens of thousands of people living in Phnom Penh's red zones to be tested for Covid-19, without outlining how they should do so.
Khun Tharo, coordinator for labour advocacy group Central, called the government's response "out of control", noting that dense garment factories and their dormitory housing blocks were long thought to be high-risk for Covid-19 transmission.
He added that quarantining red zone residents in small living spaces would not help their health either. "It's really too late [now] and the government has been slow in its response to the situation."
Cambodia's biggest Covid-19 outbreak started in late February, when two Chinese nationals escaped quarantine. Before then, it had reported relatively few cases, but by Sunday its total had reached 9,975, with 616 new daily infections. There were also three deaths, taking the total to 74.
The recent surge has racked the garment industry, forcing all textile factories in the greater Phnom Penh area to close.
Din Han Enterprise – a producer for Adidas and one of the hotspots in the outbreak with more than 500 infections – is located in an industrial estate full of factories and the virus quickly spread to its neighbours.
Local union president Bun Vann spent part of last week calling coworkers at New Orient Factory – a manufacturer for The North Face – to go for testing after more than 20 colleagues were infected.
"In the factory we don't have the standard of social distancing, as we didn't have any space inside the factory," he said, adding that Din Han and New Orient had the same owners, and workers often lived together, making transmission easy.
Cambodian Labour Confederation president Ath Thorn warned that workers' next biweekly pay period was approaching and most would not even be able to receive money transfers without leaving their homes.
The Labor Ministry and Garment Manufacturers Association of Cambodia urged factories to offer workers some financial support, although Thorn said they were not obliged to make such payments. But the state could be offering more to those in immediate need, he saidd.
"I think the government is not a rich government, we all agree," he said. "But at least [it should] respond to the poor and those who are made poor under the lockdown."