Cambodia
Get more with myNEWS
A personalised news feed of stories that matter to you
Learn more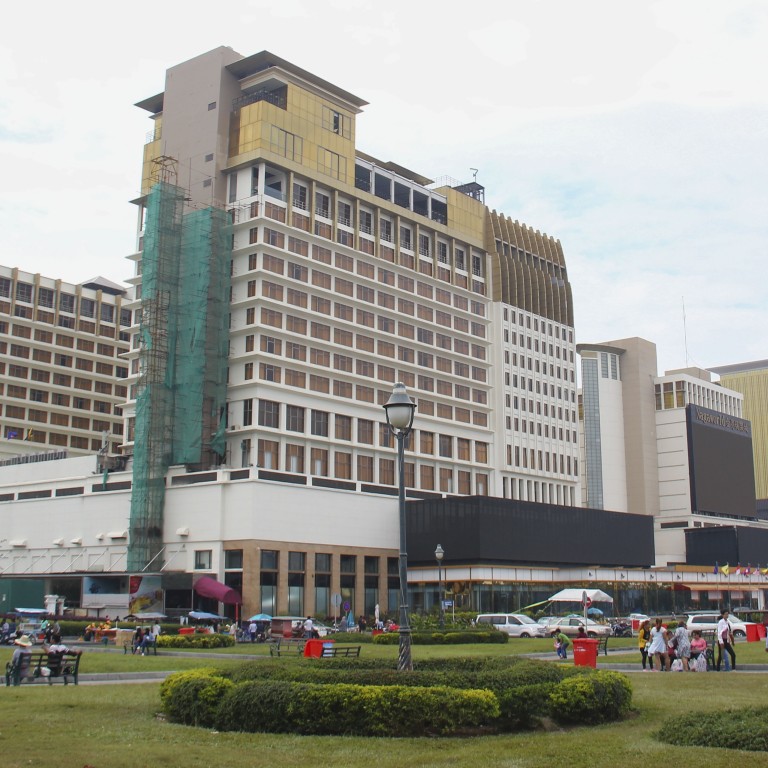 Cambodian workers at NagaWorld casino vexed over lay-offs as Hong Kong-listed parent firm reports profits
At least 600 workers have received lay-off messages, in what NagaWorld says is due to financial hardship from the Covid-19 pandemic
The job losses come amid news that its parent company NagaCorp reported US$102.3 million in net profit in the year ending December 31, 2020
When Reoun Sreyneang received notice she would be let go from her job tending hotel rooms for US$300 a month at Phnom Penh's gold-tinted NagaWorld casino complex, she decided to accept the news without a fight.
"I don't believe I can win against the company that has millions of dollars in its pocket. They will always win," said the hospitality worker.
Still, she admitted she was shocked that NagaWorld, a subsidiary of Hong Kong-listed firm NagaCorp that has an exclusive licence to run a casino in Phnom Penh, would fire her and her colleagues, given the tough employment situation as Cambodia continues to grapple with the Covid-19 pandemic.
As NagaWorld was a "giant company" reporting profits every year, Sreyneang had thought they would need plenty of workers to keep operations running.
At least 600 workers have already received lay-off messages as of last weekend, said NagaWorld employees union president Chhim Sithar, who counted herself among them. The company flagged last month that it would terminate 1,329 of its 8,000 workers due to financial hardship from the pandemic.
Sithar said some of the workers who were laid off had been employed for more than 10 years. A couple who just welcomed a baby both lost their jobs – and Sithar claims NagaCorp would know they are firing a whole family because family records are meticulously taken.
The firings have left employees vexed and confused, because it comes amid news that NagaCorp reported US$102.3 million in net profit in the year ending December 31, 2020, and was even preparing to distribute all profits from the second half of last year as payout to shareholders.
According to NagaCorp's annual report for 2020, CEO Chen Lip Keong has controlling interest in 94 per cent of the firm's 4.3 billion shares issued as of the end of last year.
NagaCorp also said that mass-market gambling at its NagaWorld casino-resort led the company's economic recovery in the second half of last year, with an overall recovery rate of about 95 per cent of pre-coronavirus business. VIP business driven by expatriates in Cambodia and some Southeast Asia-based visitors also contributed to the firm's recovery. Gambling is illegal for Cambodian nationals.
NagaCorp's representatives in Hong Kong did not respond to a request for comment.
Ben Lee, managing partner at Macau-based gaming consulting company iGamix, noted that the lay-offs were a surprise given that workers' wages start at only a few hundred dollars per month.
"They have just announced the dividend payout," he said. "For a company that's making so much money, why would they need to let go of their staff?"
NagaCorp's gross gaming revenue last year was US$869 million, half the US$1.7 billion it earned in 2019. The firm's net profit first exceeded US$100 million in 2012, and since then profits rose almost every year until last year's global economic slowdown that crushed inbound tourism. According to its annual report, the bulk of its revenue is derived from VIP and mass-market gaming from NagaWorld.
NagaWorld remained open for most of last year, only closing for four months between April and July. But this year, it has been closed since March after infections began rising in Cambodia's capital with only an underground duty-free mall connecting the complex's two multistorey buildings reopening on May 13.
Sreyneang, the hospitality worker, said her payout for losing her job was much lower than expected. While Cambodian labour law requires companies to pay workers 15 days of wage and fringe benefits for each year of service when they are made redundant, the company was not basing the worker's daily rate on their average salary from the last 12 months but on the average salary they earned throughout their time with the casino, said the union.
Early last year, Sreyneang joined a 3,000-person strike that succeeded in raising the base pay for hospitality staff to US$300, up from US$150 to US$250 per month, but the virus outbreak meant that workers got fewer shifts as the complex scaled back its operations
"I did not get the same work schedule as before," said Sreyneang, adding that she was scheduled to work between six and 14 days a month, which meant her monthly take-home pay was less than US$100.
With a lower salary, she could only pay the interest of her housing loan last year and was now going to use US$2,000 from her severance package to pay down some of the loan, while trying to find another job.
Sithar alleged that NagaCorp was targeting key union leaders as part of its firing plans, saying it had done the same during the 2008 global financial crisis, when the union leader and key organisers were made redundant.
Before this round of lay-offs, the union had more than 3,000 members, with last year's successful wage strike encouraging those who feared the company's power to join, said Sithar. They were close to getting a union membership of 4,000 – half of NagaWorld's staff strength – which would have allowed the union to engage in collective bargaining with the company.
The lay-offs instantly deflated the bargaining plans, Sithar said, especially now that enthusiastic organisers also received termination notices.
"We spent a lot of time and energy to protect our rights and work, but it's just one click and the employers get rid of the unions," she said, adding that the union was still planning to submit a complaint to the Labour Ministry.
Cambodian Labour Ministry spokesperson Heng Sour declined to comment on the dispute the workers had with NagaWorld, saying it was being handled by the labour inspector.
Another NagaWorld employee, a cashier, said she felt she had been left with no choice but to accept the company's compensation offer as a family member still works at NagaWorld.
Asking for anonymity so that her relative could still keep his salary, she said: "I don't want him to lose the job because I'm fighting with the company."