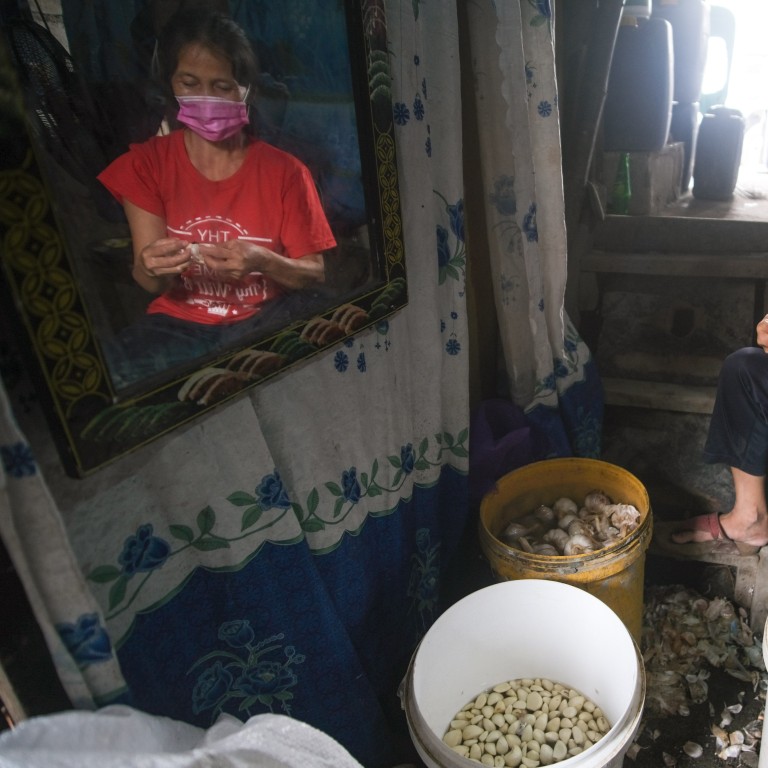 The garlic peelers of Manila: under the skin of the Philippines' informal economy
It's a key ingredient in Filipino cuisine, but the large chains and companies that use it benefit from underpaid workers with little to no legal protection
A proposed new bill looks to establish formal rights for those in the shadow economy, but it's still a long road to a fair wage
Even when she's not at work, the scent of garlic lingers on Marites Arendain's calloused palms – her "garlic hands" are the legacy of years spent peeling bucket after bucket of the pungent vegetable.
She earns 80 pesos (US$1.60) for the 15kg sack of garlic she peels each day, a tiny fraction of the minimum wage of 537 pesos (US$10.70) in Manila – just enough to buy her family of eight a kilogram of rice and some dried fish.
"Peeling garlic the whole day burns my hands, especially when it is fresh or thick," Arendain said.
There is a robust demand for garlic, a key ingredient in Filipino cuisine, from small restaurants and large fast-food chains in the
Philippine
capital. Baseco, a poor community near the city's port, is where a lot of that garlic is peeled before it ends up in boxed meals, tinned goods, or the fancy dishes of luxury hotels.
Arendain is one of the hundreds of women in Baseco who are part of the
shadow economy
. She works from home, which – despite the long hours and meagre income – allows mothers such as her to care for their children while also making some money to put food on the table.
During heavy rain, it's not uncommon for her to stand knee-deep in floodwater, a clove of garlic in her left hand and a flimsy cutter in the other.
"I get up at 2am to submerge the garlic in drums filled with water to soften the cloves while preparing my small sari-sari [convenience] store," Arendain said.
It takes her 8 hours to peel a sack of garlic, which is delivered at noon – and then she starts household chores and the daily responsibilities of a parent. "I sleep at 11 PM because I still have to watch over my kids," she said.
Arendain initially wanted to work at a restaurant or department store, which offer higher pay and better working conditions, but her husband – a construction worker who lives on job sites – discouraged her from doing so as they had no one to take care of their six children.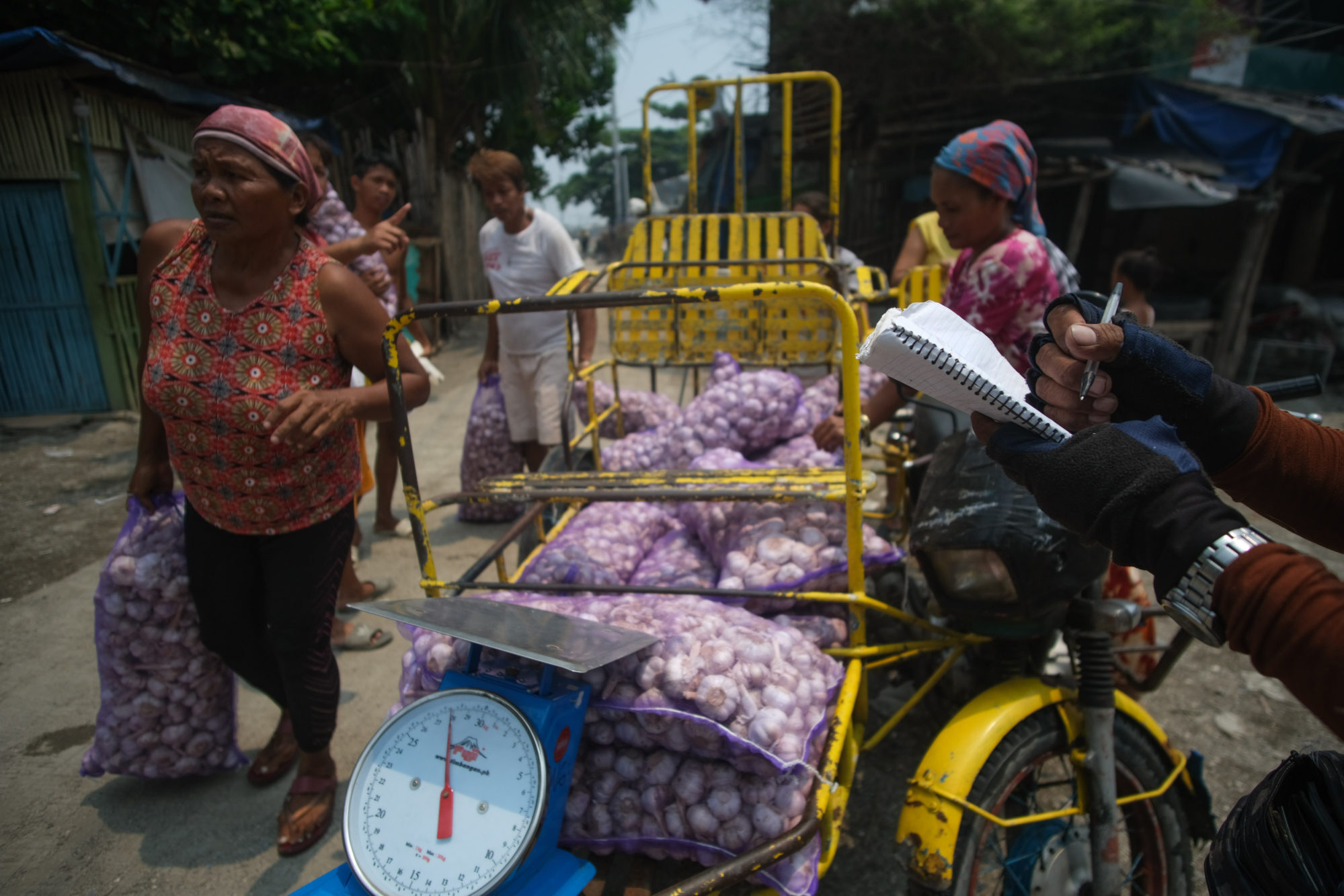 Her husband makes the daily minimum wage; with Arendain's income added, the couple barely make enough to scrape by.
In 2018, the Philippine government set the poverty threshold – what a family of five needs to pay for basics including food, shelter, transport, and clothing – at 10,481 pesos a month. But the Ibon Foundation, an independent think tank, recently estimated that a family needed to earn 25,091 pesos a month to survive – and Arendain's family earns only two-thirds that amount.
"I let my kids sleep until noon, I don't wake them up in the morning because we can't afford to buy breakfast," she said.
The garlic supply chain
Most of the garlic in the Philippines comes from China, the world's largest producer of the vegetable – and more than half of the Chinese garlic that makes it into the Southeast Asian nation is smuggled, according to a 2014 report from the Inquirer newspaper.
The Philippines was 100 per cent garlic self-sufficient until the 1990s, but the influx of cheap and illegal Chinese imports has decimated local production. According to the country's agriculture department, Philippine farmers are lagging behind their Chinese counterparts in terms of cost competitiveness as well as productivity.
According to a distributor, who asked not to be named, the garlic peeled by the women of Baseco ends up with wholesalers at the night market in the Divisoria commercial centre. He explained that large companies procured tonnes of garlic from third-party suppliers or concessionaires, who in turn secured their supply from small distributors such as him who subcontracted the garlic peeling to women in Baseco.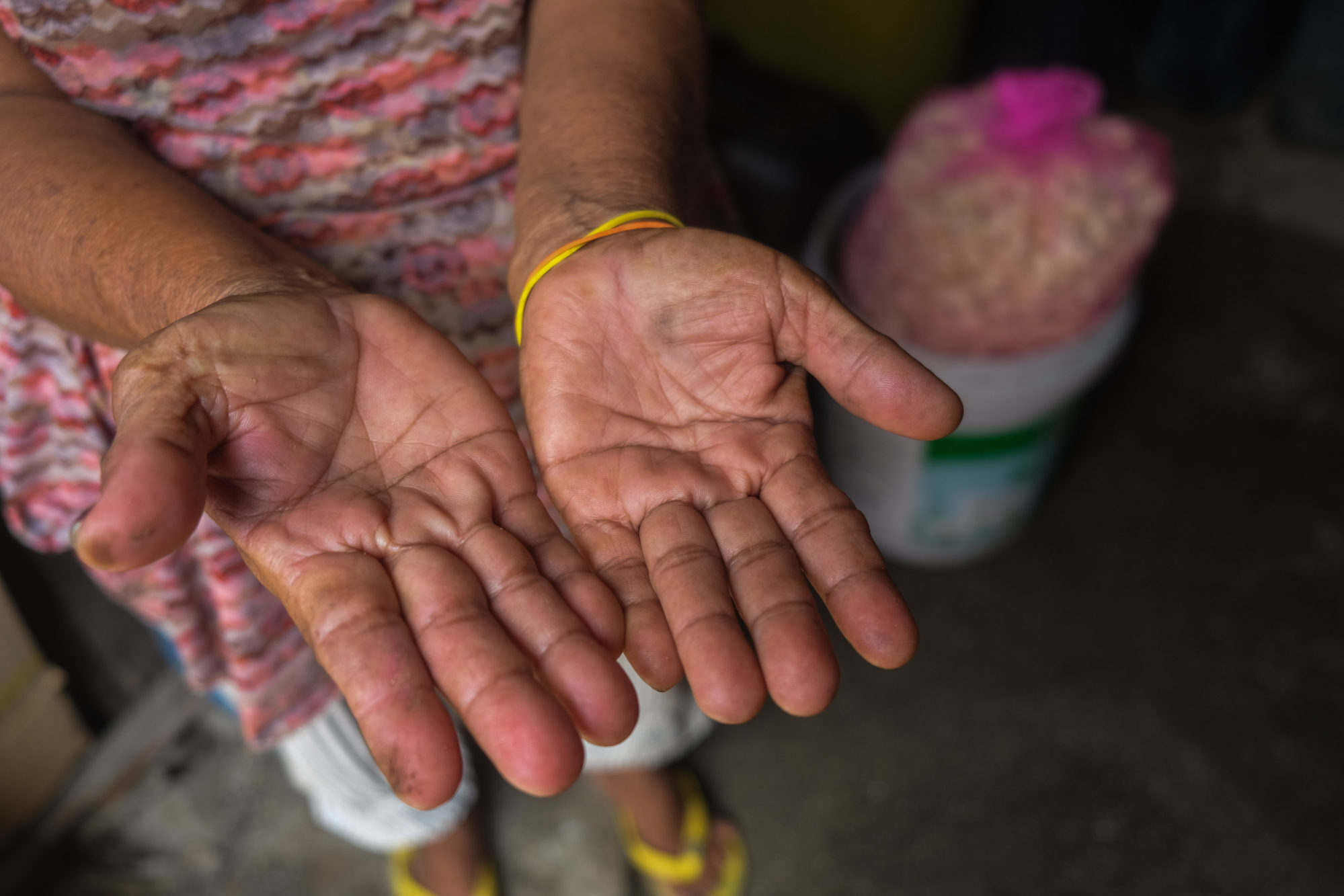 Many of the people working in Baseco turn to low-paying jobs in the informal sector due to limited job options. Arendain is one of them – she recalls earning 75 pesos a day for clearing hectares of her neighbour's land in Masbate province, using only a knife, before her family left their village in southern Luzon in search of better opportunities in the capital.
The Philippines' labour code does not extend to the country's substantial shadow economy. According to the labour and employment department, out of the 39.4 million Filipinos employed last year, 13.6 million were informal workers.
Protection for workers
Rosario Guzman, the executive editor of Ibon Foundation, said the numbers of informal workers were increasing even before the Covid-19 pandemic.
"This is telling of a deep-seated problem in an economy that can't create meaningful jobs or jobs that produce products or basic commodities," she said, adding that long-term solutions were needed to address the issue, such as a shift from a service-oriented economy to one that prioritised agriculture and manufacturing.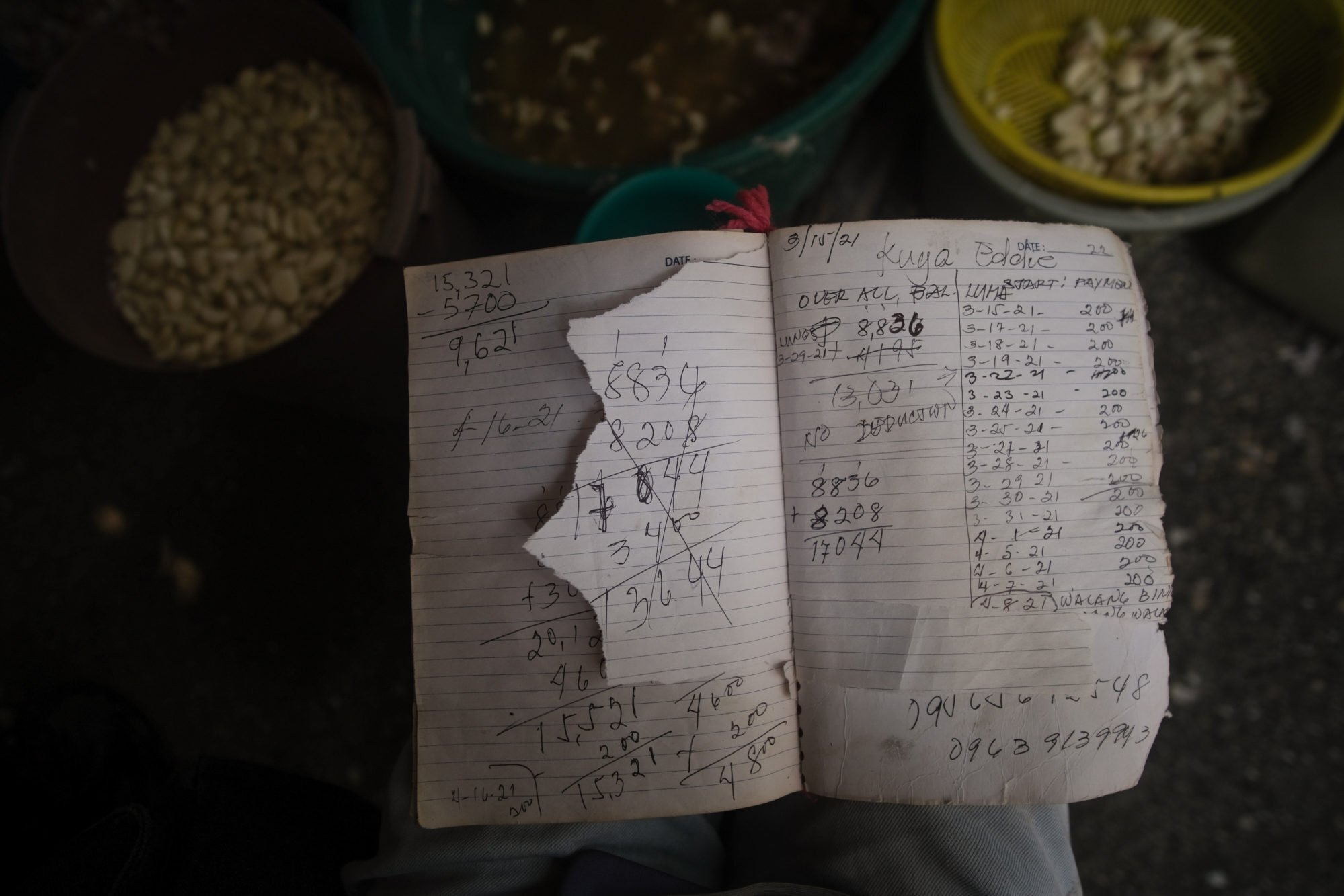 Senator Risa Hontiveros is one of the backers of the proposed "Magna Carta of Workers in the Informal Economy" bill, which would have the government keep track of the shadow economy and make sure informal workers are protected.
She said the proposed law would establish formal rights for self-employed, agricultural, and home-based workers – and it was vital that they were included in official employment records. "How could we plan for sectors who are rendered invisible if there are gaps in the data?" Hontiveros said.
The passing of the bill – which has been stuck in a congressional committee since 2019 – could mean a better chance to secure a
living wage
and fair pay for Arendain and the other garlic peelers of Baseco.
"Life was more peaceful in [Masbate] province, water was clean and free, and I had a better home, but we couldn't imagine our future there, as we had no land to call our own," Arendain said.
"I barely even had tools to plough the field. It was difficult to earn money, but if only we could support our life back then, then I think we wouldn't even need to find odd jobs in the city."
She recognises the value of her work and thinks she deserves to earn more, but Arendain is grateful to have some income while being able to take care of her children – so for now, she will continue to peel.