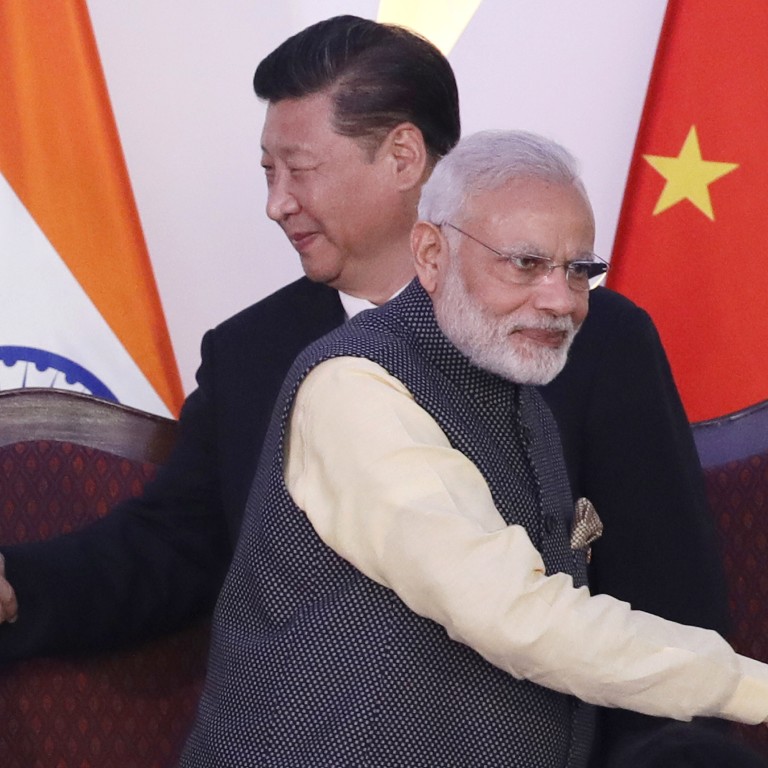 India can't go 'cold turkey' on Chinese goods so trade keeps flourishing despite deep freeze in ties
Indian Prime Minister Narendra Modi wants to promote self-reliance and reduce dependence on China for raw materials and components
But it's going to take time, as India's factories rely heavily on Chinese inputs to make finished products and medicines
Diplomatic relations between India and China have been in a deep freeze due to the ongoing
border stand-off in the Himalayas
, but two-way trade has continued to flourish.
According to the latest official figures, the value of India's imports from China leapt more than 66 per cent year-on-year to US$27.66 billion between April and July. Part of the import spike was driven by pandemic-related medical purchases, but Ajay Sahai, director general of the Federation of Indian Export Organisations (FIEO), expects bilateral trade to stay strong.
"Our trade with China is happening," Sahai said. "It's business as usual. I'm not seeing any impact on the dynamics of business demand."
The value of India's exports to China, meanwhile, jumped almost 22 per cent to US$8.89 billion in the April-July period. Last year, China supplanted the US and regained its place as India's top trading partner with bilateral trade worth US$77.7 billion.
These trends are at odds with growing
anti-China sentiment in India
, reflected in community associations declaring boycotts of Chinese products and scenes of Indians hurling Chinese-made televisions off their balconies after
Prime Minister Narendra Modi
said India should reduce commerce with its neighbour and become self-reliant in production.
However, Sahai said India's goal was never to go "cold turkey" on buying Chinese goods in its push for self-reliance but to gradually reduce dependency on Chinese imports for key sectors such as electronics, drug ingredients and telecoms equipment.
"With Prime Minister Modi's self-reliance program, it doesn't mean shutting out imports or that we want to close ourselves off from globalisation," Sahai said. "But it doesn't do to keep all your eggs in one basket.
"We want to develop domestic capability so that we can be self-reliant. Covid-19 has given all of us a lesson. And with shipping charges rising 300 per cent to 400 per cent in some cases, we're seeing a realignment of the value chain."
Indeed, any move to drastically curtail Chinese imports would damage India's economy as its factories rely on Chinese inputs to make their finished products. Of imported items, 60-70 per cent of components used in electronic goods, 70 per cent of drug makers' raw materials, 45 per cent of consumer durables and 25 per cent of auto parts are China-sourced.
China's advantage is
its ability to produce on a large scale
at low cost while tech advancements mean the quality of Chinese goods has improved, making it tougher for India and other countries to match them on export competitiveness.
In 2014, Modi launched a "Make in India" campaign that lost momentum, but the Covid-19 pandemic and the border clashes highlighted India's vulnerability to Chinese supply chain risks and made trade diversification more urgent.
"Where we see dependence creating vulnerability, we're going to see an effort to reduce that vulnerability," said Manoj Kewalramani, who leads the China studies programme at the Takshashila Institution. "That's going to take time but the move in that direction has started."
India, which has cast itself as the "pharmacy to the world" due to its export of cheaper generic medicines, last year came perilously close to a shortfall of essential drugs when China entered lockdown. India is almost entirely dependent on Chinese imports for medicines such as paracetamol, diabetes drug metformin and antibiotics such as ampicillin and ciprofloxacin.
"Most of the [drug] companies are working towards de-risking themselves [vis-à-vis China]," said Gaurav Suchak, supply head of Indian drug maker Cadila.
Last November, the Indian government launched a production-linked incentives programme (PLI) to encourage local manufacturing in 10 key areas, including automobiles and auto components, pharmaceuticals, telecoms, electronics, textiles, washing machines and other white goods. Under the scheme, domestic and foreign companies will be paid for meeting output targets.
India has identified opportunities in companies' preference to not necessarily relocate from China – which remains a key global supply chain player – but to expand their production line to other countries. The incentives scheme aims to capture that diversification.
Commerce Ministry official Sanjay Chadha asked: "If 85 per cent of my components [for mobile phones] are dependent on one country [China], should I not have a production-linked incentive to have the big companies come here?
"We have seen Apple start manufacturing in India. The PLIs are going to accelerate that investment."
However, India faces stiff competition from Vietnam and other Southeast Asian nations.
So far, there is no hint of a thaw in India-China relations. On the investment front, India has revised foreign investment rules, making it harder for Chinese venture capitalists to invest in India's booming tech sector.
India last year banned more than 200 Chinese apps
, including TikTok, and has barred telecoms giants Huawei and ZTE from its
5G
trials. The government tightened public procurement regulations to exclude Chinese companies from the railway and power sectors, although it later eased these to allow Chinese firms to provide equipment and technology as long as the project was carried out by an Indian company.
Even before the border stand-off, India had changed the rules to end automatic approval of direct Chinese investments, requiring government clearance, although there is debate about whether that could backfire as the process has been drawn out.
"We are not saying no Chinese investment, it will go through a decision-making process," Sahai said.
According to one trade analyst, tech start-ups will be able to receive funding from US or European global funds, because "they're the glamorous catch and will survive [without Chinese money]".
However, direct Chinese investment in India has ground to a virtual standstill and this could be hurting the economy, the analyst said. Indian officials have said there can be no return to business as usual without de-escalation at the border.
Chinese carmaker Great Wall Motor last month decided to reallocate to Brazil up to US$300 million of its planned US$1 billion investment in India, after a year-long delay in government approvals. A few weeks later, the SUV maker made a deal to buy a former Daimler plant in Brazil to build cars for an undisclosed sum. Just two months earlier, Great Wall said it would invest US$1 billion to build cars in India by buying a former General Motors factory, while also making batteries and parts.
About 150 investment proposals from Chinese investors worth more than US$2 billion have reportedly been held up by India's slow approvals process, and their patience may be wearing thin.