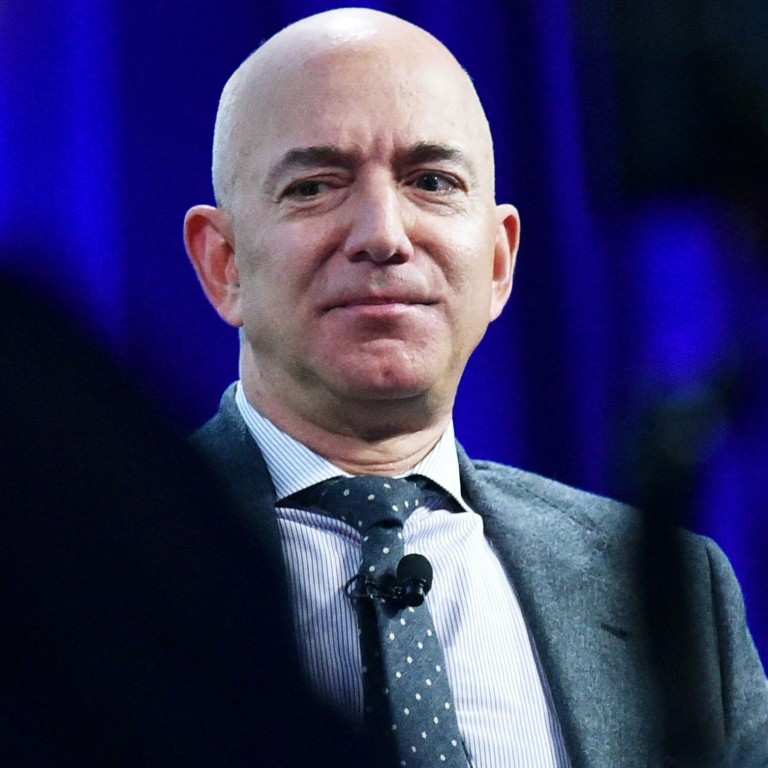 Jeff Bezos isn't the only billionaire eyeing Indonesia's US$44 billion digital economy
The Amazon founder is funding Indonesian start-up Ula, a business-to-business logistics marketplace for small retailers
His investment comes amid a flurry of interest in the country, which has also drawn in Japan's Masayoshi Son and Hong Kong business magnate Li Ka-shing's Horizons Ventures
Last year, an estimated 40 million people in Southeast Asia went online for the first time, bringing the total number of internet users in the region to some 400 million – out of a population of more than 600 million – according to a joint study by Google, Temasek and Bain & Co.
Amazon alumni
In 2019, Amazon was reportedly interested in buying a stake in Indonesian superapp Gojek, but ultimately lost out in its bid to investments from Facebook and PayPal.
Ula – whose co-founders Alan Wong and Nipun Mehra started their careers at Amazon – operates as a business-to-business logistics marketplace for Indonesian family-run kiosks, or warung, and other small retailers, with some 70,000 family-run stores served so far.
"For us, having someone as inspiring, innovative and customer-focused as Jeff Bezos believe in Ula's approach is electrifying yet humbling," Ula CEO Mehra said. "Alan and I were cut from the same Amazon cloth, and most of the leadership principles still drive the way we work."
Hong Kong-based Horizons Ventures, meanwhile, has partnered with Indonesian venture capital firm Alpha JWC to invest in local coffee chain Kopi Kenangan, capsule hotel provider Bobobox, and stock trading app Ajaib.
The latter became Indonesia's latest tech unicorn – a company with a value of at least US$1 billion – earlier this week after it raised US$153 million from investors including Beijing-based DST Global, Horizon Ventures, Alpha JWC, and billionaire Masayoshi Son's SoftBank Ventures Asia.
"In the past, we felt more innovation, opportunities and founders with science and technology background in the US, Europe and Israel, but now we are seeing Indonesia and broader Southeast Asia really going through a very critical juncture," Frances Kang, a director at Horizons Ventures, told Bloomberg in May. She said the firm would deploy more capital and had set up a team to look for opportunities in the region.
Last month, CK Hutchison – another Li Ka-shing company – merged its Indonesian operations with Qatar's Ooredoo Group to form a publicly listed combined entity called Indosat Ooredoo Hutchison, with an estimated revenue of about US$3 billion.
One of the two billionaires' publicly-listed SPACs, Bridgetown Holdings, had planned to merge with Indonesia's Traveloka, an online booking platform with an estimated valuation of US$3 billion, before the nine-year-old company reportedly abandoned the idea.
'Investment attractiveness'
"Indonesia's technology investment attractiveness has gained remarkable momentum in the last three years and is on the cusp of breaking out to levels seen in China and India historically," Li said.
"While the last six months have seen a wave of global funds set up regional presence, we believe many more will follow suit in order to gain exposure to this opportunity."
A recent listing by e-commerce company Bukalapak and a planned initial public offering for GoTo – the combined entity formed by Gojek's merger with e-commerce firm Tokopedia – will also "prove to global investment institutions that Indonesia's technology opportunity offers not only great valuation potential but also exit potential for the best businesses", Li said.
Logistics, social commerce such as group buying, and financial technology – including digital banking and investment tech – are likely to be the next biggest source of growth in Indonesia's tech sector, he predicted.
For Ula's Mehra, traditional retail – encompassing micro, small, and medium enterprises such as warung – are one of the great untapped opportunities in Indonesia.
"Indonesia as a whole is a booming market and has been for a while, but it is only recently that investors outside of Asia are starting to realise that," Mehra said.
"The market that we are operating in, traditional retail, is expected to be around US$250 billion and growing 8 per cent year on year. That alone tells you the magnitude of what is going on in the country."
This article appeared in the South China Morning Post print edition as: Billionaires eye slice of US$44b digital economy