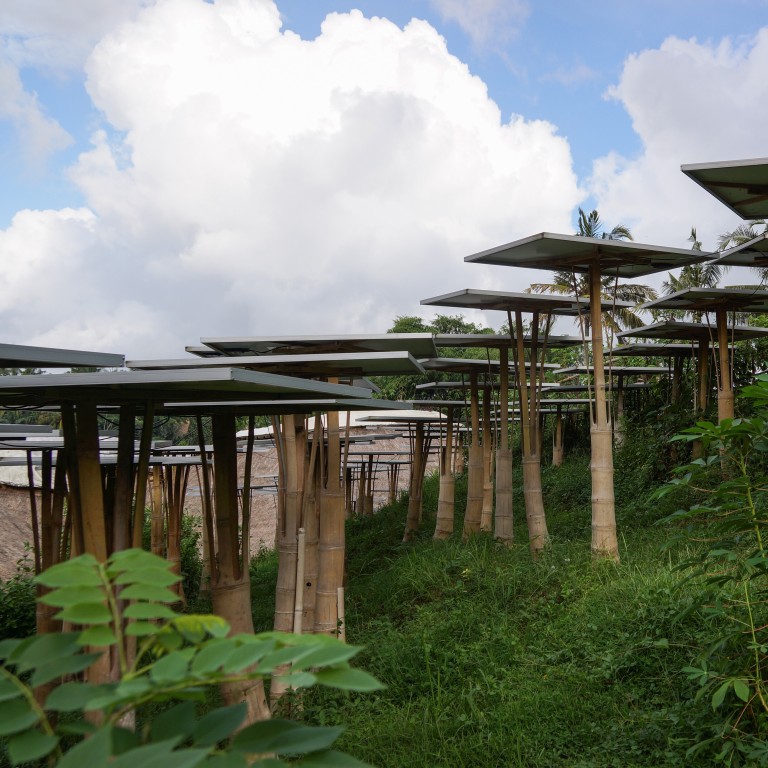 Singapore's solar power link from Australia spurs call for Indonesia to press on with green goals
A subsea cable carrying solar power from Australia to Singapore will pass through the waters of Southeast Asia's largest economy
The prospect of exporting renewable energy should make Indonesia invest more clean energy and shed its 'addiction' to coal, say analysts
Singapore
's power grid operator SP Group is teaming up with a French firm to import
renewable energy
generated in
Indonesia
, while an Australian-Singapore company is purchasing solar energy from Australia via a 5,000km subsea power line that passes through Jakarta-controlled waters.
The latter is a US$21.6 billion project by Sun Cable, a company backed by
Australian
software billionaire Mike Cannon-Brookes and mining magnate Andrew Forrest. Sun Cable will also invest US$2.5 billion in Indonesia to procure equipment and on operational needs, the company said.
These multibillion-dollar deals should be a wake-up call for Southeast Asia's largest economy to properly harness renewable energy for its post-pandemic rebuilding, said Jakarta-based energy analyst Elrika Hamdi.
"This should be momentum for Indonesia to improve. We should question why another country is supplying renewable energy to [Singapore], isn't it supposed to be us?" said Elrika, who is from the Institute for Energy Economics and Financial Analysis (IEEFA). "Local [energy] players should also ask [if they] can supply clean, renewable energy to other countries from Indonesia."
For Fabby Tumiwa, executive director at the Institute for Essential Services Reform (IESR), a Jakarta-based think tank, there is no better time for the government to get serious about clean energy. Countries from China to Britain and India are battling an energy crunch that has disrupted economic activity, amid the International Energy Agency's warning that the world needs to keep investing in greener
energy
sources to reduce carbon emissions and slow the rate of
climate change
.
Investments in fossil-fuel sources have also dipped amid pressure to adhere to emissions targets, but with demand now outpacing supply, there are fears that this could trigger higher and more volatile energy prices, which would dampen public support for climate policies.
Indonesia relies mostly on oil, natural gas, and coal for electricity generation, and is a net crude oil importer even as it is a major exporter of coal to the region.
"If oil prices soar, typically coal and gas prices will follow, as they can substitute each other. This is a lesson for Indonesia to more quickly transition to renewables," Fabby said. "Before transitioning, it is crucial for Indonesia to diversify its renewable energy sources. Indonesia has a varied source of renewable energy and each island is rich with a type of renewable energy."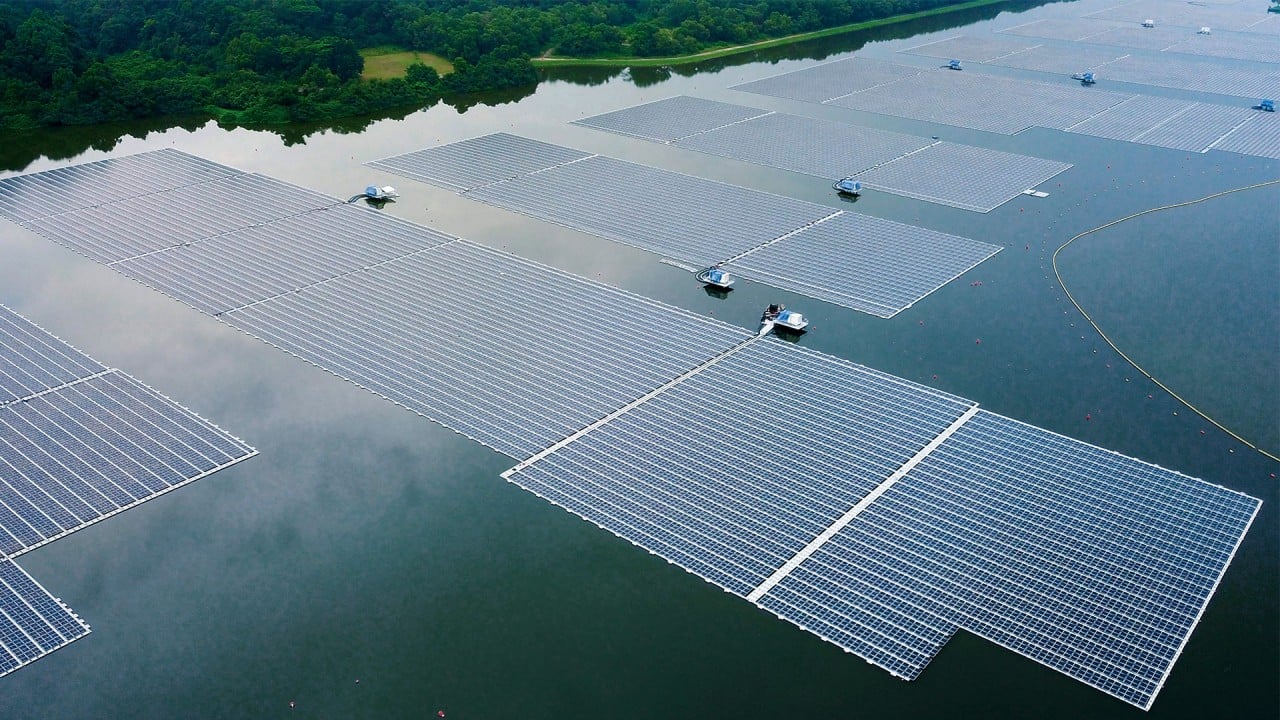 01:44
Singapore unveils one of the world's biggest floating solar panel farms
Singapore unveils one of the world's biggest floating solar panel farms
'Dirty' addiction
Experts say Indonesia, an equatorial archipelago that is largely sunny all year, could rely on renewable sources such as solar, wind, tidal, and geothermal to meet all household electricity needs if there are adequate energy storage systems. A joint report by two Bloomberg groups and IESR published last month found that solar power is key to meeting renewable energy targets.
But only 13 per cent of its electricity came from renewable sources last year, mainly geothermal and hydro. Rooftop solar panels and solar plants only produced 350 megawatts (MW) of power last year, 0.16 per cent of the 207 gigawatts (GW) of solar potential it is estimated to have, according to the government's calculations.
Biofuels are also a promising source of power, with the Jakarta-based Institute for Essential Services Reform estimating that up to 50GW – which is enough to power at least 36.2 million houses per year – could come from palm oil. Indonesia is the world's largest producer of the commodity.
The country has made pledges to increase investments in renewables, with energy and mineral resources minister Arifin Tasrif last week saying that US$35 billion would be spent on the effort by 2030, with the aim of sourcing more than of half of Indonesia's added-power capacity from renewable sources in the next decade. By 2030, renewables would then contribute one-quarter of its energy mix, he said.
But beyond regulatory reforms to promote solar power, Indonesia will need to shed its addiction to coal, experts say. The current energy crunch makes this challenging, since higher prices and demand for the dirty fuel will only make mining it more attractive.
Perusahaan Listrik Negara (PLN), Indonesia's sole electricity provider, also said it would gradually retire old coal plants and stop commissioning new ones. However, under an ongoing programme, the construction of 117 new coal plants is under way and is expected to be completed in 2023.
"In the past decades, there were many long-term power purchase agreements for coal-powered plants that are contractually very binding, so in a way Indonesia and PLN are actually locking themselves in [to coal]," Elrika of IEEFA said.
"That was done under the assumption that Indonesia's economic growth will continue, resulting in continuous energy demand, but our growth has never reached more than 5.5 per cent since 2015, while these agreements were made under a growth forecast of 7 per cent."
With nearly 39 billion tonnes of reserves, coal is abundant and coal-fired technology is mature enough for PLN to master, she said. "But it is very, very dirty. You can call it Indonesia's resource curse."
Coal plants are Indonesia's second biggest emissions source after deforestation, contributing 35 per cent of the country's 1,262 gigatonnes of carbon dioxide equivalent per year. In 2018, Indonesia was the eighth-biggest carbon emitter on the planet, with 965.3 million tonnes of CO2 equivalent in greenhouse gas emissions, according to the World Resources Institute non-profit.
Bright future
Environmentalists are banking on solar power, but say the cost needs to be reduced for consumers. Fabby of IESR said electricity generated by coal was subsidised by the government but, for solar power, households and businesses would have to dig into their own pockets to pay for energy storage.
Solar power plants had traditionally been used as energy sources in off-grid locations, he said, and it was only in the past three years that PLN allowed customers to install rooftop solar panels.
He is hopeful that middle-class households, commercial buildings, and certain industries will continue to rely on solar power, and points to other larger-scale projects in the pipeline.
For example, PLN and renewable energy company Masdar are building a floating solar-powered plant in the Cirata reservoir in West Java, which is expected to be operational in November next year. The plant is targeted to produce 245 million kWh of electricity to power up to 50,000 houses per year.
Three international banks – Sumitomo Mitsui Banking Corporation, Societe Generale and Standard Chartered Bank – will provide up to US$140 million to fund the project, according to PLN.
Singaporean solar energy firm Sunseap Group and the Batam Indonesia Free Zone Authority will also build a US$2 billion, 2.2 GWp (gigawatt peak) floating solar plant and energy storage system in Batam, which is set to be the world's largest floating photovoltaic system. A portion of the energy would be consumed within Batam, while the rest would be exported to Singapore via a subsea cable, the company said in July.
According to Fabby, Indonesia might benefit from 1GW of solar power by the end of this year, generated by projects that are currently in the pipeline.
The IESR and Bloomberg report estimated that a national solar programme that targeted 18GW of solar energy deployment could help Indonesia attract up to US$14.4 billion in investment.
This article appeared in the South China Morning Post print edition as: Singapore energy deal a 'wake-up call'