Japan
Get more with myNEWS
A personalised news feed of stories that matter to you
Learn more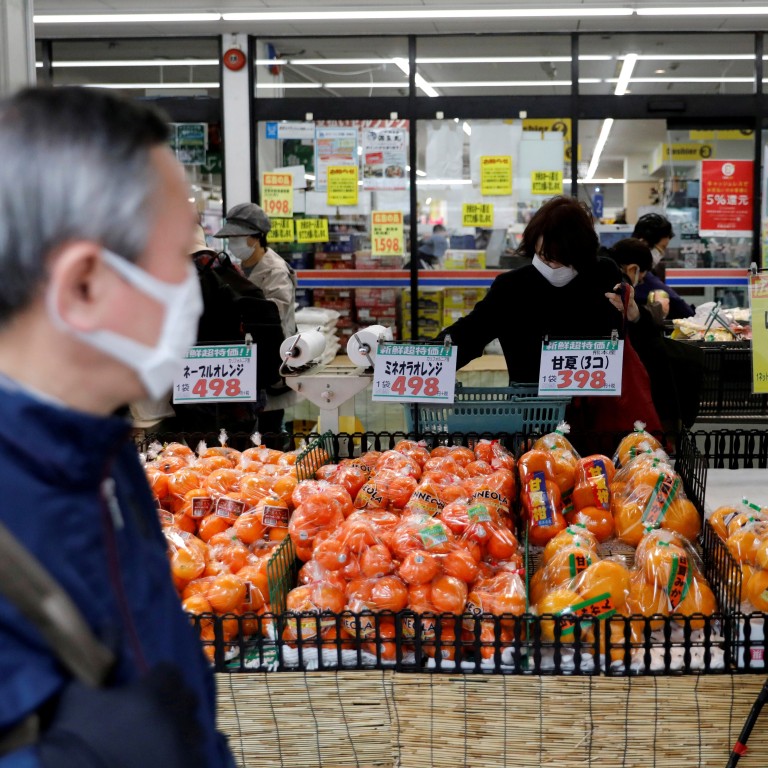 After decades of deflation, Japanese grow veggies, avoid booze to trim the fat on household bills
Consumers long used to businesses cutting prices to boost consumption have recently been shocked by the spike in electricity, gas and water bills
While economists say Japan has avoided the even sharper price rises seen in other parts of the world, some residents are changing their daily habits to cut costs
Taken aback at the recent rate of increase in the price of fuel, food and a range of other everyday household items in
Japan
, Kantaro Suzuki has decided to defeat inflation by walking.
The freelance writer from Tokyo says he has put on weight from not going out due to government exhortations to stay home earlier this year during the
Covid-19 pandemic
, and is worried about the costs if he also needs to buy bigger clothes.
"I can't afford an entirely new wardrobe, especially if those prices start rising as well – which is very possible – so that's why I have taken up walking and jogging," he said.
For Yuuki Bando, a business owner in southern Japan, the biggest worry is the rising price of fuel. To balance costs, she has made a conscious decision to purchase more seasonal vegetables that are usually more reasonably priced at the supermarket.
"I have to use my car every day and the price of fuel is already noticeably higher from a couple of months' ago," said Bando, pointing to how wages had not changed in more than a decade for most company employees.
"But what choice do I have? I live in a relatively rural area and I need the car for work," said Bando, who runs the Bang-Do interpretation service in Tokushima City on Shikoku Island.
After more than two decades of deflation, with customers used to businesses cutting prices to boost consumption, Japanese consumers have been shocked by bigger household bills.
Prices rose for the first time in 18 months in September, and a calculation by Bloomberg found that core inflation was about 1.4 per cent. While this was due to sharply higher commodity costs, businesses were also asking consumers to pay more.
Among them is flour mill company Nisshin Seifun, which announced a price hike and devoted a webpage to explain the decision, with charts of the dollar-yen exchange rate and the rise in shipping costs, Bloomberg reported.
A day earlier, the Bank of Japan reported that wholesale prices leapt 8 per cent in October from a year earlier, the sharpest increase in more than four decades and brought on by higher crude oil prices and a weak yen, which pushed up the cost of imports.
The price of petroleum and coal products soared by more than 44 per cent, while the cost to the consumer at the pump is at a seven-year high. Similarly, the price of wood is up 57 per cent, while steel and iron are up nearly 22 per cent, and non-ferrous metals are 31.4 per cent higher.
Households have also seen their bills climb, with electricity, gas and water all up nearly 11 per cent. The government is intending to introduce measures to reduce the pressure on household budgets in a 55.7 trillion yen ($488 billion) economic stimulus package it is set to announce on Friday.
Economists insist that the average Japanese person does not have too much to worry about as kinks in the supply chain are likely to be smoothed out fairly soon and nations that produce fuel are expected to step up production over the coming months.
Martin Schulz, chief policy economist for Fujitsu's Global Market Intelligence Unit, said Japan has avoided the even sharper price rises seen in other parts of the world, notably Europe and North America. In the energy sector, that has been due to the typically very long-term contracts that Japanese importers tend to prefer.
"If inflation does not turn out to be a short-term situation in Japan and lasts longer than two years, then we will gradually see more increases creep into prices here," Schulz said.
"But it does look to me that supply chain issues will be sorted out next year, which will bring prices down," he said. "And while the gas and oil situation has seen price increases, I expect producers to increase output this winter."
The slightly bigger concern, Shulz said, revolves around overall inflation.
"Japanese companies are importing at higher costs but are very reluctant to roll those costs over onto the consumer because of the deflationary mindset among people here," he said.
"While we have seen a spending spree in Europe and the US as the pandemic has eased, there is still a reluctance among consumers in Japan to spend. It is as if they are still in a state-of-emergency mindset.
"But if higher costs are not passed on, then a company can take a big hit on its profits," he pointed out. "And that can make them more careful about investing and make the overall recovery in the economy slower than the government anticipates."
In Saitama Prefecture, north of Tokyo, housewife Ayako Ueda is not taking any chances.
She plans to start growing vegetables in pots in the small garden alongside her home.
"We try to eat healthily and we like vegetables and fruit, but I can see a big difference in prices in recent weeks," she said. "I have not tried to grow vegetables before, but I've decided to try to plant aubergines, leeks and radishes – and I hope we get at least a few that we can eat.
"My husband and I have also cut back on our weekend trips, because I keep seeing on the news that fuel prices are going up," she added. "For us, we just want to get through this situation and hope that things are better next spring."
Suzuki, the freelance writer, has also made changes to his lifestyle, cutting back on outings with his wife and even the amount they spend on alcoholic drinks.
"We have lived with deflation or flat prices for so long that most people do not know any different," said Suzuki. "But people I know are suddenly changing the way they spend."
This article appeared in the South China Morning Post print edition as: Japanese change habits to balance sharp rise in bills