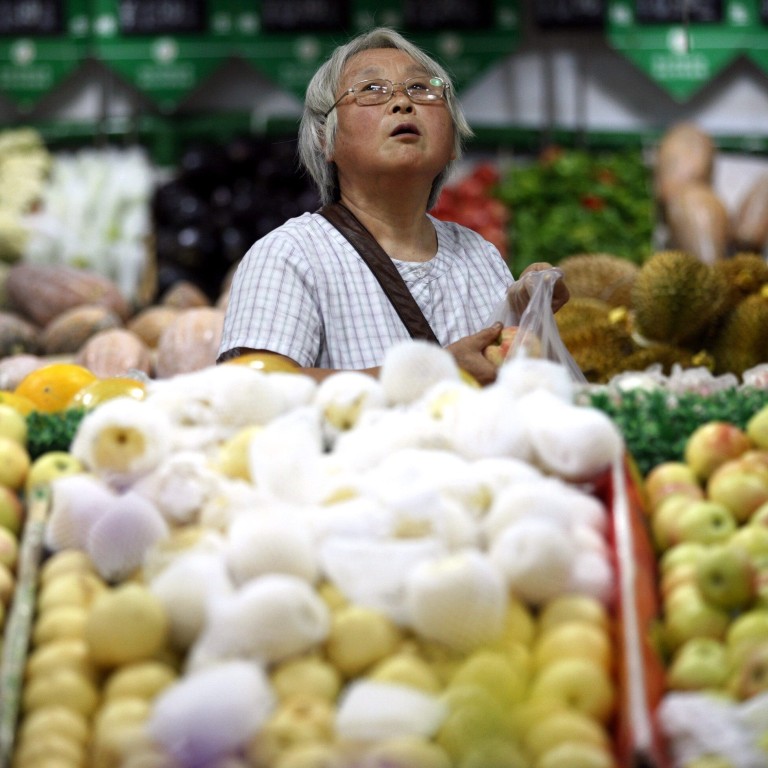 From Singapore and Hong Kong to Malaysia, Philippines to India, how inflation and rising food costs are changing the face of hunger
As world food prices hit their highest level for a decade, Asians are feeling the pinch in ways unique to their economies
In Singapore, food banks are busy; in Malaysia, meat is off the menu for many. In India, lamp oil is used for cooking and in the Philippines, the cost of your pizza could feed 150 people
Extreme weather
. Swine flu. Rising
energy
prices. Labour shortages. Bottlenecks and supply chain disruptions caused by the
coronavirus pandemic
. All these factors have helped drive the price of food to its highest level for a decade.
World food prices last month hit their highest level since 2011, according to the Food and Agriculture Organisation (FAO) of the
United Nations
. The index was up 3 per cent from September and an astonishing 31.3 per cent from October 2020. Driving the increase were vegetable oils and cereals, themselves made more expensive by reduced harvests in major exporters such as Canada, Russia, the
United States
and
Malaysia,
shortages in migrant labour and spikes in the price of crude oil.
Emerging countries are the worst hit, with parts of South America as well as Russia and Turkey experiencing food price inflation in the double digits, but even the richest OECD nations are experiencing average rises of 4.5 per cent.
In Asia, many economies have avoided the worst of the pain – or at least appeared to. But the varied nature of the economies of Asia – which span from developed
Singapore
and
Hong Kong
to upper middle-income
Malaysia
, emerging and developing
India
and the developing
Philippines
– means each is affected in a unique way.
In some of the richest places, the signs are shoppers pulling their purse strings, or food banks noticing an uptick in visitors. In some of the poorest places, people use the oil from their lamps to cook their dinner, and the price of a high-street pizza could feed 150 people.
If there is a theme common to all it is that when prices rise, it is the poorest who pay dearest.
This Week in Asia's reporters take a look at the mood on the ground in five very different economies.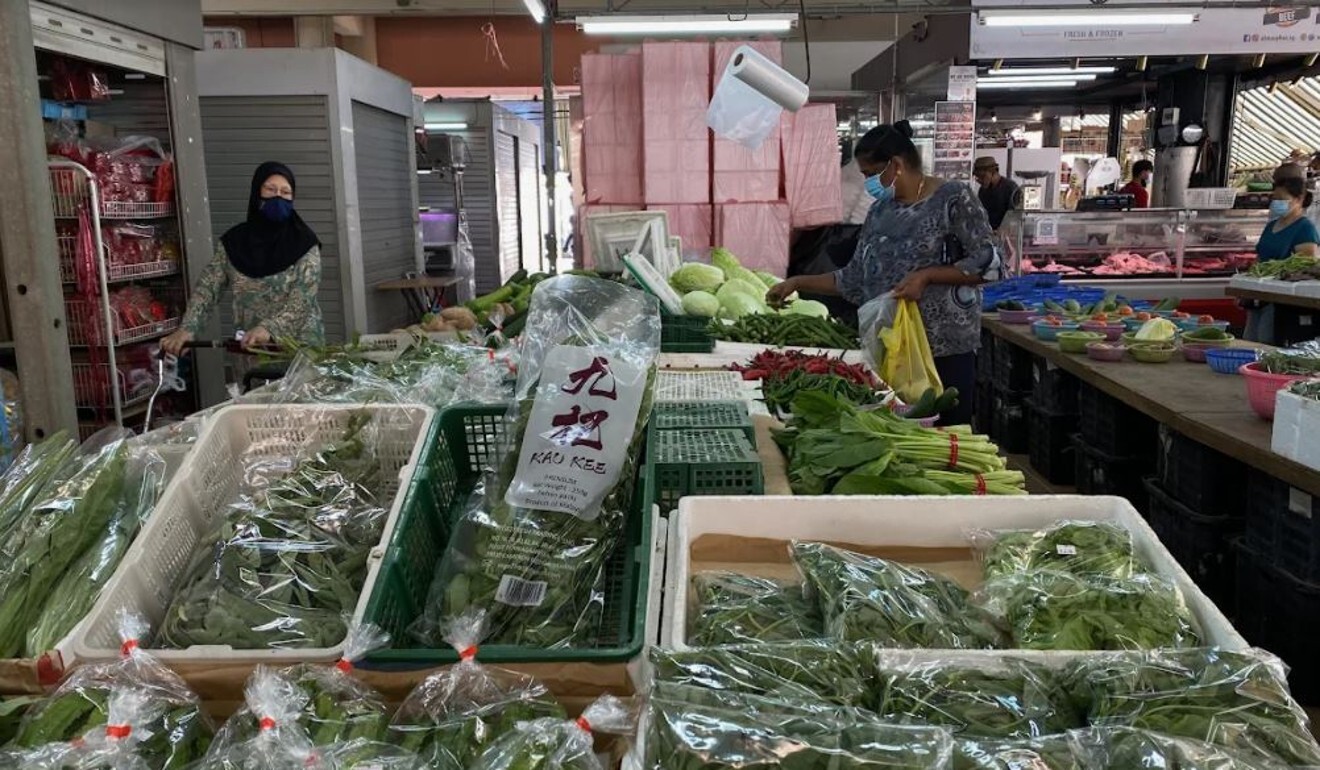 Singapore and Hong Kong: 'the faces of hunger have evolved'
Lai Chin Hooi, who owns a vegetable stall in a residential district of eastern Singapore, has noticed crowds in the wet market are thinning.
"Everything is expensive now and it's getting harder to do business," said Lai, 56, in Mandarin.
The cost of vegetables imported from
China
, such as kai lan (Chinese broccoli), has jumped by about 30 to 40 per cent in recent weeks, which he attributed to extreme weather and higher shipping rates.
Lai also ships vegetables from Malaysia,
Indonesia
and
Thailand
but those price increases have been more bearable. "In my six to seven years here, this year's price hike has been the steepest," he added.
Government figures show food inflation rose by 1.6 per cent in September, up from 1.5 per cent a month earlier. But some food items have far outstripped this. For example, a kilogram of grapes cost about S$11.06 (US$8.12) in June but S$15.73 (US$11.58) in September. A kilogram of spinach was about 15 per cent more expensive in September compared to June.
Supply chain disruptions stemming from the pandemic and flooding in China and India that has hit crop outputs have made the situation worse. Other factors like growing consumer demand as countries recover from the pandemic have also played a part.
Singapore is not alone in this. In Hong Kong, food distributors and restaurants are also feeling the pinch.
In September, fast-food chain Hong Kong McDonald's told its customers that its deep-fried chicken wings could soon run out because of shipping problems, while suppliers have warned of rising prices of imported flour, fruit and vegetables, as well as dairy products, wine and liquor.
With the city's overall inflation rate reaching 1.4 per cent in September and its consumer price index at 1.6 per cent, the government has warned rising prices pose a threat to its economic recovery.
Large supermarket chains in Singapore have been able to avoid significant disruptions by diversifying their sourcing. Sheng Siong, for example, now brings in produce from countries including Chile and Peru.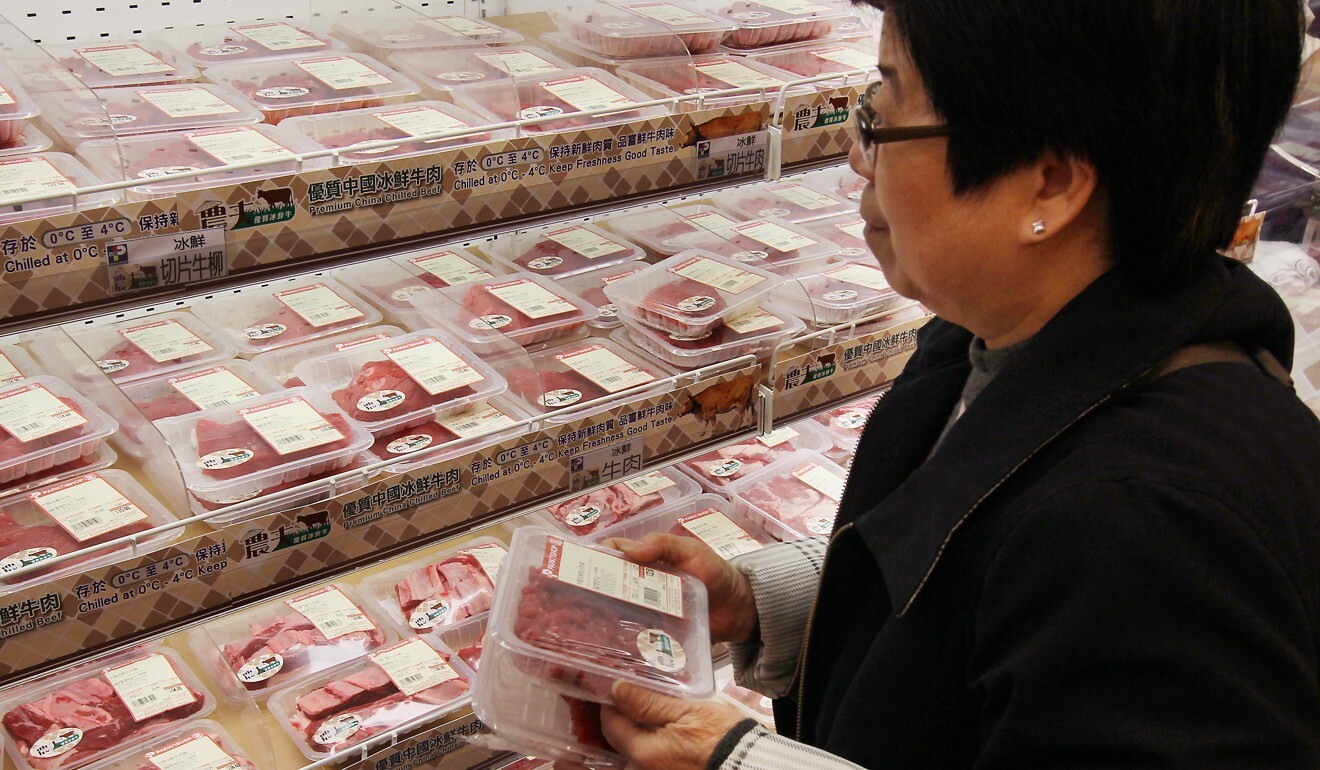 But smaller family-run shops don't always have this option and must pass price hikes on to customers.
Rama, who works at an Indian grocery store near Lai's stall, said customers had complained over the rising prices of the dried goods and vegetables that it imports from south India. The cost of ladyfingers and coriander had risen by about 20 per cent, she said.
Non-profit organisations in Singapore warn that people who lost their jobs in the pandemic are particularly vulnerable.
Nichol Ng, co-founder of The Food Bank Singapore, said there was a surge of families experiencing food insecurity during the virus outbreak last year.
"The faces of hunger have evolved, and it's not so straightforward or obvious any more," she said.
Among those in need of support were workers, such as freelancers, who did not usually consider themselves on the "bottommost ranks of society", she said.
Ng also thought this escalation in food prices was just the beginning. The full impact would likely be felt next year, when governmental pandemic relief dried up.
Food from the Heart, another charity, said it delivered about 10,000 food packs this year, a 59 per cent increase from 2019, when some 6,300 packs were given out.
"Part of the increase in households requiring food support and individuals are families who face temporary food insecurity, stemming from losses of jobs or income caused by the pandemic," said Sim Bee Hia, the chief executive.
While Sim hoped the number of needy families would fall when the virus situation eased, the sick and elderly among them would need long-term help.
Irvin Seah, a senior economist at DBS Bank, said that Singapore, which imports about 90 per cent of its food, was particularly susceptible to imported inflation.
"That said, a strong Singapore dollar and a diversified network of food sources would help to buffer some of the impact," he said.
Prime Minister Lee Hsien Loong, asked at the Bloomberg New Economy Forum on Wednesday if he was worried about inflation, appeared optimistic.
Singapore's inflation rate had often been close to zero, he said. Although it looked like the figure was "catching up" now, it was still lower than the increases seen in the United States.
"The central bankers tell us not to worry, it is transient, that they are tapering off very gradually and then things will be all right again," he said.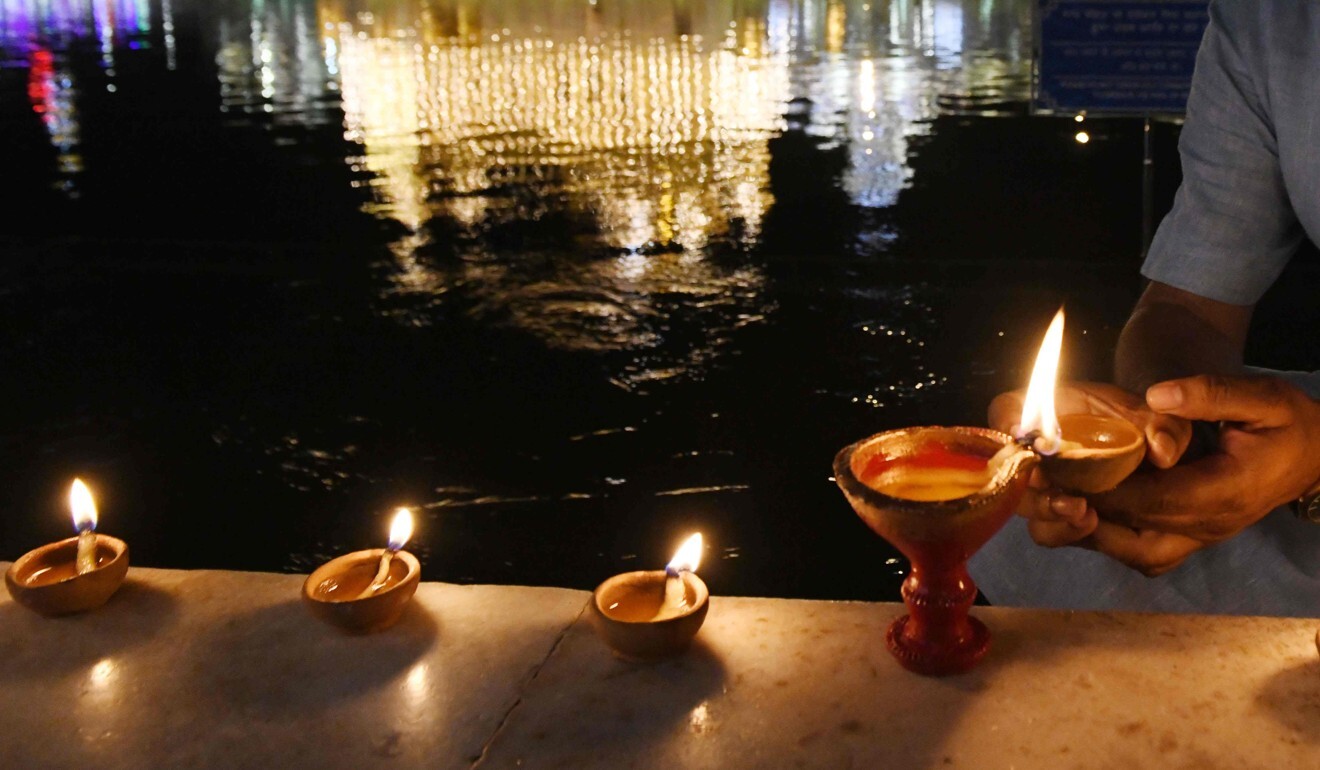 India: 'I survived Covid, but will I survive these prices?'
For Diwali, the Hindu holy city of Ayodhya surpassed all previous records by lighting over one million clay diyas, or oil lamps, bathing the city and the riverfront in an amber radiance.
But after the dignitaries had left and the speeches were over, poor families and their children picked their way among the vast field of lamps with plastic bottles. Wherever the flame had gone out in the lamp but left some residual mustard oil, they picked it up and poured it into their bottle to take home to use for cooking their meals. They did this because mustard oil is too expensive for them.
Video footage began circulating showing people taking away the oil, which at 240 rupees (US$3.22) per litre is now too expensive for many – last year it was just 150 rupees. Indians called the images of desperation "shameful".
The pictures spoke volumes about food prices, particularly of oils. As one unemployed father said: "I saw no harm in filling my children's stomach with a good meal cooked in oil even if it was by gathering the oil from diyas."
Food inflation in India has stabilised from 3.11 per cent in August to 0.68 per cent in September but offsetting this is the sky high inflation in all cooking oils which have increased in value by more than 35 per cent.
Kavita Verma, 42, a home maker in New Delhi, used to use mustard oil for cooking most of her family's meals but can no longer afford it. The price of palm oil, used by the poor and in a cooking substance called vanaspati, is the highest in a decade.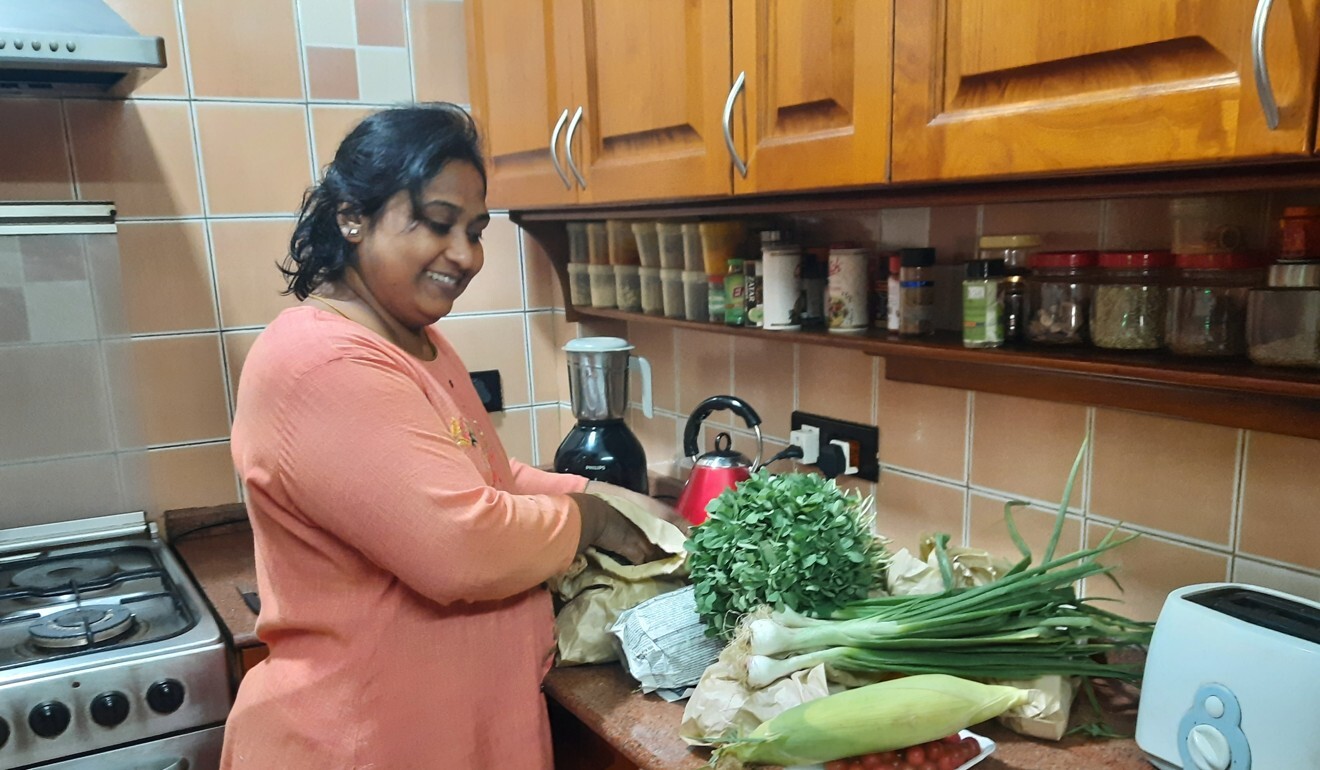 "I switched from mustard oil to vanaspati thinking it would be cheaper but that too has doubled from 72 rupees per litre last year to 140 rupees today. My food budget has collapsed. Everything is more expensive. Cooking gas has gone up by 50 per cent. I'm really struggling," Verma said.
It's almost impossible to cook Indian food without onions and tomatoes and these two items, along with other vegetables, remain costly because high fuel prices have made transport more expensive. For most ordinary Indians and even middle class families like the Vermas, food accounts for the bulk of the household spending.
Verma's husband, Raj, works in a newspaper office and every time he fills his scooter with fuel to commute to work, it feels like a wrecking ball has smashed his budget. Petrol and diesel prices are up nearly 35 per cent from a year ago.
On the road outside Raj's office, Manish Chawla sells food for labourers which he cooks on a cart with wheels. The higher cost of cooking gas and vanaspati, which he uses in large quantities for deep frying, has pushed up his overheads but he can't raise his own prices because customers like Verma's husband are already struggling due to the pandemic. Raj has had to accept a 30 per cent pay cut because of the pandemic.
Said Chawla: "With mehangai [inflation] so bad, I can't make a profit so what's the point of all my hard work? I survived Covid but I don't know whether I will survive these prices."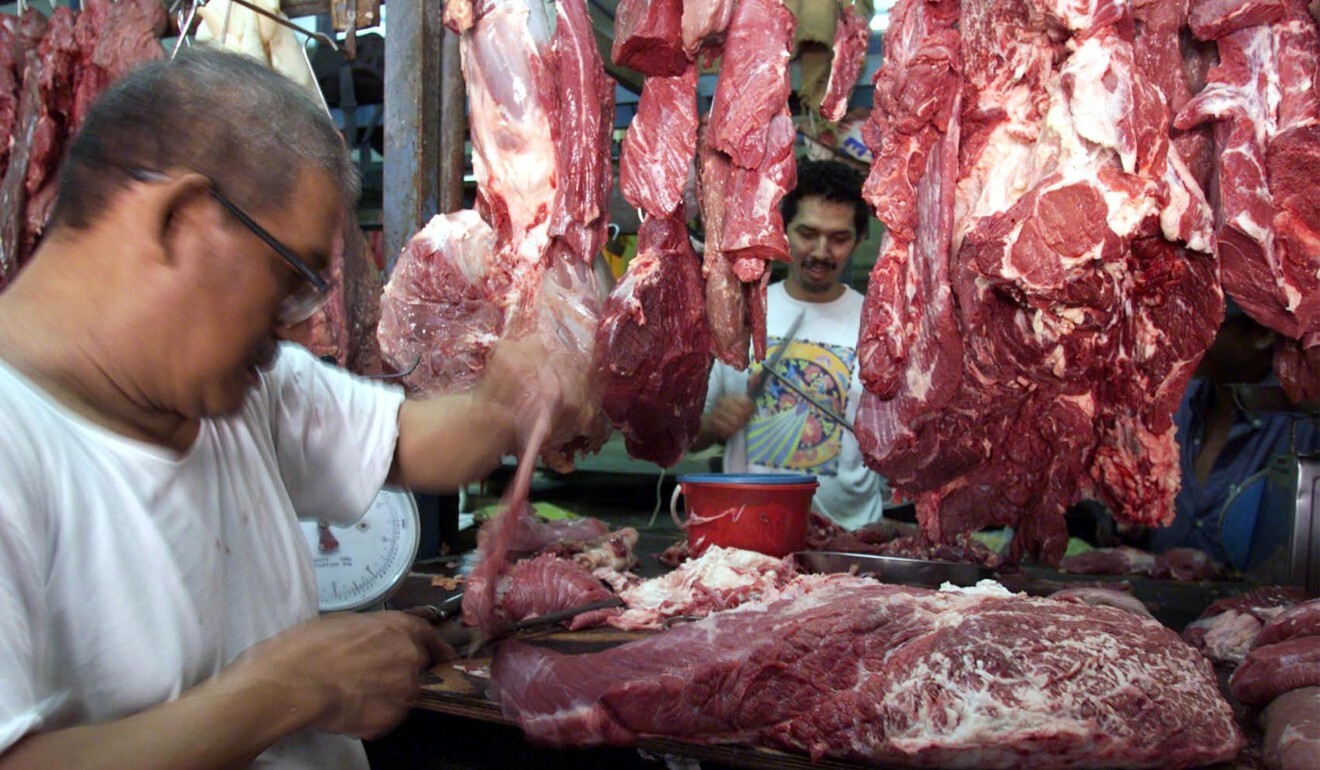 Meatless in Malaysia
In Malaysia, many people in lower-income groups have found themselves left with little choice but to cut the amount of meat they consume.
Mother-of-four Saliya Zamidi, 47, has been the breadwinner of her family since her husband lost his job during the pandemic.
Both Zamidi and her husband now work odd jobs to pay for their rented flat, send their children to school and put food on the table.
But with three school-age children between seven and 17, Saliya struggles to put food on the table with her monthly income of barely 960 ringgit (about US$230 – the nationwide average is about US$700).
"I actually have to plan what we want to cook for the week and for example if I want to cook a chicken dish, I have to buy a whole chicken to feed my entire family and that is costly," Saliya said.
With one chicken costing around US$12, the family has grown used to replacing meat with eggs, tofu and vegetables.
"We change the menu almost every day and week, depending on how much we can spend on food so sometimes the kids ask for a nice meal like fast food or pizza and it hurts me when I cannot provide so I try my best to give what I can afford to my kids," she said.
According to government figures, the price of chicken rose about one per cent in September. The Domestic Trade and Consumer Affairs Ministry says this is partly due to supply issues with imported corn and soy, both of which are used in chicken feed. Overall, food and non-alcoholic beverages increased by 1.2 per cent, driven largely by meat and vegetables, while in September the consumer price index went up 2.2 per cent.
Kechara Soup Kitchen, based on the Jalan Imbi road in Kuala Lumpur, which runs both food banks and a soup kitchen for the needy, has noticed an increase in new faces in recent months.
"There has been a constant visits by those in need especially the homeless and on average we give out about 1,000 sets of food every Saturday," said Justin Cheah, its operations director.
Rises in the price of food pose a challenge for Kechara, which must become more frugal while continuing to ensure it provides the right nutrition.
Kechara distributes basic food items like fried vermicelli, fried rice, fruits, biscuits and cream rolls.
"We never give out meat and we stick to vegetarian distribution with fruits whenever possible," said Cheah.
He said the eating habits of the poor reflected the rising prices.
"You often see them purchasing within their means and we noticed that there's always a higher carbohydrate intake to replace other food groups so there is prevalence for obese children within the poor community," he said.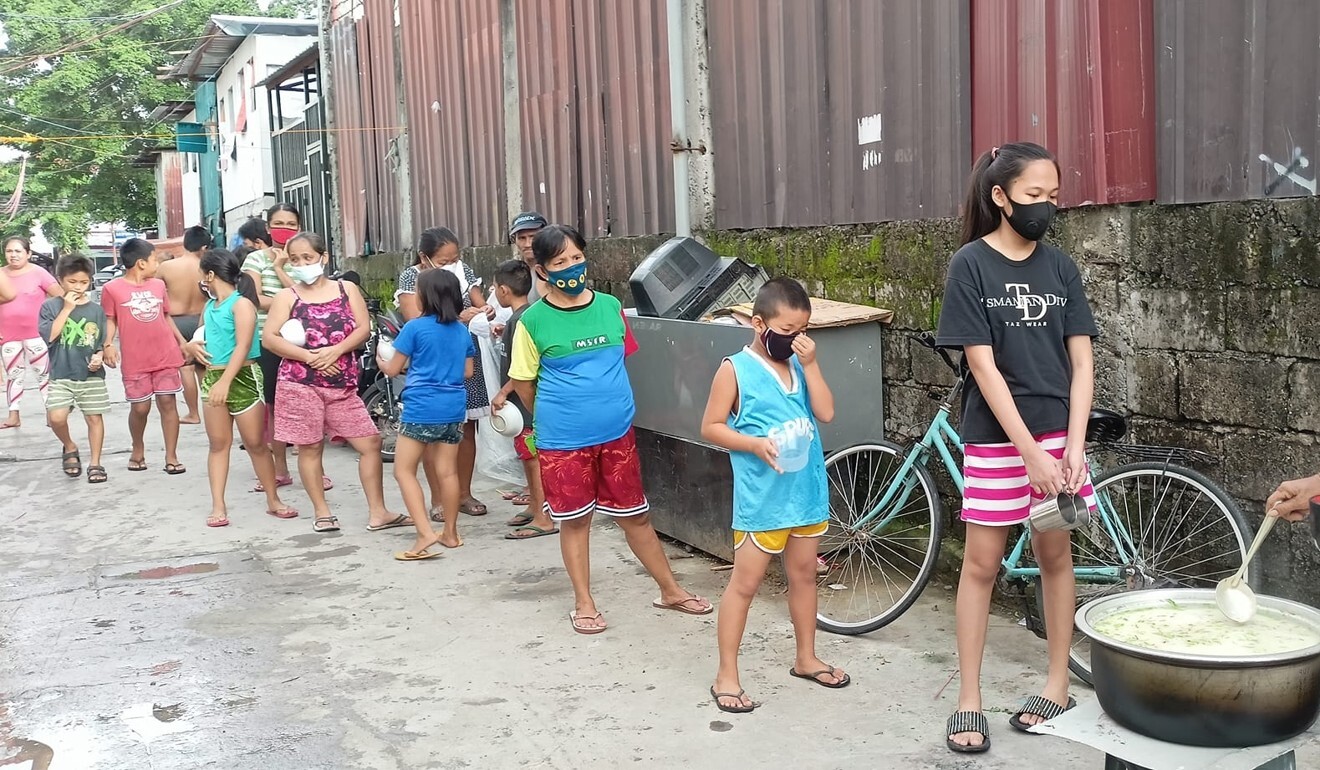 Philippines: the cost of your pizza could feed 150 people
In the capital of Manila, an 18-inch pizza from a popular fast food chain costs 1,000 pesos (US$20) and can be a meal for five. But the same amount of money could also feed 150 people.
For Filipinos with money, the coronavirus pandemic has been one big food-binge. But for around 21 million people – about 17 per cent of the nationwide population – April 28 to May 2 this year set the highest record for "involuntary hunger" since private pollster Social Weather Stations started tracking hunger in 1998.
Carlito Miniado, a 68-year-old carpenter, said the 1,000 pesos he budgeted last year for a week's worth of food for his family of five was no longer enough. "But I make do with it."
His wife has been ill and bedridden for months now and rather than go out to work, he has been caring for her.
To stretch the money his children hand him, their meals are usually rice, topped with a few morsels of fish and vegetables, but seldom pork or chicken "because their prices have really skyrocketed".
The fish would usually be tilapia at 120 pesos (US$2.30) per kilo and no longer galunggong (scad), which was once called "the poor man's fish" but now at 180 to 200 pesos per kilo is "too costly" for him.
Price monitoring by the Department of Agriculture paints a similar picture. The government has kept the price of regular milled rice stable at 40 pesos a kilo since the pandemic lockdown started in April last year. But the rest of the food prices have generally fluctuated upwards. From 130 pesos per kilo in June last year, tilapia rose by 23 per cent to 160 pesos this April, then dropped 25 per cent to 120 pesos a month later last May.
The price of galunggong, at 160 pesos per kilo in June 1 last year, rose by 75 per cent to 280 pesos in April this year, then fell by 42.8 per cent to 200 pesos a month later.
Miniado was also right on the money about pork. A kilo of pork belly rose by 61 per cent from 260 pesos in June last year to 420 pesos this April, then dropped by 14 per cent to 380 pesos a month.
Whole dressed chicken rose to 140 pesos per kilo at the height of last year's April lockdown, rose by 28.5 per cent this April then dropped to 160 pesos a month later.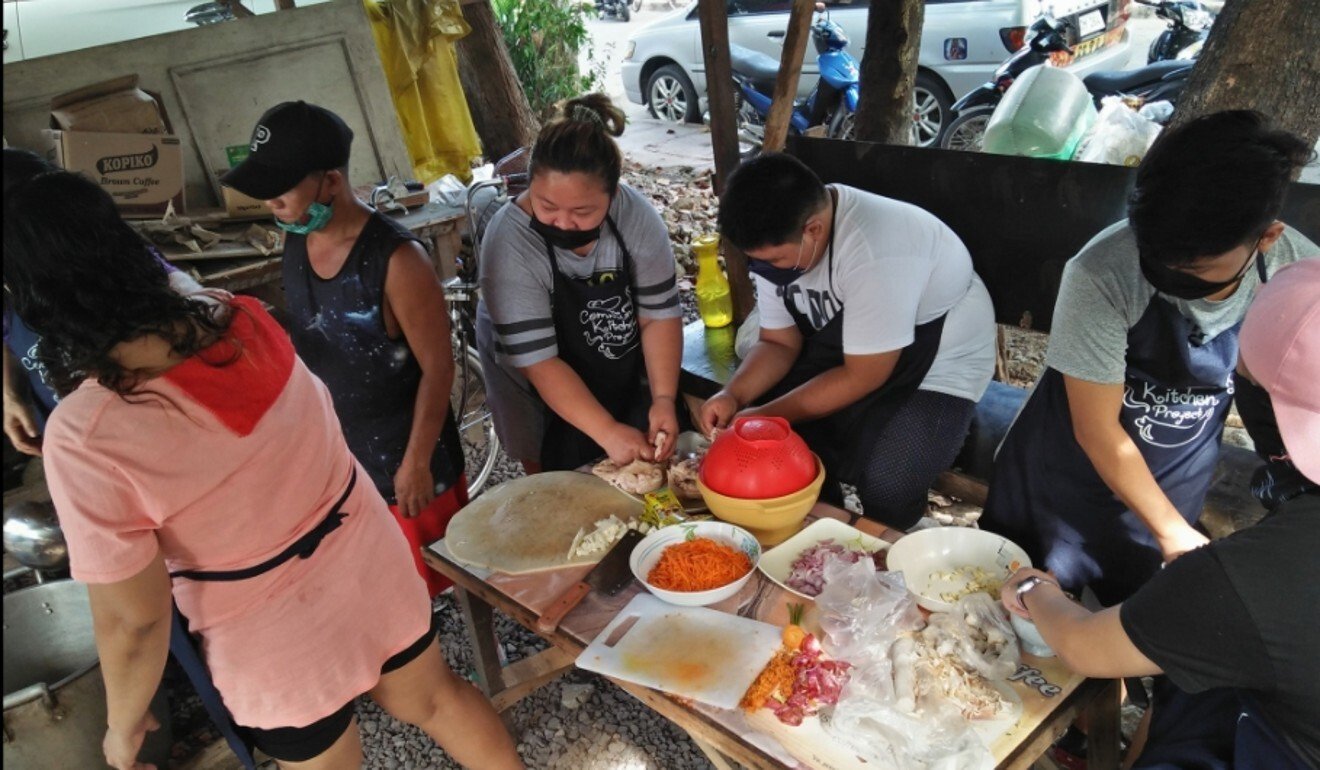 The dire situation so distressed artist Ana Patricia Non, 26, that she started a community pantry in her neighbourhood last April. She bought some vegetables and encouraged strangers to come and take what they needed.
Seven months on, her act of generosity has inspired thousands to put up 6,700 similar pantries nationwide.
She also noticed that urban poor dwellers like tricycle drivers would come to the pantry in the morning to get rice for their households then return after work to donate back. Poor farmers outside the city also came to donate some of their harvest.
Non said many community pantries – of which her group services 700 in Metro Manila – have "transformed into community kitchens" run by the residents themselves.
Non's group, which depends on donations of cash or kind, provides every community kitchen – each run by up to 10 families – with 1,000 pesos worth of rice, vegetables, noodles and other ingredients to cook three meals a week. The budgeted amount used to be half that but food prices – except for rice – had risen so much, she said.
She said she was touched to see families pitch in with 20 pesos each to buy extras like meat, fish or pork to add to the meals.
Non noted that the daily minimum wage of 500 pesos was "not a living wage to cover the needs of families. I don't know how they do it."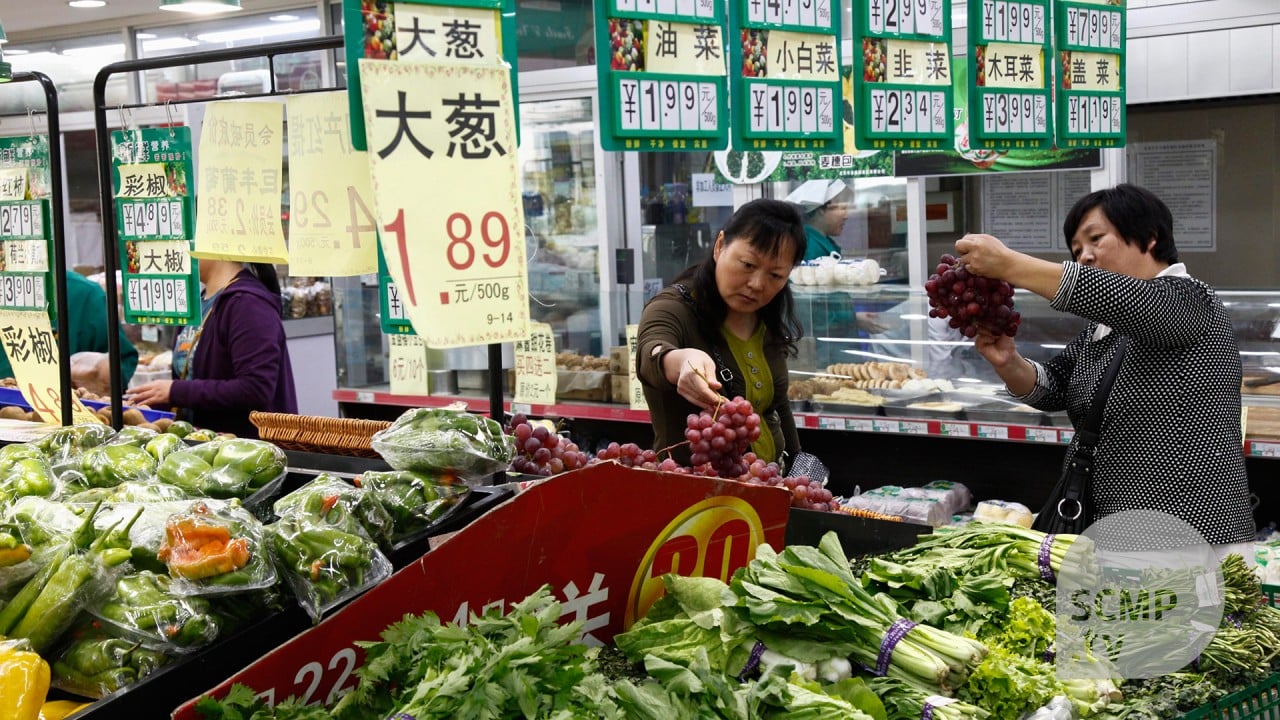 01:06
September inflation pressure weighs on China
September inflation pressure weighs on China
Ibon Foundation, a think tank run by the left-wing Bayan Muna group in congress, has estimated that 17.3 million Filipinos comprising "the poorest 70 per cent of families" lost on average up to 32,000 pesos during the pandemic.
"Coupled with soaring food prices, falling incomes and depleted savings mean more Filipinos with less economic access to food going hungry."
This article appeared in the South China Morning Post print edition as: inflation takes bite from asian dinner tables