Laos
Get more with myNEWS
A personalised news feed of stories that matter to you
Learn more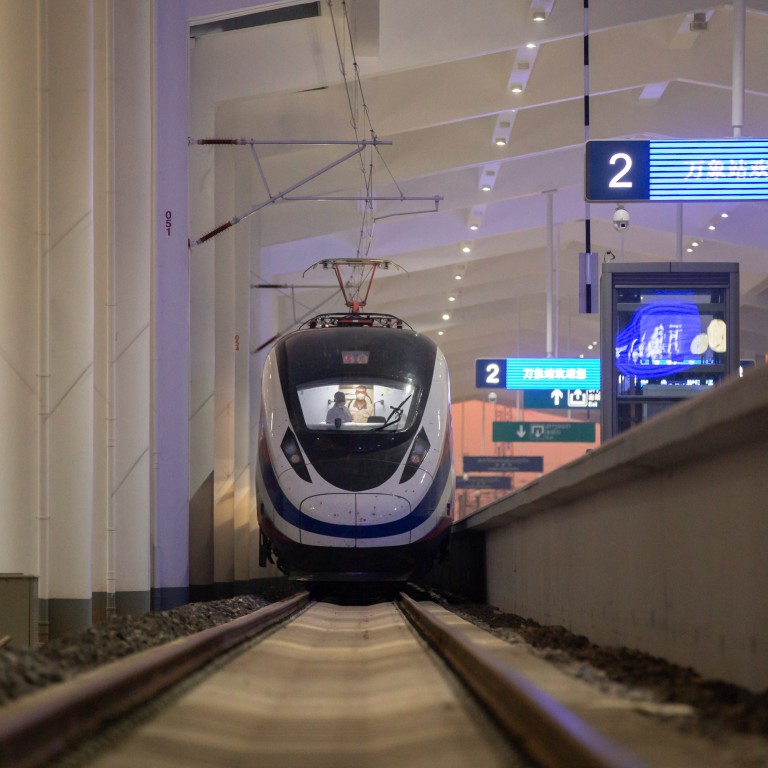 As China-backed belt and road railway opens, high-speed change heads to Laos
The 1,000km-long railway linking Vientiane to China's Kunming promises to cut freight costs and bring an influx of Chinese tourists and cash into Laos
Its opening is seen as a boon for Beijing's belt and road plans for the region, but not everyone in the impoverished Southeast Asian nation is on board
A high-speed railway linking
China
to
Laos
is set to officially open on Friday, swinging open the doors to a landlocked country desperate to haul itself out of poverty and slotting into place a pivotal piece of Beijing's belt and road plans for Southeast Asia.
Constructed in five years using Chinese engineering and manpower for a total cost of some US$9 billion, the 1,000km-long railway from Kunming in China's Yunnan province to the Laotian capital of Vientiane cuts through mountains and ravines via dozens of tunnels and bridges.
With a top speed of 160km/h, trains on the line will be capable of whisking tourists and businesspeople from China to Laos in less than a day, as exporters in the Southeast Asian nation look forward to quickly sending their goods back north.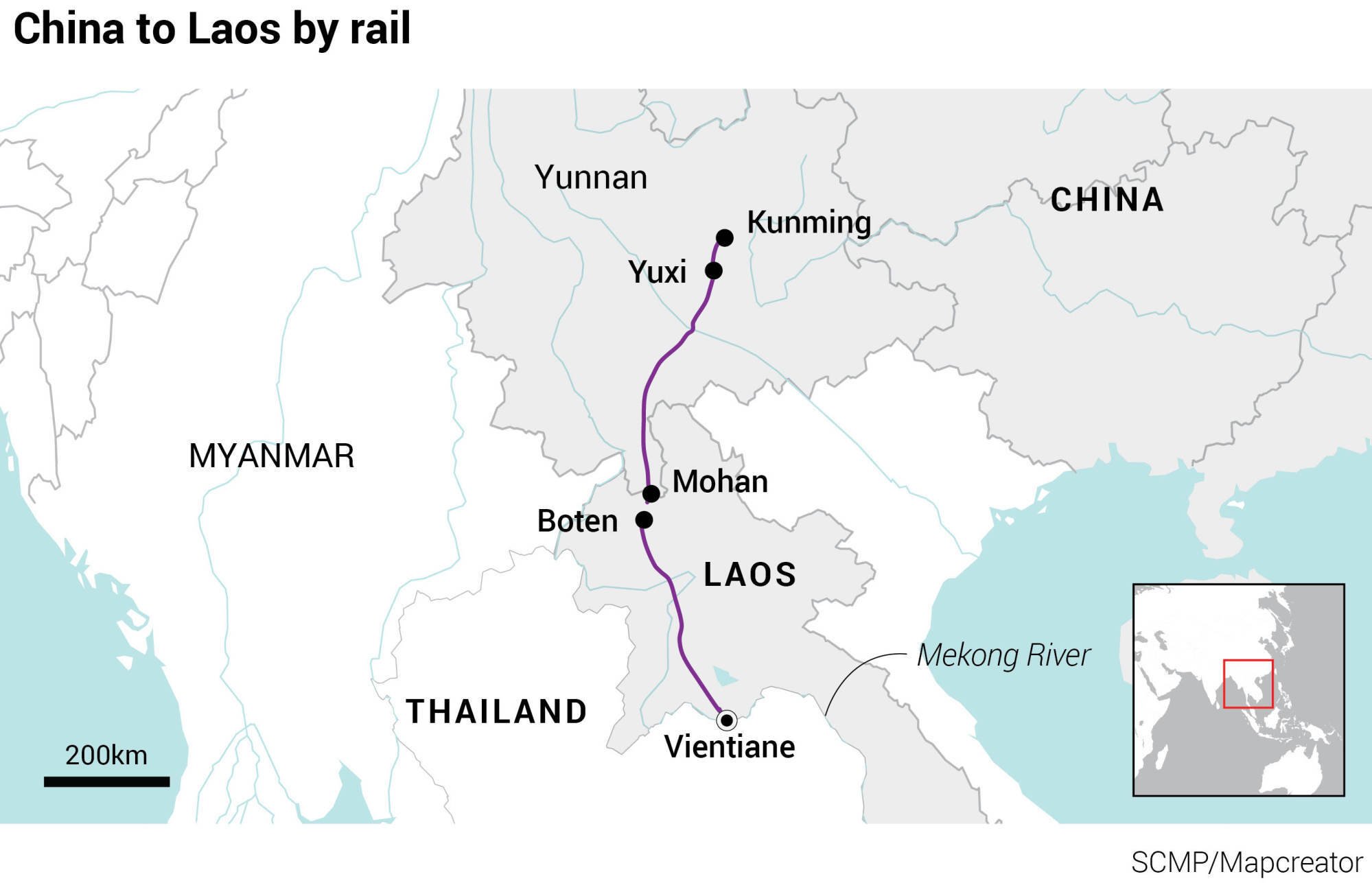 The line is also the first node in Beijing's ambitious plan for a rail network linking southern China to Bangkok, Kuala Lumpur and ultimately
Singapore
.
"The railway has turned Laos' disadvantage as a landlocked nation into an advantage," said Valy Vetsapong, Lao National Chamber of Commerce and Industry vice-president, citing an expected logistics and export boom.
"Laos used to pay high prices for freight, but now we're going to be transporting freight ourselves," she said, adding the country with a GDP per capita of US$2,600 "will become an investment battlefield for surrounding countries all because of the railway".
Laos' communist leadership has promised to transform the country's economic fortunes by binding its 7 million people – about one-fifth of whom currently live in poverty – more closely to China.
With stations in the once sleepy Unesco heritage city of Luang Prabang, party town Vang Vieng and capital Vientiane, it also promises to bring a
tourism
boom to Laos after nearly two years of
Covid-19
border closures.
But in an authoritarian country repeatedly rated 'Not Free' by human rights NGO Freedom House, where what the communist party says goes, it is unclear how these gains will ultimately be shared with ordinary Laotians.
An estimated 4,400 families have been displaced to make way for the railway.
"We can't say or oppose anything even if we wanted to," said Boonchan, a Laotian guide for Chinese tour groups in Luang Prabang. "Maybe 60 per cent of us think the railway will bring wealth. But the rest of us fear the good jobs are going to be taken by Chinese people."
Prime Minister Phankham Viphavanh is expected to board a special high-speed service from Vientiane on Thursday – Laos National Day – before the line opens to the public the following day. It is unclear if trains will currently be allowed through to China, however, given the country's stringent Covid-19 controls.
'Shared destiny'
Laos is on track to graduate from "least developed country" status within the next five years, according to the United Nations, but the Covid-19 pandemic derailed its progress as remittances from overseas workers collapsed, tourism vanished and border closures hit exports.
Last year, the World Bank predicted that economic growth could rebound to 4.5 per cent before the end of 2022 – in large part thanks to the railway. But it also warned of risks, including the country's mountain of foreign-owned debt which equalled between 65-68 per cent of GDP in 2020.
The railway has only added to that debt pile, with Laos loading up on Chinese loans to cover 30 per cent of the US$6 billion cost for the 414-kilometre stretch of tracks inside the country.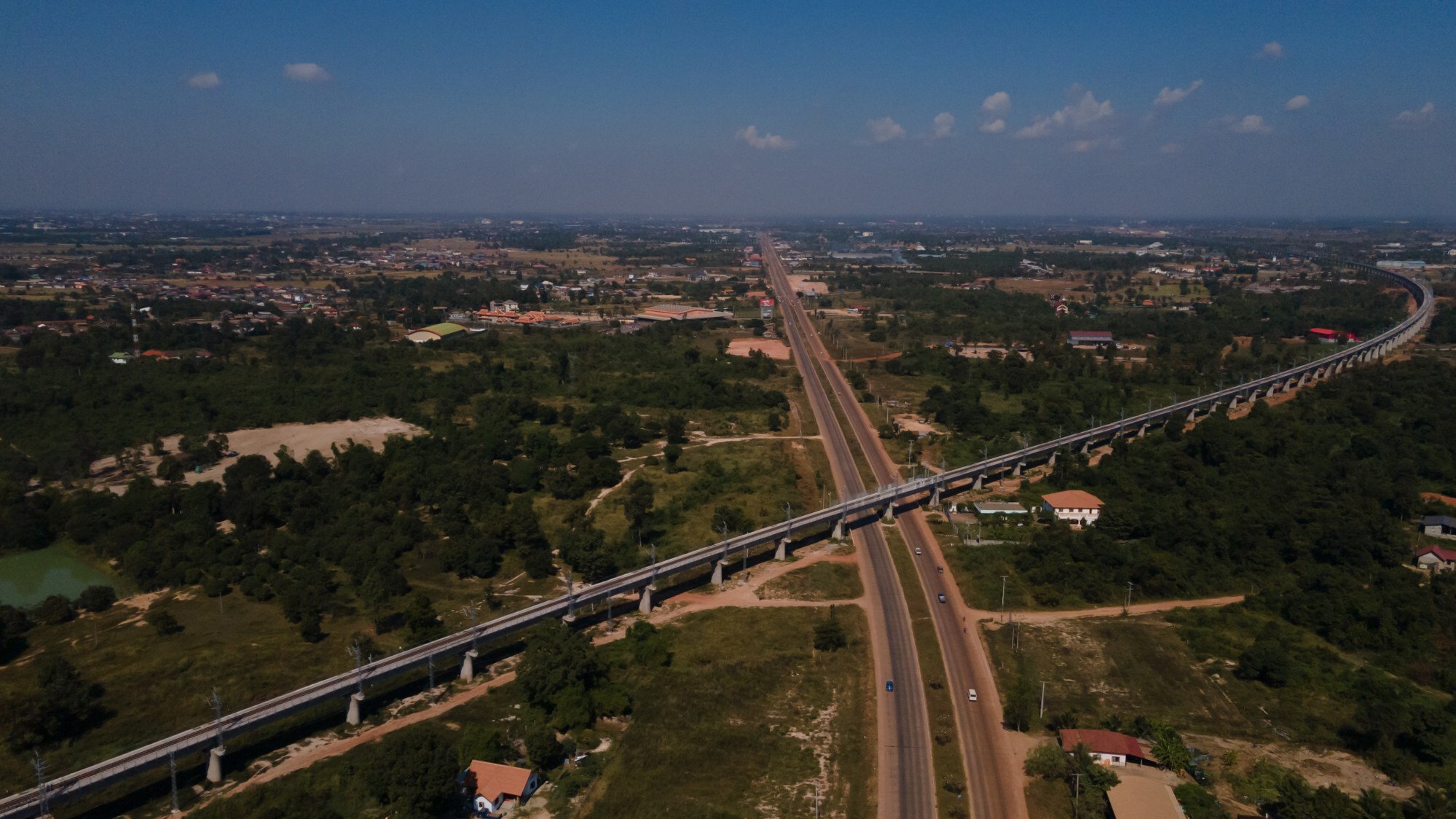 "This railway is 70 per cent Chinese owned … the technology, materials, even the engineers – not a single person is from Laos," said Songkrit Pongern, a Southeast Asia specialist at Kasetsart University in Bangkok. "But while Western countries may see Laos as just another country indebted to China, the two do not see it that way. They see it as a 'shared destiny', a strategic partnership that entwines them."
For young Laotians, this "shared destiny" offers greater opportunity and connectivity, but also a rush of Chinese money that is likely to add to competition and inequality.
"The railway is very exciting, we've never had anything like this before," said Khamphan, a 23-year-old from Luang Prabang. "But the prosperity that comes with Chinese investment will probably just go straight to … government officials, businessmen and those with high status and education. Most of us don't have anything to compete with."
All change
In addition to its economic importance, the rail link also shows China can deliver on projects linked to its
Belt and Road Initiative
to grow global trade.
"It will put more pressure on Thailand to do its part and build a rail network to connect Kunming further southward," said Professor Thitinan Pongsudhirak, director of The Institute of Security and International Studies at Chulalongkorn University.
"Completing a shorter route to Laos is one thing, but going all the way to the Malay Peninsula is something else entirely," he said, describing the Laos-China rail link as "just a small piece of the much broader [belt and road] jigsaw".
But in
Thailand
's Nong Khai province, just across the border from Vientiane, locals are wary of the high-speed railway's extension.
"We're for development just as long as it doesn't take away our way of life, ruin our nature or destroy our food chain," said Chai Pasri, a community leader in Nong Kai. "We fear once Chinese investment flows freely through Thailand, they will just build a world for their own benefit … we will not be part of the equation."
For the ruling Lao People's Revolutionary Party, Chinese investment is a major win – showing it can ally with its giant northern neighbour to modernise the rugged and impoverished country.
"Laos has limited financial and human resources, the railway makes Laos the first Asean country to have a modern high-speed train," Songkrit said.
About US$16 billion worth of Chinese investment has flowed into Laos in recent years, with an estimated 500,000 hectares leased as special economic zones to Chinese firms – who often hire Laotians as day labourers to work on land they once farmed as their own.
Rumbles of opposition are already being felt, however, with reports emerging in recent years of rare shootings in the tightly controlled country being carried out by mysterious groups targeting Chinese interests around Luang Prabang and Vang Vieng
For 23-year-old Khamphan, the railway will undoubtedly bring change, though whether it is for better or worse remains to be seen
"Time's have changed so we must change with them too," he said. "But this change might take with it our lifestyle and our identity."