India
Get more with myNEWS
A personalised news feed of stories that matter to you
Learn more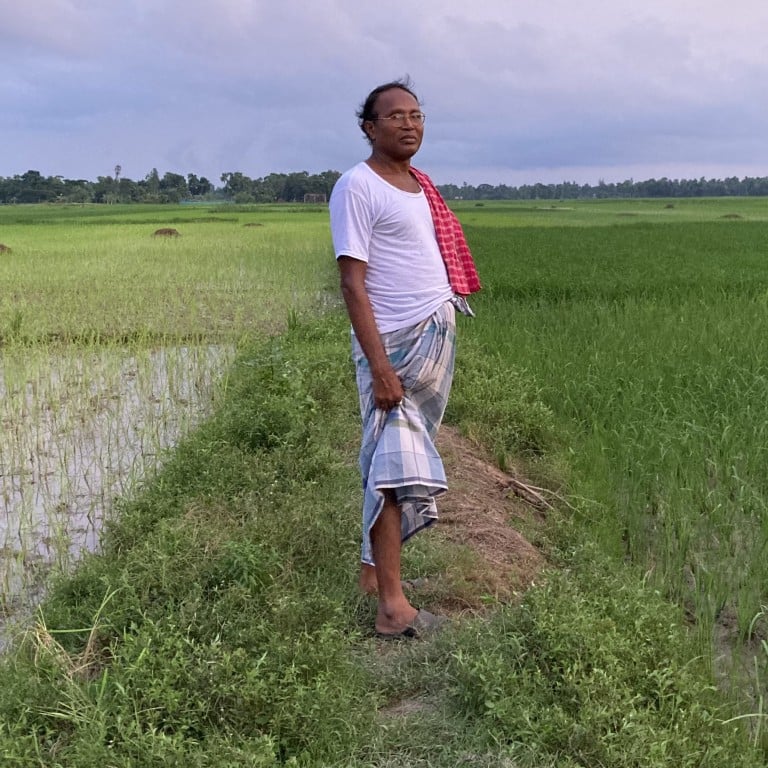 In a climate-ravaged Indian village, marginalised farmers sing about 'floating in tears' after years of erratic weather
In India's Sundarbans, farmers have endured over a decade of erratic weather brought on by climate change and evolving farming patterns
Some of them have come together to produce folk music describing the stories of struggle, loss and the resilience of farmers
Indian farmer Probir Mandal, 51, recently planted seeds of two traditional paddy varieties on his one-acre land in Kalitala, the last border village in the Sundarbans, the world's largest mangrove forest on the Indo-Bangladesh frontier.
He is fervently hoping for rain, so he can transplant the gobindobhog and kamini seedlings into the field.
"I'm keeping my fingers crossed for the rains," said Mandal, who lost 25,000 Indian rupees (US$300) from low yields arising from unexpected drought, cyclone and floods over the past three years. "We have been cursed with erratic weather for more than a decade, making it extremely difficult to produce rice."
To convey their desperation at the lack of rain and the changing weather pattern, Mandal and two other local farmers have written some 50 songs in Bengali, encapsulating the challenges of economically and socially marginalised farmers in the Sundarbans – a region commonly ravaged by rains, floods, cyclonic storms and cyclones caused by climate change.
Part of Tridhara (which means "three tributaries" in Bengali), a cultural group formed in 1982, the three farmers composed bhatiali songs – a form of folk music to bring rivers and their communities to life – that describe the stories of struggle, loss and resilience of farmers in the Sundarbans.
In one song, Mandal wrote: "Disastrous excessive rain, you destroyer, flooding my farmland, breaking my happy home … I am an unfortunate farmer, floating in my tears." In another, he wrote: "Farmer provides food to the nation, death of a farmer is a stigma for the nation."
Tridhara co-founder farmer Palas Mondal, 58, said that little was known worldwide of the farmers in the Sundarbans, a region famed as one of the last habitats of man-eating royal Bengal tigers, but their songs will tell the world about human lives there.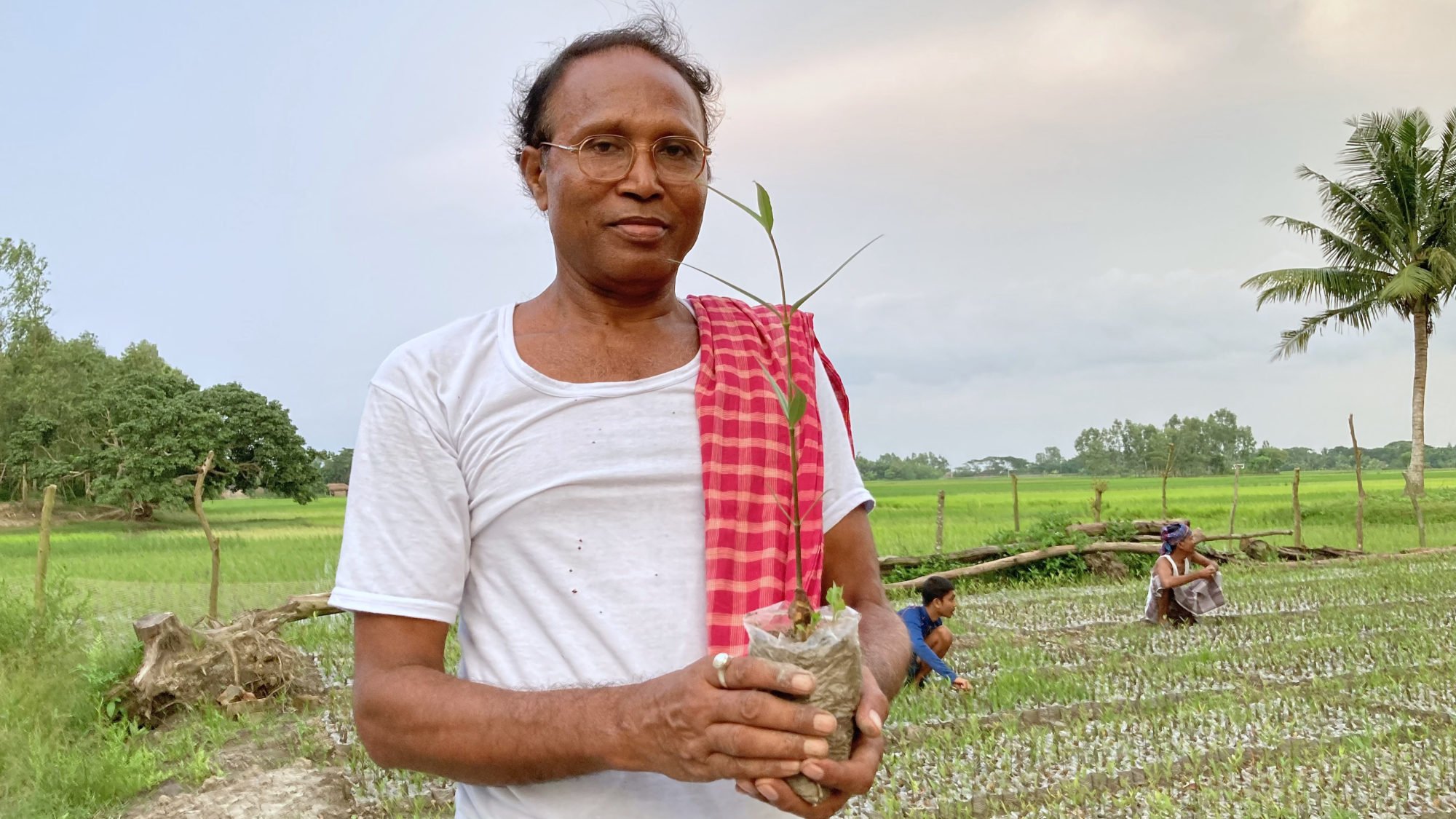 As part of a project titled R.I.C.E (Resilience, Innovation, Culture and Empowerment), initiated by The Eco Logical Foundation (ELF), the New Delhi-based non-profit in 2021 recorded 42 songs by Tridhara and filmed six videos featuring the singer-farmers. The songs and videos were subsequently released on YouTube, to bring Sundarbans' rice farmers closer to global rice consumers.
ELF co-founder Pinaki Roy, who translated the lyrics of 19 songs into English, said farmers in the Sundarbans had been written off as "hapless" future climate refugees. But as nobody knew the land and the ecosystem better than these farmers, recording these songs was a "nascent attempt" to give them a voice and "sense of agency" to tell their own stories of resilience.
Mondal said these songs highlighted the plight of farmers, who felt disempowered as the agriculture sector began to prioritise industrial farming processes and high-yield hybrid seeds. But the high-yield varieties failed to withstand the intrusion of saline water into the fields from nearby estuaries when river embankments break during floods or cyclonic storms, he said.
Cultural and environmental geographer Mehebub Sahana, 33, told This Week In Asia that there was a higher frequency and intensity of tropical cyclones and storm surge floods in Sundarbans' coastal areas including Kalitala, because of global warming, climate variability and environmental change.
"Climate change-induced cyclones, floods, salinity intrusion, land degradation and riverbank erosion along the coastal blocks of Sundarbans have affected people's livelihood," said Sahana, a research fellow and lecturer at the University of Manchester.
In 1999, after Cyclone Aila killed more than 78 people in West Bengal, Tridhara's singer-composer Bishnupada Sarkar, 65, wrote in a song: "Cruel Aila, you turned our golden [West] Bengal into a crematorium."
The cyclone had ravaged houses, fields, livestock, roads, grain storage and river embankments, and contaminated drinking water across Sundarbans.
"Aila was the turning point in the life of people in Sundarbans," Mondal said. "People started migrating to other states – Karnataka, Tamil Nadu and Andhra Pradesh – to work as daily wagers in an unprecedented manner."
The downsides of forced migration are also described in Tridhara's songs.
Sarkar said that farmers, who once accompanied him in traditional musical instruments while he sang, have also migrated to other states in search of work.
Few like Mondal, who refused to migrate, remain in rice cultivation despite significant losses.
Last year, Mondal lost 28,000 Indian rupees (US$340) to pesticide-free production of the traditional variety of black rice because of a lack of buyers.
"We have no access to urban markets," Mondal said. "Middlemen buy the produce at a marginal price from us but sell at an inflated price to the urban market. We can make no claim to their profit."
Changes in weather have forced many local farmers to switch to fish and prawn cultivation and poultry farming, while some have started driving public transport and running grocery shops to earn their livelihood, Sahana added.
But Sahana said that it was important to archive songs about the daily struggles of people of Sundarbans because they reflect their perception of climate variability and climate change and their effects on ecological and socio-economic systems. "These songs will help to identify different vulnerable groups," Sahana added.
Archivist and singer Sourav Moni pointed out a lack of due recognition for talented artists of rural India, who sing the songs of land and river, and lead lives around them. "These songs need to be preserved, we cannot afford to lose them," he said.