Philippines' jeepney drivers strike again as modernisation deadline looms: 'it will bury us in debt'
The strike has paralysed most jeepney routes in Metro Manila, with drivers taking issue with the capital required to upgrade their vehicles at the expense of their livelihood
PISTON president Mody Floranda says drivers' major concerns have been ignored by the government, as students come out in support of the strike
Jeepney drivers in the Philippines launched a three-day strike on Monday against a looming December 31 deadline by the government that will force owners to replace aged vehicles with environmentally friendly models, in what is seen by the industry as authorities' attempt to snuff out livelihoods.
Under the government's Public Utility Vehicle Modernisation Program (PUVMP), drivers will need to replace jeepney units that are at least 15 years old with eco-friendly models to form cooperatives and continue working. Striking drivers led by PISTON – a national federation of public transport groups – take issue with the capital required to acquire modern jeepneys.
"This is the first step towards taking our livelihood away. This isn't about fixing public transport. It's a corporate takeover," said PISTON president Mody Floranda.
"We're fighting for the survival of jeepneys. They're not just trying to phase out the vehicles, they're exterminating our livelihood and condemning us and the commuting public to greater hardship and hunger."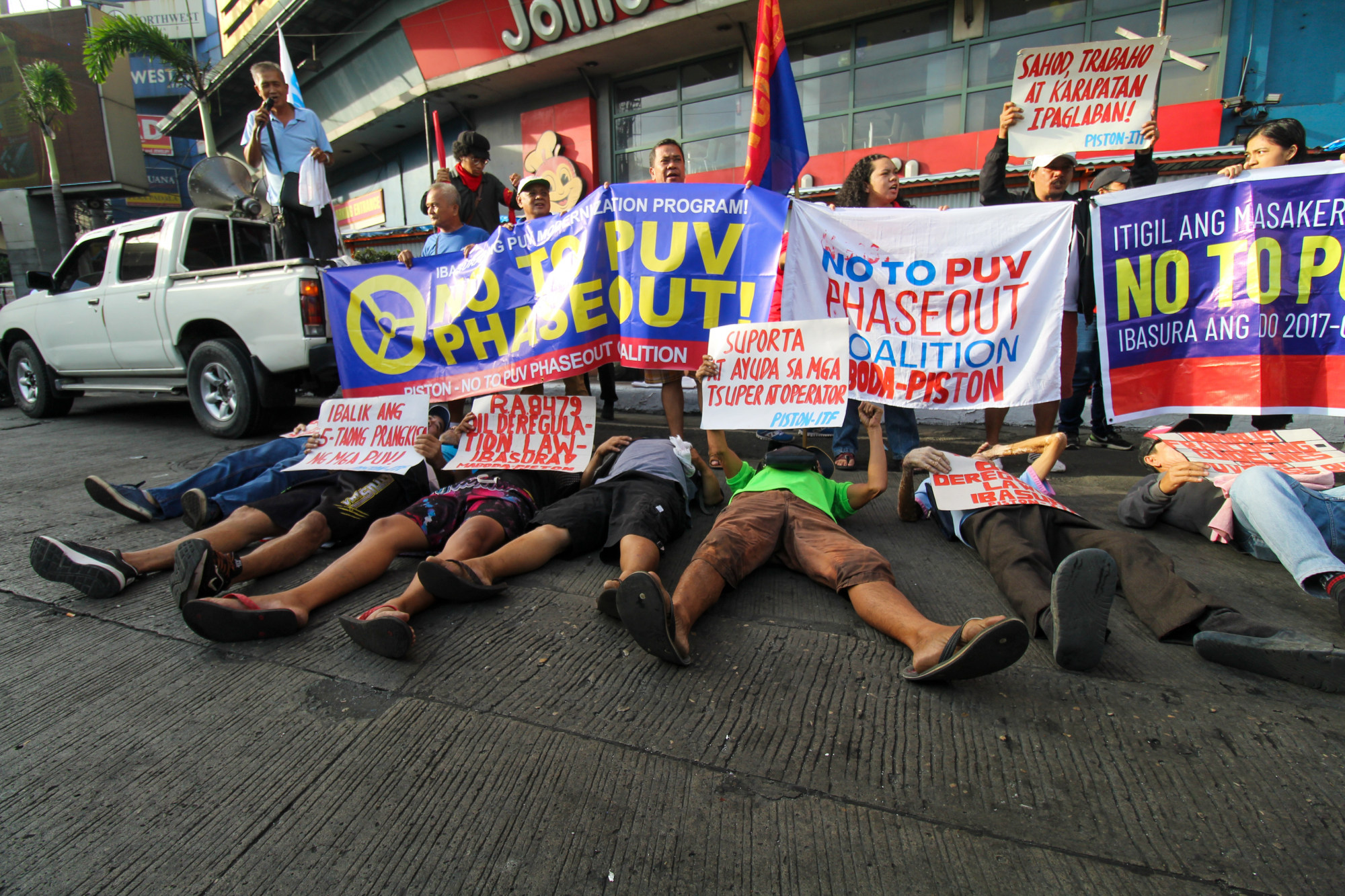 By noon, PISTON claimed to have paralysed 85 per cent of all jeepney routes in Metro Manila and seven other strike centres in major cities throughout the country. The Land Transportation Franchising and Regulatory Board (LTFRB) deployed 250 vehicles across the capital to service commuters.
Jeepneys, multi-seater, non-air-conditioned minibus-type vehicles that are sometimes adorned with decorations, have been dubbed "kings of the road" for their sheer numbers and are a cultural fixture in Philippine history. But the industry is unregulated and some vehicles are poorly maintained.
Floranda said modern jeepney procurement would mainly benefit foreign multinationals such as Hino Toyota, Hyundai and Fuso Mitsubishi instead of local manufacturers. He also said some 80 per cent of all jeepney drivers could not afford the 2.8 million pesos (US$50,440) needed to replace each old unit. The state is only offering subsidies of up to 5.7 per cent of the total cost.
"We are not against fixing and upgrading our vehicles. What the government doesn't understand is that jeepney drivers earn less than minimum wage. How does it expect us to cope with the costs of the PUVMP? It will bury us in debt," Floranda argued.
The PUVMP, approved in 2017, has encountered periodic and strong resistance from the transport sector and the public. In a strike in March, PISTON and other groups pushed the administration to postpone its plans to the end of the year as it underwent a review.
According to the LTFRB, 120,023 public utility vehicle units are currently modernised with around 154,000 more in their sights.
President Ferdinand Marcos Jnr at the time conceded that the PUVMP must push through but be implemented in "a different way". However, Floranda said all of their major concerns had been ignored.
LTFRB chairman Teofilo Guardiz III said older jeepneys would still be allowed to ply their routes "until consolidation is finished" to prevent a service vacuum in certain areas. Guardiz said the government had appealed to PISTON to call off their action and think of its effect on commuters.
Guardiz also promised that drivers would not lose their livelihood as "modernisation will not be forced on them", and "roadworthy" jeepneys would be part of the PUVMP.
Floranda, who had earlier challenged Guardiz to speak to the striking drivers on Monday, said after the talk that PISTON was disappointed Guardiz and the LTFRB would only continue to "study" the matter.
"The hungry stomachs of drivers and operators cannot wait for the LTFRB's 'study'," he said, adding the strike would continue for the next two days.
Students on Monday flocked to strike centres throughout Metro Manila as most major universities cancelled face-to-face classes. Aem Ignacio, president of the student council at the Polytechnic University of the Philippines, helped lobby for class suspensions so that students could be spared the lack of available transport or be free to join the protests.
"We might be losing a few days of rides but for jeepney drivers, they're losing everything. We owe it to them to show our support," Ignacio told This Week in Asia.
She said the PUVMP had hit hard. Her father, a jeepney driver, could not afford the money to modernise.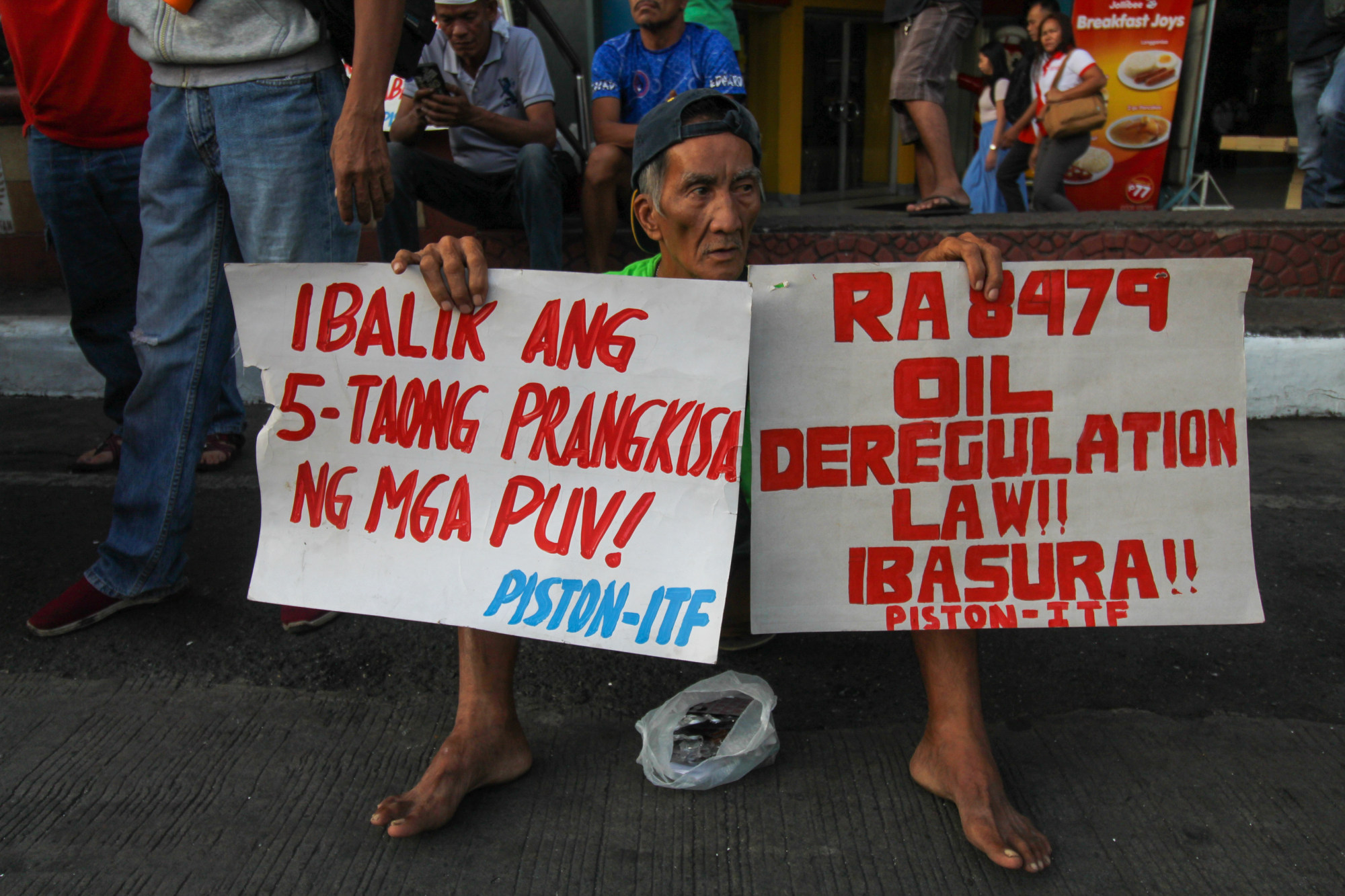 Severino Hermoso, a 63-year-old driver, is only able to work a couple of shifts per week, earning around 400 pesos each time for his blood pressure and diabetes medicine. He says he already tried inquiring for work with cooperatives but was told older workers would be rejected.
He called on authorities to go back to the drawing board with the PUVMP. "I can still work and I need to work," Hermoso told This Week in Asia on Monday. "If this pushes through, I will end up just selling cigarettes on the street."
A 2021 study by the University of the Philippines Centre for Integrative and Development Studies warned of a "domino effect" whereby "the difficulties in accessing financing for the already expensive modern jeepneys and the tight amortisation schedule leads to the possibility of increasing passenger fares".
The study also estimated a near 300 per cent increase in fares in just a few years if drivers are to recuperate the acquisition costs of e-jeepneys with "interests paid annually at six per cent and amortisation for seven years".
E-jeepneys, the government-approved newer models which look nothing like their iconic counterparts, have been allowed to impose fares of up to 20 per cent more than traditional jeepneys.
Beyond their colourful designs and commuter accessibility, history professor Mike Pante from the Ateneo de Manila University, believes jeepneys are a symbol of post-war resilience.
"Ordinary Filipinos produced jeepneys out of the ashes of war, transforming surplus American jeeps into an innovative for mass transit," he told This Week in Asia.
"Forced modernisation is a bane to the country's identity. We are losing the adornments of the road as well as the mobility of ordinary Filipinos."