Explainer

|
How 1MDB corruption scandal changed Malaysian politics
Former prime minister Najib Razak faces a lengthy jail sentence after being convicted in July 2020 for his role in the scandal
The US Department of Justice alleges US$4.5 billion was siphoned from the 1MDB state investment fund between 2009 and 2014
This explainer was updated in August 2020 after Malaysia's former prime minister Najib Razak was convicted in July 2020 of seven charges arising from his involvement in the multibillion-dollar 1MDB scandal.
Najib was convicted on July 28, 2020
of one charge of abuse of power, three charges of money laundering and three charges of criminal breach of trust, completing a dramatic fall from grace for a man who led his country from 2009-18. During his years in charge, some US$4.5 billion was
looted from the state investment fund
. He was sentenced to 12 years in prison and fined US$49 million, derailing any immediate plans for a political comeback.
Although Najib has appealed and faces four more trials stemming from his role in the misappropriation of 1MDB funds, his conviction began to close the loop on a long-running saga of vast financial corruption and self-dealing that drew the gaze of the world to Malaysia.
Najib inherited a political legacy from his father and uncle who both served as prime ministers before him. Now, that legacy is in ruins. Instead he will be remembered as the face of a scandal that upended Malaysian politics, rupturing and remaking its shifting coalitions.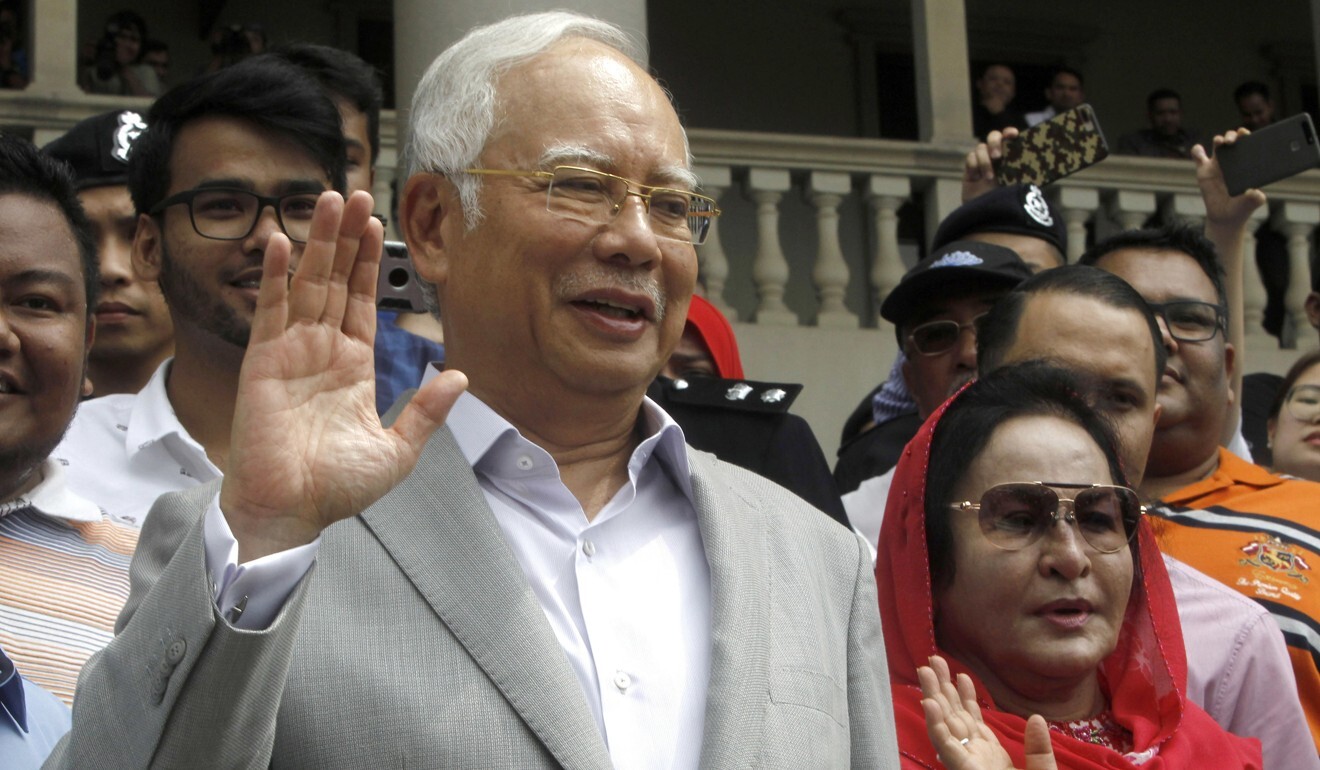 How the 1MDB scandal happened
After becoming prime minister in 2009
, Najib established the state-owned investment firm 1MDB as part of the government's Economic Transformation Programme. He was also chairman of the fund and Malaysia's finance minister.
Najib's government sought to quash investigations by the Malaysian Anti-Corruption Commission (MACC) despite five other countries, including the US, opening their own probes.
During 2016 and 2017, the US Department of Justice (DOJ) filed forfeiture complaints alleging US$4.5 billion was siphoned from 1MDB between 2009 and 2014 and laundered in multiple jurisdictions including Singapore, the US and Switzerland.
Who is Jho Low?
Low's whereabouts have long been the subject of speculation, and he has been rumoured to be in other locations, including the United Arab Emirates.
He faces pending criminal cases in the US – for conspiring to violate the Foreign Corrupt Practices Act and for conspiring to make and conceal "foreign and conduit" campaign contributions in the 2012 US presidential elections.
Among the items of property linked to Jho Low that have been forfeited are: the yacht Equanimity, which has since been sold to the casino operator Genting for US$126 million; a penthouse in the Time Warner building in New York, worth US$31 million; a mansion in Los Angeles, worth US$39 million; and a bungalow in Penang, Malaysia, worth US$11.7 million.
The various 1MDB trials have heard that Low referred to Najib as "Optimus Prime" in some correspondences; Low allegedly referred to himself as 'FL' in some chats, apparently a shorthand for the Cantonese expression "Fei Lou", or Fat Boy.
How was Goldman Sachs involved?
How it changed Malaysian politics
Properties belonging to Najib and Rosmah were raided by police and luxury items worth about US$270 million were seized, including 1,400 necklaces, 567 handbags, 423 watches, 2,200 rings, 1,600 brooches and 14 tiaras.
Rosmah, whose spending drew comparisons to Imelda Marcos and made her a hate figure in Malaysia, faces 17 counts of money laundering although her trial was put on hold as Najib's prosecution was given priority.
Najib's party, the United Malays National Organisation (Umno), had been weakened by the election loss and tainted by the IMDB scandal. Mahathir and Anwar were determined to prevent Umno figures, including Najib, returning to positions of influence but other power brokers within their ruling Pakatan Harapan coalition disagreed.
What next?
Lim, who served in the reformist Mahathir government after the landmark 2018 elections, has pleaded not guilty and described the allegations as retaliation for Najib's conviction.
"This is clearly a baseless allegation and politically motivated," he said. "I will fight in court to prove my innocence."
It suggests that although Najib's conviction may have been the beginning of the end of the long-running 1MDB saga, the aftershocks could ripple through Malaysian politics for months or even years to come.