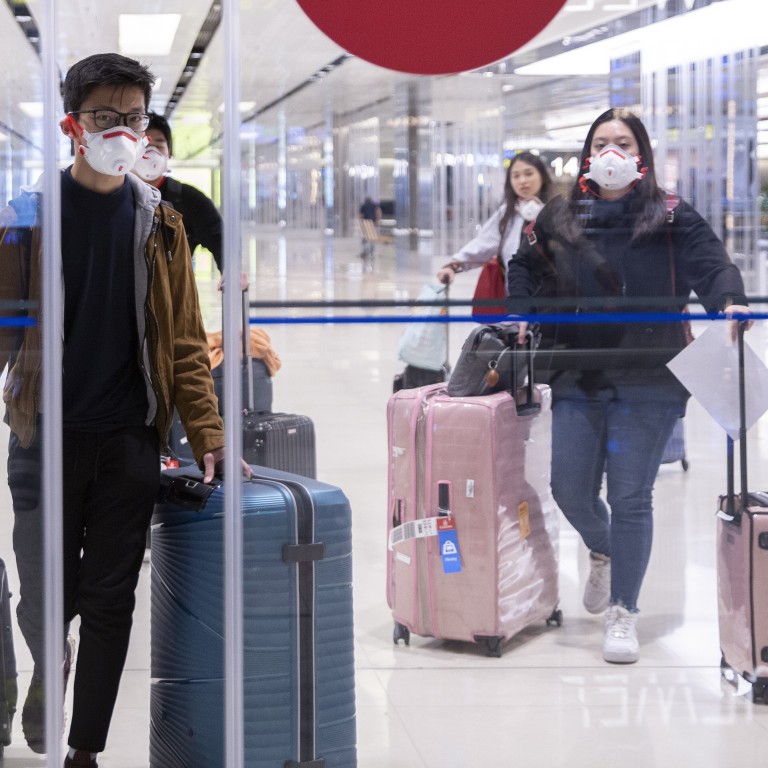 Explainer

|
Singapore-Hong Kong travel bubble: All you need to know about flights, tests and costs
From November 22, Singapore and Hong Kong will launch quarantine-free travel on Singapore Airlines and Cathay Pacific
From designated flights, to the number and cost of tests, and forms to be filled out, here's all you need to know
When will the travel bubble start?
Flight numbers for the designated
travel bubble
flights will be SQ890 and CX734 for the Singapore-Hong Kong route and SQ891 and CX759 for the Hong Kong-Singapore route.
Quarantine-free travel on designated flights between both air hubs begins on Sunday, November 22, with Singapore Airlines operating one flight (SQ890) to Hong Kong and Cathay Pacific operating one flight (CX759) to Singapore that day.
From November 23 to 29, Singapore Airlines will operate SQ890 and SQ891 on Monday, Wednesday, Friday and Sunday, and Cathay Pacific will do so for CX734 and CX759 on Tuesday, Thursday and Saturday.
For the week of November 30 to December 6, Singapore Airlines will have flights on Monday, Wednesday and Friday, while Cathay will have flights on Tuesday, Thursday, Saturday and Sunday.
From December 7 onwards, there will be daily flights by both airlines.
The daily quota of passengers travelling each way will be 200 from November 22 to December 6. From December 7 onwards, this will be doubled to 400 passengers.
Who is eligible?
Any person who has remained in Singapore or Hong Kong two weeks before their departure is eligible to travel under the arrangement. They will need to test negative for Covid-19 once using a PCR test in Singapore and twice in Hong Kong. They should expect to spend about HK$1,889 (S$328) in total per person on testing.
Tests in Singapore cost about HK$1,150 (S$200), while in Hong Kong, it costs HK$240 at testing centres, and HK$499 at the airport for post-arrival tests.
As per Hong Kong's request, those who are work permit or S-pass holders in Singapore working in the construction, marine shipyard or process sectors are not eligible for the travel bubble. Transport minister Ong Ye Kung had earlier said that Hong Kong authorities were particularly concerned with this group of workers. Many live in dormitories and make up about 94 per cent of Singapore's total infections.
How can travellers take the three Covid-19 tests?
Hong Kong-based travellers
Children aged 12 or younger do not need to take this test to enter Singapore.
Upon arrival in Singapore, travellers do not have to take another test.
Singapore-based travellers
Travellers must submit a health declaration to Hong Kong authorities and take their first PCR test within 72 hours before their flight.
Children aged 12 or younger are exempted from this test.
Travellers do not need to take another test upon their return to Singapore.
What does the quota mean for travellers?
Singapore Airlines already operates daily flights to and from Hong Kong. Flights on the days the airline is operating bubble flights will be redesignated as a bubble flight while the rest will operate as non-bubble flights. Bookings can be made on the airline's website. Those not eligible to be part of the travel bubble, such as transit passengers, will be assigned to a flight operated by Singapore Airlines subsidiary Scoot.
Cathay Pacific has automatically rebooked travellers with existing reservations onto designated bubble flights. Customers on other flights have the option to move to the quarantine-free service if they are eligible.
Singapore Airlines customers with existing bookings will be notified by the airline if their flight has been designated as a bubble flight. The airline said its customer service representatives will reach out to travellers to provide the necessary assistance.
A check on Singapore Airlines website on Wednesday morning found that round-trip bubble flights were selling between S$557.80 (HK$3,210) to S$1,204. Cathay Pacific website shows flights selling from HK$2,951 (S$513) to HK$3,391.
What could 'burst' the bubble?
Singapore and Hong Kong's coronavirus cases are low, right now, averaging single digits in recent days and mostly from returning residents.
If Covid-19 cases rise, the travel bubble will be suspended for two weeks.
The marker for suspension would be if the seven-day average of the daily number of unlinked Covid-19 cases is more than five in either Singapore or Hong Kong. The suspension will be lifted if, on the last day of suspension, the seven-day moving average of the daily number of unlinked cases is five or below.
Cathay Pacific has said it will rebook passengers on non-travel bubble flights where regular quarantine procedures will apply. Singapore Airlines said it would "adhere to the guidance of the regulators" and notify customers accordingly.
Travellers will need to wear masks and comply with health regulations in both cities. Singapore authorities say those who fall ill will need to bear the full cost of medical treatment.
Additional reporting by Danny Lee
This article appeared in the South China Morning Post print edition as: A user's guide to the travel bubble for HK and Singapore