India
Get more with myNEWS
A personalised news feed of stories that matter to you
Learn more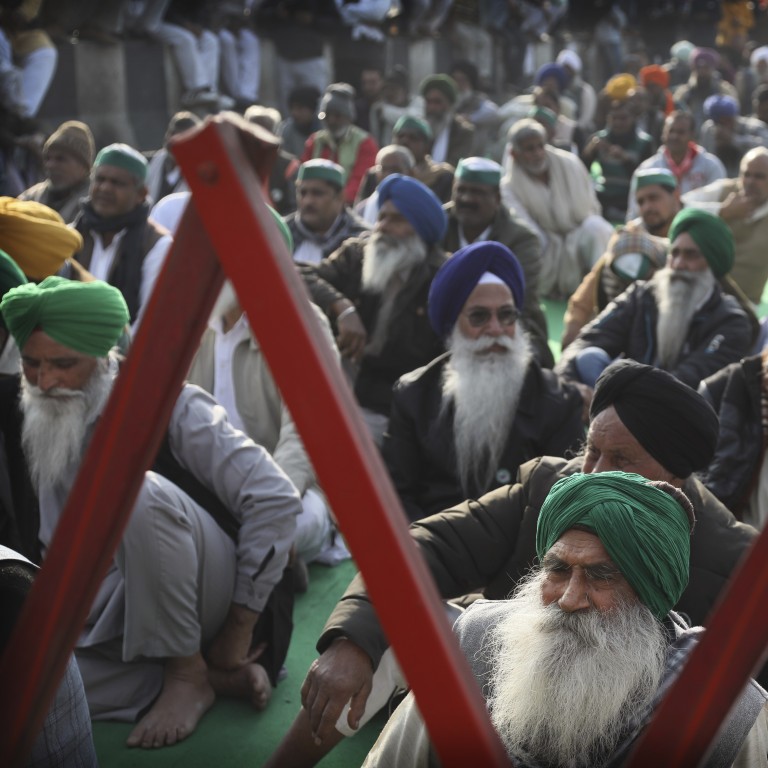 Explainer

|
Rihanna vs the Modi government: how India's farmer protests drew the world's attention
Protesting farmers are now being backed by a growing group of international celebrities and activists including Greta Thunberg
Indian ministers and Bollywood stars have hit back on Twitter, and the government likened a violent protest in New Delhi last month to 'chaos' in the US capital
Tens of thousands of
Indian
farmers have been protesting on the outskirts of New Delhi for more than three months, demanding the repeal of new agriculture laws they fear would leave them at mercy of corporations.
While largely peaceful, the protests turned violent last month during India's Republic Day, with authorities tightening security at protest sites outside the capital, temporarily restricting internet and phone services, and warning
Twitter
to block dozens of accounts that the government said were aimed at inciting violence.
But tweets by pop star Rihanna, environmental campaigner Greta Thunberg and US lawyer and activist Meena Harris, a niece of Vice-President Kamala Harris, have drawn global attention, with Washington criticising India's internet crackdown.
New Delhi has described these comments as propaganda.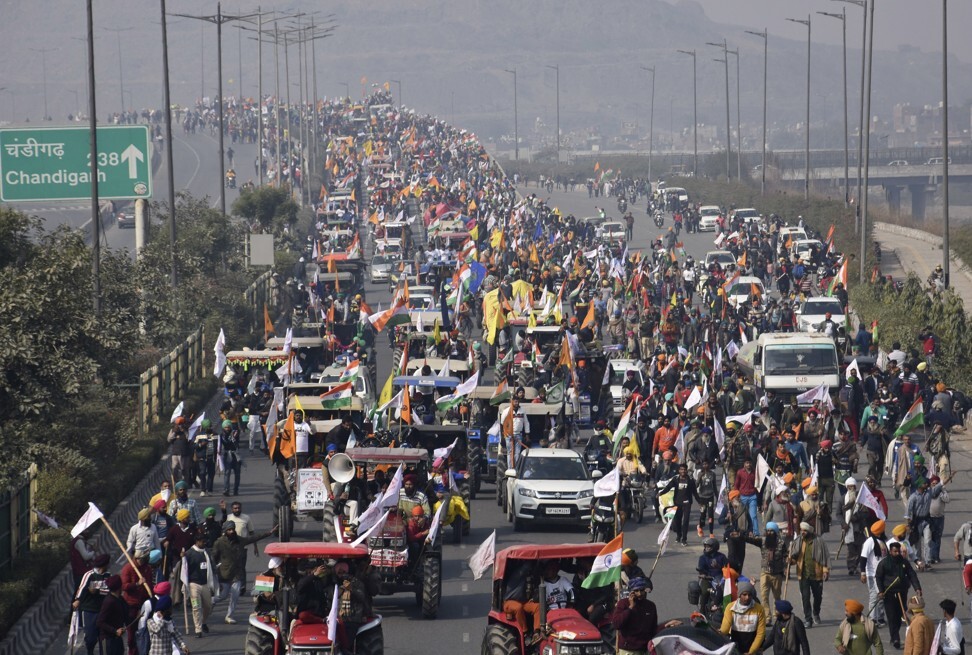 WHAT ARE THE LATEST UPDATES ON THE FARMERS' PROTESTS?
Since November 26, farmers from India's northern farming states of Punjab and Haryana and Uttar Pradesh have taken to the streets to protest against the new laws passed by parliament in September, heralded by
Prime Minister Narendra Modi
as a necessary step to modernise agriculture
Under the new rules, farmers will see looser regulations around the pricing, sale and storage of agricultural produce. One of the greatest concerns under the reform is the removal of state protection, where farmers had enjoyed guaranteed prices for certain crops since 1965.
The laws would allow private retailers to buy directly from the farmers, prompting fears from cultivators that it would hurt their incomes and leave them vulnerable to big corporations. Farmers demanded the withdrawal of the new laws.
Throngs of farmers have braved the cold winter and laid siege near New Delhi, camping out at key border points around the capital.
The peaceful demonstrations flared into turmoil on January 26, India's Republic Day, when some farmers stormed the city's historic Red Fort, where they were met with a barrage of tear gas from the officers. About 300 police officers were injured and one protester died. Farm leaders said they were not responsible for the parade's violence, and that it was instead caused by a minority of protesters.
WHO HAS CRITICISED INDIA AND HOW HAS NEW DELHI REACTED?
Rihanna's tweet – "Why aren't we talking about this?! #FarmersProtest" – on Tuesday to her 100 million followers on Twitter went viral, while Thunberg's tweet read, "We stand in solidarity with the #FarmersProtest in India."
The Indian government has accused them of sensationalising social media hashtags, saying this is "neither accurate nor responsible".
In response, government ministers, Bollywood stars and cricketers have used the hashtags #IndiaTogether and #IndiaAgainstPropaganda. In recent days, counterprotesters in New Delhi have set fire to posters of Rihanna and Thunberg, warning that they will not tolerate "international interference" in Indian affairs.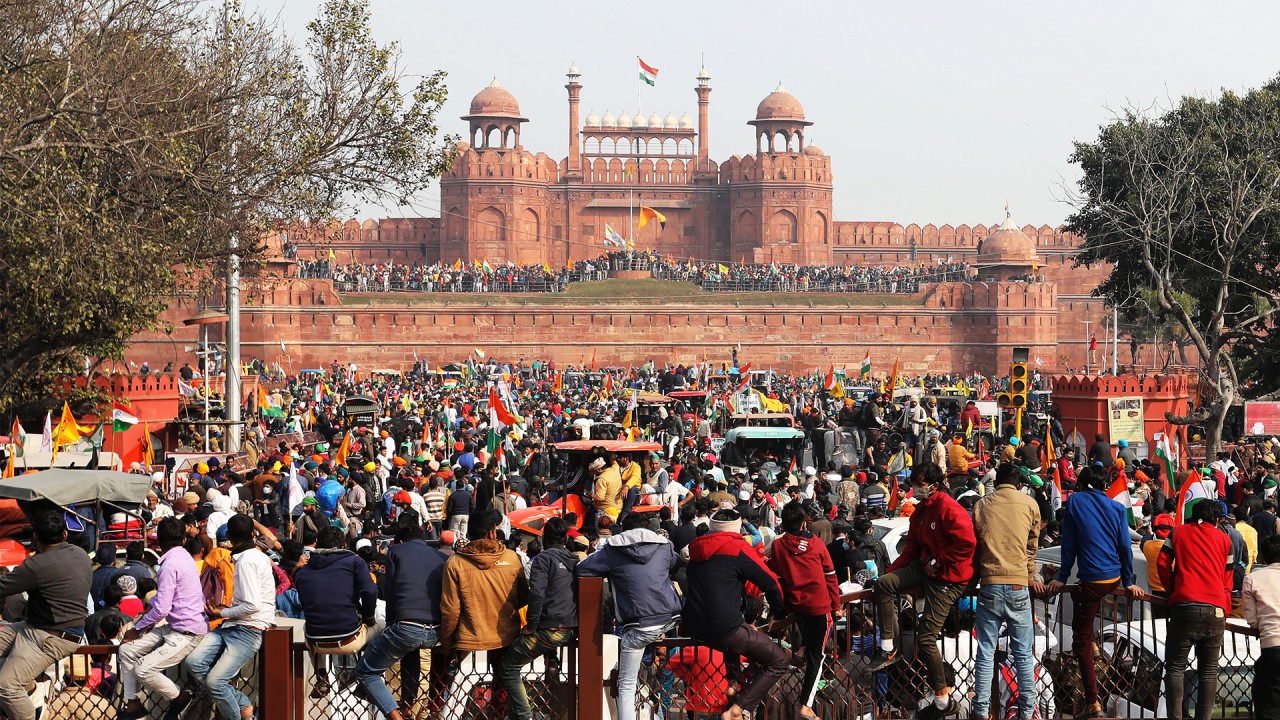 03:03
One dead as thousands of farmers storm India's Red Fort
One dead as thousands of farmers storm India's Red Fort
India's Home Affairs Ministry has also demanded Twitter suspend more than 200 Twitter accounts that were allegedly seeking to foment violence, Reuters reported.
Twitter complied but then later unblocked some of the accounts. Police have also begun investigating several journalists and opposition lawmakers for their tweets about the authorities' response to the January 26 violence.
The Delhi police cybercrime unit is also investigating the creators of a toolkit that Thunberg shared in a now-deleted tweet, detailing how to support the protests.
Authorities said the toolkit was prepared by Vancouver-based organisation Poetic Justice Foundation, a pro-Khalistani group where Sikh separatists seek to create a proposed state called Khalistan in the Punjab region.
Last year, when Canadian Prime Minister Justin Trudeau stated his support for the farmers, New Delhi said his comments were "ill informed", while Indian politicians suggested he was pandering to his voter base. Canada is home to some 700,000 Sikhs, many of whom have been following the escalating protests with concern.
The British Parliament is likely to debate on the farmers' protest too, after an online petition drew over 106,000 signatures, according to local media reports.
HOW HAS INDIA JUSTIFIED ITS ACTIONS?
On Thursday, the US criticised India's internet curbs at protest sites and said unhindered access to information was fundamental to freedom of expression.
The US embassy in India said in a statement that "peaceful protests are a hallmark of any thriving democracy, and note that the Indian Supreme Court has stated the same". It called for the resolution of the demonstrations through dialogue.
In response to the US, New Delhi said the chaos at Red Fort had "evoked similar sentiments and reactions" to the storming of the US Capitol on January 6. Internet access was curbed to prevent further violence, the Indian government said.
Agriculture Minister Narendra Singh Tomar told India's upper house on Friday that farmers were being "misled" and that the government was committed to finding a solution.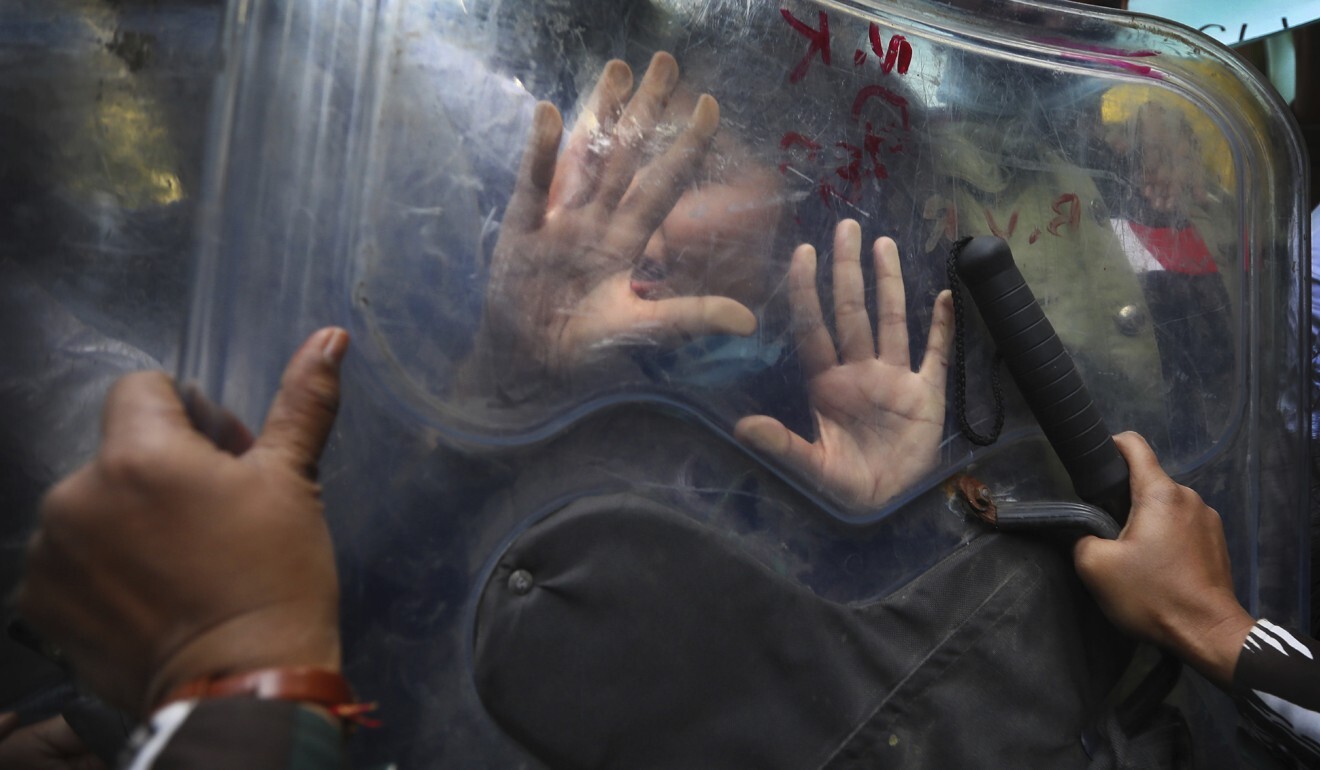 WHAT CAN WE EXPECT NEXT?
The government and farmers' leaders have conducted 11 rounds of talks on the matter. Modi's administration has offered to suspend reforms for 18 months, but protesters are not backing down from their demands that the laws be scrapped.
The Samyukt Kisan Morcha – an umbrella body of over 40 farmers unions – said on Tuesday that talks would only be held when barricades at protest sites are removed and the 115 detained farmers are released.
Modi said last week that his administration's proposal still stands, stating that his agriculture minister "is just one call away" if the farmers wish to take up the offer of suspending reforms.
But on Friday, thousands of farmers rallied in Uttar Pradesh state, India's largest state and a critical battleground in elections, suggesting a growing challenge to the government.
In Bihar state the past week, police issued an order saying those taking part in violent protests would find it difficult to get passports and a host of other government services, Times of India reported. Uttarakhand state followed in kind, saying that anyone who posted messages on social media deemed "anti-national" could be barred from getting a passport.
On Saturday, the farmers planned to blockade highways across the country for three hours to press their demands. The United Nations human rights office called on Indian authorities and protesting farmers to exercise "maximum restraint" during the action.
"The rights to peaceful assembly and expression should be protected both offline and online," it said on Twitter. "It's crucial to find equitable solutions with due respect to #HumanRights for all."
Additional reporting by Bloomberg, Reuters