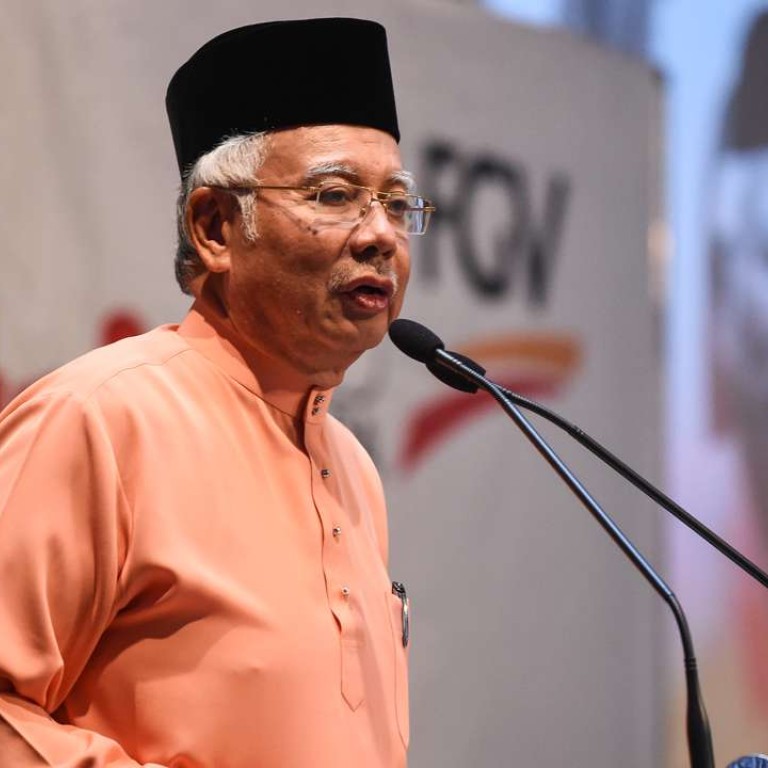 The hidden costs of China's lifeline in the 1MDB scandal
With Malaysia facing long-term repercussions for embracing Chinese money, experts warn prime minister is turning a personal scandal into a national problem
By spending about RM16 billion ringgit (US$4 billion) on troubled Malaysian state investor 1Malaysia Development Berhad (1MDB), China has bought a lot of clout in the corridors of power in this Southeast Asian nation.
Last month's civil suit by US authorities against personalities tied to 1MDB and their assets comes as local leaders worry the global financial scandal will have a deeper impact.
It is not just a question of whether Malaysia's Prime Minister Najib Razak will serve out his term, or whether 1MDB's mammoth debts will be fully repaid.
It is also now the country's shrinking ability to chart independent domestic and foreign policy because of the expensive deals – overt and covert – that will have to be made to resolve the scandal.
Some 1MDB critics also claim it is no coincidence the suit by the US' Department of Justice comes at a time of growing Chinese influence in Najib's administration.
They point to the backdrop of the South China Sea disputes, where Malaysia and other Association of Southeast Asian (Asean) countries are locked in overlapping territorial claims with Beijing, and where the United States wants to maintain its dominance.
The sale of 1MDB's power assets and property in November and December to two separate Chinese firms last year was part of the company's push to raise money to pay the company's debts.
1MDB, which is Najib's brain child and whose advisory board he heads, racked up RM42 billion in debts within five years of operation. A former prime minister, Dr Mahathir Mohamad, described 1MDB as the country's single largest financial scandal and has been campaigning for Najib to resign.
Although Najib has repeatedly denied wrongdoing, the US civil suit pointedly states that US$3.5 billion was "stolen from 1MDB" by its officials and their associates. Of that amount, about
US$1 billion was laundered through the US and used to buy lavish properties, expensive paintings and pay gambling expenses in the US.
China's purchases of 1MDB assets had helped reduce its debts to RM40.4 billion, Najib said in his 2016 New Year's Day address. But at least one deal was controversial.
The sale of 1MDB's power assets to China General Nuclear Power Corp would have breached the limit of foreign ownership rules for local electricity companies.
1MDB critic and opposition law maker Rafizi Ramli had campaigned unsuccessfully to block the sale, claiming that it would threaten local jobs in the energy sector.
"Allowing a foreign company to fully control electricity production operations for a major national power producer has great risk.
"Electricity supply could be disrupted if there are future problems and the increase in tariffs would be based on the interests of these foreign companies," Rafizi said last November.
Another parliamentarian, Wong Chen, said in the end the cabinet allowed an exemption to the foreign equity rules so that the deal could go through.
The government had made an exception because it was desperate to bring in money to pay 1MDB's debts, Wong said.
"There will be long-term geopolitical repercussions for Malaysia because of this intense interest in embracing Chinese money," Wong told This Week in Asia.
The trend of favouring mainland companies over others in large infrastructure projects in the future was likely to continue, said another parliamentarian, Charles Santiago.
The RM50 billion Singapore-Kuala Lumpur High Speed Rail project is another venture that could involve either expertise or money from China, he said.
"The Najib administration had also floated the idea of a nuclear power plant and this too could involve money from China."
In Sarawak, a region that straddles the island of Borneo in East Malaysia, China's pull in Malaysia is already affecting the incomes of local fishermen.
Reports from late last year claimed that Sarawakian fishermen – like their counterparts in Indonesia and the Philippines – had been chased away from their traditional fishing grounds in the Luconia
Shoals by armed Chinese vessels.
In March, the Malaysian Maritime Enforcement Authority (MMEA) had reportedly spotted a fleet of Chinese trawlers fishing in the area.
Malaysia claims the shoals as being in its waters. But unlike Indonesia and the Philippines, it has yet to confront or capture Chinese fishing boats that poach in the area, despite vowing to do so.
Malaysia's low key approach could be due to both China's help with 1MDB and the country's history with the superpower, said Dr Tang Siew Mun, a senior fellow at ISEAS-Yusof Ishak Institute in Singapore.
"Malaysia was the first Asean state to normalise relations with Beijing [in 1974] and it was the current prime minister's father who paved the way for the renewed bilateral relations," Tang said.
"Malaysia's growing dependence on China for not only trade but investment, too, has had a direct impact on its response to the South China Sea disputes."
In June, Malaysia unilaterally released what was supposed to be a joint-Asean statement on disputes in the South China sea after an Asean meeting with China in Kunming ( 昆明 ). However, the statement was retracted hours later, raising eyebrows all-round as to why Malaysia did it – to force Asean's hand or to show China up.
Tang of ISEAS believes China is likely to continue to deploy large-scale fishing fleets to affirm its claims over the sea. This could trigger more friction between the maritime forces and fishing fleets of Malaysia and China.
"This puts pressure on Malaysia to respond to these Chinese intrusions, pitting its political-economic [interests] against strategic interests," said Tang.
In the end, said lawmaker Santiago, "Najib has succeeded in turning his personal scandal into a national problem".
Sheridan Mahavera is a Kuala Lumpur-based journalist