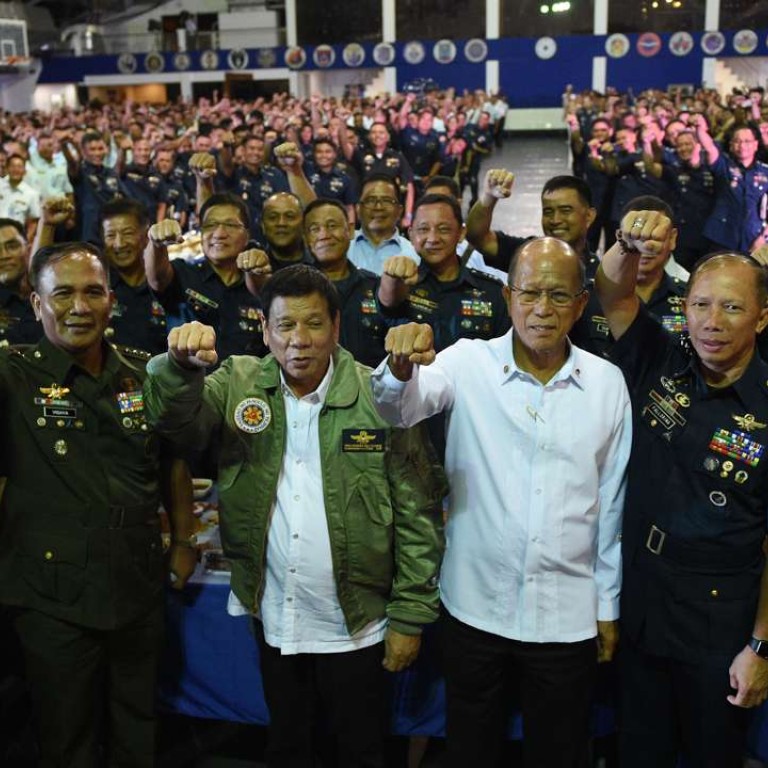 Is Philippine President Duterte playing the United States and China?
This Tuesday, 1,400 US marines and navy servicement will train with 500 Filipino soldiers on Philippine soil, for the final time if President Rodrigo Duterte is to be taken at his word.
"You [the United States] are scheduled to hold war games again which China does not want. I will serve notice to you now, this will be the last military exercise," he said during a visit to Vietnam on September 28.
The military exercises are to be accompanied by humanitarian and engineering projects.
Duterte's statement caught two key cabinet secretaries off guard. "No, no, no, he did not say that at all," Perfecto Yasay, Duterte's foreign secretary, told reporters in Hanoi who had sought clarification.
The next day, the defence department issued this terse statement: "The DND will await further orders from President Rodrigo R. Duterte regarding the [armed forces'] exercises with the US forces. Defence secretary Delfin N. Lorenzana will discuss this with the president to seek more clarification and guidance. As stated earlier, all agreements and treaties with the US are still in effect. As to succeeding exercises, we will have to sit down with our US counterparts to discuss them."
Since the US bases were kicked out of the former US colony 25 years ago, succeeding Philippine presidents have all sought to "normalise" relations with the premiere super power. Joseph Estrada – who had voted as senator to kick out the bases – backed a Visiting Forces Agreement that allowed several hundred US soldiers to be present in the country at any given time. Gloria Macapagal-Arroyo reeled in greater US support by siding with its war on terror. And Benigno Aquino III pushed for an Enhanced Defence Cooperation Agreement enabling the US to set up permanent military structures for their own use inside Philippine military camps.
In March this year, ahead of the presidential polls, both countries identified five military camps for this purpose. Among them was Fort Magsaysay, the biggest army camp used also for training.
But the newly elected President Duterte now appears to have another plan for Fort Magsaysay and a new arrangement with the US. He disclosed last month that China
offered to help him in his "war on drugs"
by building a rehabilitation centre for drug addicts inside Fort Magsaysay.
During the presidential campaign, Duterte had kept his pivot to China and anti-US rhetoric in check. With victory in hand, Duterte cold-shouldered the US ambassador – even calling him "gay" – but warmed up to China's envoy and made approving noises toward Russia's overtures for wider relations.
The sudden sea change from the Philippine president has reaped both admiration and trepidation. Lauro Baja, the Philippines' former permanent representative to the United Nations, doubted Duterte would abandon the country's alliance with the US altogether.
"I don't think so," Baja told This Week in Asia. "He should have more sense ... he should know which side of his bread is buttered." He said among the views that reached him from the presidential palace was that Duterte was using the prospect of closer relations with China and Russia as "a bargaining chip" with the US.
He said the military would probably try to dissuade Duterte from such a move "because the [Philippine armed forces] depend so much on the US for their military hardware and assistance. They have been networking with the US, which they don't have with China or Russia."
Teodoro Locsin, Jr., Duterte's newly-appointed UN permanent representative, was optimistic the US would read beyond the harsh rhetoric because "the Americans are not irrational people. They really study, they think."
The US had reacted mildly to Duterte's move to cozy up to the rival powers by saying it had "no objections if he wants to establish diplomatic relations with Russia and China", noted Locsin, a former congressman who once served as legal counsel and speech-writer for the late President Corazon Aquino.
"When you sit down with American policy makers, they have no idea what their strategic interest [in Asia] is. During the cold war, they were very clear what they wanted – the containment of communism, the spread of free enterprise and free trade in which it was assumed America always had the leading role.
"Now, they don't know."
A stock market analyst said Duterte was playing one superpower against the other. By annoying Washington, Manila would be able to convince Beijing to sit down and perhaps offer infrastructure projects such as a railway in the south. Then, the analyst said, Duterte would "go back to the US and say, what will you offer me?"
He described the situation as a "lover's quarrel" and added: "I'm not convinced he's really going to switch sides. He's just playing them [Americans]." He said the drivers of the Philippine economy were American companies in business process outsourcing.
Over in California, however, lawyer Rodel Rodis who holds dual citizenship found Duterte's unorthodox moves "very worrisome because the pivot [to China] is becoming very clear".
"I think it's real," Rodis, the national president of US Pinoys for Good Governance, said. He cited Duterte's "unprovoked attacks on the US ambassador, his constant referrals to atrocities committed [by the US] more than a hundred years ago".
Rodis's group was recently accused by the presidential palace of plotting to oust Duterte. Rodis denied this to This Week in Asia and said wrong information had reached the palace. He said the group had discussed options from asking Duterte to tone down his anti-US rhetoric to telling him to resign. In the end, they decided to buy Duterte a jet ski "to help him fulfil his campaign pledge to jet ski to Scarborough Shoal to plant a Philippine flag" in defiance of China's efforts to build a fortress there.