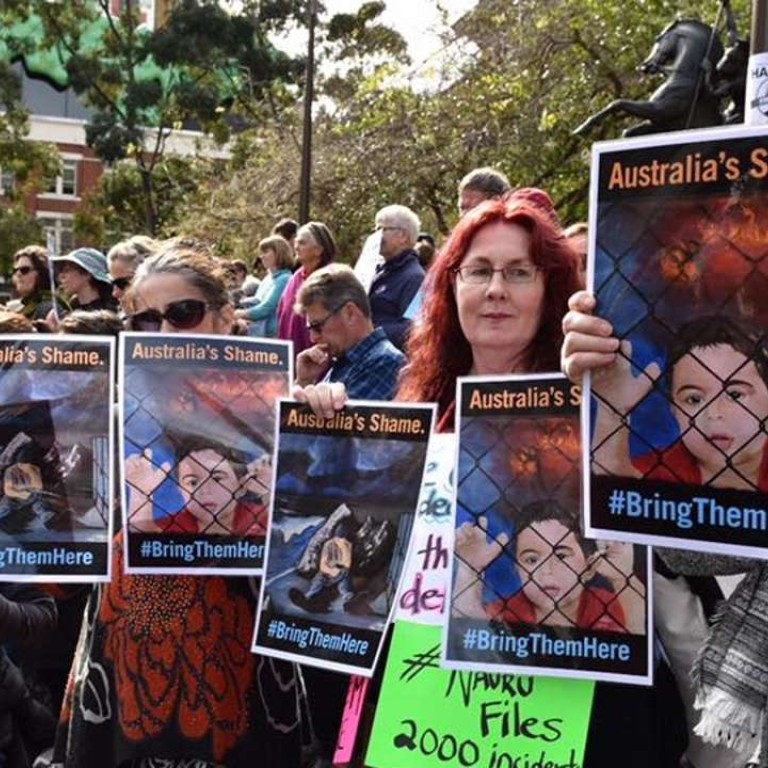 'The madness is eating us alive': inside Australia's asylum camp on Nauru
After two years in what Amnesty International calls an 'open air prison', Iraqi artist Abbas Alaboudi is losing hope
Abbas Alaboudi has stopped painting as the pain of spending more than two years on Nauru has broken his spirit. He is one of the 755 refugees held indefinitely on the island that has become Australia's offshore dumping ground in its deterrence of asylum seekers.
"There's no life or future here," Alaboudi told This Week in Asia from his room outside the detention centre where 442 of his fellow refugees are housed. "We are merely breathing so we don't die on the sea."
Amnesty International
in a scathing report this week described Nauru as an "open air prison" driving refugees to psychological and physical harm with incidents of mutilation, suicide attempts and
self-immolation
arising from overwhelming despair.
Australian Prime Minister Malcolm Turnbull dismissed the report as
"absolutely false"
, instead blaming refugee advocates for the asylum seekers' worsening conditions.
For Alaboudi, a visual artist and plasterer by trade, the political wrangling has become too much and he has retreated to a more solitary existence, preferring to spend time by himself for
fear of violence
from the local population on the island.
The
United Nations
this month condemned Nauru for failing to protect refugee children from sexual abuse. Nauru has banned journalists and human rights monitors from investigating camp abuses, forcing some to go undercover.
"When we see immigration minister Peter Dutton on television it distresses us. We are tired of waiting and we are going insane. The madness is eating us alive," Alaboudi said.
The Iraqi asylum seeker, 27, left Baghdad in July 2013. He cites threats from terrorist groups as motivating the decision, but does not want to name them out of fear for his family's safety.
He travelled to the United Arab Emirates then to Indonesia and from there boarded a small boat with his cousin, 42, after paying a smuggler who promised them safety in Australia more than A$15,000 (HK$89,000).
After four days in the ocean, severely dehydrated and unsure of their fate, they were intercepted by an Australian naval boat.
"The smuggler told me there would be no problems but I did not know that the migration policies had been toughened," said Alaboudi.
Alaboudi's risky journey had coincided with the run-up to a hotly contested election, during which Kevin Rudd, the former Labour prime minister, had
negotiated a deal
with Nauru and Papua New Guinea to process all asylum seekers in offshore centres.
Alaboudi spent eight months on
Christmas Island
, describing his experience as "a prison in all senses of the term". He said detainees faced restricted movement, physical abuse by guards and negligence from companies contracted to operate the detention centre.
In recent months, multinational corporations such as Wilson and
Ferrovial
have been forced to forfeit lucrative contracts to manage the centres after revelations of negligence.
Australia has spent around A$300 million on naval interception turning back boats carrying asylum seekers and about A$3.5 billion on offshore processing in the past four years.
Elaine Pearson
, Human Rights Watch's Australia director, said the policy was "extraordinarily abusive".
"Australia has spent A$1.1 billion on the two camps in Nauru and Manus [Papua New Guinea] servicing just over 2,000 people. That money could be far better spent on improving conditions for the hundreds of thousands in transit countries" she said.
The human rights group, with Amnesty International, last month gathered testimonies of abuse from refugees on Nauru.
Pearson said Australia could contribute to resettlement costs in transit countries in Southeast Asia such as Indonesia and Cambodia, where refugees are not allowed to work and are subject to repeated harassment from authorities.
Australia struck a A$55 million deal with Cambodia to resettle refugees but so far only
one refugee
, from the Rohingya minority in Myanmar, has remained in the country.
Alaboudi was offered a similar choice, which he rebuffed. "Immigration officials told me repeatedly to go to Cambodia or to go back to Iraq. The overall message is that you're not going to Australia and they do it to break your spirit".
With the political turmoil in Syria and Iraq continuing, Australia agreed to accept 12,000 refugees from both countries to its humanitarian programme in September last year but Alaboudi is not eligible.
Demonstrators in Australia held paintings by Alaboudi in August this year during nationwide protests urging the government to end offshore detention of refugees.
Alaboudi was heartened by this use of his canvases, which depict the conditions faced by refugees, such as a child behind bars and a portrait of
Omid Masoumali
, an Iranian who burnt himself alive on Nauru in May.
"I want to live like any normal person," said Alaboudi. "Life here is absurd and abnormal."
With
pressure
mounting on Australia to rethink its outsourcing of refugee resettlement, Human Rights Watch's Pearson said the Turnbull government should end the policy "immediately".
"Australia's experiment with offshore detention and resettlement shows it is extremely harmful to asylum seekers and refugees," Pearson said.
Alaboudi is pessimistic about the chances of a policy change any time soon. He celebrated his twenty-seventh birthday surrounded by other refugees on the island last month.
"I am getting older by the day but my life is slipping away," he said.
Farid Farid is an Australian journalist based between Cairo and Berlin. Follow him on Twitter: @FaridYFarid