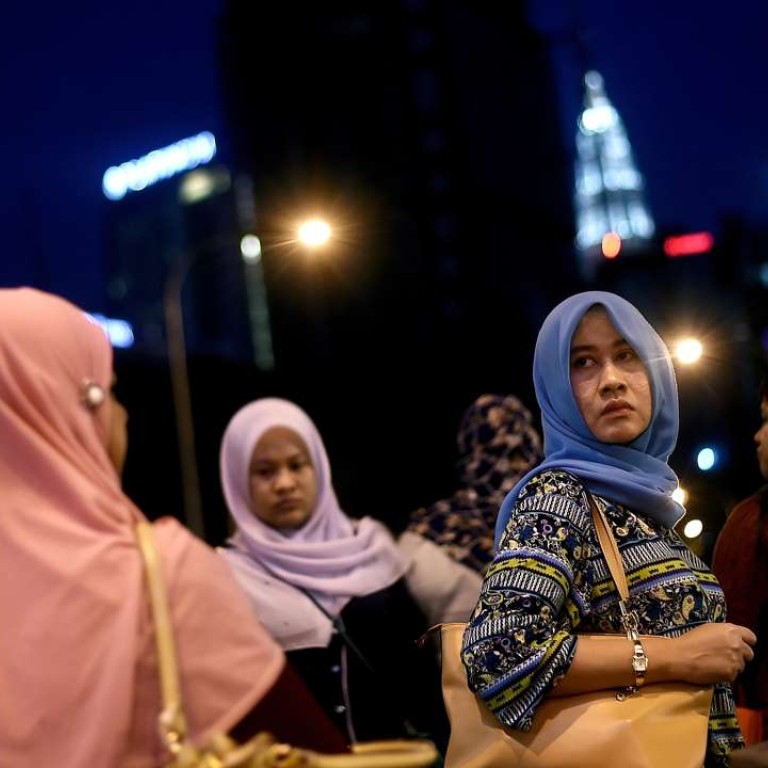 Malaysia's economy just got a US$33 billion boost from China... so why the unhappiness?
Deals by PM Najib have stoked resentment of Chinese influence among ethnic Malays, but they could be among the big winners if they play their cards right
The rumblings of discontent started before Malaysian Prime Minister Najib Razak had even set foot back on home soil.
While some of his countrymen saw his recent visit to China as a groundbreaking feat that would boost the nation's flagging economy – he did, after all, secure deals worth RM144 billion (HK$258 billion) – others, in particular the country's opposition parties, accused him of selling Malaysia's sovereignty and compromising its territorial claims in the South China Sea, where the two countries are in dispute.
Businessmen complained they could be overwhelmed by cash-rich Chinese companies, stoking discontent among ethnic Malays – the two-thirds of the population known as the bumiputra or sons of the soil.
Many bumiputra already resent Chinese influence, despite enjoying special privileges over Chinese Malaysians in university admissions, scholarships and civil service jobs under affirmative action policies enshrined in the country's constitution.
"Obviously it will create resentment. The majority in this country already feels provoked by the Malaysian Chinese and their grasp of the economy," said a young ethnic Malay entrepreneur.
But any such resentment may not be universal . Some analysts expect members of the Umno ruling party, who have complained about potentially losing business to the Chinese, to actually benefit from Beijing's largesse.
"Yes, there is resentment among Umno leaders with regards to the deals, but again these are the same leaders that will benefit through contracts from the projects and other means," Asrul Hadi Abdullah Sani, an analyst with risk consultancy BowerGroupAsia said.
But businessmen and bankers dealing with mainland Chinese investors say Malaysia's ethnic Chinese may not turn out to be the prime beneficiaries of Najib's deals.
"China's first preference for business partnership is with government-linked companies. There will be plenty of opportunities there for Malay entrepreneurs," said one investment banker.
Tan Yew Sing, president of the Malaysia-China Chamber of Commerce, said Chinese investors were pragmatic and did not take ethnicity into account when doing business. "Besides, there is no pure Chinese company in Malaysia. Every company here has around 30 per cent Malay partnership," Tan said.
Indeed, one ethnic Malay businessman in the property sector said mainland Chinese may even be more keen to partner Malay entrepreneurs as some felt Malaysian Chinese were arrogant and "looked down" on them as "nouveau riche and low class people".
The Chamber of Commerce said such attitudes were not the norm, but acknowledged mainland Chinese might be inclined to partner Malay entrepreneurs with their better government connections.
Furthermore, some Malaysian Chinese who had invested in mainland China had suffered contractual and other disputes, making them more cautious.
"Malay entrepreneurs, as this is their first time working with mainland Chinese investors, may be more open without preset ideas. So mainland Chinese investors may find it easier working with them," said the chamber's Tan.
Many analysts were upbeat about growing links with China, Malaysia's largest trading partner for the past seven years. Trade between the countries hit US$55.7 billion in 2015.
"I don't think it is fair to claim that Najib is selling the country … it will be positive for Malaysia's growth prospects, especially with the proposed East Coast Rail Line, which will bring development to the eastern peninsular states, and the much needed power boost in Sabah from the Trans Sabah Gas Pipeline," said Asrul .
Others felt Malaysia had few options but to turn to China, as funding from the West was drying up. "It's not as if [Malaysia] has a lot of choices when it comes to fresh sources of FDI [Foreign Direct Investment] or trade or even favourable foreign loans nowadays. The harsh fact is that countries in the West are not able to put up any of these nowadays, as their own economies are in the doldrums," said Oh Ei Sun, senior fellow at the S. Rajaratnam School of International Studies in Singapore. "Even previously antagonistic Asean countries, such as Vietnam and the Philippines, are availing themselves of this Chinese largesse, so why not Malaysia, which has maintained steady and productive relations with China over the years?" Oh added.
Still, some young entrepreneurs in the digital economy, while welcoming foreign investment, feared China's giant fintech companies would dominate.
"Foreign investment is always welcome. I believe it will help in exposing local businesses to the needs of demanding Chinese investors especially in manufacturing and lately, the digital economy," said Fazil Fuad, the 28-year-old CEO of C27, a digital innovation agency. Fazil hoped the government deals would be transparent so local entrepreneurs could "leverage" Chinese investment. "China is one of the world's economic powerhouses and the benefits we can reap are almost limitless – as long as the interests of local businesses are protected and policies written to ensure financial fair play and access to capital to compete."
A Malaysian government spokesman said Chinese FDI would boost all segments of society. "While some have tried to make political capital at the expense of these agreements, there is no question of Malaysian sovereignty being eroded in any way ... [projects] will remain owned by Malaysia and operated by Malaysians. FDI from any destination in no way affects the rights and protection of the bumiputra, whose development will always be a priority for the government. [Neither will it affect] the equitable and inclusive distribution of the fruits of the country's growth to all its citizens.
While the initial rumblings of too much cosying up to China can be managed and the economic benefits be evenly spread, the underlying reality of race cannot be ignored, said observers. If the situation is not well-managed, ethnic Chinese, who make up a quarter of Malaysia's population of 31 million, could end up being on the receiving end.
"With the increased racial rhetoric in Malaysian politics and deep rooted distrust of the Chinese, this could be a problem in the future," Asrul said.