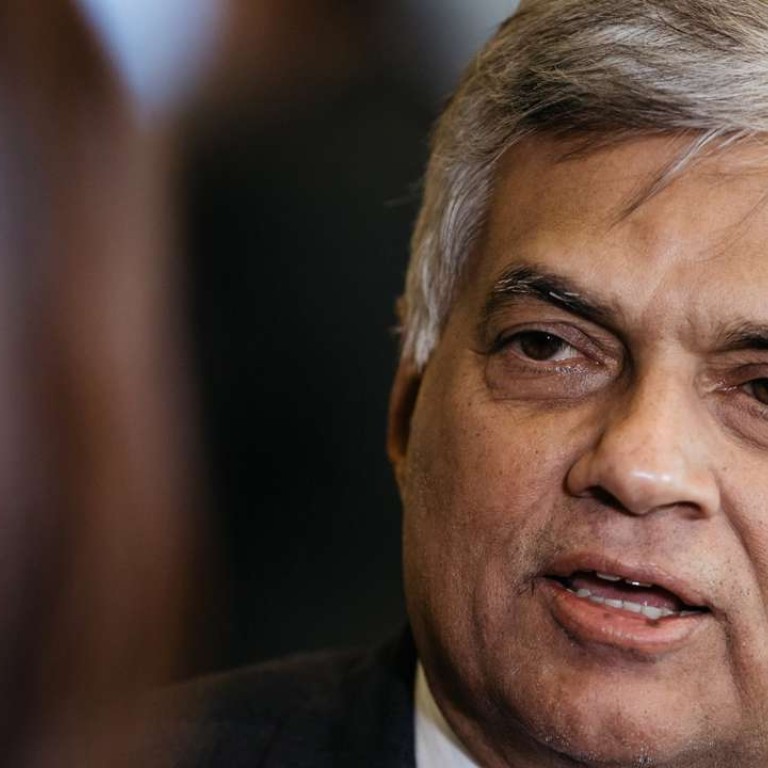 Exclusive: How China-Sri Lanka relations are getting new wings
Sri Lanka will buy more military transport planes from China and seek its help in transforming its failed Hambantota port into a hub comparable with Shenzhen, Prime Minister Ranil Wickremesinghe told This Week in Asia in an exclusive interview.
"I have travelled around in some of the Chinese transport planes we have. They are good workhorses. Some people have raised questions about their quality but I have always said, 'Look, as far as I am concerned, I will always underwrite Chinese military transport planes'. We will buy two more," Wickremesinghe said.
China's newly developed Xian Y-20 would be in contention if Sri Lanka is looking to buy more Chinese military transport craft, making it one of the first countries outside China to get the new plane. That would mark a new high for Sino-Sri Lankan relations that have been on the mend since Wickremesinghe's government put the brakes on big-ticket Chinese projects soon after it came to power ousting pro-China president Mahinda Rajapaksa in January last year.
"Logically it makes sense for Sri Lanka to buy strategic transport aircraft because the old ones are not serviceable in a cost-effective manner," said IHS Jane's aerospace analyst Ben Moores, but added it wouldn't come cheap.
Codenamed "Kunpeng" after a mythical Chinese bird, Y-20 makes China the third nation after Russia and the United States to design and develop its own heavy military transport aircraft. It is the largest military aircraft currently in production and the first cargo aircraft to use 3D printing technology. It was officially inducted into service by the People's Liberation Army Air Force in July.
"The only thing is getting the US federal aviation clearance, without which there might be insurance issues for Western tourists. Since our airports have excess capacity, we will try to get dual-use military planes that can also carry tourists. We are talking to the Chinese to see if we can get planes that can conform to these norms," Wickremesinghe said.
The prime minister, however, wouldn't let on which way he is swinging with fighter jets. Colombo was expected to sign a deal to purchase up to 12 JF-17s co-developed by Pakistan and China in January. The deal was cancelled after intense diplomatic manoeuvres by India, which has been trying to sell its own Tejas to the strategically located Indian Ocean island nation.
"China, India, Sweden and Russia have made offers, we are studying them," he said.
India had been concerned about an increasing Chinese presence in Sri Lanka since two Chinese submarine calls in Colombo last year. The incident was the final straw in India's relations with Rajapaksa, whose China tilt had strained his ties with New Delhi, which worked behind the scenes to unite a fractured opposition and pave the way for the unity government of President Maithripala Sirisena and Prime Minister Wickremesinghe.
The new government set out by putting on hold several projects it saw as Rajapaksa's white elephants bankrolled by China. But need for Chinese investments and a crushing debt burden – created partly by billions of dollars of Chinese loans for infrastructure projects – has softened the government's initial anti-Chinese stance.
Work on US$1.4 billion Colombo Port City, a development project off Colombo, among the first projects the government pulled, recently resumed after protracted negotiations. "There is no financial hub between Singapore and Dubai. Colombo Port City will fill that void," Wickremesinghe said.
The government has also decided to give 80 per cent of Hambantota deep sea port on a Hong Kong-style 99-year lease to China Merchants Holdings for US$1.1 billion. Built and financed by the Chinese, this US$1.5 billion port has been a commercial failure, getting hardly any ships.
For the Chinese, Hambantota and a Colombo port terminal, also built by China Merchants, are among the main attractions of Sri Lanka – which sits bang in middle of the principal east-west sea lines of communication connecting China to the main oil exporters in the Middle East and Africa. That makes Sri Lanka a key component of China's 'One Belt, One Road' strategy of integrating the regional economy through infrastructure development.
Leasing the port, which alone has been costing US$147 million a year in debt repayment, will help ease the external debt load of US$64.9 billion. Sri Lanka's foreign debt soared from 36 per cent of GDP in 2010 to 94 per cent last year. Debt repayment is sucking up around 95 per cent of all government revenue, with a third of all earnings estimated to be servicing Chinese debt. As a result, Sri Lanka recently had to resort to a US$1.5 billion IMF bailout.
Wickremesinghe, however, believes he can make Hambantota work – as well as Shenzhen, in fact. "When we took over, the port couldn't even meet the recurring expenses, let alone debt repayment. We had a long discussion with the Chinese government over turning around this white elephant. A plan was drawn up for the industrialisation of Hambantota, including freeing up to 50 sq km of land for an industrial estate for Chinese companies. The Chinese side proposed a refinery, an LNG and cement plant, and a dockyard. China Merchants has asked for land to develop backward logistics as they have done in Shenzhen," he said.
But surely Hambantota, in the southern tip of Sri Lanka and in one of the most backward areas of the country, cannot match Shenzhen's locational advantage?
"Why not? I had been to Shenzhen in 1979, it was a paddy field. I was travelling by train from Canton [Guangzhou] to Hong Kong. I went there again in 1987 and saw how it had transformed from a small fishing village. I must say Hambantota today is more developed than Shenzhen in 1979." ■