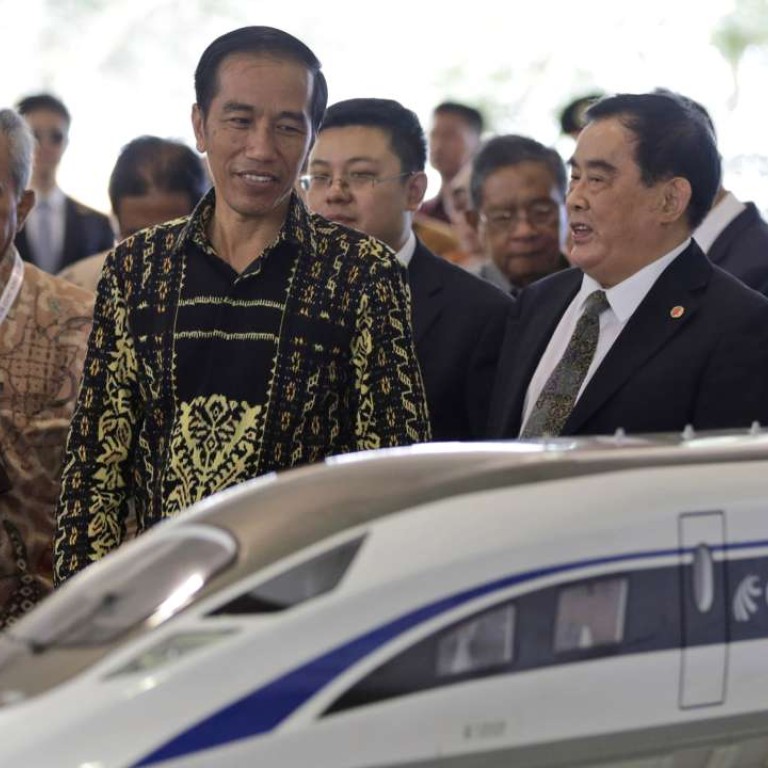 Why does Indonesia cling to its plagued Chinese infrastructure projects?
Shelved high-speed rail line just another project that ran aground on litany of problems
China's signature US$5.1 billion Jakarta-Bandung high-speed rail project has been shelved for now. But Chinese infrastructure developers are still taking a dominant position in Indonesia's ambitious 35,000MW electricity expansion.
That's surprising, given the disastrous 10,000-megawatt (MW) "crash" power programme, which finished years behind schedule and left state-run power supplier PLN with serious maintenance and performance issues.
The crash programme started under the previous Susilo Bambang Yudhoyono administration was aimed at averting a coming power crisis. Chinese-led consortiums built all but one of the largest coal plants using lo-tech boilers and second-hand equipment.
Foreign independent power producers normally build, own and operate their state-of-the-art plants. But the Chinese simply walked away once the stations were finished.
During his first visit to Beijing for the November 2014 Asia-Pacific Economic Cooperation summit, President Joko Widodo pressed the Chinese to clean up the mess.
They reportedly agreed to send engineers to fix some of the problems with the nine stations on Java, which were running at far below capacity. But that never happened. By mid-2016 only 7,000MW were operating efficiently.
But anyone who thought that would be the end of Chinese involvement in Indonesian infrastructure projects was badly mistaken. Pushed all the way by Widodo himself, the high-speed rail project was meant to herald Indonesia's first venture into new-age transportation.
There was a ground-breaking ceremony in January, but it has yet to get off the ground, battered by everything from financial, environmental and land issues to the project's viability.
Rail experts say the proposed train's 350km/h speed, and four planned stops, make little sense over the relatively short 143km distance.
In the meantime, as many as five new power station projects, either under construction or on the drawing board, have been awarded to Chinese bidders as part of Widodo's new expansion.
Money talks, and China has plenty of it. But discarding the collusive practices which critics said contributed to past problems, PLN has tried to improve arrangements.
This time, most of the new stations will be operated by the developers. That will force them to meet required standards, presumably using the super-critical boilers missing from the previous programme, and which are the norm in power development.
When the Chinese bid for the earlier plants, they convinced Jakarta there would be no problem raising cash from their own state banks. But once they had won the contracts, it was a different story.
And, despite Indonesia's soaring unemployment, most of the sites used imported Chinese workers.
The decision to go with the Chinese was based on China's proven ability to meet its own high demand for power, essentially by sacrificing good preparation for speed and decisiveness.
There was an open tender process, but the playing field was tilted sharply in favour of the Chinese companies, which eventually won contracts for nine out of the 10 plants to be built across Java.
Japanese, South Korean and European consortiums couldn't compete with Chinese willingness to build the 600MW plants at the indicative price of US$700,000 per megawatt – about 30 per cent lower than the normal price – and finish the jobs in three years.
And Chinese bids were supported by the political muscle of Vice-President Jusuf Kalla and then chief economic minister Aburizal Bakrie.
This fast-track programme was meant to bring 25 per cent of the 44,000MW in national power generation targeted for 2014. Instead, in a 2015 study, the head of Indonesia's Chinese Studies Centre, Natalia Soebagjo, described it as a "nightmare" for PLN executives.
An independent audit was never made public, but people who read it say it was a damning indictment of the whole process.
Among the mountain of mistakes was a mismatch between the type of boilers that were being used and the calorific value of the Indonesian-supplied coal.
Far from enhancing China's image and appeal, Soebagjo said the whole experience had made PLN managers wary of dealing with Chinese companies.
An international board member of Transparency International, Soebagjo asked: "Is China providing development aid or concessional loans to Indonesia as a partner, or is it just maximising a good business opportunity to export its goods and services?" ■