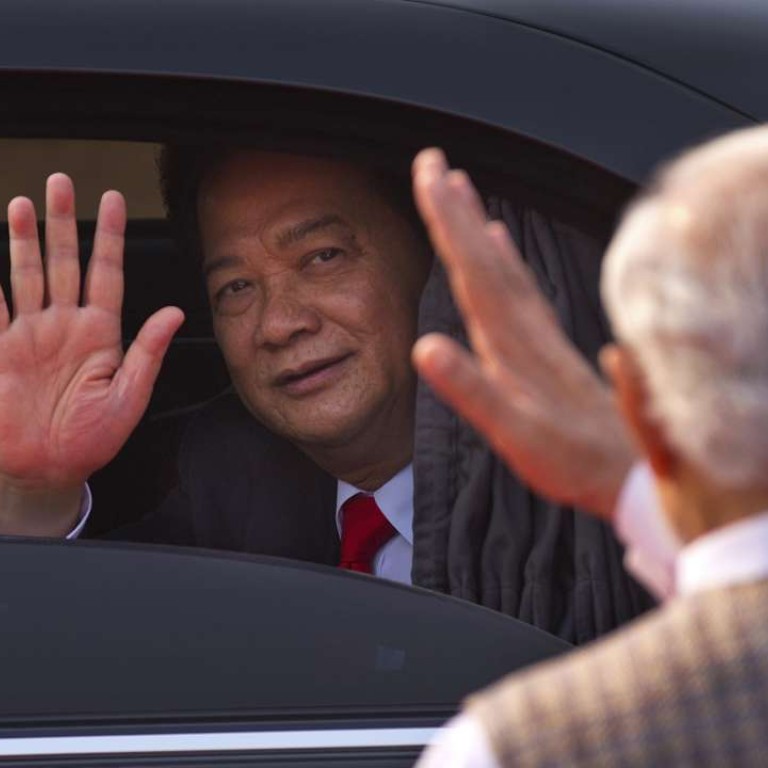 Why is India risking Chinese anger by trying to sell missiles to Vietnam?
Beijing does not intend to just 'sit with arms crossed' over a proposal that would deepen ties between Delhi and Hanoi
SIGNALLING CLOSER TIES between the two nations, India and Vietnam are discussing the sale of the Akash missile system to the Southeast Asian nation. And China is officially not happy about it.
The fast-evolving relationship between Vietnam and India drew Beijing's ire this week via the government mouthpiece Global Times, which described the Indian arms sale as "stirring up trouble", and said China would "hardly sit with its arms crossed".
In the past, China has barely sniffed at the notion that the relationship between India and Vietnam is any real threat.
Vietnam and India share a friendly history and have been engaged in trade and other forms of cooperation for a decade. But the missile sale, which may be designed to guard against an aggressive China defence, signals just how quickly it is becoming one of the region's stronger partnerships.
Vietnam's rationale is simple, according to Murray Hiebert, deputy director of the Southeast Asia programme at the Centre for Strategic and International Studies in Washington.
"Vietnam knows it can never stand up to China, but it figures it can inflict more damage on China if it bolsters its weapons hardware a bit more. And India, with its long-time strong relations with Vietnam, is a very willing partner," he told This Week in Asia.
The Akash surface-to-air missile has a 25km range capable of targeting airborne vehicles – from drones to helicopters. It is one of a number of weapons India is planning to sell to Vietnam.
Both India and Vietnam share strategic concerns over China and wish to see a resolution to South China Sea sovereignty disputes. India has oil exploration operations in Vietnam-claimed areas of the sea. The two countries also have joint-exploration plans.
Professor
Rajaram Panda
, the Indian Council for Cultural Relations chair on Indian studies at Reitaku University in Japan, said: "It is obvious that both see China as the common perceived threat. China's increasing belligerence and assertiveness on regional issues is also driving smaller states to reach an understanding on how to cope with China's rise. China's claim that its rise is peaceful is disputed because of its actions."
Vietnam and India signed a strategic partnership in 2007 which included a Memorandum of Understanding on defence cooperation. In September, Indian Prime Minister Narendra Modi visited Vietnam, and both nations elevated their ties to a comprehensive strategic partnership, placing India into Vietnam's diplomatic top tier alongside Russia and China.
There is a strong defence component in this new partnership, which builds on previous efforts. The Joint Vision Statement issued at the time covered not just education, but space exploration, including satellites over the South China Sea, and sea patrols. A US$500 million (HK$3.8 billion) line of defence credit was another component, up from US$100 million in 2014.
India has committed to help train Vietnamese fighter pilots on Russian-made Sukhoi Su-30 jets and submariners on Russian Kilo-class vessels, which both countries operate. In addition to the Akash missile system, India is also considering the sale of a new generation of the BrahMos short-range missile system, which is being co-developed by an India-Russia joint venture and requires the partnering nation's approval, and Varunastra torpedoes for use on the Kilo-class subs.
During a visit from Vietnam's then-Prime Minister Nguyen Tan Dung in 2014, Modi said: "our defence cooperation with Vietnam is among our most important ones".
Hiebert said the countries' "close ties... date back to the old days of Ho Chi Minh and Nehru", and when India was the only non-Soviet country to recognise Vietnam's regime in Cambodia. Now, both history and "India's willingness to become a comprehensive strategic partner" were key factors.
The
supersonic
Akash is an almost entirely Indian designed and built weapon – 96 per cent, according to a
Times of India
report. It was developed by Bharat Dynamics Limited, a 47-year-old company under the control of India's Ministry of Defence.
But India has not only been ramping up its foreign ties – it has also been increasing its weapons exports. The country has long been a top importer, but its new ambition is to export – targeting US$2 billion in revenue in coming years.
In July, energy and securities analyst Saurav Jha said: "Overall, India is likely to focus on a few key defence partners with which it has maximum strategic congruence for building up its position in the global defence market."
Vietnam is certainly that, both strategically important and a keen arms customer. It was the world's eighth largest weapons importer from 2011-2015, according to the Stockholm International Peace Research Institute. And then in May last year, US President Barrack Obama lifted a decades-old arms embargo on the Southeast Asian nation.
China has undoubtedly played a role in driving India and Vietnam closer together in recent years. But China is also Vietnam's highest-level partner. In fact, Vietnam's General Secretary Nguyen Phu Trong this week met with Chinese President Xi Jinping in Beijing.
China's angry reaction this time is possibly understandable. While an increase in ties, oil exploration or even satellites was irritating, none posed the immediate threat of a missile. And it seems the Global Times, often described as a mouthpiece for China's more hawkish elements, has changed its view accordingly. Last February, the paper wrote: "Indo-Vietnamese relations are never a major concern for China." But with a missile, they now are. ■