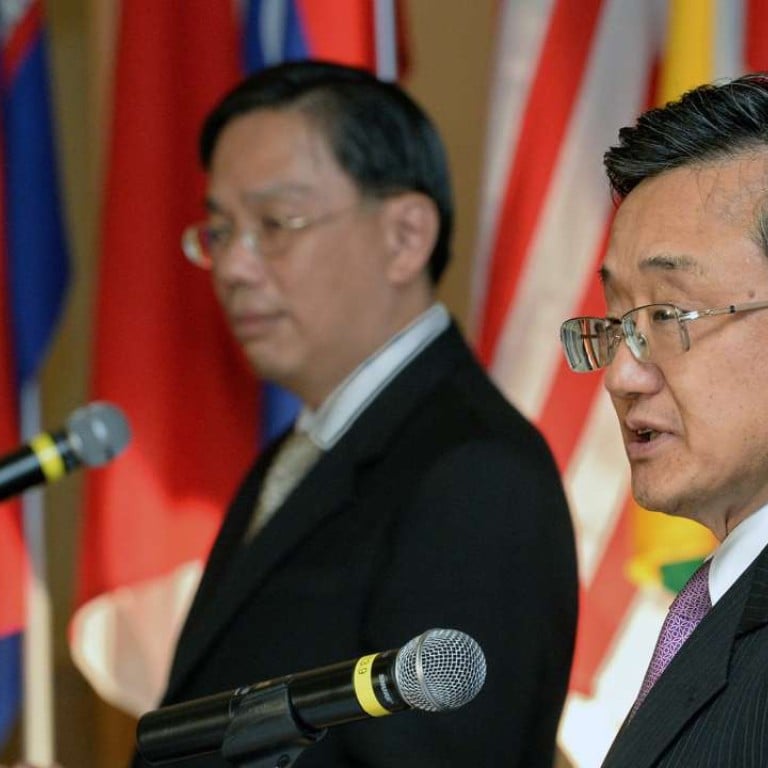 Are China-Singapore relations about to thaw?
Prospect of talks in Year of the Rooster raises hopes of a breakthrough in relations, even if disputes over armoured vehicles in Hong Kong and military exercises in Taiwan remain
Singapore and China, at odds over the prolonged detention of the city state's armoured vehicles in Hong Kong, may find themselves clawing out of their diplomatic low point early on in the Year of the Rooster, analysts say, after the two countries announced that high-level talks would be held in February.
Foreign policy experts say bilateral ties look likely to thaw sooner rather than later after Chinese Vice-Foreign Minister Liu Zhenmin's ( 劉振民 ) visit to the island republic this week for a scheduled meeting with its foreign policy bureaucrats.
In a statement about the ministry-level meeting, Singapore said the Joint Council for Bilateral Cooperation (JCBC) – an annual bilateral forum featuring both countries' deputy premiers – would take place next month.
Photographs of Tuesday's meeting between Liu and Chee Wee Kiong, permanent secretary of Singapore's foreign ministry, showed the two men and other officials tossing the "yu sheng" prosperity salad to mark the Lunar New Year.
"The meetings between Singaporean and Chinese officials that took place this week, together with the announcement that the JCBC will meet next month, is a clear signal that the [armoured vehicles] issue is not a roadblock to expanding cooperation between the two countries," said Ian Storey, an international relations researcher at Singapore's ISEAS-Yusof Ishak Institute.
The Singaporean statement said Liu and Chee had discussed various bilateral initiatives, but it did not mention the November 23 seizure of the nine Terrex armoured vehicles by Hong Kong customs. A separate China-Singapore Forum on Leadership is scheduled for later this year.
Singapore's foreign ministry did not immediately respond to queries about where and when the JCBC would be held. The annual event had been held every year since 2004 until last year – leading to some speculation that it had been suspended amid strained bilateral ties. The last edition in 2015 was co-chaired by Singapore's Deputy Prime Minister Teo Chee Hean and Chinese Vice-Premier Zhang Gaoli (
張高麗
).
Apart from the impasse over the impounded vehicles, Singapore last year reportedly angered China because of its refusal to side with Beijing in the South China Sea territorial dispute.
Chinese foreign ministry spokeswoman Hua Chunying said the Tuesday meeting had "nothing to do with the armoured vehicles", and repeated the official position that Hong Kong officials – and not mainland authorities – were handling the issue.
Still, experts saw a silver lining in the developments, which came just days before the two-month mark of the vehicle seizures.
"That the [JCBC] will take place next month itself suggests the warming – or at least climbing out of the bottom – of the relationship," said Feng Zhang, an adjunct professor at the National Institute for South China Sea Studies in China. "I expect the [armoured vehicles] issue to be resolved around the same time as the meeting is taking place," he said.
Feng said Liu's participation in the Singapore meeting this week was also noteworthy. "He's certainly senior enough to re-inject momentum into the China-Singapore relationship," Feng said.
The veteran diplomat in August last year publicly told Singapore to stay out of the South China Sea dispute. In the aftermath of the international tribunal ruling on the dispute that largely went against Beijing, Singapore Prime Minister Lee Hsien Loong said for small states, "it is much better to have an arbitration and adjudication based on acknowledged principles than to fight it out and see whose guns are more powerful". That stance went against China's position that the ruling was "illegal and invalid".
Apart from differing positions on the long-running territorial dispute, observers said the talks in February were unlikely to resolve another major sticking point in bilateral ties – Singapore's military ties with Taiwan.
The nine Singaporean armoured vehicles were detained in Hong Kong's Kwai Tsing Container Terminal en route from Taiwan after being used in military exercises there. Beijing has routinely denounced Singapore's practice of conducting military exercises in Taiwan, which it regards as a renegade province. The land-scarce city state in turn says that overseas training in places like Taiwan is vital to keep its military operationally ready. It also holds military exercises in other places including the US, Germany, India, Australia, Brunei and Thailand. China has previously offered Singapore's military the use of parts of Hainan ( 海南 ) island as an alternative to Taiwan.
One expert said the high-level meeting would not resolve the impasse over Taiwan.
"Unfortunately, I don't believe Singapore-China ties depend on meetings anymore, if they ever did," said Chung Chien-peng, a professor of politics at Hong Kong's Lingnan University.
"The Terrex saga is about China wanting Singapore to drop all military contacts with Taiwan immediately, or give a timetable to do so," he said. "In this matter, only one side can emerge as the winner."
Feng, the Chinese researcher, said the opposite was true, as the Chinese government was going all out to consolidate ties with friendly neighbours.
Incoming US President Donald Trump's plans to take a more confrontational stance with Beijing would "prompt China to seek more support from friendly Asean neighbours," he said, referring to the 10-nation Association of Southeast Asian Nations.
The bloc marks the 50th year of its founding this year. Asean+3, a forum involving the 10 countries plus China, Japan and South Korea, marks its 20th anniversary this year.
"China is planning some activities to commemorate these anniversaries and generate new momentum for East Asian cooperation," Feng said.
"So restoring the relationship with Singapore to normal makes sense." ■