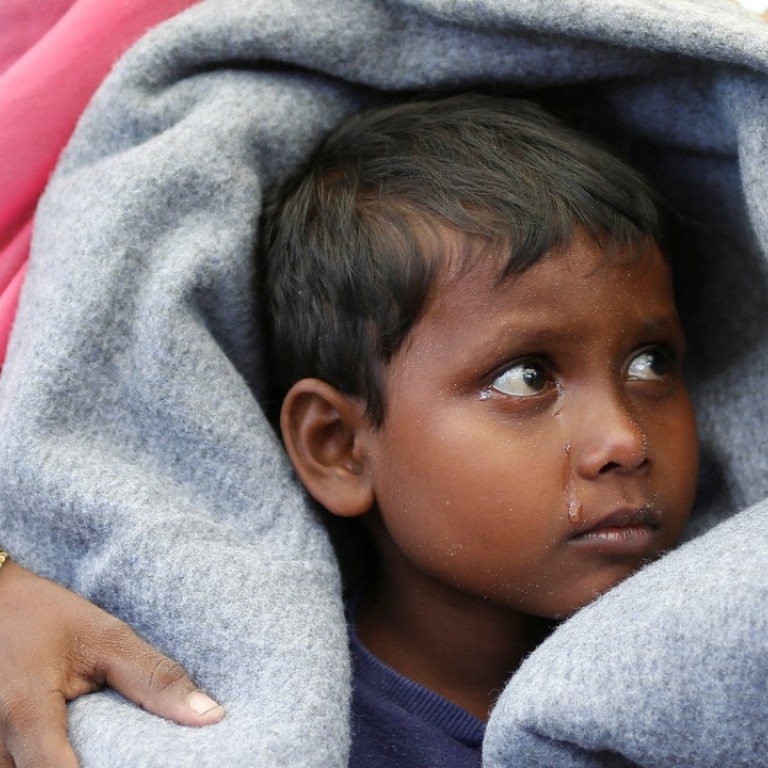 Tibetans to Sri Lankans, India welcomed all. Why not Rohingya Muslims?
Both China and India may be soft-pedalling Myanmar's genocide out of geopolitical interests. But that doesn't explain Delhi's selective rejection of the region's most vulnerable refugees
The blank stare of Mohammad Hussain speaks of a thousand persecutions.
One afternoon in late September, when the 51-year-old
Rohingya
imam was visiting an adjoining village in his native Maungdaw district of Myanmar's Rakhine state, he heard soldiers were heading to his village. He knew right away it was futile to go back to save his family. It was all up to Allah now. Ever since a militant Rohingya group attacked border security posts the previous month, the Myanmese military had hit back with a ruthless "clearance operation", laying to waste hundreds of Rohingya villages.
So, like more than 600,000 Rohingya before and after him, Hussain fled north to Bangladesh, trekking through the forests for two days to reach Cox's Bazar district, just across the border. After a couple of months at a refugee camp there, a friend helped him reach New Delhi, the Indian capital, where he now teaches Arabic at a small Rohingya settlement in the city's outskirts.
Hussain later learnt that two of his seven sons survived the carnage that night. There's no news of his other sons, his two daughters, or his wife and sister. In what the United Nations is calling a "textbook example of ethnic cleansing" by Myanmar troops, human rights investigators are reporting massacres on a scale not seen since the Rwandan and Bosnian genocides of the 1990s.
Amnesty International has detailed accounts of how soldiers have killed men and boys, raped women, torched Rohingya homes and villages, and burned people to death. Human Rights Watch says most Rohingya women and girls it met at refugee camps had been gang-raped. And those lucky enough to escape the military's wrath faced landmines, human traffickers, organ harvesters and forced prostitution as they fled.
"Anything might have happened to them," says Hussain, staring vacantly into space. His voice is strangely calm, only the resigned stillness in his eyes betraying a pain dulled by the endless imaginings of what might have happened. I'm relieved he is not making eye contact, as I struggle to block out the mental images of the possible fates his family met that night. Or after, if they made it out alive.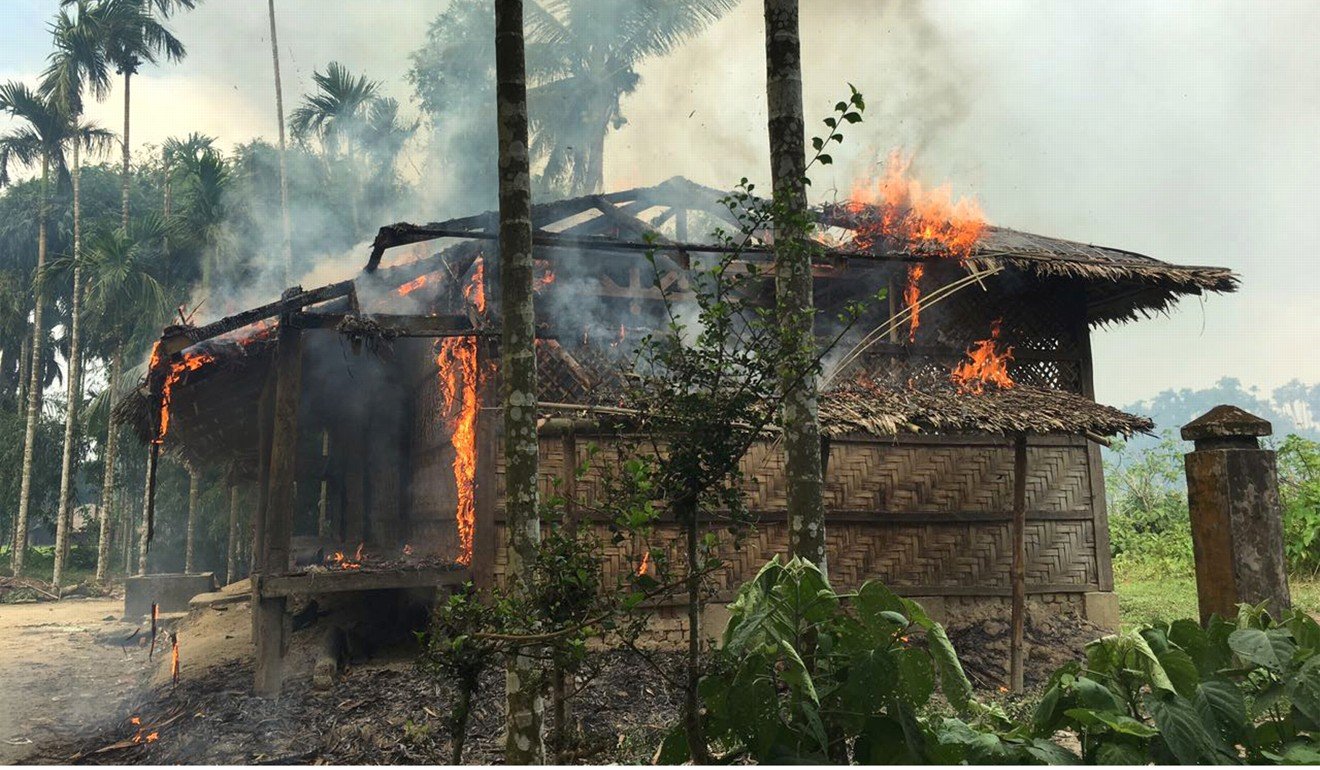 It's the after that troubles Hussain's host government the most. India is helping Bangladesh with relief material for the refugees but doesn't want any Rohingya on its soil. For Delhi, Hussain is less a traumatised refugee in need of succour and more a potential jihadi. It wants to send all Rohingya in India back to Myanmar. For Hussain, that means certain death. "They will kill us if we are sent back, don't know what fate has in store for us," he says. It's all up to Allah now.
Over the past decade, long before the latest military crackdown began, the Rohingya have been trickling into India, fleeing army excesses in Myanmar, where the 1 million minority Rohingya population, mostly in Rakhine, have faced discrimination for generations and been denied citizenship rights as they are seen as Bengali settlers rather than Myanmese. The Indian government claims there are an estimated 40,000 Rohingya in India.
In August, the Indian government announced it was planning to deport all of them, including the 17,000 Rohingya recognised as refugees by the UN. The following month it told the country's Supreme Court that the Rohingya posed "serious national security ramifications and threat" and it had proof that some of them had links with Pakistan-based terror groups and Islamic State. It also maintains the principle of non-refoulement that prohibits countries from sending back refugees to a country where they might be persecuted, does not apply to India as it is not a signatory to the UN Refugee Convention. But rights groups argue that non-refoulement is binding on all countries.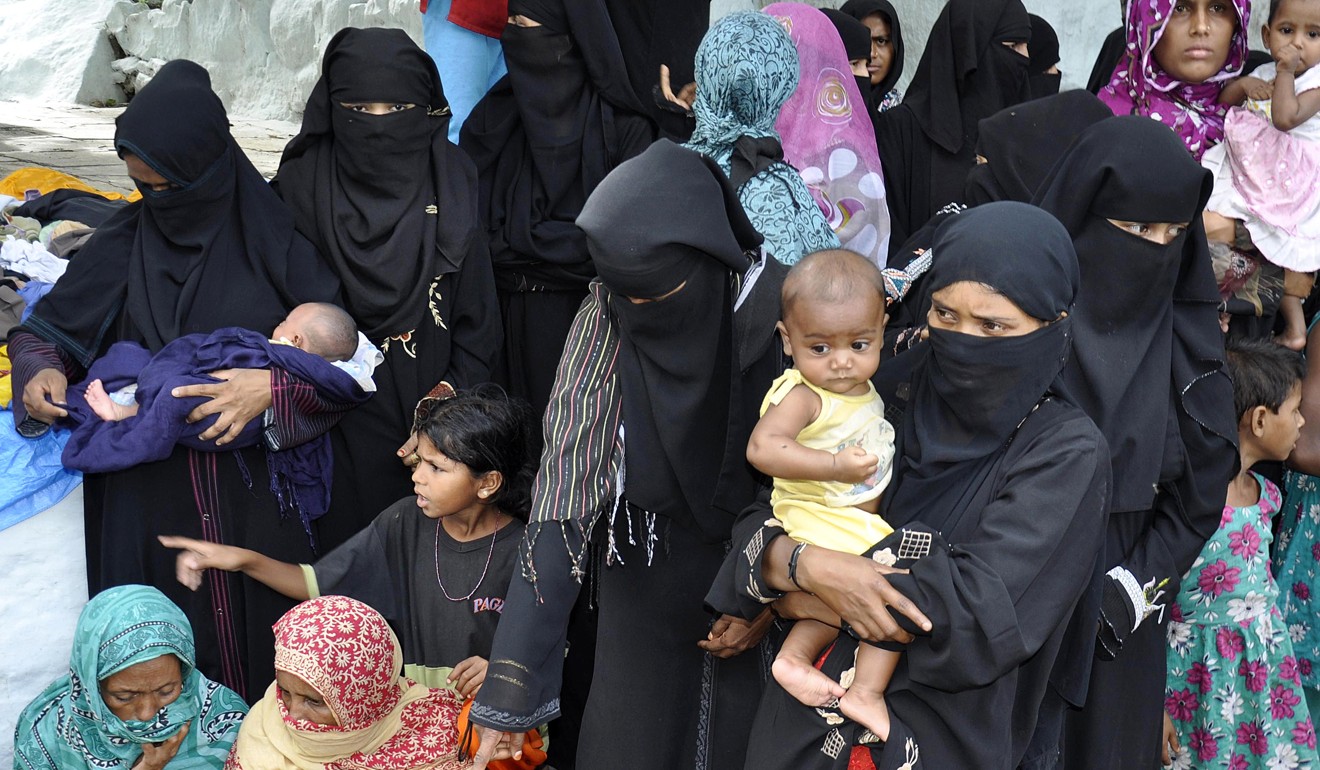 Forced repatriation could also be difficult since most Rohingya are essentially stateless, as they are not recognised as citizens at home. The Supreme Court has said the government needs to strike a balance between national security and human rights, and that no Rohingya should be deported till the next hearing. The court will hear the case again this Tuesday.
When Indian Prime Minister Narendra Modi visited Myanmar in September, the joint statement did not mention the humanitarian crisis, or even the word Rohingya. Instead, Modi praised Myanmar's efforts towards "peace and national reconciliation". He also condemned the "terrorist attacks" on Myanmar police posts in Rakhine by the Arakan Rohingya Salvation Army (ARSA) in August that left 12 dead, but did not bring up the brutal army reprisal killing tens of thousands.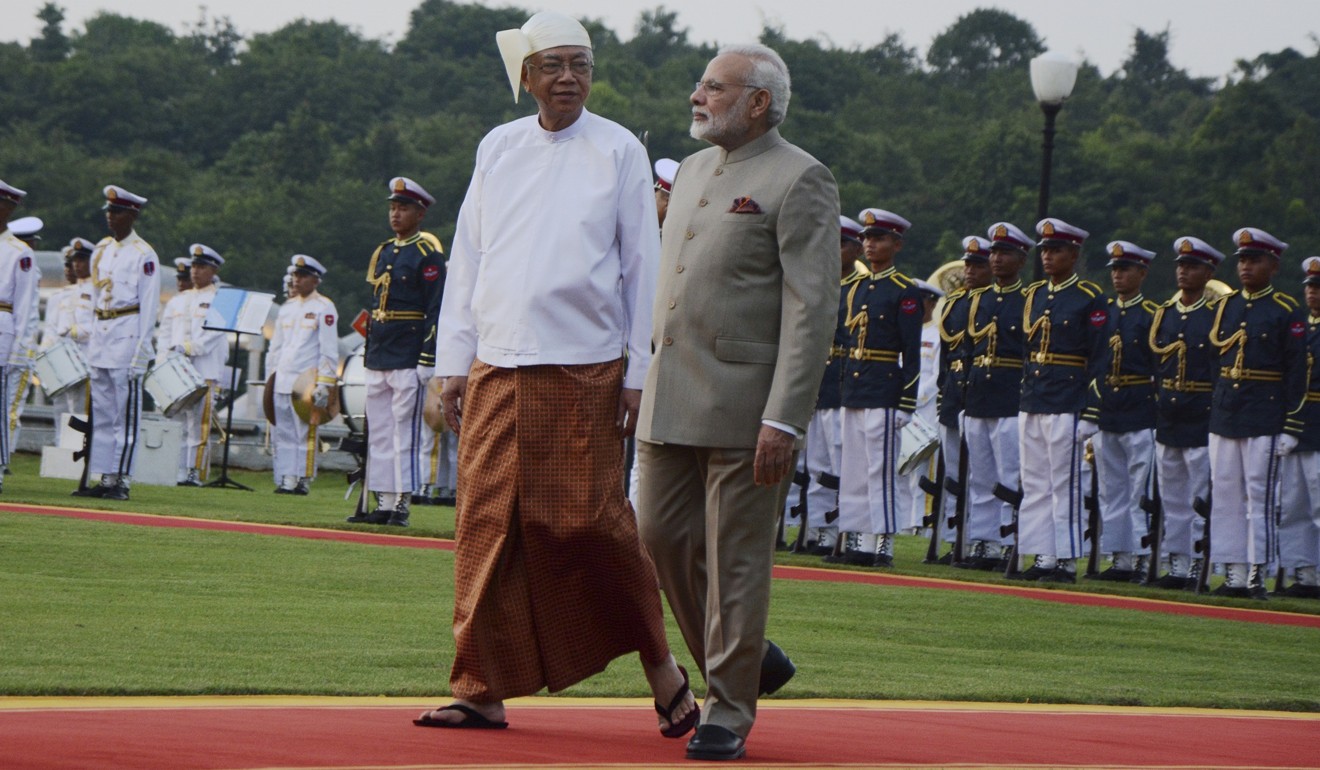 India's soft approach is understood to be rooted in its own security needs and geopolitical compulsions. It is dependent on Myanmar's help in tackling rebel groups of India's northeastern states that often use Myanmar as a hideout. Myanmar is also seen as India's gateway to Southeast Asia, a focus area of India's foreign policy. India is working on a special economic zone there and a transport project linking Rakhine's Sittwe port to its Calcutta seaport. It sees projects like these as crucial to matching the influence of regional rival China, which remains the biggest foreign investor in Myanmar. China has built the Rakhine port of Kyaukphyu and in April laid a US$2.5 billion pipeline connecting it to Kunming city in Yunnan province, securing easy access to energy supplies from the Middle East through the Indian Ocean.
These strategic interests are mainly why China and India are seen to be soft-pedaling Myanmar's treatment of the Rohingya and stressing engagement rather than punitive sanctions and an arms embargo.
While US Secretary of State Rex Tillerson last week denounced Myanmar's military for "ethnic cleansing", Chinese Foreign Minister Wang Yi outlined a three-point solution involving a ceasefire, repatriation of refugees and talks between Myanmar's Aung San Suu Kyi government and Bangladesh. Myanmar's army chief set off for China right after Wang's visit.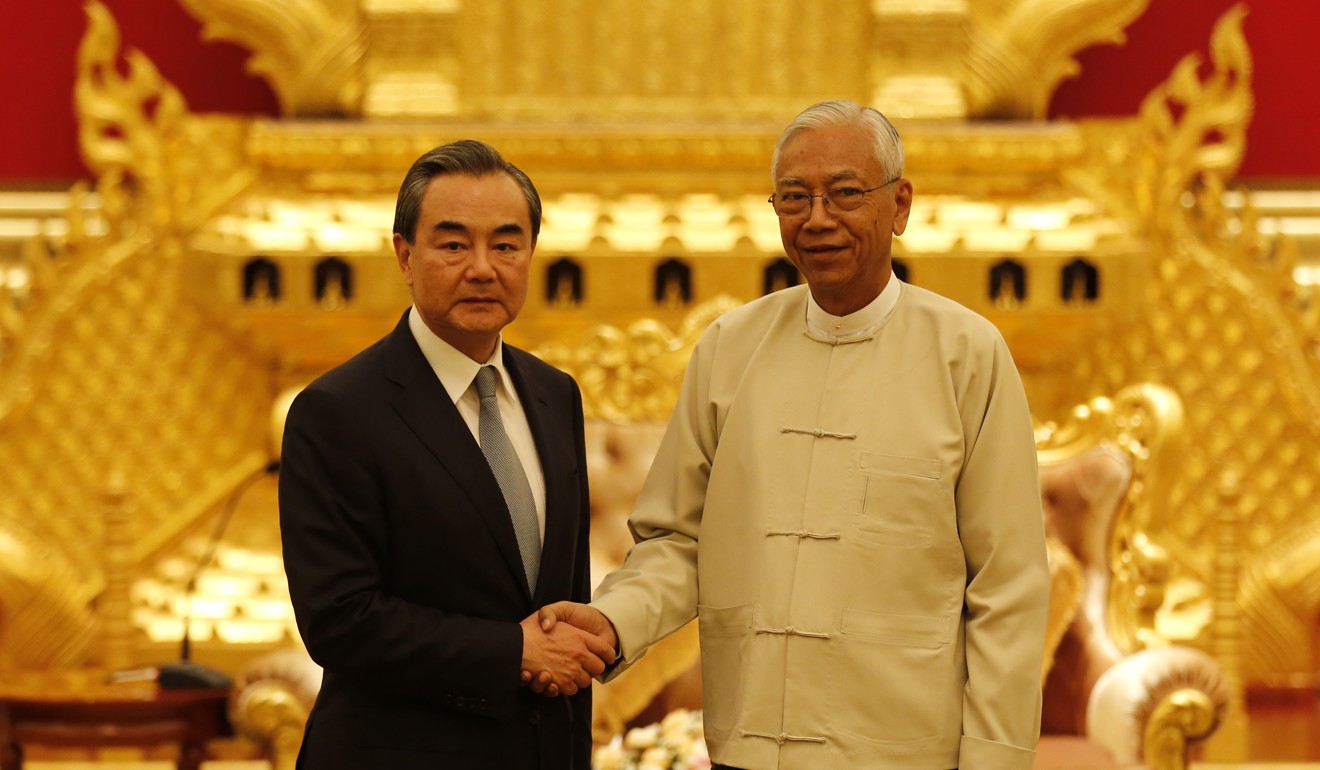 THINK LOCAL
In India's case, however, it's not just geopolitics that is shaping its approach to the Rohingya crisis. As Nitin Pai, director of Indian think tank The Takshashila Institution, points out, it is Myanmar that needs India more, to balance China's influence. In any case, India's decades-long courting of Myanmar hasn't produced much more than a handful of incomplete projects, he says.
It's actually India's domestic politics that may be at the core of the sudden aversion to Rohingya in a country not known to refuse refugees. "While the Modi government has officially cast its position over the matter as one of engaging Myanmar partly with an eye on limiting Chinese influence, the ruling party and its supporters have little sympathy for Myanmar's oppressed Muslim minority," says Pai.
As the Hindu nationalist Bharatiya Janata Party (BJP) has begun to refashion policy templates after its own world view since Modi rode to power in 2014, India's traditional response in many areas of governance has been undergoing a sea change. Some see the attitude towards the Rohingya as a sign of this fundamental shift.
WATCH: Rohingya rape survivors share harrowing stories
The decision to deport all Rohingya back to Myanmar "appears to be prompted by the fact that they are primarily Muslims", says Shashi Tharoor, a member of parliament of the opposition Congress party and chairman of the country's Parliamentary Standing Committee on External Affairs. "The arguments advanced by the government all revolve around this inconvenient fact. To them, the Rohingya are susceptible to recruitment by terrorist groups, they 'pose grave security challenges'; their presence leads to social, political and cultural problems; and the government is anxious to 'ensure the demographic pattern of India is not disturbed'. In other words, we don't want to play host to large numbers of Muslim refugees – in itself an appalling argument that appears to cater to the present government's bigoted Hindutva vision."
Ram Madhav, the national general secretary of the BJP, bristles at such an accusation. "To even insinuate that India is against the Rohingya because they are Muslims is utterly irresponsible. We have been urging the Myanmar government to address the crisis through humanitarian means. We have extended thousands of tonnes of aid material to Bangladesh to help the refugees," he says.
"India is home to the world's second-largest Muslim population. Large numbers of legal migrants, irrespective of their religion, live and work in India. But like any other country, India can't allow illegal migration into its territory."
Asylum seeking in India is tricky as the country is not a signatory to the UN Refugee Convention. All foreigners are subject to the Foreigner's Act, which does not distinguish between tourists, economic migrants and refugees. The government deals with asylum seekers on a case-by-case basis. Some groups, such as Tibetans, are handled by the government directly. The United Nations High Commissioner for Refugees (UNHCR) deals with the rest and issues them refugee cards, which makes refugees eligible for long-term visas.
"The government says the Rohingya are 'illegal immigrants' since they have not applied for refugee status. This is nothing short of preposterous, since there is no legal provision by which they can apply for refugee status. How can you then fault them if such a mechanism doesn't even exist?" says Tharoor, who had introduced a Refugee and Asylum Bill in parliament to formalise the process, but it didn't go anywhere.
"The strange thing about the government's Rohingya decision is that it wants to evict even those who have UN refugee cards, on the basis of which the government itself has issued them long-term visas," says Raghu Menon at Amnesty International India.
There are currently 110,000 Tibetans and 102,000 Sri Lankan Tamils living in India officially as refugees. Thousands of others, from Afghans to Sudanese, can be found across India. In Delhi, there is an ethnic Chin community of at least 5,000 from Myanmar itself. Mostly Christians, they too have fled the brutal discrimination in their Buddhist-majority homeland.
This is why many are amazed that the Rohingya are being singled out. More so because even as India tries to evict the Rohingya, it is granting citizenship to more than 100,000 Buddhist Chakmas and Hindu Hajongs who fled to India in the 1960s from Muslim-majority Bangladesh, then part of Pakistan. It has also started naturalising Tibetans born in India between 1950 and 1987.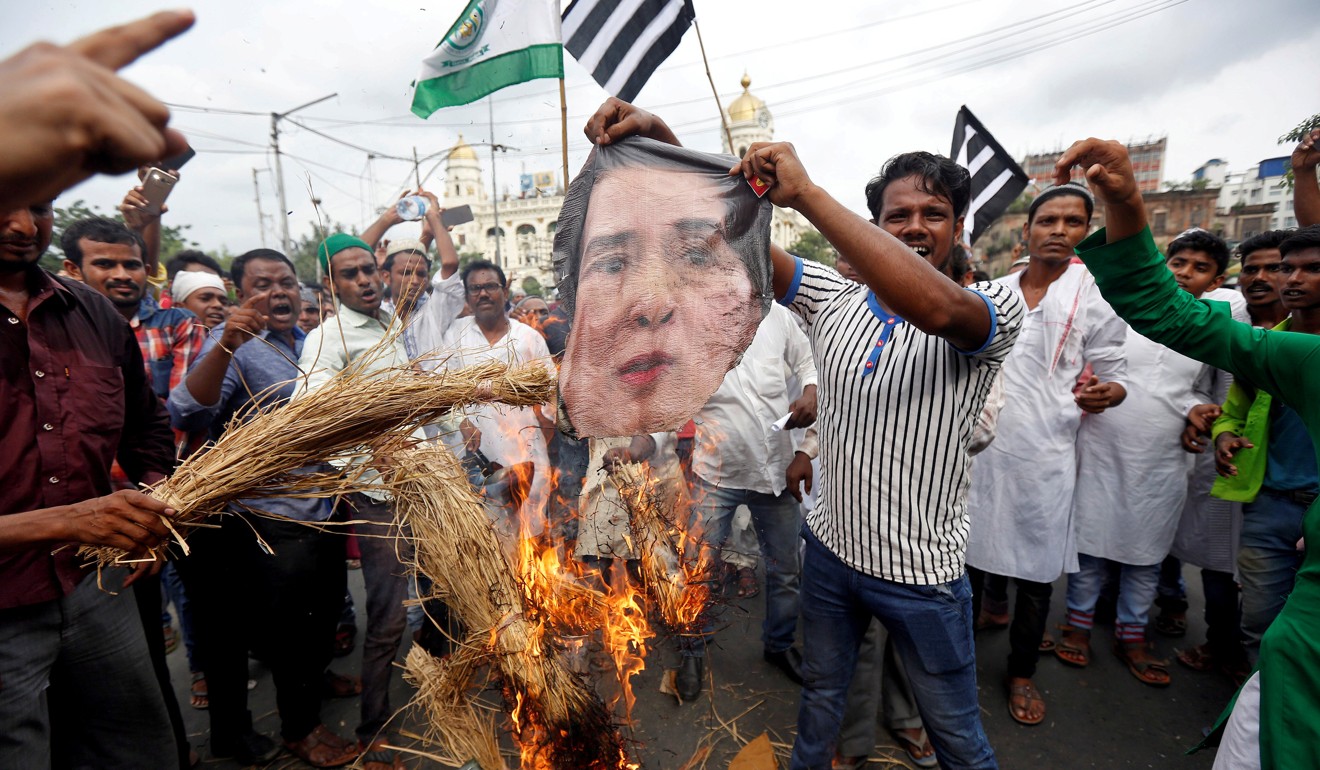 "On the one hand, this government is saying it will welcome all Hindu, Jain, Sikh, Parsi, Buddhist and Christian refugees from neighbouring Muslim countries, on the other, it wants to keep the Rohingya out," says lawyer Prashant Bhushan, who is representing the Rohingya immigrants contesting deportation. "The government is trying to demonise Muslims and whip up Hindu sentiment against Muslims for electoral gains, that is what this is all about."
In 2015, the government amended rules to allow long-term visas to minority communities from Bangladesh and Pakistan who seek refuge in India to escape religious persecution. It has also tabled the Citizenship Amendment Bill that seeks to grant citizenship to non-Muslim minorities from Muslim-majority Pakistan, Bangladesh and Afghanistan. If passed by parliament, this would allow India to offer citizenship on the basis of religion. That would go against the grain of India's secular constitution but go down well with the BJP's core support base, for whom Hindu victimisation in the region's Muslim-majority nations is an emotive issue. The BJP base is equally resentful of Muslim immigrants in India's northeastern border states from countries like Bangladesh, who, they say, distort the electoral balance in the Hindu-majority country.
"The illegal Bangladeshi migrant is a dominant trope deployed by politicians in Assam and other northeastern states. The conspicuous shift in the refugee policy in case of the Rohingya is sheer Islamophobia and Hindu nationalist politics of mobilisation, which explains why the persecuted Rohingya are seen as one and the same as impoverished Bangladeshis," says Dibyesh Anand, professor at the University of Westminster and author of Hindu Nationalism in India and the Politics of Fear.
Mohan Bhagwat, who heads the Rashtriya Swayamsevak Sangh, the ideological backbone of Hindu nationalism and parent organisation of the ruling BJP, said at a rally in September: "We have been facing the problem of illegal Bangladeshi migrants and now Rohingya have infiltrated into our country. Any decision regarding Rohingya should be made keeping in mind the threat to national security."
WATCH: What's driving Myanmar's Rohingya crisis?
THE POLITICS
The disquiet over Rohingya refugees in India began much before the current exodus started in September. From the beginning of this year, billboards had begun to pop up in the Jammu region of the restive Jammu and Kashmir province, asking Rohingya and Bangladeshis to leave. According to Amnesty's Menon, there could be about 6,000 Rohingya in Jammu, a short hop from Delhi.
Though the alarmist hoardings were mostly put out by a local Hindu right-wing party, local BJP stalwarts soon joined in. The two main grouses were: one, the Rohingya Muslims were skewing the demographic balance of Hindu-majority Jammu, and two, supposed intelligence inputs that the Rohingya were a terror threat. As the issue snowballed, the Jammu and Kashmir government in January had to tell lawmakers that the Rohingya were under "strict surveillance" and that there were "no instances of radicalising".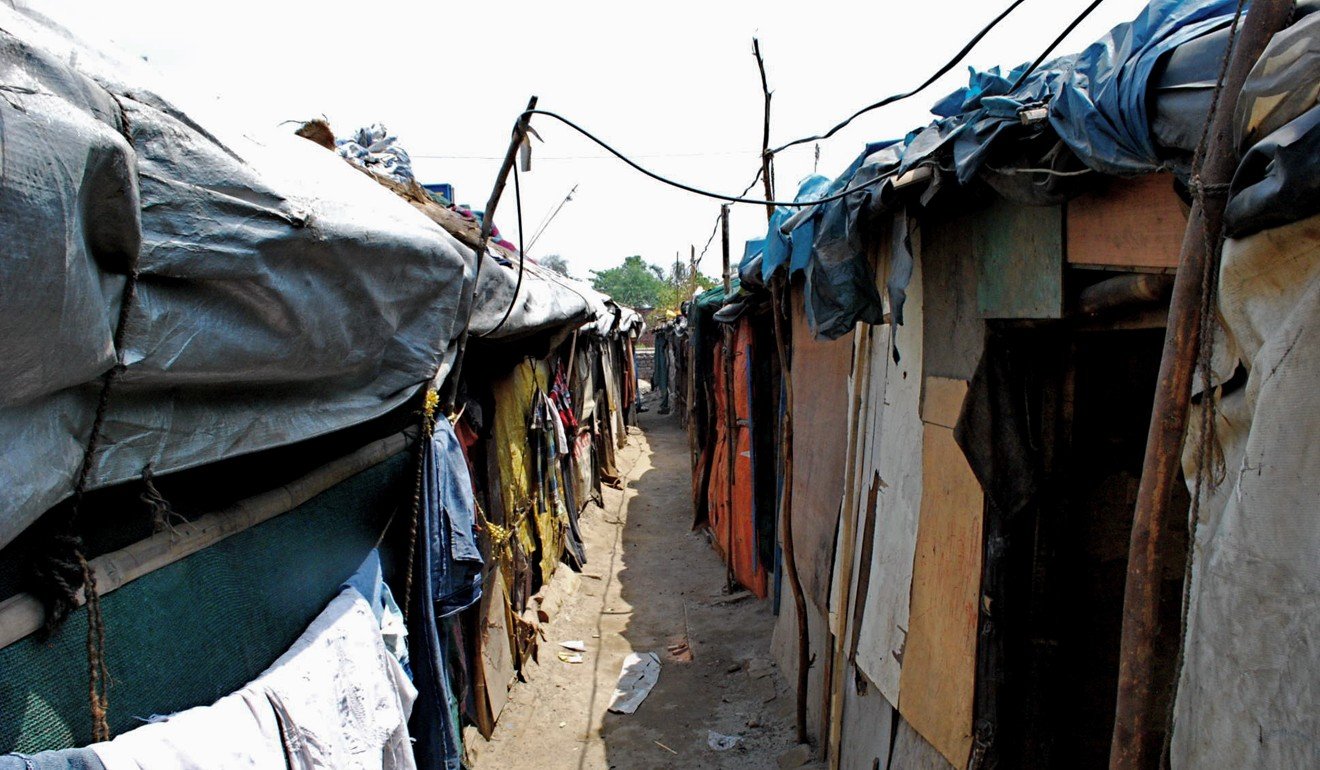 But lack of a legal mechanism to apply for refugee status makes the Rohingya vulnerable to random arrests and harassment all the same. Waqar Bhatti, a Jammu businessman who funds a team of lawyers to free people who have been unfairly detained, says he knows of 60 to 70 Rohingya booked in the past three months in Jammu. "Not a single police report against them pertains to terror, yet they are branded as terrorists," Bhatti says.
I meet Bhatti at a seminar of Muslim community leaders in a central Delhi auditorium. As speaker after speaker make tub-thumping speeches in solidarity with the Rohingya and compare their plight to the Kashmiris and the Muslim victims of fringe Hindu vigilante groups, it becomes obvious the Rohingya are being sucked deeper into India's internal politics. They are becoming as efficient a tool for energising the Hindu right as they are for mobilising disaffected Muslims.
TERROR ALERT
Scarred by multiple terror attacks in the past decade, India is sensitive to the risks of Islamist fundamentalism. More so under the Modi government, which wants to project the image of muscular Hinduism with zero tolerance for Islamist terror.
A senior official at an Indian security agency, who does not want to be identified, is emphatic about the Rohingya terror threat. "We have specific intelligence that the Rohingya living here are being contacted by terror groups. We just can't take the chance," he says. The threat, he says, multiplies manifold for refugees yet to enter India, as there's no way the government can do due diligence on individual refugees being radicalised in Bangladeshi refugee camps.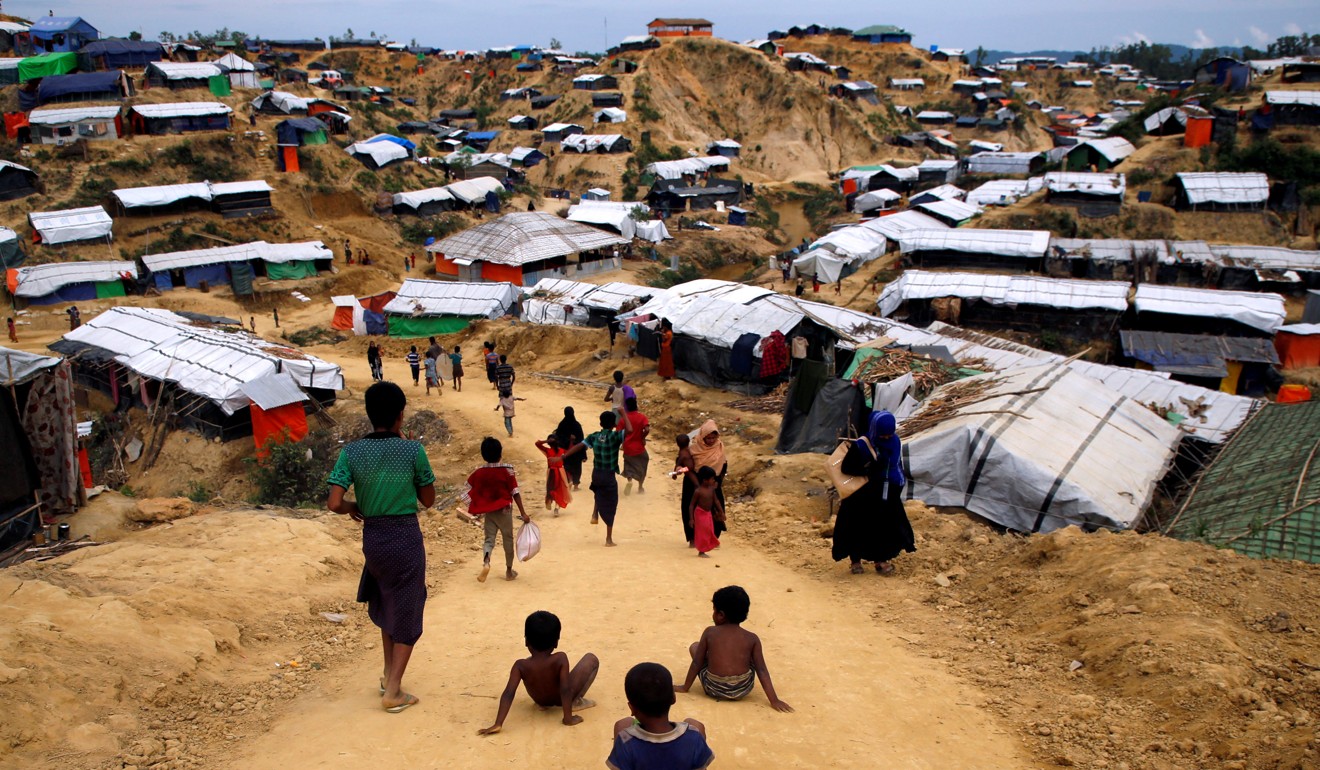 Ipshita Sengupta, a policy associate at the UNHCR, however, sees no conflict between protecting refugees and meeting security goals. "Registration and refugee status determination actually helps governments know who is on their territory," she says. Viewing all refugees as security threats also puts at risk the most vulnerable refugees such as children and women, she says. According to BBC reports, more than half of the Rohingya who have fled to Bangladesh are children, many of whom have lost one or both parents.
"Besides, where is the proof that the Rohingya are connected to global jihad?" Menon says. The Border Security Force, which has apprehended 87 Rohingya refugees this year and sent 76 of them back to Bangladesh, says it has not found anything to link the Rohingya with terror. Neither has the government submitted any such evidence to the court.
"And even if some Rohingya are indeed found to have terror links, is it all right to stigmatise an entire community as terrorists, especially at a time of rising Islamophobia in India? This is false equivalence, and it's extremely irresponsible of people in power to suggest such a thing, and for the media to unquestioningly repeat it," Menon says.
Of late there have been reports of random mob attacks on Muslims, often triggered by self-declared protectors of the cow, revered as a god by some Hindus. Critics of the government say the rise of a Hindu party to power has emboldened these extremist elements.
Menon points out that India opened its arms to ethnic Tamils fleeing the Sri Lankan civil war despite the terror campaign of the rebel Tamil Tigers. "We were fully aware of Tamil Tigers' activities but did we refuse entry to Tamil refugees?"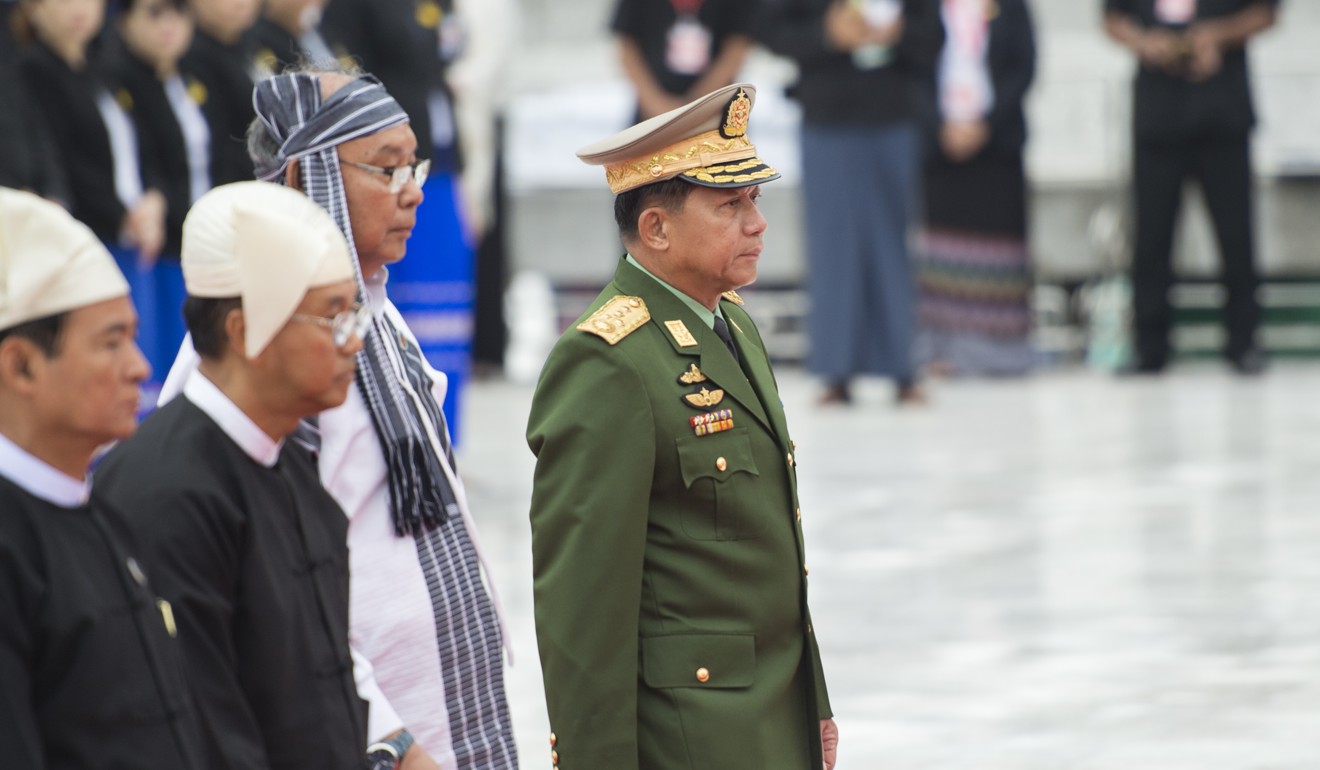 Myanmar army chief General Min Aung Hlaing, in fact, sees ARSA as "Bengali terrorists" rather than a militant Islamic outfit. ARSA itself claims to be an ethno-nationalist movement fighting for Rohingya rights in Rakhine rather than a pan-Islamic militant group. But it has come to be equated with Islamist terror since its strike on the Myanmese military, putting India on alert.
"That a section of the Rohingya have been influenced by the radical Islamist ideology and took to weapons has been reported by the international media. Should we assume that the international media were wrong?" BJP leader Madhav says.
For Anand, however, there's as much politics to it all this as security. "Since the global rise in Islamophobia after 9/11, it has been convenient for the BJP to join the bandwagon and stereotype all Muslims as terrorists," he says. "The rhetoric against the Rohingya should be seen as part of the wider politics of Hindu chauvinism."
ARSA's alleged terror activities have hit a particularly raw nerve for the BJP. In September, Myanmar suddenly announced it had found a mass grave of Hindus, and flew in a group of foreign journalists to see the bodies. That same day, the Rakhine government urged Hindu Rohingya refugees to return, promising them security. A few weeks before that, some of the Hindu Rohingya women at a Bangladesh refugee camp, who had earlier told Reuters that they had been attacked by Rakhine Buddhists, suddenly changed their statements to say they had actually been attacked by Rohingya Muslims.
Attacks by ARSA or the military are yet to be independently verified, as the Myanmar government continues to deny access to UN fact-finding missions. Apart from heavily controlled guided tours by the military, journalists have no way of verifying what's going on at ground zero. And many Rohingya refugees in India are deeply suspicious of this selective media access to showcase Hindu victims, which, they say, was staged to secure Delhi's support and poison Indian public opinion against the Rohingya.
WATCH: Rex Tillerson discusses Rohingya crisis during visit to Myanmar
GROUND REALITIES
The BJP-ruled northeastern states of Assam and Manipur have asked security forces to "push back" Rohingya trying to enter India. Some 6,000 border guards are being deployed along the border with Bangladesh. Indian media has reported the forces are using chilli spray and stun grenades to push back refugees.
Even the Rohingya already inside India are beginning to feel the heat. "The cops want us to leave, but where will we go?" says 32-year-old Sabber Ahmed, who came to India in 2005. Like many others, Sabber came to India long before the community's travails in Myanmar became global news. "The Myanmese military treats us like animals. There's no freedom, no basic rights. The army can detain you, barge into your home any time of the day, beat you up, grope the women, there's nothing stopping them."
In those dark days of growing up in Rakhine, the Bollywood movies he saw at community gatherings were often the only escape, its larger-than-life heroes fighting evil his only source of inspiration. So when he decided to run, he knew just where he was headed. And he was not disappointed. "Friendly people, freedom to do anything, India was just as I had imagined."
Not any more. "When I first came here, most of the friends I made happened to be Hindus, they helped me a lot to get started in this alien land, there was a strange bond. Delhi has so many refugees from the days of the Partition (between India and Pakistan in 1947), people seemed to understand the pain of being a refugee," Sabber says. "But something has changed now. There's a climate of fear, nobody wants to cross the authorities, people are suspicious. For the first time in India, I feel afraid, I feel like an outsider."
Still, Sabber hasn't faced outright violence. Rashid Ahmed, a 34-year-old Rohingya who, like many other Rohingya refugees, works as a ragpicker about 60km from Delhi, was picked off the street and beaten up last Eid. His crime: walking home with a sacrificial buffalo a charity group had gifted his settlement of 46 Rohingya ragpicker families. Cow vigilantes, a new face of Hindu extremism, mistook the animal for a cow, confiscated it, beat up Rashid and left him severely injured.
When I catch up with Rashid, months after the incident, he is still visibly shaken. He fled Myanmar the day military men shot down his brother and picked up his father and tortured him to death. They were merely returning from working in the fields. He thought he had fled persecution for good. And for a couple of years, he had.
Rashid makes a measly 4,000 rupees (HK$500) a month rummaging through the capital's refuse. Hardly enough to support his wife and two small children, but he used to think at least he didn't wake up every day with the fear of losing them. He doesn't know what to make of all this talk of being sent back, but the possibility keeps him awake at night these days.
"I know India doesn't want us. I don't want to be here forever either, but what do I do now?" says Rashid, with terror in his eyes. ■