For years, Chinese and Malaysian officials have cheered their ambitious economic collaborations. But for now, at least, it seems the cheering is over.
Mahathir Mohamad, often a vocal critic of Chinese investment deals while outside the circle of power, now sits in the centre of it as the new prime minister. Now all eyes are on how he will walk the talk.
The 92-year-old politician, who last week defied the odds to unseat Najib Razak in the general election, has already said he will be re-examining all China-linked projects in the country, ringing early alarm bells for jittery analysts and economists.
While many view his victory as a threat to Chinese investment, the long-term economic outlook remains positive. Trade relations between China and Malaysia, the conventional wisdom goes, are too big to fail.
"We need to study all the things done by the previous government," Mahathir said on Thursday before being sworn in as the country's seventh prime minister. "It's not only about China, it's about a lot of things."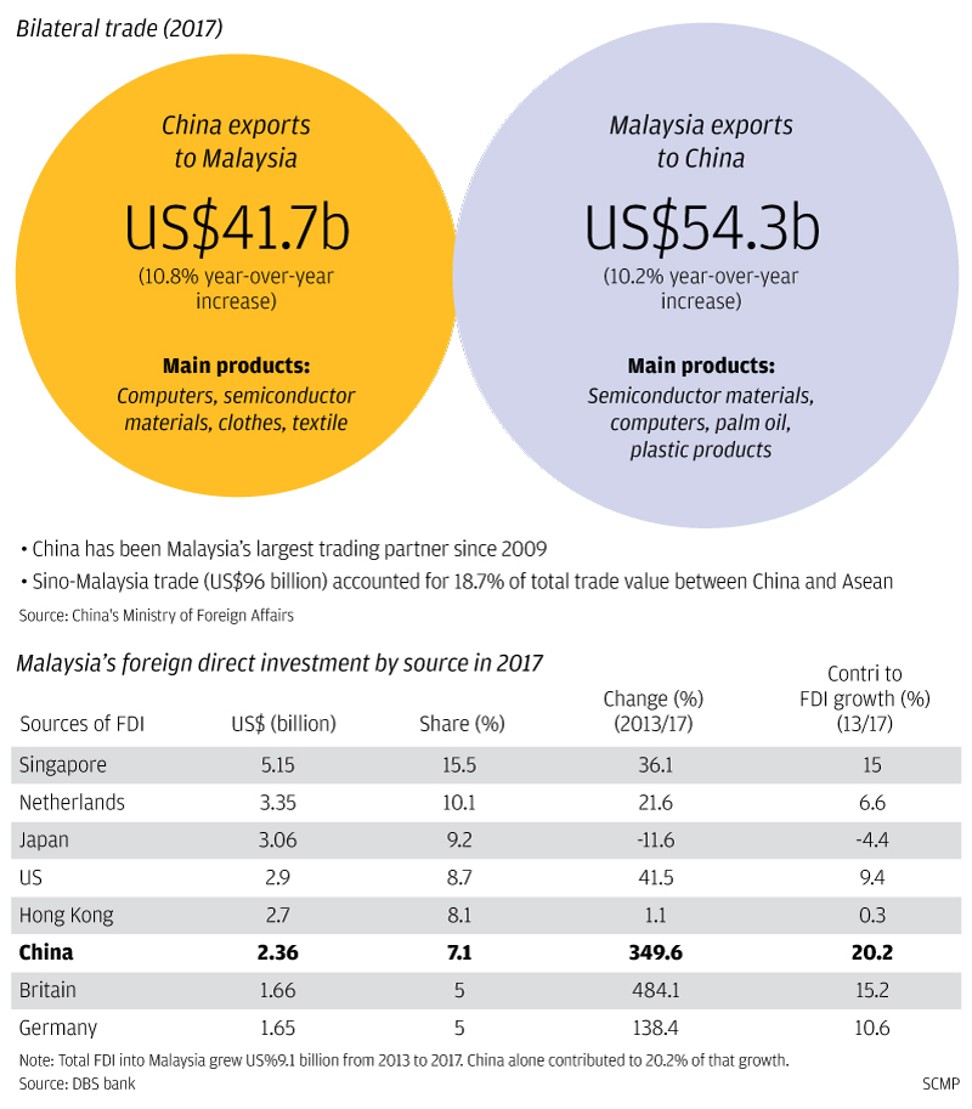 "China has a long experience of dealing with unequal treaties and China dealt with them by renegotiating," he said, adding that Malaysia would renegotiate any agreements it felt were lopsided.
Lim Guan Eng, named by Mahathir on Saturday as new finance minister and only the third Malaysian Chinese to hold such a post since independence, vowed to "review all contracts that do not favour or do not benefit Malaysia."
In the wake of the unexpected election result, speculation is running rampant. Fidelity International warned investors that the new leadership was likely to go back to the drawing board over large-scale infrastructure projects. But Fung Siu, an Asian specialist with London-based consultancy Economist Intelligence Unit, thinks otherwise.
"Any review of Chinese investment deals are likely to be small-scale," Siu said. "Mahathir's rhetoric is tough, but he and his cabinet will need to do a thorough assessment of the economy before making this decision."
But big or small, for now such reviews are sure to stir uncertainty, say analysts, and that will hamper investor confidence.
"While it is sensible for Sino-Malaysian relationships to improve in the long term, the re-examination of the China-backed projects may delay progress and amend previously agreed terms, creating near-term market concerns," said Alexious Lee, an analyst at investment bank CLSA in Hong Kong.
Alex Holmes, an Asia Economist at Capital Economics in London, agreed.
"Mahathir's victory puts into question the future of a number of planned Chinese-backed investment projects," Holmes wrote in a research note. "The next couple of years are likely to see a sharp slowdown in investment growth."
US$134 billion at risk
In recent years, Chinese investment has rocketed in Malaysia. In 2017, about US$2.36 billion went from China to Malaysia, an increase of almost 350 per cent from 2013, DBS bank estimated.
And more Chinese money is set to come. The country's pipeline of rail and port projects are expected to receive US$101 billion worth of Chinese investments over the next two decades, according to Citi Research.
Based on data compiled by This Week in Asia from 11 high-profile, controversial projects signed during the Najib administration, a total of US$134 billion worth of Chinese investment could face tougher government scrutiny.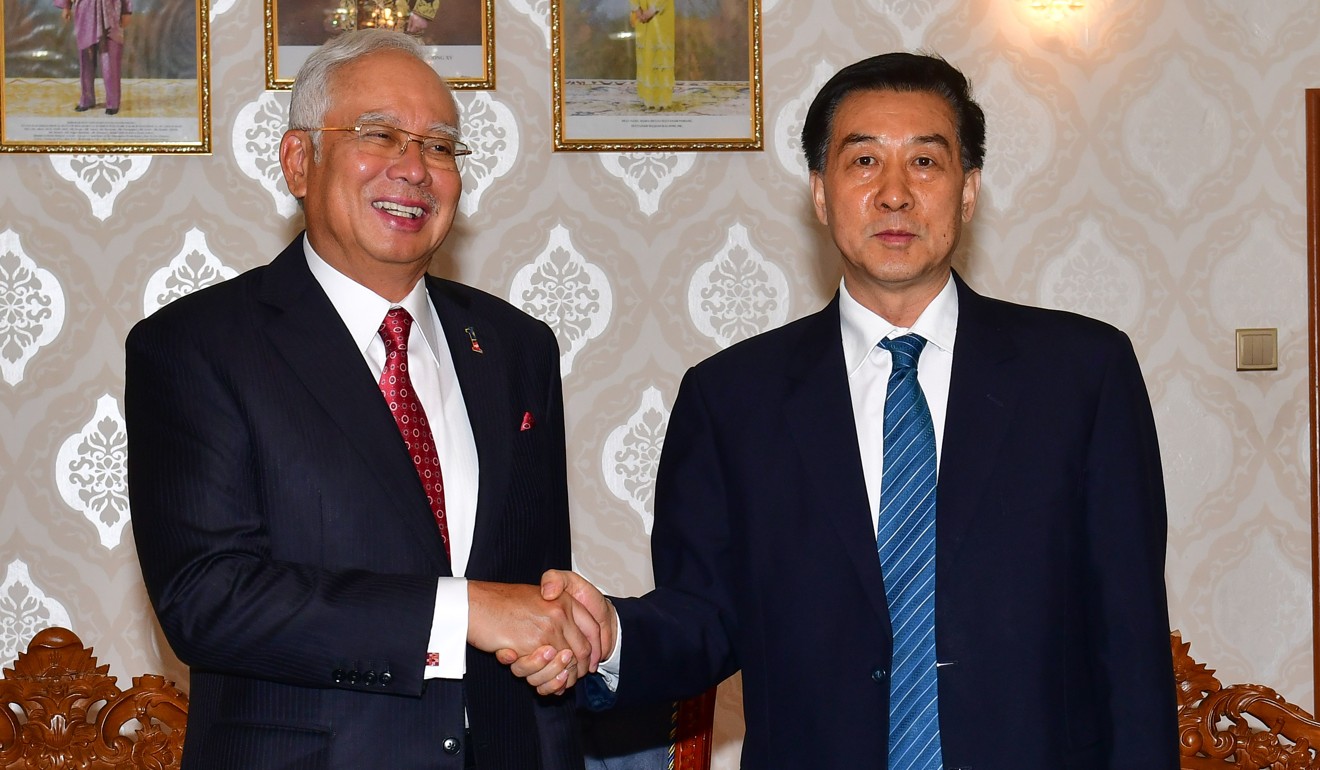 Those projects, involving 13 Chinese companies and financial institutions, range from real estate development to infrastructure construction and large-scale industrial plants. Most of them were signed in the last five years and remain under construction.
One is a US$13 billion railway that will connect Malaysia's underdeveloped east coast to Kuala Lumpur. Known as the East Coast Rail Link (ECRL), it was described as a "game changer" by Najib. Mahathir, however, said during his election campaign in April that he would scrap the project if he came to power, local media Sun Daily reported.
China Communications Construction Company (CCCC), the railway's developer, said they had yet to receive any notification from the new government.
"We are closely monitoring the situation," said a representative of CCCC's investor relations office in Beijing.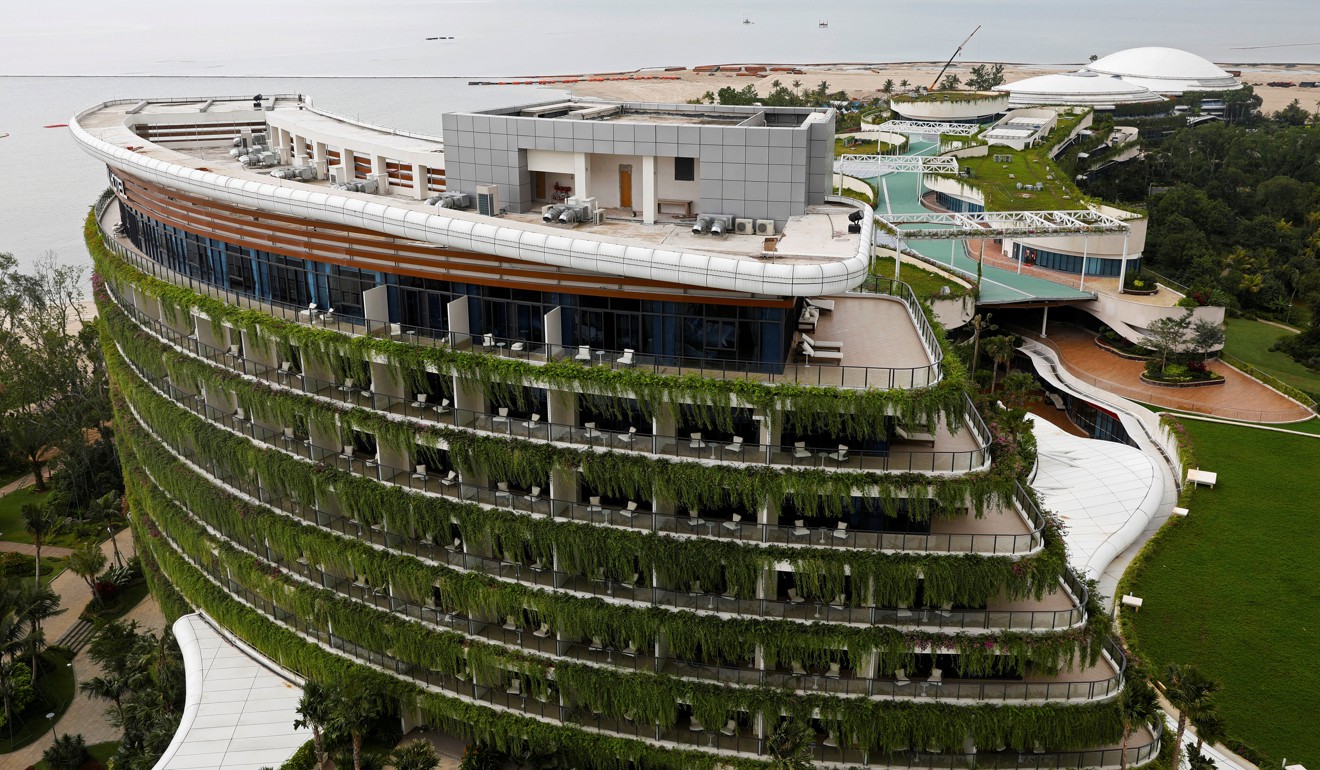 Country Garden, the Chinese real estate giant behind Malaysia's Forest City project, did not respond to a request for comment. Expected to be completed in 2035, the US$100 billion mixed development being built on four reclaimed islands in the state of Johor, near Singapore, is another China-backed project Mahathir is most vehemently against.
His decision to re-examine Chinese investment came as Beijing called on Malaysia to continue supporting progress between the two nations in recent years.
"China and Malaysia are friends. The Chinese government deeply values our friendships with Malaysia," a Ministry of Foreign Affairs spokesman said.
"Sino-Malaysian relations have been on the right track and generated positive outcomes for the two countries. This is something that deserves the appreciation and support of both sides."
The spokesman also praised Mahathir as "a senior politician" who "made important contributions to the development of China-Malaysia relations".
"Now our bilateral relations enjoy a sound momentum of growth with fruitful outcomes in cooperation. This is worth cherishing and upholding," the spokesman said.
Mahathir, who was prime minister from 1981 to 2003, is no stranger to China. He was a frequent visitor to Beijing during his time in office and also a backer of a "Cheng Ho Association", a business organisation in Malaysia named after the famous 14th century Chinese maritime explorer of the same name, to promote bilateral trade and mutual investment between the two countries.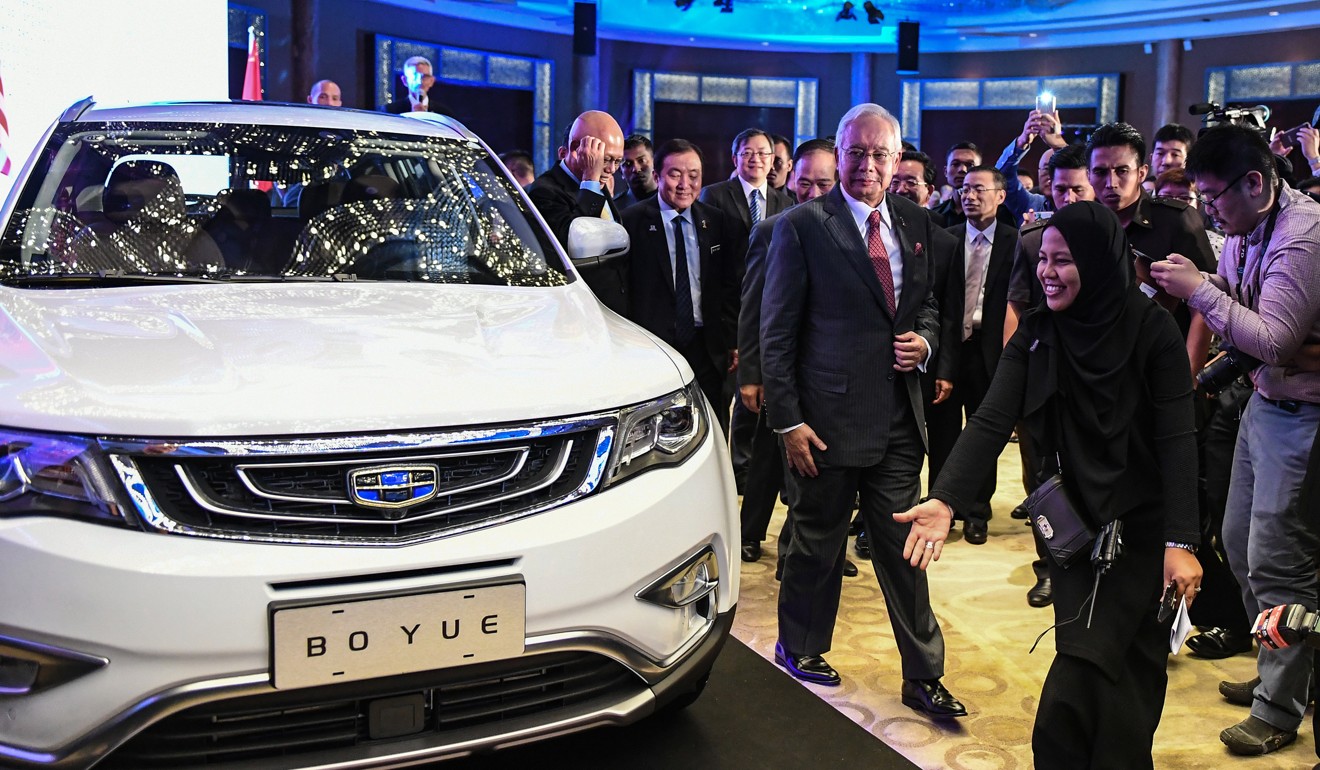 Anti-China?
Despite his criticism of Chinese investment, Mahathir has said he is not anti-China.
"What worries us is the amount of money borrowed by the [Malaysia] government … A responsible government must try to reduce borrowing otherwise we will be in a bad shape," he said on Thursday when asked about the fate of Chinese investments, which he had featured in campaign speeches.
About 85 per cent of the US$13 billion ECRL railway project is financed by Chinese soft loans, with the rest coming from Malaysian lenders. The borrowing could be a great burden on the country, Mahathir said.
The ERCL railway, like many other Chinese investments in Malaysia, is part of China's Belt and Road Initiative (BRI), Chinese President Xi Jinping's signature project designed to revive the ancient trading routes stretching from Asia to Europe and Africa.
Mahathir said his government "does not have a problem" with the belt and road and in fact supported it. He said he had personally written to Xi expressing the region's need for "the land connection with Europe" and seeking China's help to provide better trains to transport goods on such a land route.
While the desire for Chinese help is real, so are concerns over Chinese investment. Some Malaysians have criticised Forest City and other real estate projects built by Chinese companies for Chinese homebuyers as a type of neo-colonialism. Others have accused Najib for pleasing Beijing at Malaysia's expense – the Najib government was recently found waiving the goods and services tax for China's CCCC, a favourable term that even local businesses rarely enjoy. CCCC argued that the tax exemption was introduced for lowering the overall costs of the railway project, with "a good intention of helping the general public in Malaysia".
What next?
Lu Jinyong, a researcher specialising in Chinese outbound investment at the University of International Business and Economics in Beijing, said disputes over the railway project were likely to lead to a renegotiation, but were unlikely to terminate the project.
"The only thing could be changed is the contract terms. After all, the railway project will help boost Malaysia's development," Lu said.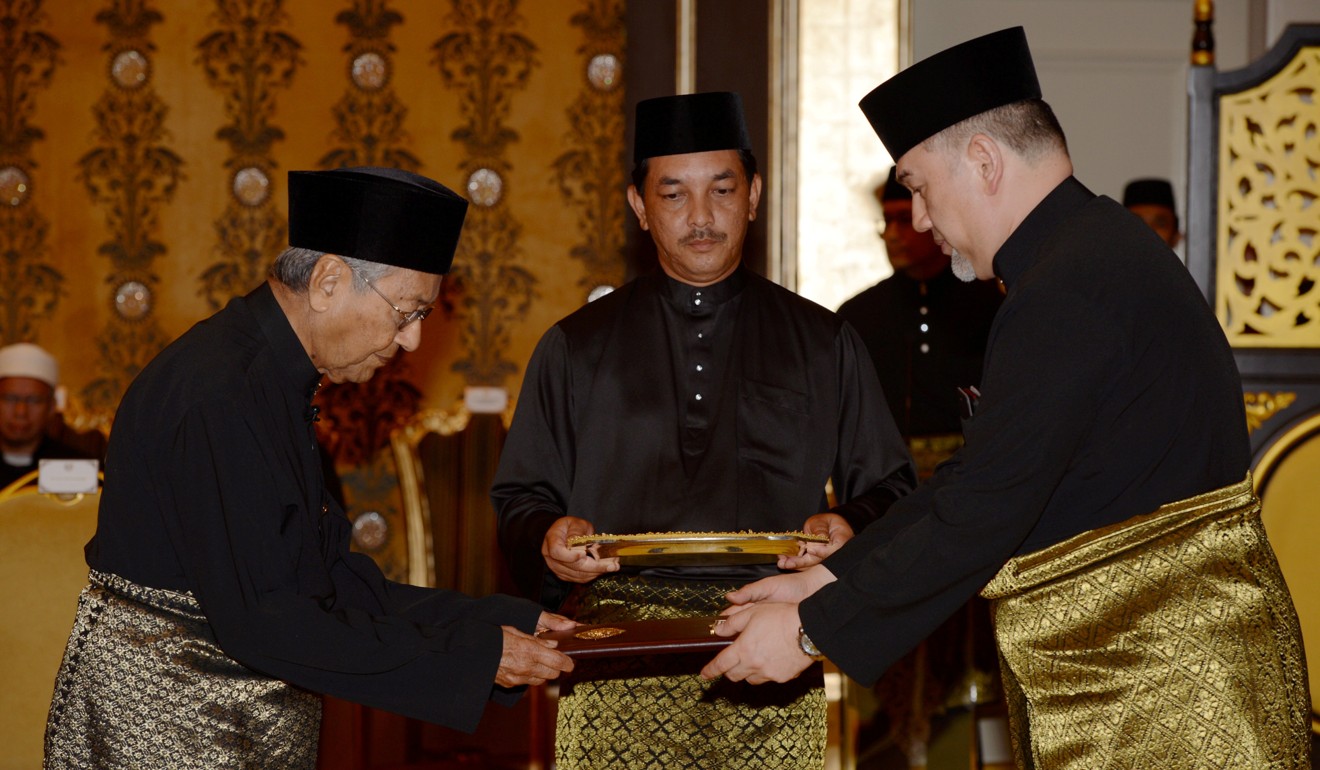 This would not be the first time Chinese investments have been interrupted due to a leadership change in a foreign country. In 2015, when Sri Lanka's former pro-Beijing President Mahinda Rajapaksa lost the election, the new government suspended a US$1.4 billion real estate project – also built by China's CCCC – for what they said was "a lack of proper permits and approvals".
CCCC gained approval to restart the construction a year later after meeting additional requirements. Many believe Mahathir's review of Chinese-backed projects in Malaysia will follow a similar pattern.
As Peter Hays, an analyst at Global Risk Insights in London, puts it: "Mahathir may seek to ensure that the investments are sound, but ultimately he will be hesitant to abandon any agreements in a way that discourages future investment."
Much is at stake on both sides. Beijing has long viewed Malaysia as a crucial stop along its "maritime Silk Road". Malaysia, for its part, will have to maintain the same level of foreign investment – if not boost it even higher – to reach its goal of becoming a high-income country by 2020, said Siu of the Economist Intelligence Unit.
"China has emerged as the biggest economic actor in the region. Malaysia, under a new government, cannot defy that," said Zhang Baohui, a professor of political science at Lingnan University in Hong Kong.
Tang Siew Mun, a senior fellow at ISEAS Yusof Ishak Institute in Singapore, said the newly formed government would be reluctant to hurt its economic ties with Beijing.
For Mahathir to "re-examine all Chinese investments in Malaysia does not mean that the new government does not welcome Chinese participation in the Malaysian economy," Tang said. "The new government's priority and interest is to redress 'abnormalities' in deals involving external parties and to ensure that mega projects such as the ECRL are indeed beneficial to Malaysians." ■