At 9am on Tuesday, many of the 25,000-strong South Korean community in Singapore will take a break from their work, errands and studies to pay rapt attention to the television for an event they thought they would never witness.
As US President Donald Trump and North Korean leader Kim Jong-un prepare for their landmark summit, South Koreans in Singapore remain awkwardly detached as they are not direct participants but many are nonetheless caught up in the excitement.
"For Koreans, this is a very historic moment," said politics teacher Lee Deok-hyoung, who works at the Singapore Korean International School.
While Seoul technically plays no part in the bilateral meeting between Washington and Pyongyang, it will be affected by the outcome of the talks. So while most in the community are simply observing the proceedings, some groups have taken a more proactive approach.
The Korean Association of Singapore – South Koreans, that is – will gather dozens of their compatriots to watch the meeting. It has also put up posters in Tanjong Pagar, a popular Korean enclave in the city's business centre, adorning rows of shophouses and restaurants to draw attention to the event.
Elsewhere in upscale, suburban Bukit Timah, the summit will be used as an educational tool for lessons at the Singapore Korean International School, where teachers and students will tune in.
"There is a feeling of excitement in this school – many students, parents and teachers are highly anticipating this summit," said Lee.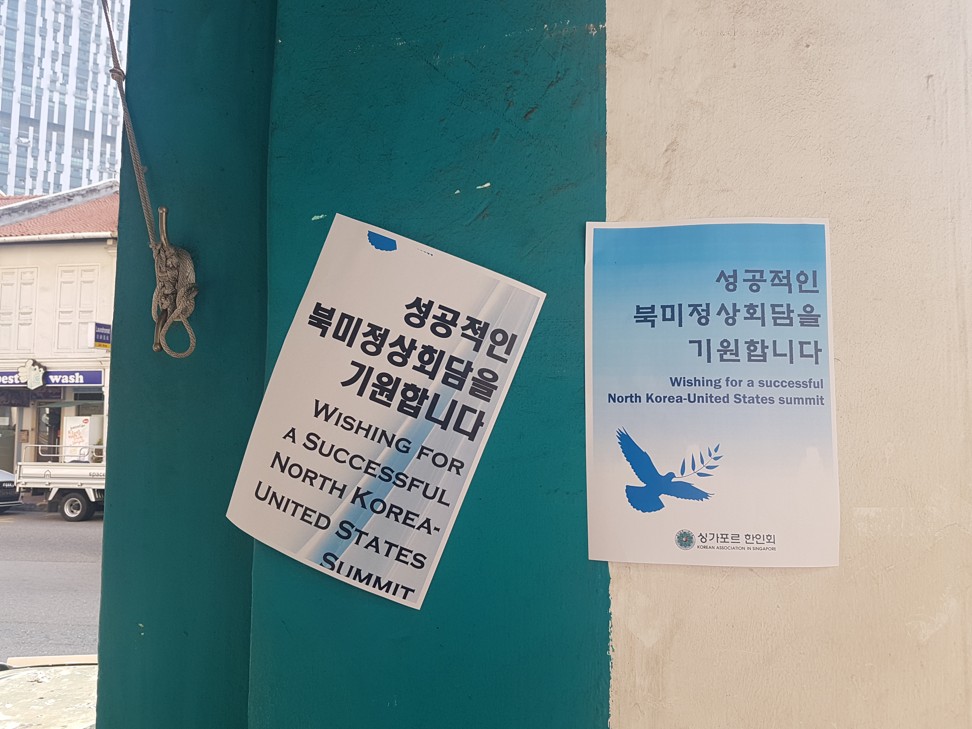 Some students, like Derrick Ko Dae-hyun, hoped to visit the Capella Hotel with friends to catch a glimpse of the historic meeting.
"Otherwise I will follow the event on broadcast," said the 20-year-old, who studies at the SP Jain School of Global Management.
Others were readying themselves for a celebration with friends and family, should a declaration of peace emerge from the summit, ending the Korean war, which technically continues despite an armistice being signed in 1953.
"My friends and I plan to meet for beers to cheers to the possible end of the war," said Kim Gyeong-ah, a 28-year-old art director.
However, in the event of a breakthrough between Trump and Kim, South Koreans in Singapore will be hard-pressed to find a North Korean to celebrate with. Singapore was once home to a small North Korean community but by March revoked all work permits.
Singapore suspended all trade with North Korea last November in compliance with tightened United Nations regulations over Pyongyang's nuclear programme, although the sanctions have been lifted to enable the summit.
Seoul native Mark Suh, a 46-year-old financial analyst working in Singapore, said that even without a peace deal, the summit will be a major step towards reconciliation on the Korean peninsula.
"I am quite optimistic and I hope it brings the two Koreas closer. We are still, in a way, brothers and sisters," he said.
Singapore Management University student Jung Sol, 23, added: "If 10 years of hostility [between North and South Korea] didn't work out, it is time for a change. More should be definitely done to at least reduce the tension, and this summit could be that milestone."