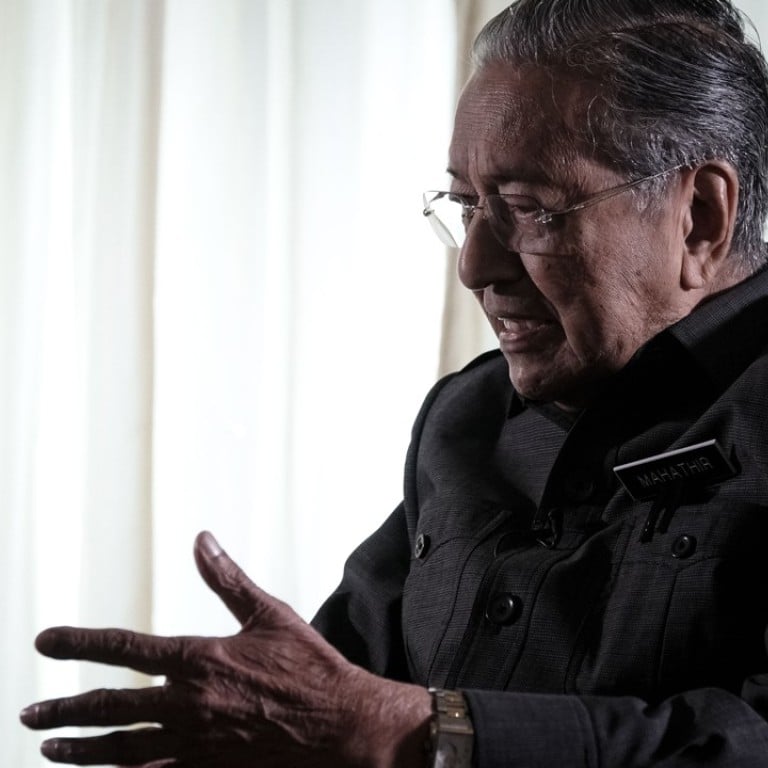 Exclusive
Forget the warships: Malaysian PM Mahathir's peace formula for South China Sea
'Someday, somebody might make some mistakes and there will be a fight, some ships will be lost, and there might be a war,' warns the Malaysian prime minister
Keep out the warships and instead have joint small-boat patrols – that is Malaysian Prime Minister Mahathir Mohamad's prescription for maintaining peace in the disputed and resource-rich
South China Sea
.
"I think there should not be too many warships. Warships create tension," the 92-year-old leader told the South China Morning Post in an exclusive interview.
"Someday, somebody might make some mistakes and there will be a fight, some ships will be lost, and there might be a war. We don't want that."
With an eye on a greater share of China's economic largesse, the scandal-plagued former prime minister Najib was attacked for softening Malaysia's position on the
South China Sea
– which is claimed almost in its entirety by Beijing. Beijing's claims compete not only with those of Malaysia, but with various other jurisdictions, including Taipei, Indonesia, the Philippines, Vietnam and Brunei.
Every year, some US$3 trillion worth of goods pass through the disputed waterway, rich in fisheries and potential oil and gas reserves.
Malaysia occupies at least five features in the disputed Spratly Islands, including the oceanic atoll known as Swallow Reef, where it has a small naval presence.
These islands are well within the U-shaped "nine-dash line" that marks China's claims in the sea.
Observers say the waters have become a flashpoint because of heavy militarisation there by China and other claimant states, while the US sends warships to the area as part of "freedom of navigation" exercises.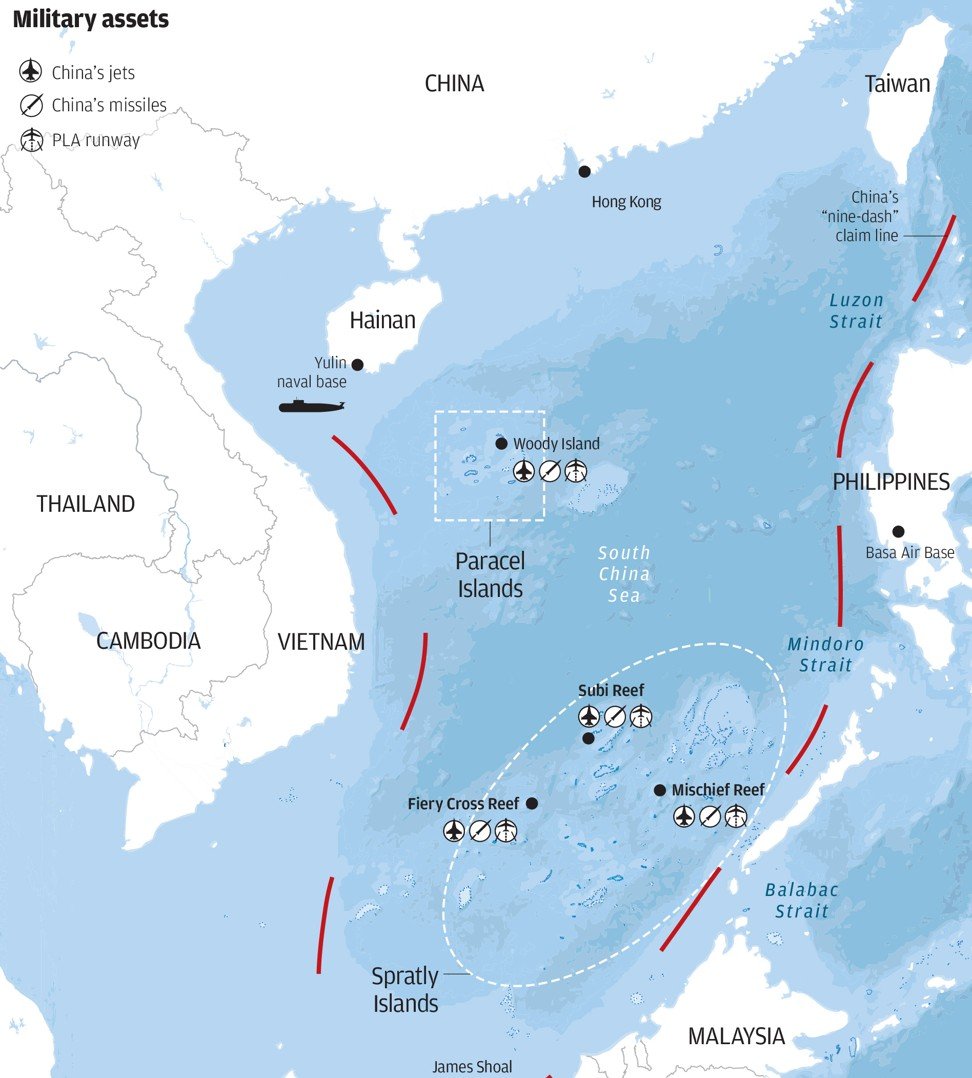 Mahathir said that the presence of warships posed the biggest threat to peace in the waters.
Pressed on whether his government's position on the South China Sea would differ from Najib's softer tone, Mahathir said he just wanted Malaysia to continue occupying the disputed islands that it currently holds.
"There are certain rocks which we have developed into islands. And we hope that we will stay on those islands, because it is a part of our keeping the sea safe from pirates and others," said Mahathir, who is serving as prime minister for the second time after his 1981-2003 turn at power.
"So we want to retain, of course, about four or five islands that we have occupied. The rest – whoever thinks it is theirs, they can occupy," Mahathir said.
He added: "But it is something if China claims the South China Sea is theirs, but those islands have always been regarded as ours for a long time. So we want to retain them."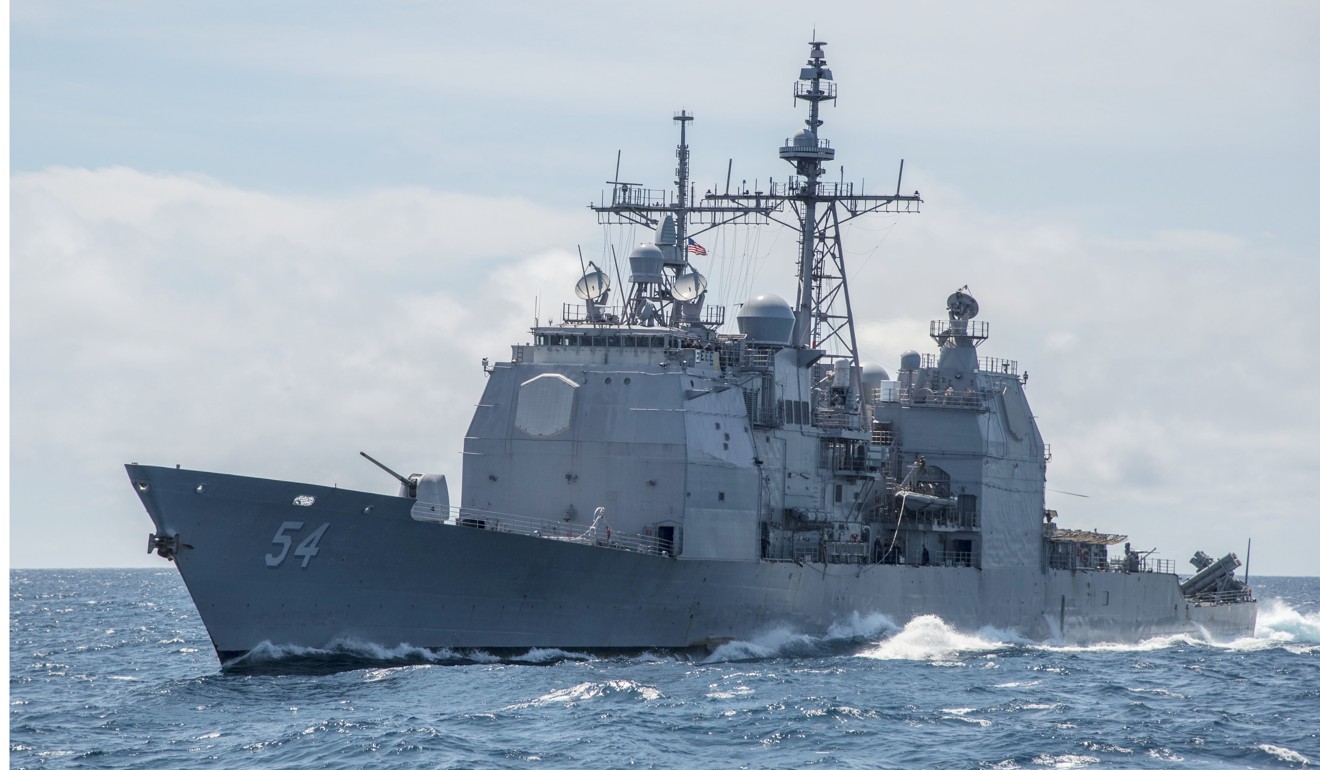 Mahathir said that one way to keep the peace in the South China Sea was for the waters to be "patrolled by small boats" that would be "equipped to deal with pirates, not to fight another war".
Asked who should be involved in these patrols, Mahathir said countries from the 10-nation Association of Southeast Asian Nations (
Asean
) were a natural choice because "the whole sea is surrounded by Asean countries".
"But if China wants to participate with small boats, they are welcome. Anybody, even the US if they want to participate – but don't bring battleships here," Mahathir said.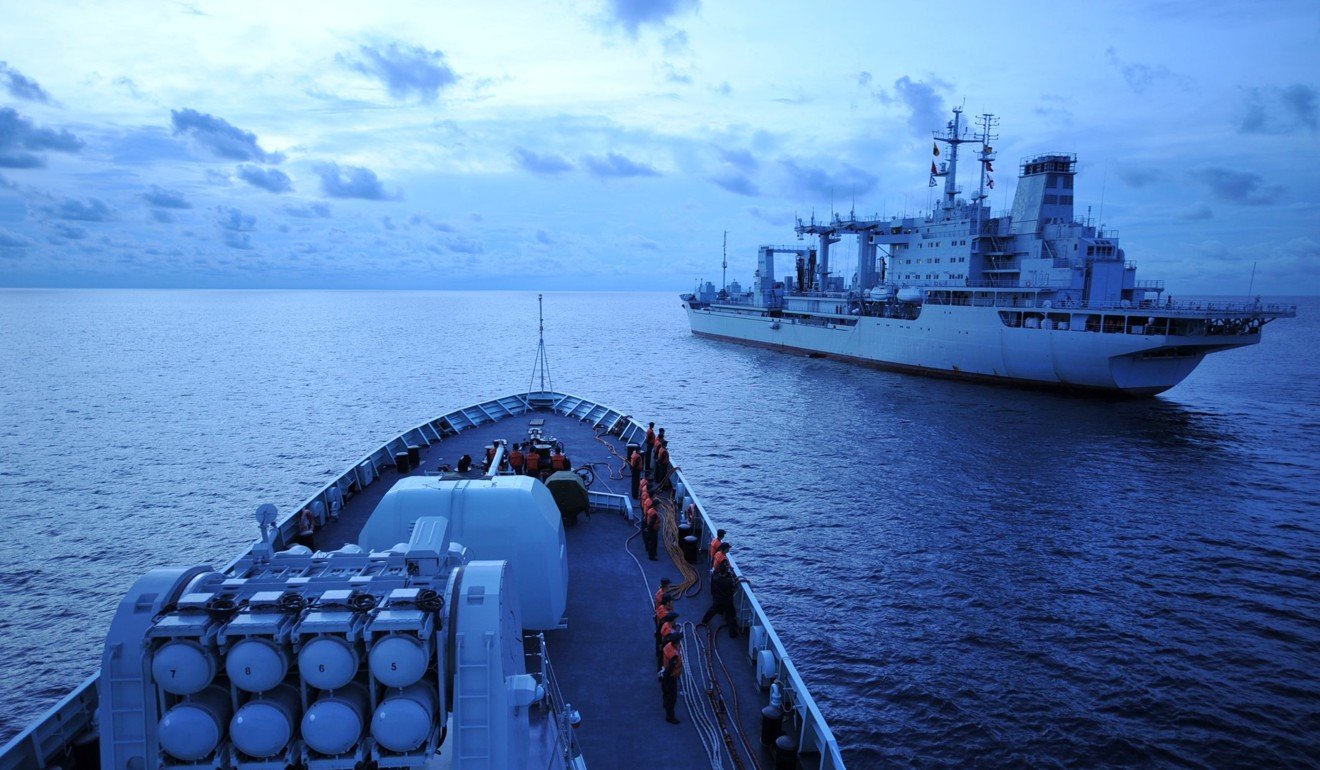 Asked if he was confident China would keep the waters open – Western powers say that Beijing's island-building activity in the South China Sea may impede freedom of navigation – Mahathir said it was "to the benefit of China to have the seas open".
"Because then, you will have more trade," the premier said.
"You can't expect all the goods going to China to change into Chinese ships before entering the Strait of Malacca and South China Sea.
"Goods from Europe and America, they will pass through the Strait of Malacca, and they should be free to pass through the Strait of Malacca, and then go to the South China Sea to reach China.
"You can't expect an oil tanker belonging to the Americans to stop and pump the oil out into Chinese ships, I mean, that is ridiculous. The sea must always be open."
He cited the narrow Strait of Malacca between Malaysia and Indonesia as an example of a free waterway.
"We have never tried to stop ships from passing through. They are welcomed. Although between Malaysia and Indonesia, we could have named this Strait of Malacca the 'Malaysia-Indonesia Sea', we didn't," Mahathir said.
"We want it to be open because it's good for trade. The South China Sea also is good for trading nations."
WATCH: Malaysian PM Mahathir Mohamad says perception of the government divides Malays
Ian Storey, a veteran researcher on the South China Sea dispute, said that Mahathir's comments "underscore his determination to uphold Malaysia's territorial and jurisdictional claims in the South China Sea".
"His views do not represent a change in Malaysia's policy, but I think we can expect Mahathir to be more critical of China's assertive behaviour in the South China Sea than his predecessor, who was in hock to Beijing," said Storey, of Singapore's ISEAS-Yusof Ishak Institute.
Storey said Mahathir might use his role as an "elder statesman" in the Asean bloc to encourage greater unity over the South China Sea, and to expedite talks with China for a code of conduct in the waters.
This article appeared in the South China Morning Post print edition as: 'There s h ouldn't be too many warships'