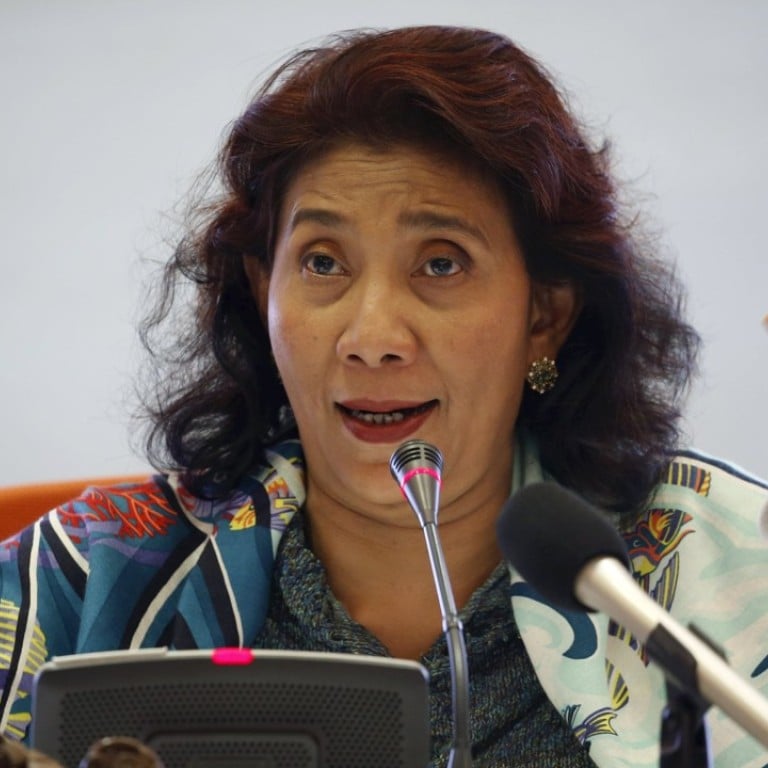 'China calls it fishing, Indonesia calls it crime': Pudjiastuti finds her target for Oceans summit
The Indonesian fisheries minister – known for her penchant for blowing up wayward vessels – sets her sights on Chinese habits ahead of an international conference that will tackle overfishing
Susi Pudjiastuti,
Indonesia's
minister for fisheries and maritime affairs, has a strong message for China, owner of the world's largest fishing fleet.
"What they are doing is not fishing, it is transnational organised crime," she tells This Week in Asia after a press conference in Jakarta. "You should write that. They need to understand."
The straight-talking, self-made businesswoman, who is known as much for her chain-smoking and tattoos as her no-nonsense approach to policy, has been holding forth on her favourite topic: the pillaging of her country's waters by foreign fishermen.
"We have had several disagreements [with China] on issues of illegal, unregulated and unreported fishing, they still disagree that it classifies as transnational crime," she says, ahead of this month's Our Oceans Conference in Bali. "But mostly these are China-origin vessels [with] multinational crews.
"Without international cooperation, we will not be able to fight this."
In four years, Indonesia has banned 10,000 foreign-registered vessels from fishing in its waters, half of which have been more than 500 gross tonnes (GT). Hundreds of vessels have since been seized and sunk – in some cases blown up on Pudjiastuti's orders, as a deterrent to others.
They have come from mainland China, Taiwan, Thailand, and the Philippines. Some have disguised their true origins by sailing under multiple flags or being registered to proxy companies in Indonesia or elsewhere.
China has expressed serious concern over the destruction of vessels and, two years ago, said it would take action against overfishing and the fishing industry's overexpansion, including cutting down the number of fishing vessels.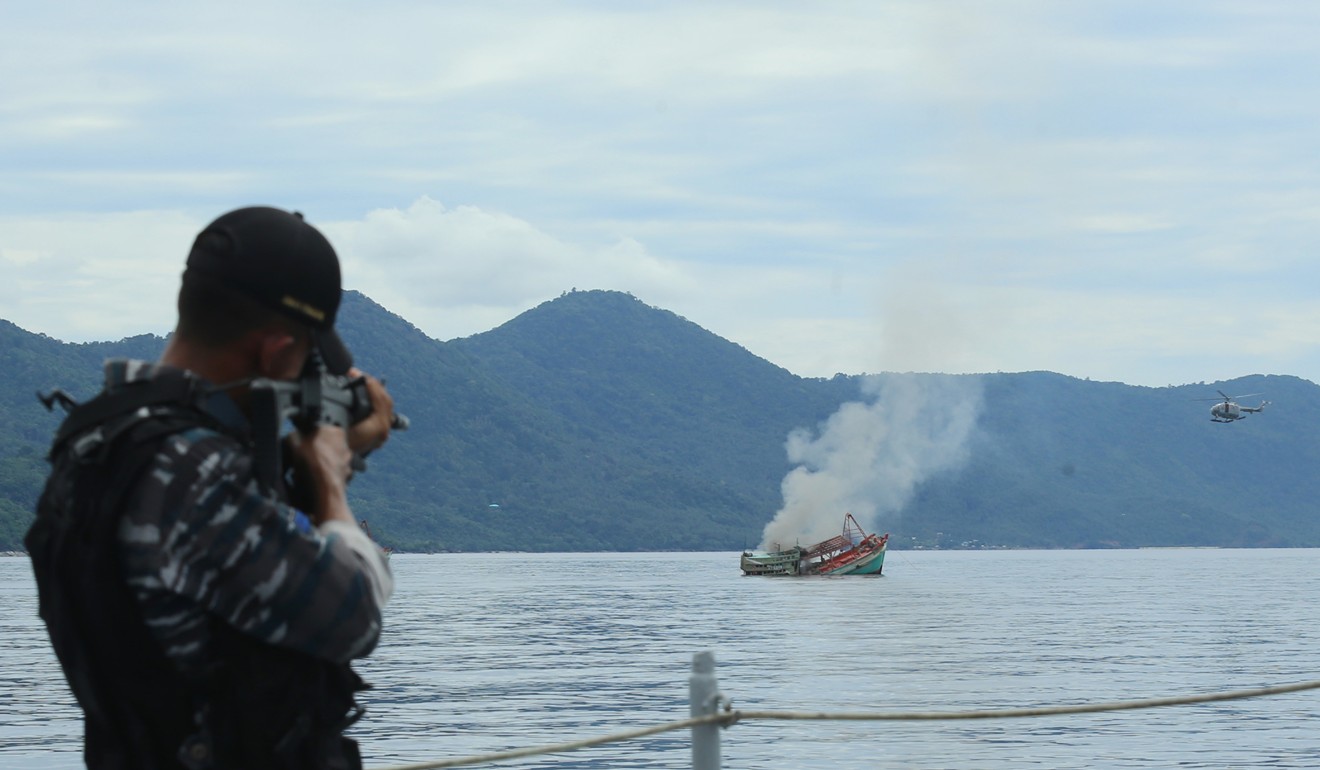 Last week, an official from the Ministry of Agriculture and Rural Affairs said Chinese authorities would impose "zero tolerance" punishment on domestic vessels found to have violated laws and regulations in high-sea fishing, according to the hawkish tabloid Global Times.
Deputy director of Sea Fishery Administration Liu Xinzhong was quoted as saying China cared more about the protection and sustainability of marine resources than other countries thought.
But according to the United Nations Food and Agriculture Organisation, more than a third of the world's commercial fish stocks are being diminished at unsustainable rates.
With domestic Chinese fish stocks among those declining at speed, in part due to growing demand for high-quality, fresh seafood from middle-class consumers, Beijing appears also to be increasingly encouraging "distant water fishing" far beyond its own exclusive economic zone (EEZ).
"A 100 GT vessel in a year can catch 2,000 tonnes of fish. It's millions of tonnes, billions of dollars," Pudjiastuti says. "It's a multinational big business. They call it fishing. We call it crime. We do disagree [with China] on that."
Ministers and heads of state from 35 nations are to attend this month's Our Oceans Conference along with 200 non-governmental and private sector organisations. Maritime security, climate change and pollution of the seas will be on the agenda as well as overfishing.
But so far China – like many of Indonesia's neighbours in the Association of Southeast Asian Nations (
Asean
) – will not be sending any high-level delegations.
Undeterred, Pudjiastuti says she has in her corner many island or coastal nations that are most vulnerable to over-fishing and climate change, and she will campaign for increased monitoring and enforcement of existing protected territories such as marine conservation areas.
She points out Chinese fishermen have been caught poaching sharks as far away as the Galapagos islands in the Southern Pacific Ocean, one of the world's ecological treasures.
"How can fishermen travel three-quarters of the world's surface and take 400 tonnes of sharks from a maritime-protected area?" Pudjiastuti asks, exasperated.
"Hopefully with interest and international cooperation on traceability, legality required to declare catch in ports, China will finally understand that they have to accommodate international concerns on distant fishing."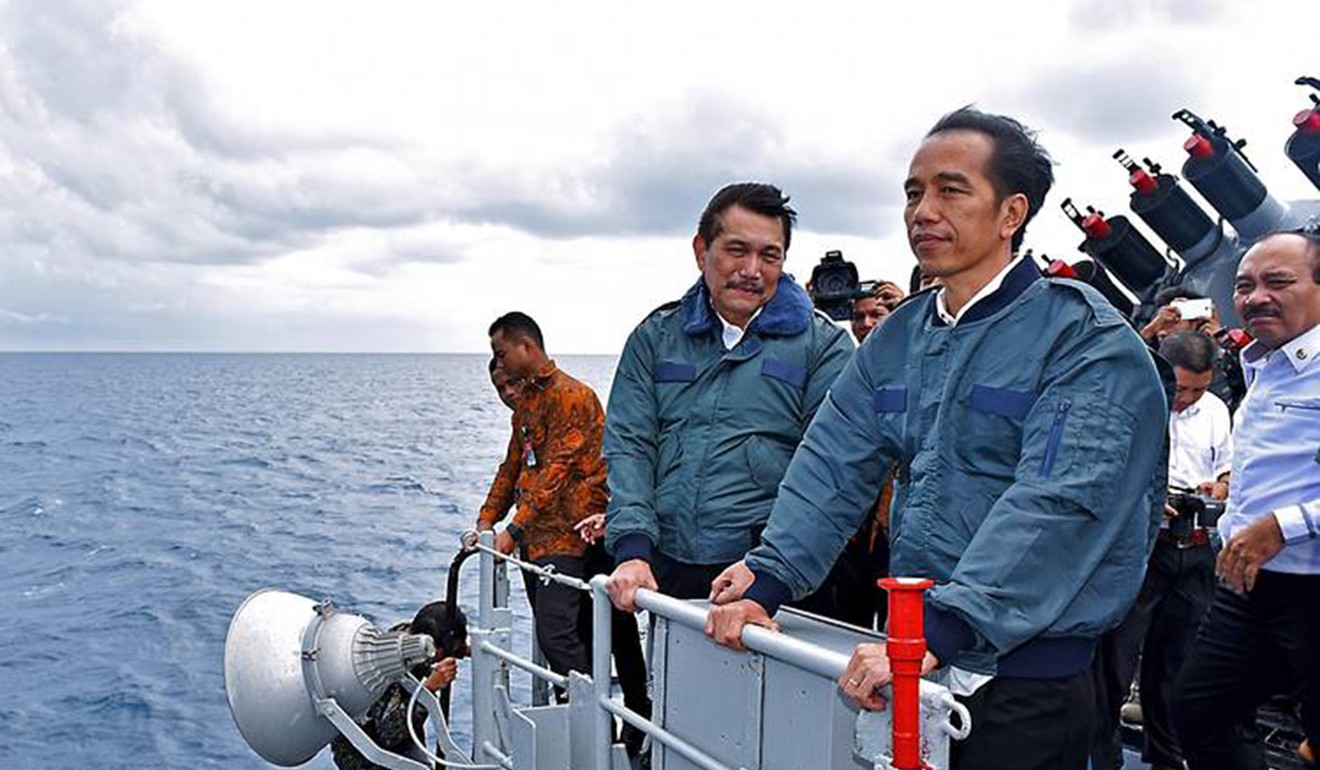 While Beijing denies any wrongdoing, its fishing boats, supported by coastguard and navy vessels, have also been seen as testing its territorial claims in the
South China Sea
. In 2016, an Indonesian patrol boat seized a 300-tonne Chinese fishing boat, Kway Fey 10078, for fishing near the Natuna Islands, where China's infamous "nine-dash line" marking its South China Sea claims overlaps Indonesian waters.
Pudjiastuti says the poachers are now switching tactics, to operate from the high seas, beyond national jurisdictions: "With modern technology, and the size of equipment, with 150km long lines, with 100km of nets, they can drop the nets in the high seas and pull [the catch] from within the exclusive economic zones of everybody."
Without more international commitments to tackle the issue, she adds, migrating fish which range across the seas such as yellowfin tuna and cod, will suffer.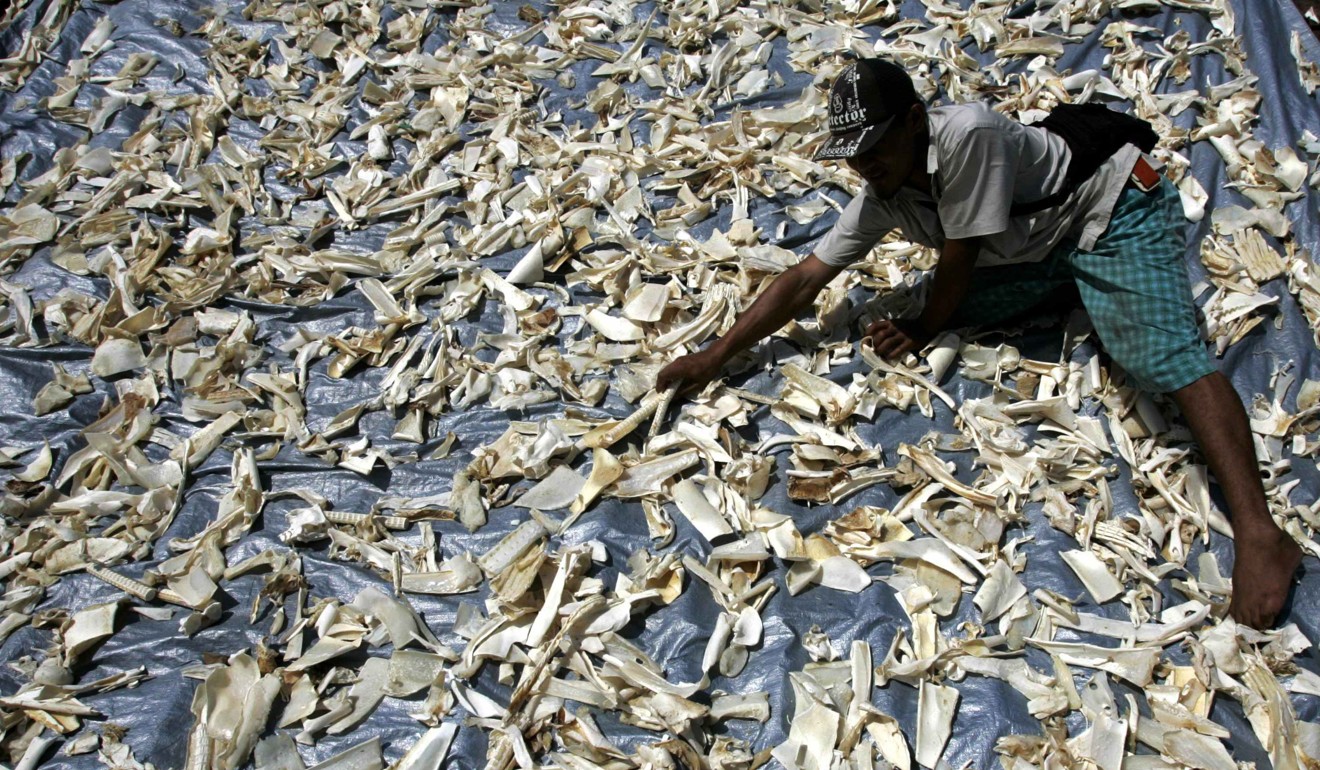 "The benefit of the no-jurisdiction high seas is only for the 11 states who do distant fishing," she adds. "But these migratory fish stocks are the world's fish stocks, not just Indonesia's fish stocks, it's also Japan … Europe … also China's fish stocks, so we hope the concern on this is recognised as well."
China's Ministry of Foreign Affairs on Friday said the government took the usage of fishery resources very seriously and would develop its fishing industry responsibly and in an environmentally sustainable way. It had cracked down on illegal fishing and was strengthening its education of fishermen and supervision of fishing vessels, a faxed statement said.
"We hope the relevant authorities can take an objective and fair view. If Indonesia has evidence that they bring to the Chinese, we will seriously investigate it."
Pudjiastuti's idiosyncratic ministerial style is well documented on social media, where images of her dancing to The Beatles, drinking coffee and smoking on a wakeboard or crowd-surfing over her ministerial staff have gone viral.
As well as advocating a plastic bag ban and banning single-use plastic bottles and straws from her ministry, she has also outlawed certain bureaucratic jargon in the name of efficiency: "Sometimes, every word needs a seminar: I hate that."
Meanwhile, the tough policy on illegal fishing appears to be paying off for the 20 million domestic fishermen in Indonesia's vast archipelago of 17,000 islands. While total fishing in Indonesian waters has dropped by more than 25 per cent and foreign fishing by 90 per cent since Pudjiastuti imposed her bans in 2014, the size and value of the domestic catch has swollen from 7 million tonnes to a predicted 13 million tonnes this year.
The challenge is not over, however. Although foreign fishing is being curbed, destructive methods such as using drag nets or explosives, are still being perpetrated by Indonesia's own citizens.
Purjiastuti is still confronting traditional attitudes to her country's marine resources, which range from struggling fishermen up to her cabinet colleagues, which she characterises as "take as much as possible, as soon as possible".
To combat this, "we put policy on banning trawlers, fighting destructive fishing using bombs and cyanide. We need to change attitudes and we still have a lot of problems [but] we have important lessons on fighting climate change and sustainable fish management to share."
She says sceptics – are you listening, China? – should be persuaded by the economic benefits of regulations that promote sustainable fishing.
"I would like to put it all in a book," Pudjiastuti says. "To convince several heads of state who still think that 'climate change is not an issue, it's just a rumour, it's not affecting anyone', that prioritising climate change and environmentally friendly measures is actually economically very profitable.
"I would like to share how, with just an US$8 million budget for patrol, surveillance and sinking of illegal fishing boats, we are saving millions, even billions of dollars. Maybe then they will get the point."