Call it what you want: the "poison pill" clause, the "China" clause, the "US veto" clause … but will Washington's latest weapon in its escalating trade war with Beijing be capable of isolating Asia's biggest economy from its stalwart trading allies in the region?
Unlikely in the near future, say regional trade experts – but China shouldn't expect to emerge unscathed.
It might sound innocuous enough, perhaps even a little dry, but clause 32.10 in the recently concluded US-Mexico-Canada Agreement (USMCA) has got water-cooler areas across Asia buzzing with speculation that it will be replicated in future US trade deals to ratchet up the pressure on Beijing.
Under the clause in the USMCA – a replacement for the 24-year-old North American Free Trade Agreement deemed lopsided against the US by President Donald Trump – participant countries can withdraw from the pact if one of the others enters into a fresh trade deal with a "non-market economy". That is widely seen as a thinly veiled threat by the US, warning its two neighbours about China.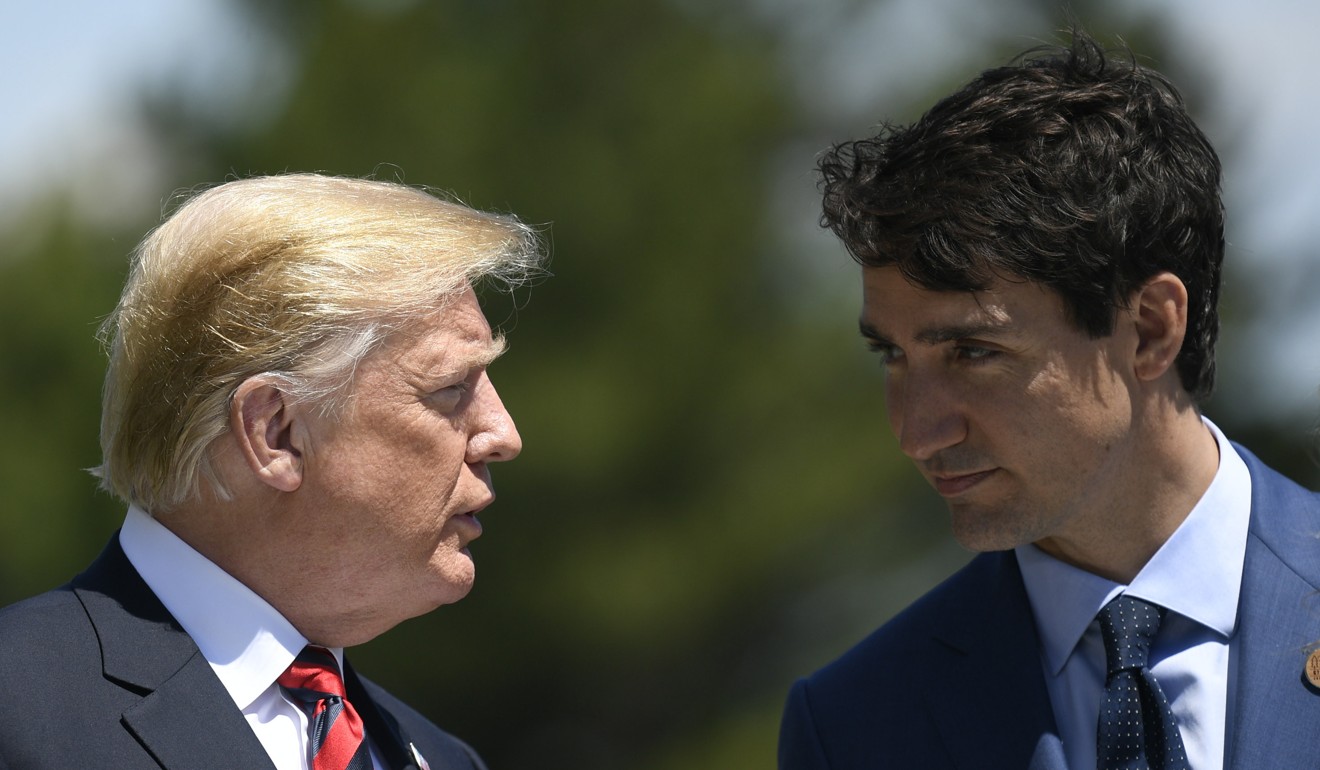 With rising talk that Trump is positioning the Western superpower for a cold war-style showdown with China, some observers say the clause could be used as an "us or them" test for America's trading partners in Asia, too.
Trump's commerce secretary Wilbur Ross last week signalled the provision might be replicated in upcoming trade pacts.
In the works are new free-trade agreements with Japan, the European Union (EU) and a post-Brexit Britain.
Asked in a Reuters interview if the US would replicate clause 32.10 in future trade deals, Ross said: "We shall see. It certainly helps that we got it with Mexico and with Canada, independently of whether we get it with anyone else."
Edmund Sim, partner at the multinational trade and investment law firm Appleton Luff, told This Week in Asia he saw little immediate impact on the US' current trade agreements with Asian countries.
Washington has trade and investment framework agreements – the initial-stage pact that leads to FTAs – with more than 20 countries across Asia.
It has FTAs with only three regional countries: Australia, South Korea and Singapore. Sim said it was unlikely that a clause similar to 32.10 could be inserted into these three bilateral agreements. The US signed off on revisions to its FTA with South Korea in September and no such clause was inserted, and it would be untenable to suddenly include the clause in its agreements with Singapore and Australia, said Sim, as the two countries had already signed FTAs with China.
He pointed out that the clause – as written in the USMCA – states only that the US can pull out of the pact if its fellow signatories sign up to a new FTA with a non-market economy. But it makes no mention of action against countries that already have FTAs with non-market economies.
Sim said the Philippines, which is in talks for a FTA with the US, was also likely to avoid the clutches of clause 32.10 because it had an FTA with China via Beijing's free-trade deal with the 10-nation Association of Southeast Asian Nations (Asean).
However, one Southeast Asian country that could be caught up in the 32.10 dragnet is Communist-ruled Vietnam.
As the US designates the country as a non-market economy, US trading partners could conceivably be penalised if they were to sign up to future trade pacts with Hanoi.
But Sim said this was unlikely in the near future, due to Vietnam's inclusion in the 11-nation Comprehensive and Progressive Agreement for Trans-Pacific Partnership – which Mexico and Canada are both party to.
With that agreement likely to be ratified in January, long before the USMCA, Vietnam's free-trade links with Mexico and Canada would be "grandfathered" or exempted from 32.10, the veteran international trade lawyer said.
"In any event, the Trump administration would be much more sympathetic to FTAs with Vietnam than with China," Sim said.
Even so, other experts said it would be foolhardy to think China could emerge totally unscathed.
Ganeshan Wignaraja, a former top adviser at the Asian Development Bank who is now executive director of the Lakshman Kadirgamar Institute in Colombo, said if the US decided to pursue the insertion of the 32.10 clause in upcoming FTAs with Japan and the EU, the outcome would divert trade "away from economies like China and towards the US and its main trading partners".
"It will also hasten relocation of China-centred global value chains towards Asian countries like India and Indonesia, which do not have trade agreements with the US," said Wignaraja. ■