When Nguyen Phu Trong, the Communist Party of Vietnam General Secretary, took his oath of office in Hanoi's National Assembly last week, he became the first party boss to also serve as president since the days of the Vietnam war.
"It is fair to say that Mr Trong is the most powerful leader of Vietnam since President Ho Chi Minh," said Le Dang Doanh, a retired senior economic adviser to the government and party member, adding that Trong is even more powerful than former wartime leader Le Duan.
Mr Trong is the most powerful leader of Vietnam since President Ho Chi Minh
At age 74, Trong is nine years too old to serve as general secretary under the party's rules, although his allies in the central committee have made exceptions for him since he was first elected in 2011. He has publicly portrayed himself as a reluctant leader, even modestly asking for Vietnam's "sympathy" during his presidential acceptance speech in the National Assembly and hinting that he was only holding office for the sake of the nation.
Trong's ascent to the presidency, which followed the death of President Tran Dai Quang last month, comes on top of his posting as chairman of the party's Central Military Commission, the nation's highest body on military affairs. This means that for the first time in Vietnam's history, the party boss holds the same three top offices that have been enjoyed by Beijing's paramount leaders since 1993.
With Trong's election to the presidency coming in the wake of a 2016 Party Congress that saw one of his primary opponents stripped of the premiership and a subsequent anti-corruption crackdown that went as high as the politburo, comparisons have been drawn between Trong, whose presidency won unanimous support in the central committee, and Chinese President Xi Jinping.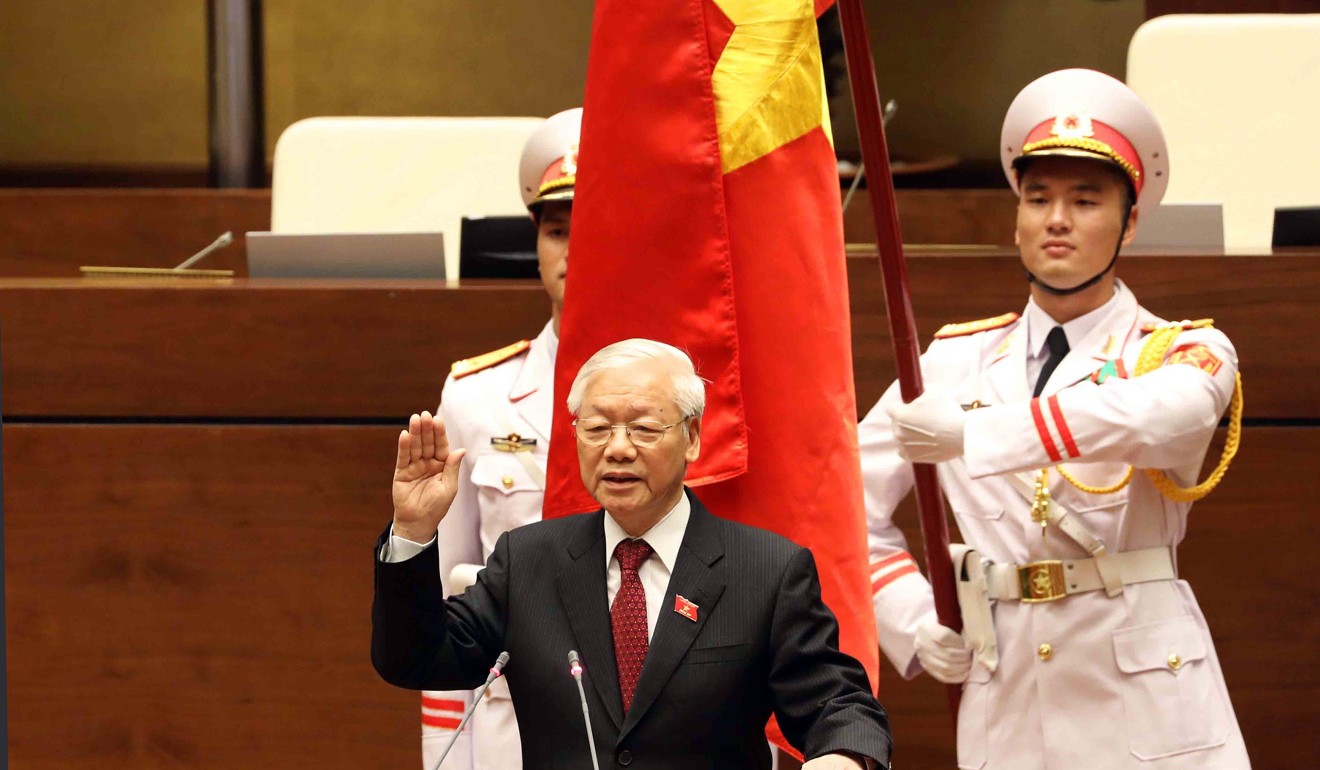 "It seems like Vietnam is becoming more like China," said Nguyen Quang A, a retired economist and former party member turned pro-democracy activist.
"The former presidents, nobody had such big ambitions," he said of the Vietnamese presidency, which previously had been largely ceremonial despite holding sweeping powers on paper.
But former economic adviser Doanh cautioned against comparisons between Trong and Xi.
"People can see some similarities with their style of governance between these two leaders," he said. "But their ways and measures ... depend on the political context of each country."
The two leaders followed very different trajectories to the top, in ways that show in their respective governing styles, according to Carl Thayer, an emeritus professor at the University of New South Wales and an expert on Vietnam.
Trong, who joined the party in 1968 after studying philology in Hanoi, spent decades editing party journals that helped craft state ideology, particularly on party building. According to Thayer, he was not identified with any major policy decisions before his election as party secretary. In contrast, Xi rose through the ranks of the Central Military Command before taking on party posts throughout China, culminating as the party chief of Shanghai in 2007 before ascending to the politburo that same year.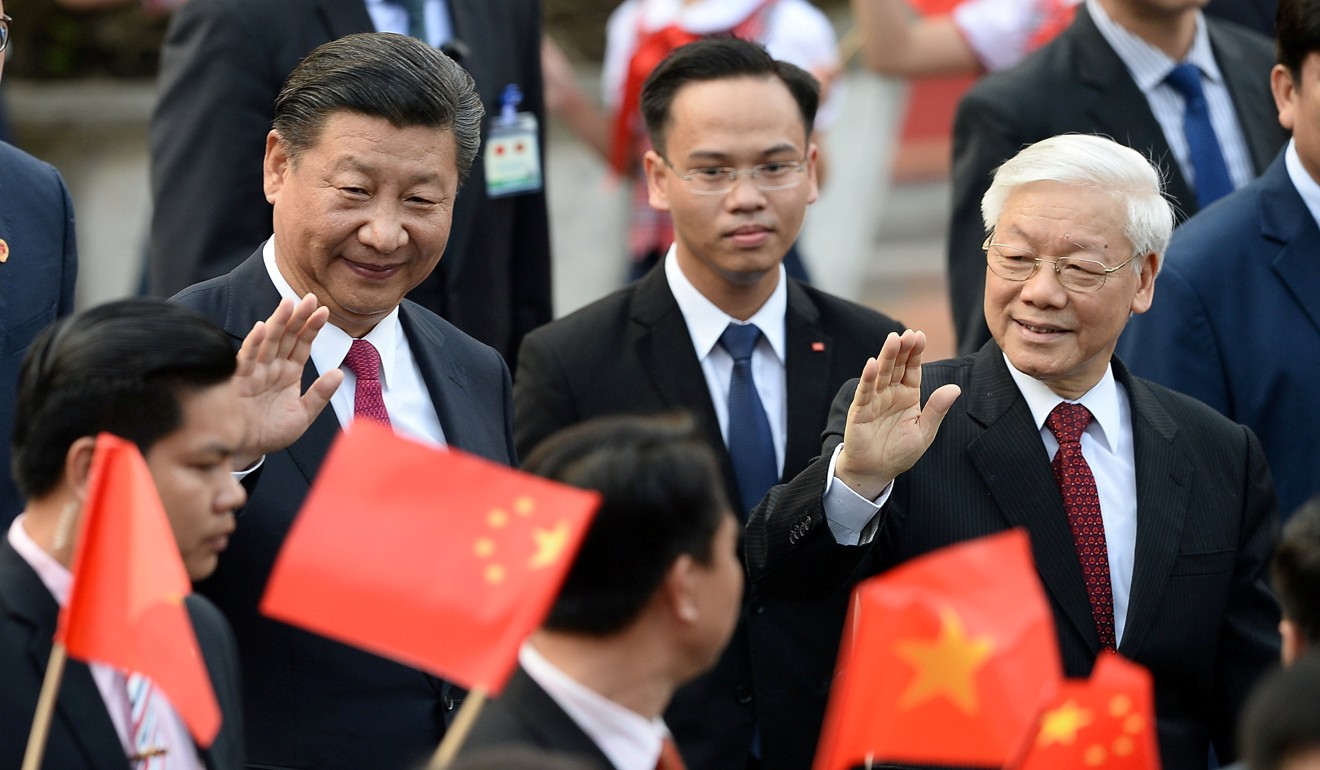 "Xi Jinping has been an activist leader with broad experience in provincial and municipal government, and military and state affairs at the national level," Thayer said. "Trong adopts a low-key profile as first of equals in a collective leadership. Xi is more of an extrovert who personally accumulates power and offers an expansive vision under his leadership."
Doanh said there were parallels between the anti-corruption campaigns initiated by Xi and Trong. The latter's began following the retirement of former prime minister and Trong rival Nguyen Tan Dung at the 2016 Party Congress.
Dinh La Thang, the party boss of Ho Chi Minh City and a rising star in the politburo under Dung's premiership, was unceremoniously stripped of his titles in 2017 and subsequently sentenced to 31 years in jail on corruption charges stemming from his time as chairman of the state oil company.
Wider crackdowns ensued, targeting members of the security services and military. Germany even accused Vietnam last year of kidnapping Trinh Xuan Thanh, an executive who worked under Thang at the state oil company, from a Berlin park before repatriating him to Vietnam to stand trial.
But while Thayer called Xi's influence on Trong "an open question", Doanh was unconvinced.
"Do not think that Mr Trong learns this from Mr Xi or vice versa … the political context between Vietnam and China is different, so any copying is not reasonable," he said.
Relations with China will stay on a "steady keel" under the Trong presidency, Thayer said, pointing out that one of the biggest changes was that Trong would now be on an equal footing with Xi in diplomatic protocol.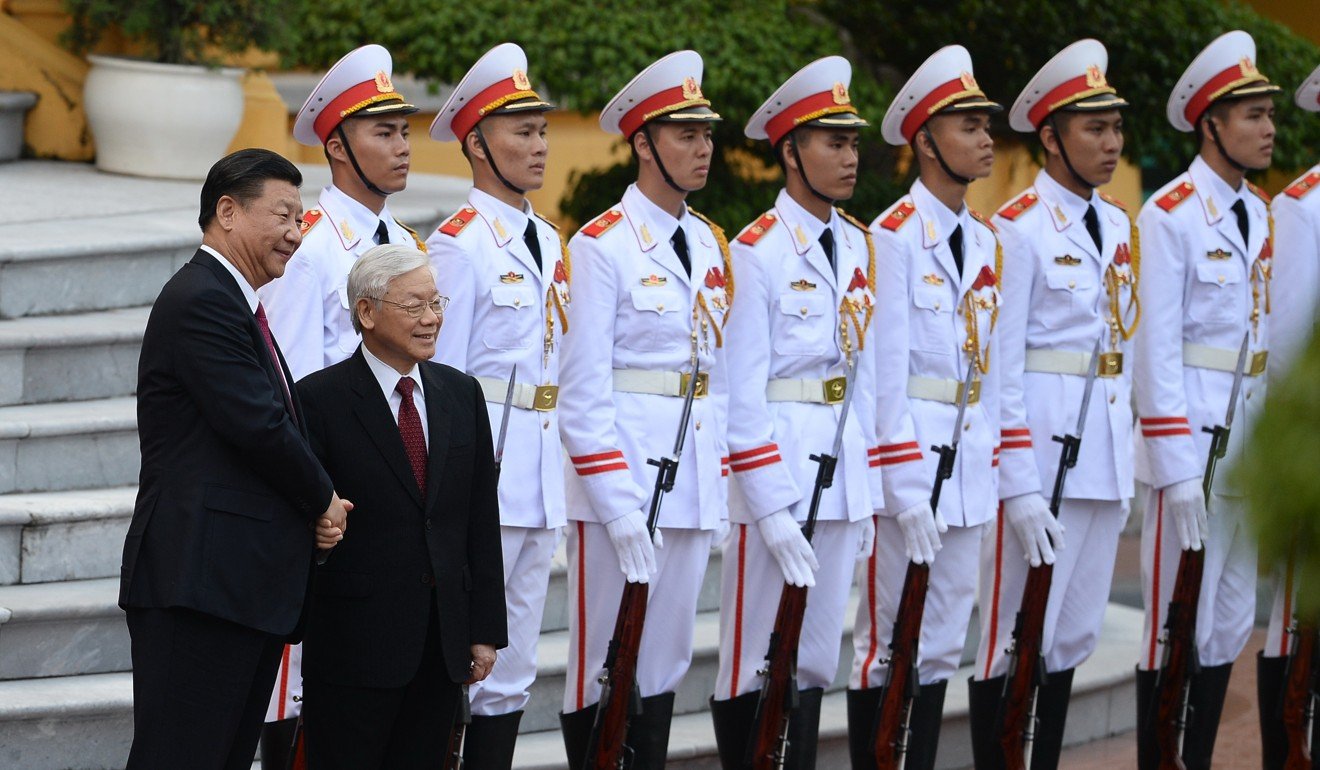 "Bilateral relations are wide-ranging and Trong will continue to promote party-to-party ties, regular theoretical seminars, and exchange of young military political officers," he said.
He added, however, that the late President Quang, who rose through the ranks of the Ministry of Public Security – the primary security apparatus tasked with counter-intelligence and internal political control – would have had a particular interest in combating Chinese espionage and avoiding public anger stemming from Vietnam's maritime dispute in the South China Sea.
"No leader in Vietnam is pro-China," Thayer said.
Doanh gives cautious support for Trong's presidency, arguing that it will strengthen the prestige of Trong's leadership and policies. He is worried, however, that although the party is constitutionally mandated to lead Vietnam, there is no law governing exactly how the relationship between state and party should work.
With the party boss now president, Doanh said the situation should be clarified.
"There is a question of how to supervise the power that is in the hands of a single person," he said, adding there should be "a law to regulate how the party leadership" ought to run Vietnam. ■