It's going to take a lot more than passion to bring the two Koreas together, but there was no shortage of ardour when South Korean President Moon Jae-in made the first ever speech by a South Korean leader to the North Korean public.
"Our people are resilient," said Moon to 150,000 Pyongyang residents at the May Day Stadium in Pyongyang last month. "Our people love peace. And our people must live together. We had lived together for five thousand years but apart for just 70 years."
Since April, when Moon and North Korean leader Kim Jong-un held their first inter-Korean summit, the Herculean challenge of North Korean denuclearisation has dominated the world's attention. But on the Korean peninsula, the spotlight has shone with equal intensity on the steps being taken to complete a potentially even more monumental task: reunifying North and South.
In a Gallup Korea opinion poll last month, 84 per cent of South Koreans said they supported unification, the highest proportion since 2004, with most favouring a gradual process over the next 10 years.
"We expect debate about plans for unification to kick off in earnest in the second half of next year," said Han Sung, a spokesman for the left-leaning civic group People's Congress for Peace Federation. "When it comes to plans for unification, the government's job isn't important, so much as the role of the citizens."
With inter-Korean relations at their warmest in years, a growing chorus within South Korean politics, academia and civil society has steered discussion towards various models of political integration with the North – ranging from a federation to a union of states – that would mark the first practical steps toward unification. Among the most hotly debated options are a federal arrangement sometimes likened to the "one country, two systems" agreement that has governed Hong Kong since the territory's handover from British to Chinese rule; a Korean version of the European Union, said to be preferred by Moon; and absorption by the South that would result in the sort of liberal democracy that arose in Germany after the fall of the Berlin wall – held up by supporters as a textbook example of how to merge a capitalist and communist state.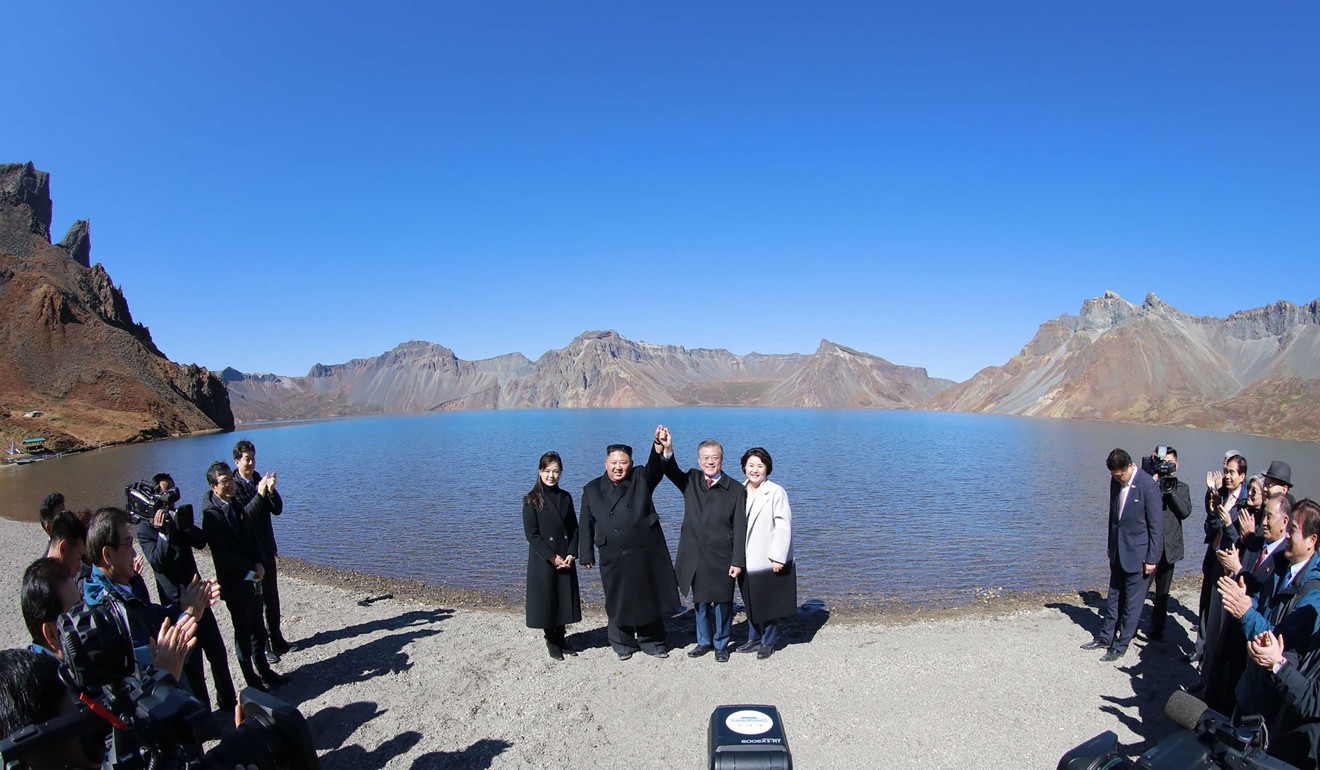 But each of these visions comes with problems. While both Koreas, and both sides of South Korean politics, officially agree on the need for eventual unification, there is no such consensus on exactly how to get there. It is an ideologically charged and often heated debate in South Korea, where the fundamental political divide is centred on the question of how to manage relations with its bellicose and authoritarian neighbour.
Progressives, for whom Moon and his Democratic Party are standard bearers, see an interim political union with the North as a pathway to permanent peace and reconciliation.
"There is almost no chance of one side caving in most of the way," said Lee Jae-bong, a professor of political science and diplomacy at Wonkwang University in Iksan, who expects Moon to establish a union before the end of his term in 2022. "Whichever way, there is no chance of one giving up its system and accepting the other. Unification by force is absolutely not desirable. Unification by turning each side into a sea of fire and heap of ashes would be a catastrophe. Is there any other path to peaceful unification, through reconciliation and mutual cooperation, than by a federation?"
Many conservatives, historically wary of engagement with the North, perceive instead the first loose soil heralding the erosion of the democratic South's liberal values and its eventual subjugation by Pyongyang.
"North Korea doesn't want to give up its communist party, North Korea doesn't want to give up its juche ideology [North Korea's official doctrine of self-reliance]," said Park Syung-je, chairman of the Asia Strategy Institute in Seoul. "But they ask us to give up everything for our security. So the question is, what is guaranteed for us? Nothing."
The outcome of this brewing clash, despite attracting little attention from an outside world preoccupied with the North's nuclear disarmament, could profoundly shape the future of not just the Korean peninsula, but also the region and beyond.
NATIONAL PRIORITIES
Officially, both Koreas have deemed reunification a national priority almost from the moment the Korean peninsula was divided along the 38th Parallel at the end of the second world war.
Kim Il-sung, North Korea's founding leader, sparked the 1950-1953 Korean war when he attempted to reunify the peninsula by force by launching an invasion of the South. And Syngman Rhee, South Korea's first president, proclaimed unification to be of such importance that it should be achieved by military force if necessary.
South Korea's democratic constitution, ratified in 1987, commits the nation to "seek unification"; North Korea's socialist document describes reunification as the "supreme national task". Behind such aspirational clauses, however, looms the daunting reality.
South Korea's US$1.5 trillion economy, powered by household names like Samsung and Hyundai, is estimated to be 40 to 50 times larger than that of the North. By comparison, West Germany's economy was about triple the size of East Germany's when they reunified in 1990. The government-affiliated Institute for Korean Integration of Society has estimated the cost of unification at 15 trillion won (US$13.2 billion) in the first decade alone. Culturally, Koreans on either side of the border have grown apart to the point where, for all intents and purposes, they don't even speak the same language; the Korean spoken in the South today is so infused with "Konglish" – English-derived words and phrases – that North Korean defectors find themselves having to learn essentially a whole new vocabulary.
Public sentiment is another complication. Although inter-Korean relations are currently at a high point, there is some ambivalence towards unification among the public – particularly among younger South Koreans, who have never known family in the North, and for whom appeals to ethnic kinship can seem abstract next to concerns such as joblessness and rising living costs. In surveys carried out by the Asan Institute between 2011 and 2017, about 25 per cent of South Koreans in their 20s have consistently expressed no interest in unification. As recently as last year, almost half of twenty-somethings told pollsters they viewed the North as either a "stranger" or an "enemy", far more than in any other age bracket.
"I don't think people are ready enough to understand and accept each other," said Ban Jae-hoon, a 28-year-old office worker in Seoul, who views unification as important but has concerns over culture and the economy. "We'd need a long, long time for that."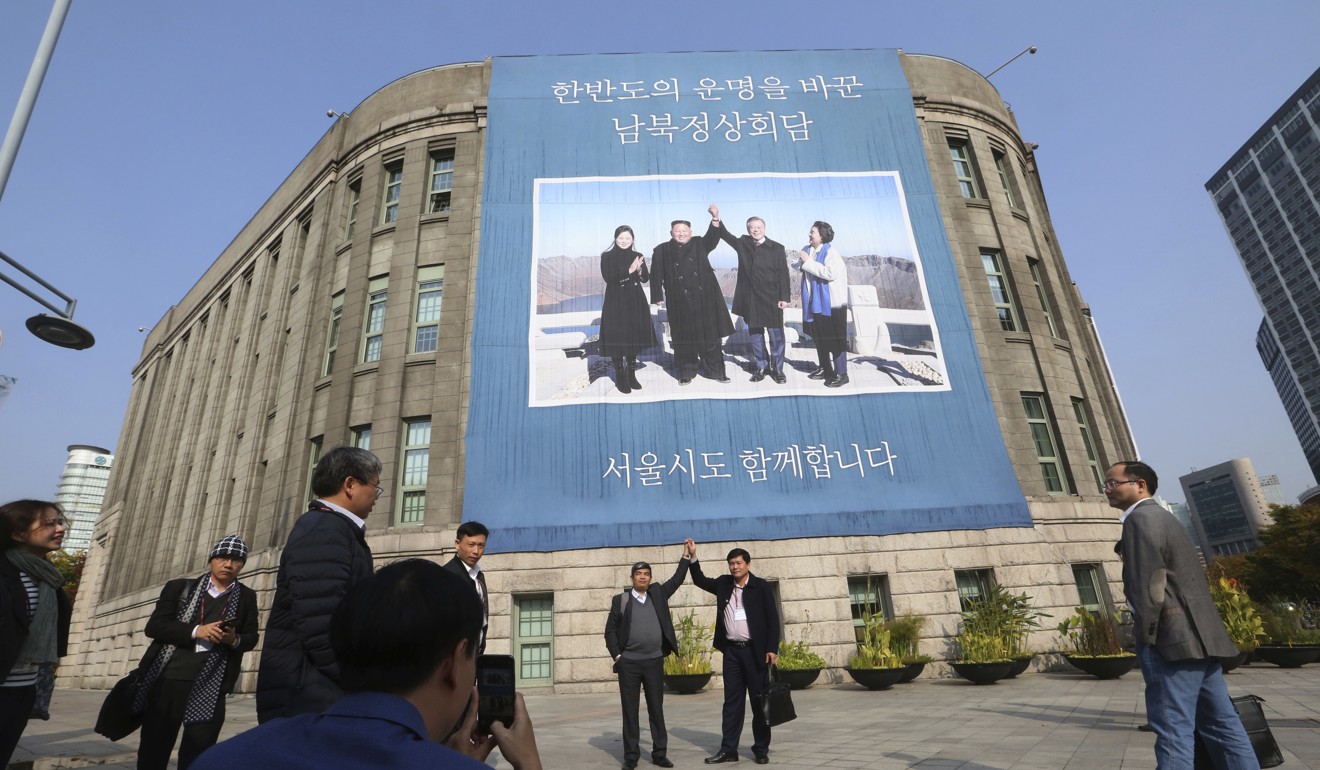 THE BINDS THAT TIE
The political challenge of reconciling two diametrically opposed systems is arguably the most daunting of all.
In the South lies one of Asia's freest and most vibrant democracies, and a market-based economy that has produced a standard of living comparable to that of Italy or Spain. To the North is an impoverished, nominally communist dictatorship where almost every facet of life defers to the conjoined personality cults of Kim Jong-un, his father and grandfather.
In the face of seemingly irreconcilable differences, the North and South have throughout the decades proposed various versions of a federation or union as an interim step towards unification.
In 1973, the year after the North and South signed an agreement renouncing the use of force to achieve reunification, Kim Il-sung unveiled plans for a "Democratic Confederal Republic of Koryo" compromising of "one nation, one state, two systems, and two governments", in which a federal government would manage diplomacy and defence and regional governments would handle internal affairs.
At the 6th Congress of the Workers' Party of Korea in 1980, according to unification policy scholar Park Young-ho, North Korea enshrined the DCRK model as a means to establishing a "national unification government with the equal participation from both sides based on mutual tolerance of differences in ideologies and counterparts' systems". As recently as 2014, North Korea's foreign affairs minister Ri Su-yong said the Koreas should unify under "one country, two systems".
South Korea's pronouncements have been more conservative, favouring a looser association between North and South.
In 1989, the South's first democratically elected president, Roh Tae-woo, proposed the "Korean National Community Unification Formula", followed by his successor Kim Young-sam's revised "National Community Unification Formula", which has been adopted as official policy by every government since.
The plan, which stipulates liberal democracy as the basis for unification, envisages the formation of a Korean union or commonwealth after a suitable period of reconciliation and cooperation. In such a union, North and South would retain control over their own affairs as separate sovereign states, but institutionalise cooperative mechanisms such as an inter-Korean council and joint cabinet meetings.
The exact meaning and implications of the different terms used throughout the years have been a source of recurring debate and disagreement.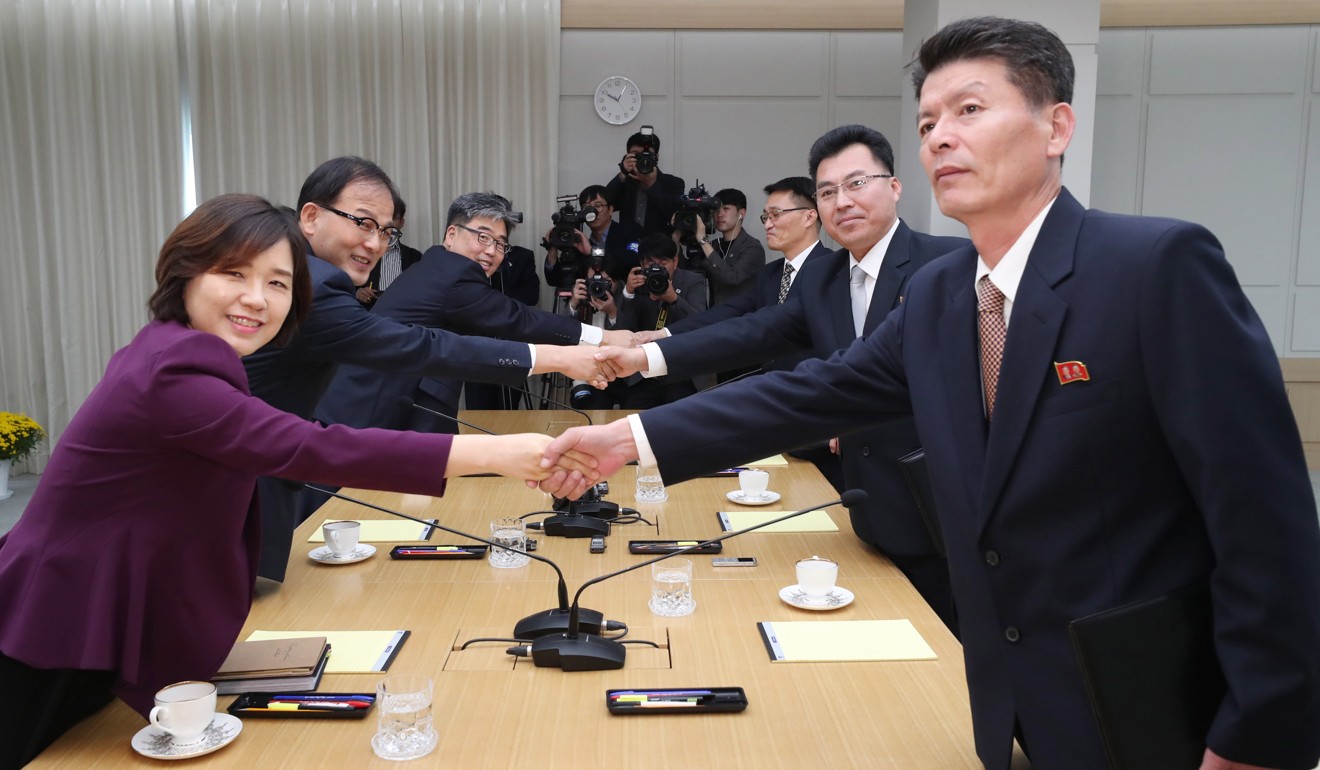 In the first inter-Korean summit in 2000, late South Korean president Kim Dae-jung and late North Korean leader Kim Jong-il agreed to work towards unification based on an understanding that the two sides proposed models shared a "common element". The resulting summit declaration specified the two models as being a "loose federation" and a "North-South union".
After an unprecedented three inter-Korean summits so far this year, voices on the left, including figures close to the president, have been pushing to see such a union finally come to fruition.
In June, former unification minister Lim Dong-won, who was part of Moon's entourage during last month's summit in Pyongyang, called on the two Koreas, the United States and China to sign an accord that would formally end the Korean war and address the formation of a North-South union. As well as normalising relations, denuclearisation and arms control, Lim said his proposal would potentially involve an "adjustment" to the role of the 28,500 US troops in South Korea, whose withdrawal the North has demanded for decades.
Moon, whose own parents fled from the North during the Korean war, has said US troops would remain in South Korea even in the event of unification.
In August, Jeong Se-hyun, a close adviser to the president who served alongside Moon in the administration of president Roh Moo-hyun, described the necessity of establishing a union to give the Koreas clout in future negotiations with the US and China.
In progressive media, the influential Hankoryeh newspaper hailed the opening of an inter-Korean liaison office in the North last month "as a first, though rudimentary, step towards an inter-Korean confederation".
"As the relationship between the South and North Korea progresses, it is necessary to change the hostile mentality towards the North," said Han, of the People's Congress for Peace Federation, which formed earlier this year to advocate for federation, using the North's terminology.
"We are also convinced that the negative and wrong-headed sentiments about a federation will turn into something positive.
"In the end, South Korea and our people need to live well and thrive independently," added Han, who opposes US "control" of Korea, referring to the military alliance that sees US troops stationed in the South as a bulwark against North Korean aggression.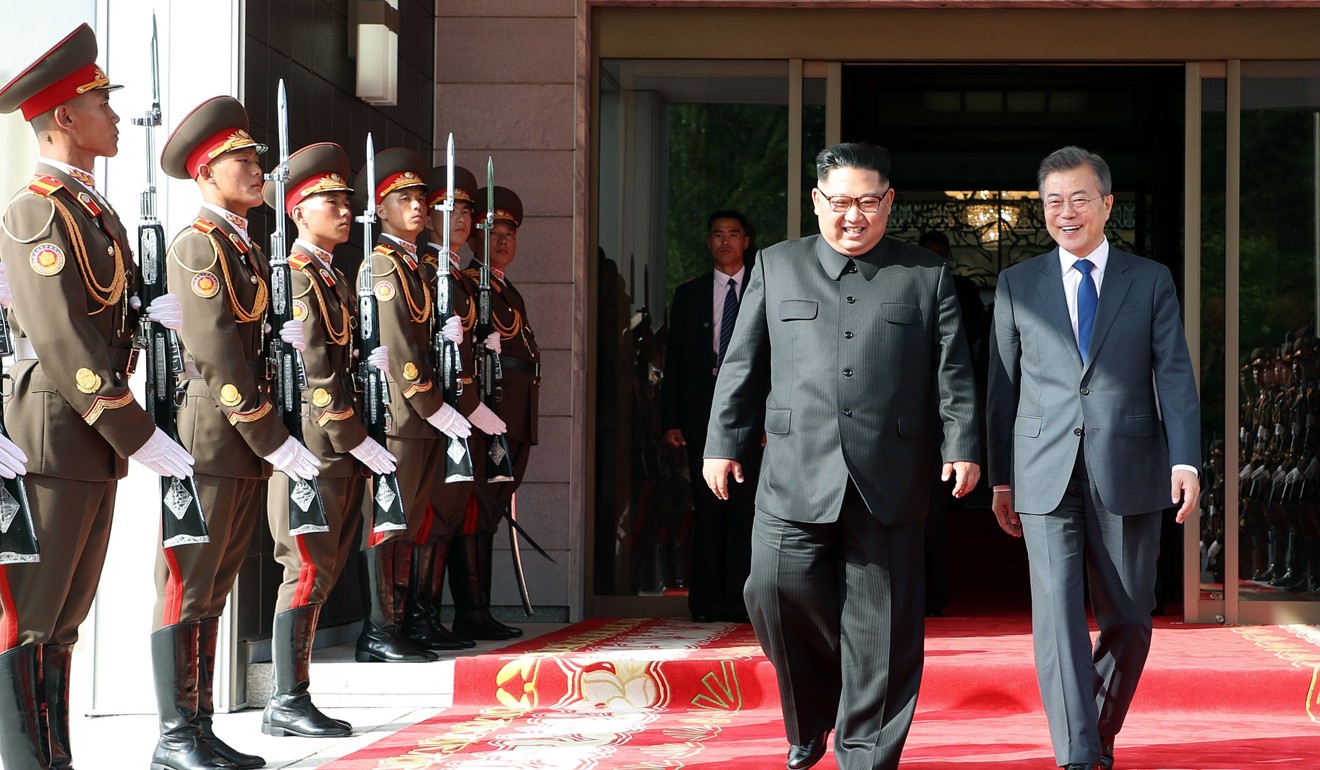 MOON ALSO RISES
While his confidantes and supporters have been vocal on the need for integration soon, President Moon himself has kept his cards close to his chest. In recent statements, he has defended himself from conservative criticism of his rapprochement efforts, insisting that seeking to improve inter-Korean relations was no different from the policies of past governments.
"[Moon] usually talks about terms such as national community or national economic community through peaceful exchanges and cooperation between the two Koreas, but hesitates to say 'unification' because he appears to believe the term could provoke North Korea," said Lim Jae-cheon, a North Korean studies professor at Korea University. "North Korea perceives that South Korea's way of unification means 'unification by absorption'."
Before entering office, however, Moon did speak positively about proposals for a union or even federation.
As a presidential hopeful in 2012, he told a memorial service for Kim Dae-jung that the late president's dream of a union of states or "low-level" federation would "certainly" be established within the term of the next progressive government. And in a television debate during his second and ultimately successful presidential run last year, Moon stated his belief that a low-level federation and union are "almost the same" as concepts.
Some of the most detailed comments Moon has made on unification as president were during a speech in the symbolic location of Berlin, in which the president outlined key three principles.
"I clearly state the following: we do not wish for North Korea's collapse, and will not work towards any kind of unification through absorption," Moon said. "Neither will we pursue an artificial unification."
Nam Sang-kyu, Moon's assistant press secretary, declined to comment on the president's views.
Unification Ministry deputy spokeswoman Lee Yoo-jin said that "given the circumstances on the Korean peninsula with rapid progress and development of inter-Korean relations, providing our stance based on speculation would be inappropriate".
However, Moon Chung-in, one of the president's closest advisers on inter-Korean policy, said the president's vision was of a Korean union comparable to the European Union.
"President Moon has been continuing an old concept of unification, which is based on the concept of a union between the North and South Korean states," said Moon, who has attended all five inter-Korean summits since 2000. "That means one nation, two states, two systems, and two governments. Therefore you can think about his proposal of unification in terms of the European Union."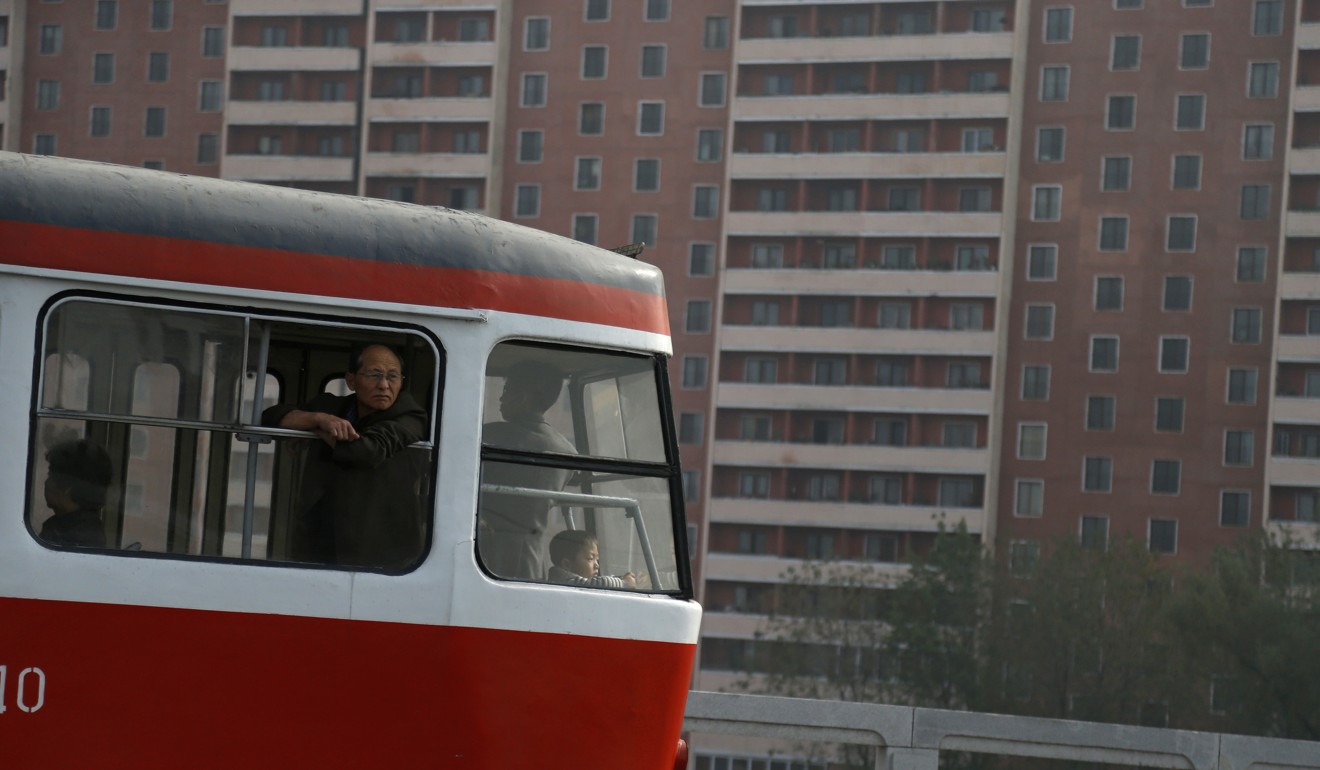 Moon, the adviser, said the government's policy differed fundamentally from the North's blueprint because it envisaged the retention of two separate sovereign states. "The North Korean proposal, whether it's a federation or confederation, it assumes one nation, one state, two systems and two local governments. But South Korea thinks that is very much premature given the heterogeneity between the North and the South," said Moon, who denied the president had ever expressed support for federation, the North's concept, despite the president's comments in 2012.
"Our government's position is to enhance exchange and cooperation, and promote peaceful coexistence between North and South, and to facilitate free flow of people, goods, and services. And then we can achieve the de facto unification."
'SENTIMENTAL NATIONALISM'?
Although Germany is more often cited as a comparison, the Korea Economic Institute of America published a report in 2010 arguing the EU offered a better model for unification and recommending the establishment of a common assembly and a council of ministers.
"The EU experience shows that for building trusting relations, institutional strategies are more successful than gradual, experiential-learning approaches," it said.
In the vision of pre-unification touted by presidential adviser Moon, the North and South would over time harmonise to the point a peninsula-wide ballot would be possible. "Therefore the unification which is based on one sovereignty, one state, can be seen as de jure unification. But the South Korean model of unification can be seen as a kind of de facto unification, and eventually North and South Korea will become similar, and in that, they can have a free election," he said. "Then through a national referendum between the North and South, their people can decide on the ultimate form of reunification."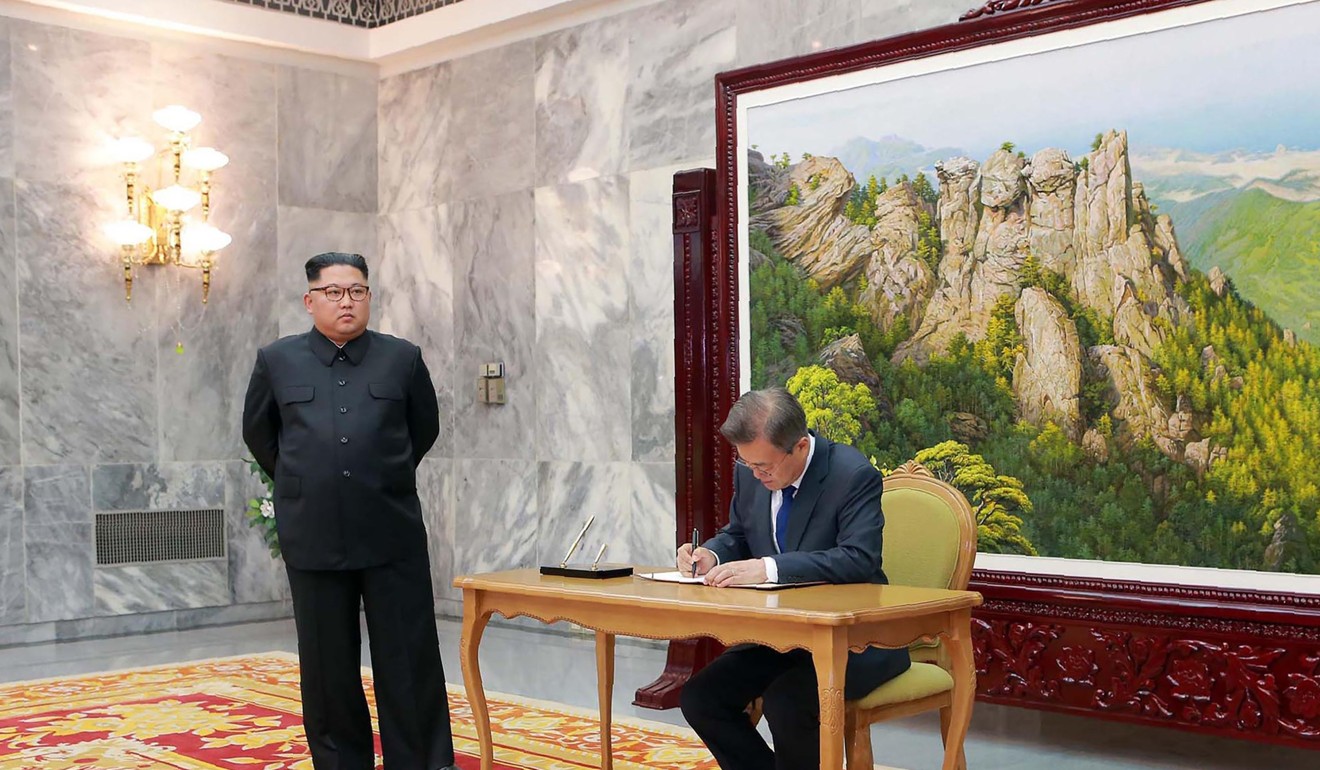 Still, Moon insisted that reunification did not rank among the president's immediate priorities: "He has been saying peace first, unification later. After achieving peace, then he might talk about models of unification."
Among South Korean conservatives, however, there is growing alarm at the implications integration with the autocratic, often belligerent North would hold for the country's democratic freedoms and national security – including the future of the US alliance, which both Pyongyang and South Korea's hard-left wish to see gone.
Earlier this month, Hong Joon-pyo, leader of the main opposition Liberty Korea Party until his resignation in June, blasted the concept of a federation as a "fantasy".
"Instead of a federation, unification must be based on liberal democracy like the reunification of East and West Germany," wrote Hong, who weeks previously said the next election in 2022 could be fought on the topic of federation, on his Facebook page. "That is the only way we can prosper as a nation for the generations to come. Unification through a South-North federation is only a fantasy built on sentimental nationalism."
In an interview with the Chosun Monthly magazine last month, Thae Yong-ho, the former North Korean ambassador to Britain who defected to the South in 2016, similarly dismissed a federation as "impossible".
"The only option is unification by absorption into the liberal democratic system," said Thae, who has become an outspoken critic of the Kim regime since his defection. "In other words, the hereditary Kim dynasty has to collapse for there to be unification."
It is no secret that North Korea, which claims sovereignty over the whole peninsula, originally conceived of a federation as a way to subjugate the South without the bloodshed of war. Hwang Jang-yop, the highest-ranking North Korean official to ever defect to the South, detailed in his 2001 book Sunshine Siding with Darkness Cannot Beat Darkness how Kim Il-sung believed federation would allow the North, united under "one ideology", to dominate and propagandise the politically divided South.
In a federation, according to Hwang, Kim envisaged the North's population combining with pro-North Korean elements in the South to form a bloc capable of winning any subsequent election or even war. Earlier this year, Radio Free Asia, citing an unnamed source in Pyongyang, reported that North Korea had begun holding seminars to brief Workers' Party officials on Kim Jong-un's plans for "China-Hong Kong-style unification" – in which South Korea would be the lesser power like Hong Kong.
Even if most South Koreans would balk at a scenario that unbalanced, the Hong Kong model has received favourable mention from observers ranging from Korea Institute for International Economic Policy economist Jeong Hyung-gon to former Dongguk University professor Kang Jeong-koo.
"The confederation idea or policy was originally proposed by North Korea as a means to achieve its goals of an end to the state of war and a pull-out of US forces from South Korea," said Kim Pyung-woo, a former president of the Korean Bar Association turned conservative activist. "As South Korea has become an economic power and China grows as a world power, some South Korean people, especially younger generations, support a pull-out of US forces and support the confederation idea or policy hoping it may result in peaceful unification."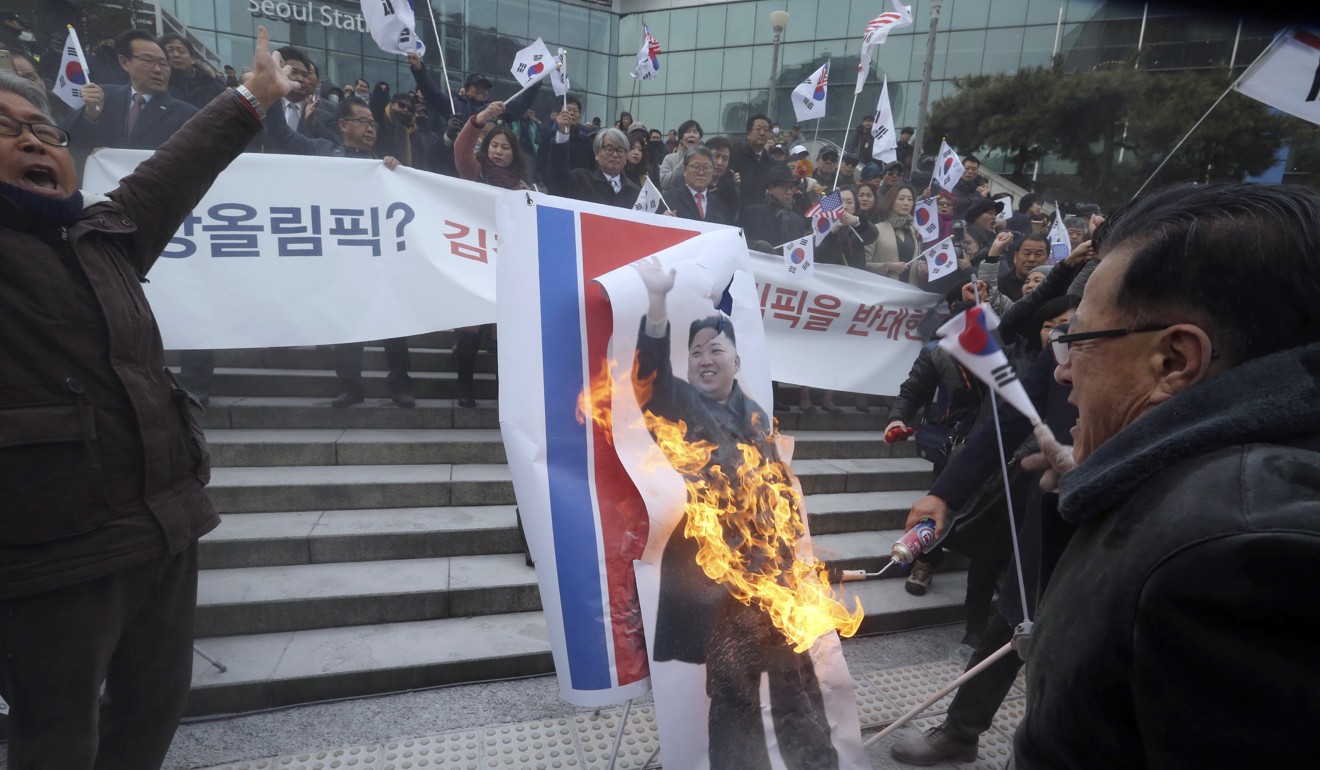 THE PRICE OF PEACE
Critics charge that President Moon has already begun conceding ground on national security and liberal values such as freedom of expression in his rush to mend fences with the North.
Shin Won-sik, a top military official under the previous administration, accused the government of giving up national security after it reached an agreement with the North last month to establish a no-fly zone and buffer zones around the demilitarised zone. In the US, where concern is rising that denuclearisation is taking a back seat to rapprochement, the pact has become an increasingly obvious source of unease.
The Unification Ministry recently banned a prominent North Korean defector-turned-reporter from covering inter-Korean talks between high-level officials out of an apparent desire not to anger Pyongyang. The exclusion of Kim Myeong-sung, a reporter for the largest-circulation Chosun newspaper and a South Korean citizen, earned a sharp rebuke from local media and the Seoul Foreign Correspondents' Club.
Dozens of groups representing defectors, many of whom have complained of having their voices sidelined by the Moon administration for the sake of inter-Korean ties, demanded the resignation of unification minister Cho Myoung-gyon for blocking the reporter.
"This government is afraid about criticising a dictator," said Asia Strategy Institute director Park.
Critics have also latched onto proposals by the ruling party to remove the term "liberal" from Article 4 of the constitution, which stipulates that unification be based on "the liberal democratic order". North Korea, the critics note, officially describes itself as "democratic".
"Moon will try everything to achieve a confederation and an 'eternal peace system' – the death of South Korean sovereignty – by 2022 when his term ends," said Kim, the conservative activist. "He will attempt to do so as quickly as possible in order to achieve his lifetime dream before he politically becomes a lame duck."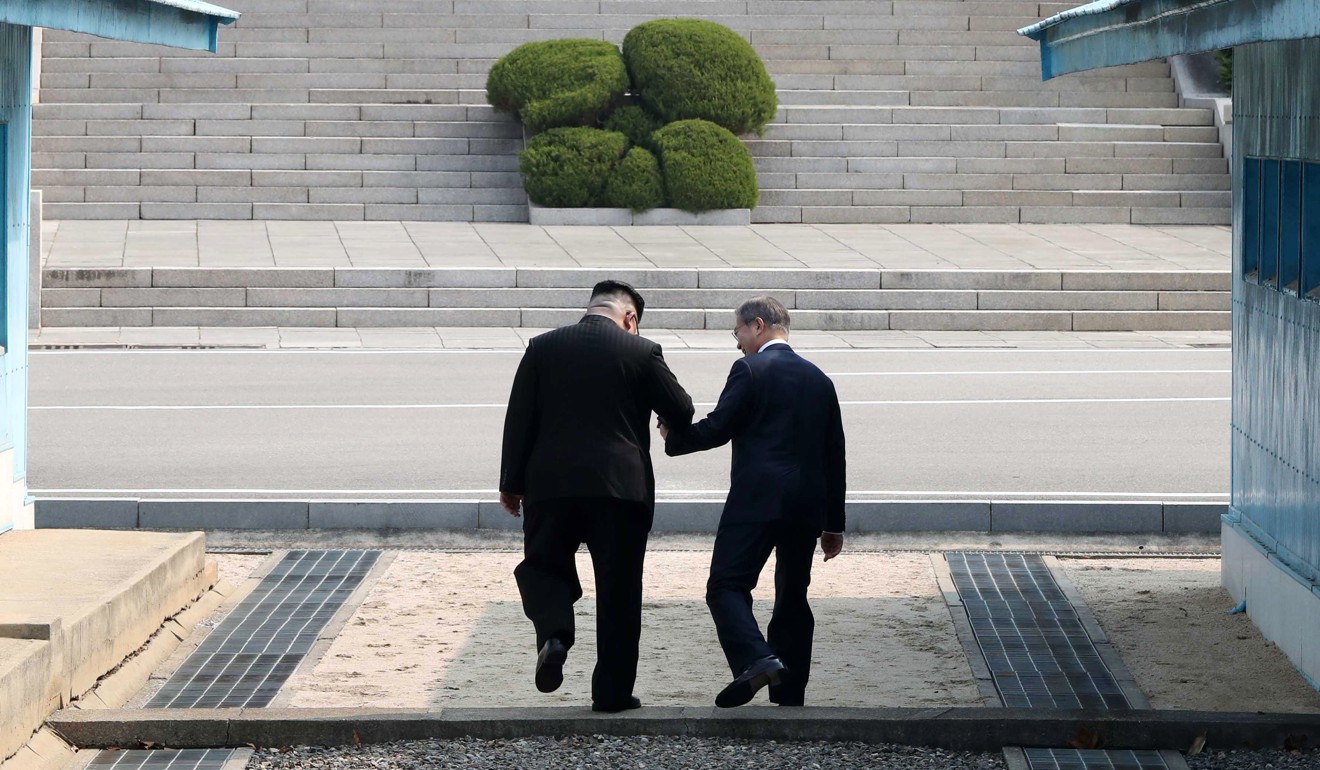 Moon, the presidential adviser, rejected the suggestion that the president or the South Korean people would ever trade away their freedoms for the sake of reconciliation with the North. "No one in South Korea would compromise basic values embodied in the constitution for the sake of improving inter-Korean relations," he said, noting that the president had significantly ramped up defence spending.
Moreover, a union, he said, would not lead to changes in the South, but could spur reform in the North.
Asked if constitutional revision would be required to enter into a union with the North, Moon said the issue would be subject to public debate if the Koreas got to that point. "But we haven't reached that stage," he said. "It is premature to talk about those things now."
Lim, the professor, agreed that President Moon was probably not immediately focused on unification. "For peace-building, he wants to achieve a joint declaration to end the Korean war and other mechanisms for a peace system," he said. "I don't think that he is eager to achieve unification now, although the peace-building elements positively affect unification later."
Yet among those who favour a union or even federation, there is a keen awareness that sensitivities around the issue may be holding the president back from openly expressing his enthusiasm for the idea.
"Because there is a lot of negative public opinion and sentiment about a federation as a result of distortions and misunderstandings, it's difficult for him as president to publicly express a positive opinion about it," said Lee, who favourably likens federation with China's "one country, two systems" policy.
Indeed, in a recent essay calling for the establishment of a "low-level" Korean union, Paik Nak-chung, a prominent intellectual and confidante of the president, said it would be wise to avoid using the related terminology where possible.
Park, the director of the Asia Strategy Institute, said that the Moon administration needed to at least be more transparent and specific about what it had planned.
"They haven't shown us a real road map, they just generally emphasise peace and unification," he said. "So it's very hard to criticise them. At the same time, they can avoid all the problems." ■
Additional reporting by Jae Park