Malaysian Prime Minister Mahathir Mohamad has been honoured with Japan's highest award – the Grand Cordon of the Order of the Paulownia Flowers – in recognition of the premier's contributions to strengthening bilateral ties. The presentation also reflects Tokyo's endorsement of Mahathir, who has professed his willingness to push back against Chinese influence in the region.
Mahathir, 93, is the third Asian leader to receive the Paulownia award, joining former Singapore premier Lee Kuan Yew and former Indian prime minister Manmohan Singh.
The Malaysian leader has long been fascinated with Japan: during his first stint as prime minister from 1981-2003 he implemented the "Look East" policy as an answer to the search for alternatives to Western development models. This initiative focused on countries like Japan and South Korea, which Mahathir praised for their labour ethics and management capabilities.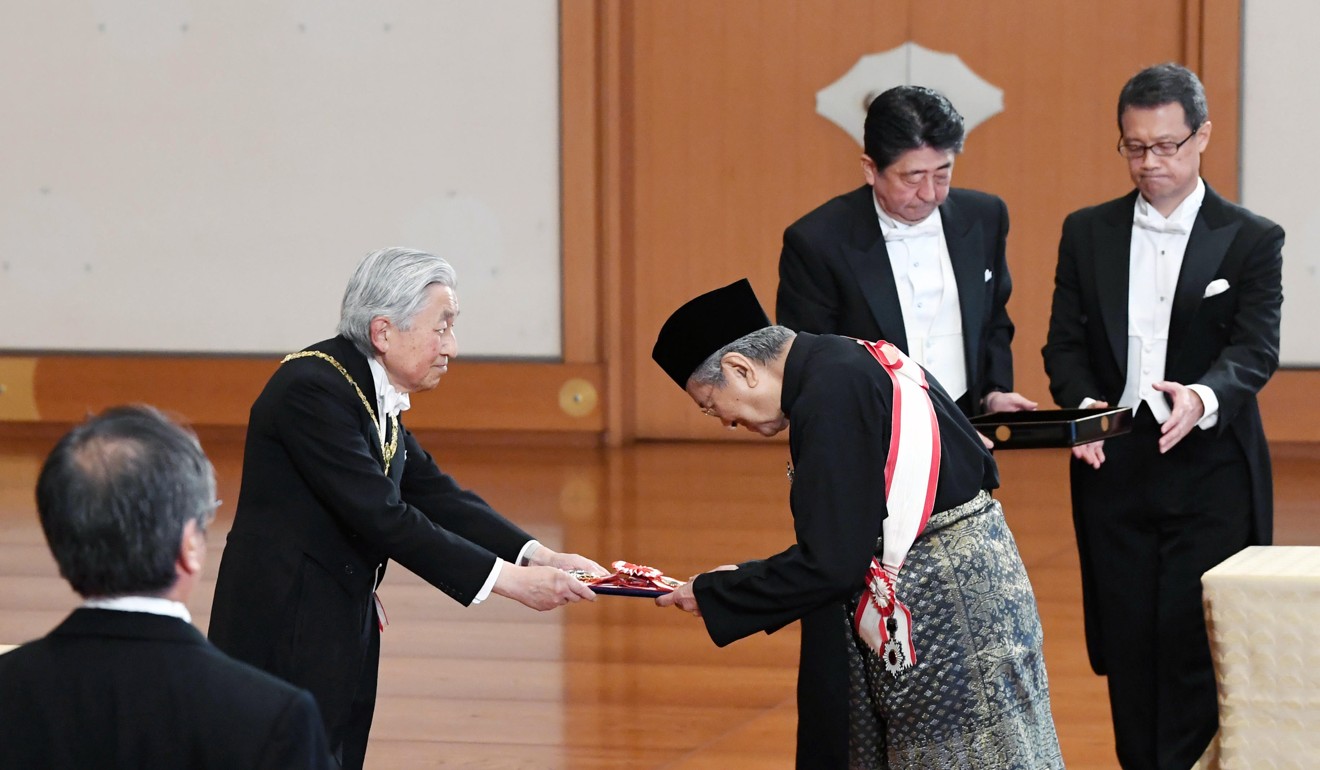 In a 2002 speech, Mahathir noted how Japan had "warded off" Western hegemony and praised its "patriotism, discipline, good work ethics, competent management system and above all the close cooperation between the Government and the private sector".
Mahathir returned to power after leading the Pakatan Harapan coalition to a shock electoral win in May, ending the six-decade stranglehold of ruling coalition Barisan Nasional.
Mahathir's firm approach when dealing with China is in contrast to Asean member states' largely positive responses to China's economic might. Tokyo also hopes Malaysia will support its push for freedom of navigation in the South China Sea, the focal point for several territorial disputes between China and various Asean nations, including Malaysia.
The Malaysian prime minister has also scrapped or postponed several Chinese-backed infrastructure projects promoted by the previous government, including a high-speed railway along the country's east coast, citing their high cost.
Mahathir is going to elevate Japan-Malaysia relations to another milestone
Mahathir has expressed the desire to woo Japanese investors, and has made three state visits to the country in just six months. In the federal budget, tabled last week, Malaysian finance minister Lim Guan Eng said the Japanese government has reciprocal faith in the new Malaysian administration as it had offered to guarantee 200 billion yen (US$1.8 billion) in 10-year samurai bonds via the Japan Bank of International Cooperation.
"Mahathir used to vocally discuss the 'Japan [and Asia] that can say no' along with former Tokyo mayor Shintaro Ishihara, asserting smaller states' autonomy amidst great power pressure," observed foreign policy and international relations expert Hoo Chiew Ping.
"Helming the government for the second time and again putting Japan as the policy priority in his Look East Policy 2.0, Mahathir is going to elevate Japan-Malaysia relations to another milestone."