The emergence this year of a Chinese businessman within President Rodrigo Duterte's inner circle has been a source of intrigue in the Philippines, where an opposition lawmaker has called for an investigation into the "nature and scope of his influence".
The entrepreneur in question is Michael Yang, the owner of shopping malls in Davao City, whose close ties to the Chinese community – and long, unexplained relationship with Duterte – appear to have landed him a post as an adviser inside Malacanang Palace.
Yang's newly confirmed role in government is now under increased scrutiny as Manila draws ever closer to Beijing, and with President Xi Jinping arriving on Tuesday for the first state visit by a Chinese head of state since 2005.
The government, for its part, has downplayed Yang's presence, even dismissing the public outrage that erupted when papers purportedly appointing him as a presidential adviser were released online.
But contracts obtained last month by the Rappler news website, which allegedly showed Yang has been working for the president since January, prompted an official admission.
"Michael Yang is just one of those advisers the president consults regarding matters. He receives one peso a year," Salvador Panelo, the presidential spokesman, told reporters on November 6.
Panelo's statement was a remarkable reversal: in October, Duterte said Yang "cannot be" his presidential adviser "because he is Chinese". By Philippine law, a foreigner cannot have a government post. Yet Yang's nationality, according to Panelo, was a factor in his position as "economic adviser".
"Mr Yang is a wealthy man. He has [risen] from poor origins," Panleo said, as reported by CNN Philippines. "Because he is Chinese, he knows people from the Chinese government. And he knows the psychology of the Chinese. And on that aspect, the president needs people like him."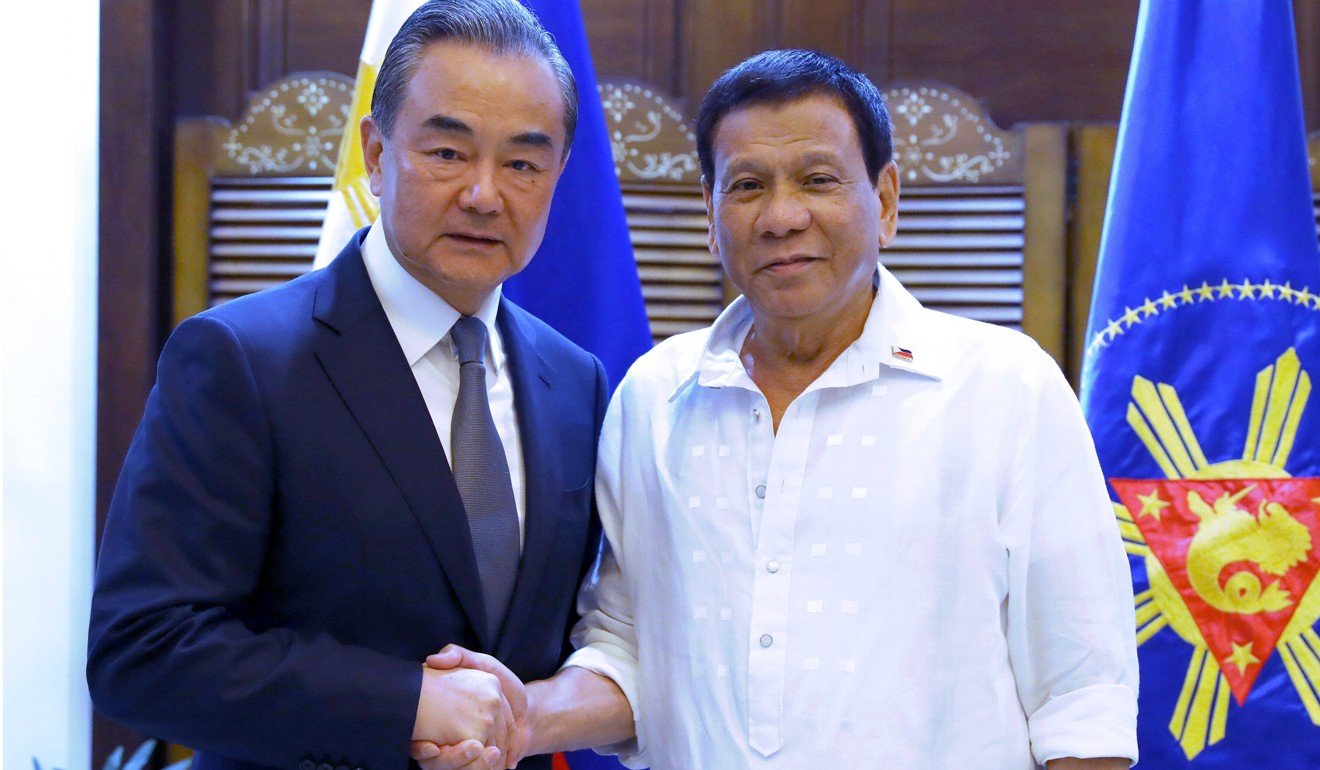 Yang's background in Davao
Even so, questions and contradictions swirl around Yang, also known as Yang Hongming, while little has been revealed about his age, background, credentials or access to Duterte. According to an IPO application filed to the Hong Kong Exchanges and Clearing in July this year, Yang is trying to have his company, Fudesheng Financial Group Company, listed on the city's stock exchange.
The filing says that Yang is 41 and, in April 2017, he was appointed as an honorary president by the Philippine Chinese Chamber of Commerce and Industry. He was also chairman of the board of directors of Yangtze (Group) Trade, which was incorporated in the Philippines in 2011.
Among other qualifications listed in the filing, Yang completed the Entrepreneur Lifelong Learning Seminar organised in 2017 by the school of management of Xiamen University, and he is "managing director of the first board of directors of Fujian Normal University" in Fuzhou, China. Yet little else is known about him.
Tondyo Cruz, a political columnist for The Manila Bulletin, expressed frustration about the lack of information and urged "full disclosure".
"The burden of proof should be on the administration and Yang. Any dearth in information on him is not the fault of the media," Cruz said. "This is about transparency and full disclosure regarding presidential appointments."
Reports have managed to establish that for about 15 years, Yang operated businesses, including the Los Amigos shopping centre, in Davao City, where Duterte served as mayor for multiple terms across three decades.
Michael Yang is just one of those advisers the president consults regarding matters. He receives one peso a year
The dispute over Yang's role, meanwhile, began when it was reported last month his business card was adorned with the presidential seal, which by law can be used "exclusively to represent the president of the Philippines".
The back of the card, according to reports, identified Yang as the chairman of Full Win Company, an engineering firm also involved in real estate, finance and government procurement. The company's website said Yang serves as the honorary president of the Philippines-China Chamber of Commerce and chairman of the Philippines-China Friendship Foundation. The site said Yang officially reported to Malacanang on March 1.
The first time Duterte mentioned Yang in public was on October 4, when he completely dismissed a "dossier on the businessman that alleged him to be either a drug addict or a drug pusher", Rappler reported.
Defending Yang, Duterte cited the businessman's links to Zhao Jianhua, the Chinese ambassador to the Philippines, and to Premier Li Keqiang, saying: "He is even part of the entourage of China's premier."
A sign of the times
The lack of information about Yang, including the use of the presidential seal and concerns about his Chinese citizenship, has infuriated Senator Leila De Lima, one of the president's most ferocious critics.
She pointed out that during Duterte's 2016 state visit to China, photographs showed the president with Yang, Zhao Jianhua and Alan Peter Cayetano, the Philippine foreign affairs secretary, walking together in a Beijing tourist area.
"As a matter of rule, we are not allowed to get a foreign consultant in the government because it can give them direct access to sensitive and confidential state information – passively or actively – which in turn threatens and undermines our national security," said De Lima, who has reportedly filed a petition for an inquiry into Yang.
"The independence of the state from foreign control necessitates that the questionable citizenship of a presidential adviser be authenticated, and the nature and scope of his influence over foreign policy be fully disclosed."
Yet Bobby Tuazon, a professor of international relations at the University of the Philippines and the policy director of the Centre for People's Empowerment in Governance, said foreign consultants were nothing new in the Philippines.
He knows people from the Chinese government. And he knows the psychology of the Chinese ... the president needs people like him
In 2005, during her tenure as president, Gloria Macapagal-Arroyo, now Speaker of the Lower House and a staunch Duterte ally, was criticised for hiring an American consultancy firm for US$75,000 a month. Tuazon said foreign advisers were usually retained to help attract investments from overseas – in this case from China.
"Since [Duterte] entered office, the administration has seen exponential development in China-Philippines relations. Some are even calling it another 'golden period' for the two countries," Tuazon said.
The Department of Finance, which operates its own task force to facilitate Chinese infrastructure projects, announced that in the first half of this year bilateral trade between the countries reached US$13.9 billion. Tuazon expected more landmark deals to be signed during Xi's two-day visit, possibly including a joint oil exploration agreement in contested territories.
Although it is impossible to determine Yang's role in the bilateral relations, Tuazon said foreign advisers have historically promoted the interests of superpowers at the expense of their less-developed partners. Most importantly, the timing of Yang's appointment inside the Duterte government seems emblematic of the Philippines' diplomatic direction in the Asia-Pacific.
Additional reporting by Phila Siu