China wants to fund Thailand's US$12 billion high-speed railway – but is the kingdom on track for more debt than it can handle?
The Export-Import Bank of China has offered Thailand a low-interest loan for construction of a belt and road project linking the country with Kunming and Laos
But repayment is just one concern, as analysts are uncertain Bangkok will ever turn a profit from the project
Despite
Thailand
's vow to rely on domestic funding as it expands its network of high-speed railways, it could soon accept the offer of a low-interest loan from the Export-Import Bank of China (CEXIM) – raising concerns about whether the country is on the verge of falling into a debt trap.
A memorandum of cooperation between China, Laos and Thailand will be signed during the
Belt and Road Forum,
which runs from Thursday to Saturday, cementing a partnership in the
Belt and Road Initiative
's pan-Asia rail project that looks to reach the Southeast Asian market via Kunming, in China's Yunnan province.
Thailand recently began construction on a phase of its high-speed railway that links its northeastern region to Kunming via
Laos
. The route, the first high-speed rail project in Thailand and Laos, is seen as a potential channel for China to transport goods to South Asia, Southeast Asia and the Greater Mekong Subregion (GMS), as well as the Malay Peninsula.
But as negotiations and construction progress, concerns are mounting over how the two Southeast Asian countries can take full advantage of the route's promised economic potential, as well as how to navigate the alleged debt-laden diplomacy in Beijing's vision to revive the historical Silk Road.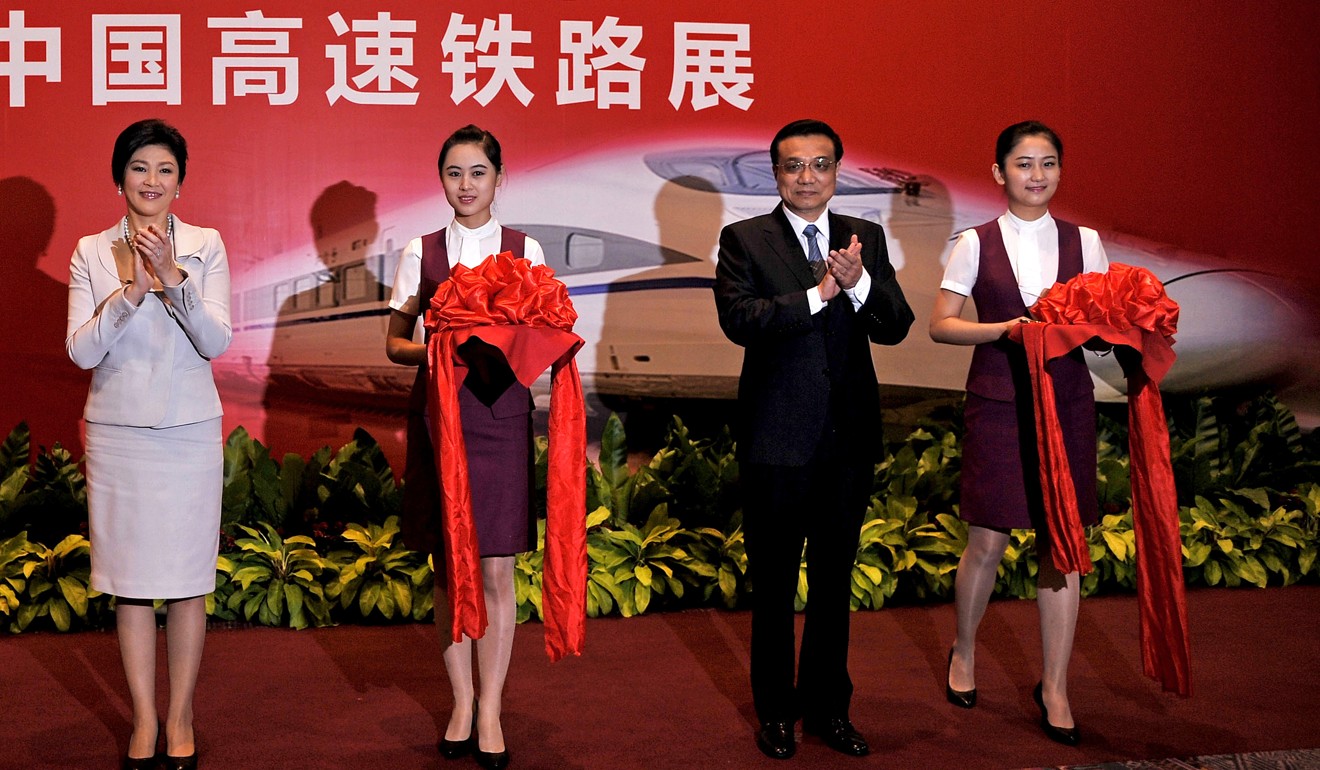 In January, the Thai government revealed that CEXIM had offered a 2.3 per cent interest rate for loans, better than the average of 2.86 per cent extended by domestic financial institutions.
So far, no deals with the Chinese bank have been announced. Local media has reported the Thai government is finalising the details of the loans, but the public has been kept largely in the dark.
Thailand is currently building the 607km (377 mile) route between Bangkok and Nong Khai province. The first phase – which runs from Bangkok to Nakhon Ratchasima, 252km (157 miles) from the capital – involves an investment of 179 billion baht (US$5.6 billion).
There were initial concerns about the extent of Chinese investment and whether Beijing would operate the land around stations once the route was operational.
According to the Thai finance ministry, 80 per cent of these loans are denominated in Thai baht, with China only providing technical training for personnel who will operate the high-speed rail system.
Construction for this phase is roughly half finished; it began in late 2017, after Thailand resisted heavy pressure from China for more financial, commercial and operational control of the project.
The second phase of the route – the 211 billion baht (US$6.6 billion), 355km (221 mile) stretch between Nakhon Ratchasima and Nong Khai – is expected to be 85 per cent funded by international loans and is slated to become operational by 2023.
This would bring the total cost of Thailand's high-speed railway to 390 billion baht (US$12.19 billion).
In Laos, the China-funded 409km (254 mile) route from Vientiane to Kunming began construction a year ahead of Thailand, and is expected to open in 2022.
Debate about the high-speed rail construction in Thailand is split over whether the country can handle the high amount of public debt incurred by loans from international sources, as well as the profitability of the route once it is operational.
The Thai government has promoted the route as crucial in turning the country, centrally placed in the GMS, into a logistics hub and the door to Southeast Asia for China.
Thailand hopes it will complete Beijing's "maritime Silk Road" vision by enhancing connectivity with the deep-sea port in Laem Chabang, part of the mega-industrial Eastern Economic Corridor project.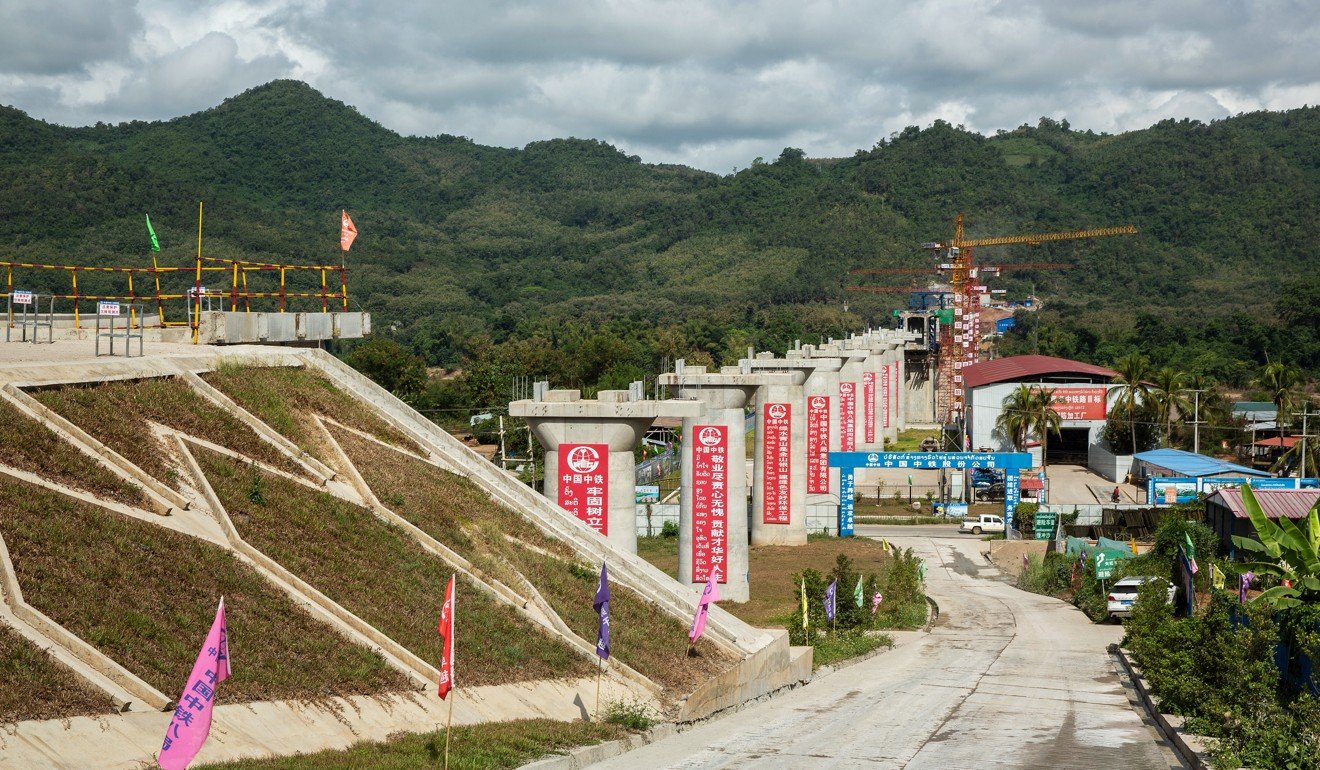 Analyst Siwat Luangsomboon from Thailand's Kasikorn Research Centre said that assuring profitability of the route could prove challenging, but that given the other indirect opportunities it would bring, Thailand could not afford to miss out on the belt and road plan.
"From China's perspective, the route is beneficial in terms of technology costs and infrastructure. But in Thailand and Laos, two countries with a much smaller area, the route may not pass areas that are production bases or where there is high population density, which will affect long-term train services," he said.
"But there will be indirect benefits that must be taken into account, including the development of logistics, retail, construction, real estate, urbanisation and employment."
Siwat thinks Thailand can avoid a debt trap even if it has to depend on loans from Chinese institutions.
"Thailand has financial credit that will allow it to diversify the loan sources, unlike Laos or countries in Central Asia, so it is impossible that we would be facing a disproportionate level of debt compared to our domestic market size."
Transport expert Surachet Pravinvongvuth said there was a low likelihood the route would be profitable, given that the local area lacks decent transport infrastructure for people to gain access to the new railway and that "the Thai government has recently approved a motorway project nearby, which can split modes of transport and thus lower the number of high-speed train commuters".
"A transport project of this scale must be really well-planned," Surachet said.
Thailand's first participation at the BRI summit will see it push for more connectivity between China and Asean through the Master Plan on Asean Connectivity 2025 and the 2019-23 Acmecs master plan endorsed by the leaders of Thailand, Cambodia, Laos, Myanmar and Vietnam last year.
Thai Prime Minister Prayuth Chan-ocha will meet Chinese President Xi Jinping, Premier Li Keqiang and Vice-Premier Han Zheng during the summit.
Thailand failed to secure an invitation to the first BRI forum in 2017 as the government had not yet pledged to be part of the initiative.