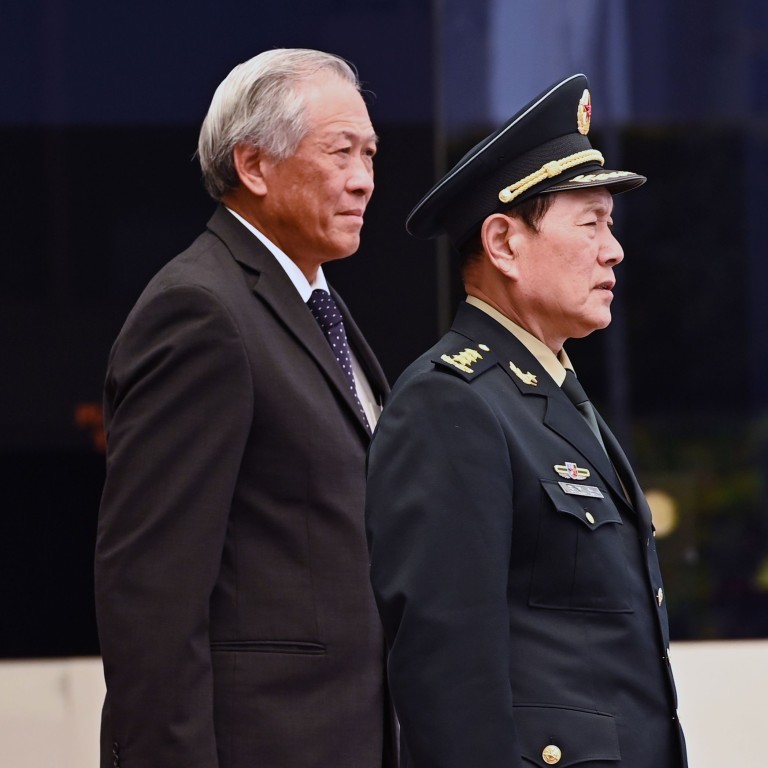 Singapore, China deepen defence ties, plan larger military exercises including joint navy drill
The commitment comes after a meeting between Chinese Defence Minister Wei Fenghe and his counterpart Ng Eng Hen in the city state
Few Southeast Asian nations – especially those with strong United States security ties, such as Singapore – engage with the Chinese navy bilaterally
Singapore
and China have agreed to a "substantial programme" to deepen military ties after a Wednesday meeting between the two countries' defence chiefs.
Among the proposed enhancements to an existing defence cooperation agreement is a second bilateral naval drill to be held next year, after the countries held a similar drill in 2015.
These exercises are significant given few other Southeast Asian countries – especially those maintaining strong security ties with the US, such as Singapore – engage with the
People's Liberation Army Navy
on a bilateral basis.
The navies of China and the 10 Association of Southeast Asian Nations
(Asean)
countries held their first joint drill last October. The Chinese navy held another set of drills with six regional countries in April.
Collin Koh, a maritime security analyst with Singapore's S. Rajaratnam School of International Studies, said the development was "expected" as Beijing sought to enhance and broaden engagement with its Southeast Asian neighbours.
Chong Ja Ian from the National University of Singapore echoed this view. "The defence establishment of both sides has been keen to improve ties and step up exchanges for some time," said the political science professor, who studies Chinese foreign policy.
Military-to-military outreach is part of China's diplomatic efforts as it seeks to counter suspicion about its intentions and the pressure it is facing from a strain in ties with the US, he said.
The Singaporean defence ministry announced the proposed enhanced agreement on Wednesday after a meeting between Chinese Defence Minister Wei Fenghe and his Singaporean counterpart Ng Eng Hen.
Enhancements to the existing Agreement on Defence Exchanges and Security Cooperation between the countries are expected to be signed by both ministers later this year.
Wei's attendance is being closely parsed because it is the first time since 2011 that Beijing has sent its No 1 military leader to speak at the annual event, which will also be headlined by US defence chief Patrick Shanahan.
Singapore's state-linked news agency CNA quoted defence minister Ng as saying the proposed enhancements to defence ties with China were "not meant to be a bellwether of anything".
"We've always said we want good relations with all countries and what we're doing with China is no different from what we previously do," he said when asked about the significance of the proposed accord given the state of
US-China ties
.
"If anything, it reflects the bilateral confidence in each other and a willingness to deepen defence ties, particularly because we have shared perspectives for a stable and inclusive region, especially for security matters."
Koh, the Singaporean analyst, said his view was that the island republic was seeking to "demonstrate that the country is willing to expand cooperation in this area despite having the US as its primary security partner".
"This should gel well with Singapore's well-known foreign policy position of not choosing sides," he said.
As for China, Koh suggested Beijing was likely to paint Wednesday's announcement as a "political victory of sorts". Said the veteran naval observer: "Whether this is true or not, I believe the devil is in the details of this expanded defence pact – will we be seeing really significant enhancements or just largely symbolic increments?"
The Singapore defence ministry said other proposed aspects of the stepped-up military ties with Beijing included the establishment of frequent high-level dialogues; new arrangements for cooperation among the different services of both militaries; academic and think-tank exchanges; as well as an increase in the scale of existing bilateral exercises.
The two countries armies' are expected to hold a joint drill, called Exercise Cooperation, later this year.
As part of his visit, Wei will meet Singapore's Prime Minister Lee Hsien Loong and Deputy Prime Minister Heng Swee Keat. He will also be hosted at a dinner by the city state's senior minister in charge of security, Teo Chee Hean.
"Wei's visit underscores the long-standing, warm and friendly bilateral defence relations between Singapore and China, which have deepened and grown over the years," the Singaporean defence ministry said.
Military and overall bilateral ties between the Asian power and Singapore have come back to an even keel, after a frosty bout in late 2016 and early 2017 after
Hong Kong seized nine military vehicles belonging to the Lion City
that were en route home from exercises in Taiwan
. The armoured personnel carriers were later returned to the city state.
This article appeared in the South China Morning Post print edition as: Singapore and China plan to enhance military ties